At some point in their watch acquisition careers, many watch enthusiasts will find themselves wanting a pilots' watch of some type. This label has developed quite a broad meaning over the decades, covering all manner of dial designs and functions. Horologium did a brief introduction to the most famous type of pilots' watches, the B-Uhrs (from 'Beobachtung'), in a previous post, and I will use an excerpt from that post to introduce today's post, which is about this traditional flieger style of pilots' watch.
When World War II broke out navigators' watches, which had become an important military tool, were put into full production. It is believed that A. Lange & Söhne, the principal supplier of the time, could not deliver the watches in time in the quantities required, so the German government recruited four other companies to aid production. The five companies that were assigned to build the watches were A.Lange & Sohne, International Watch Company (IWC), Laco, Stowa and Wempe.
Called 'B-uhr' watches, derived from the German 'Beobachtungs-uhr' meaning 'observation watch', they are also now more commonly known as pilots' watches. Plotting precise locations during flights was the job of the Beobachter, or observer, who wore a watch over his flight jacket so that it could always be referred to quickly, at a glance.
The core design principles of the B-uhr watch were the 55mm diametre (pocket watch movements of the era were around 42mm-46mm), that it be anti-magnetic, have Arabic numerals, a hacking centre seconds hand, large onion or diamond shaped crowns to allow for easy adjustment when wearing gloves, and a long double riveted buffalo strap to be worn over thick pilot's jackets (the rivets were used to adjust for different wrist sizes) as mentioned above. In addition, a triangle marker at 12 o'clock with two dots on both sides was required for easy dial orientation during night flight or bad weather conditions.
Amongst the many small-medium sized brands that have developed a good reputation for solidly built and value-for-money modern versions of these watches is the German brand Archimede.
Their latest releases are called the 42 Pilot Beobachtung, available in stainless steel, titanium or steel black PVD, and in bronze. The crystal is sapphire and it has a display back. It is water resistant to 50 meters.. All are in a 42mm case, as per the name, and use the Type-B dial.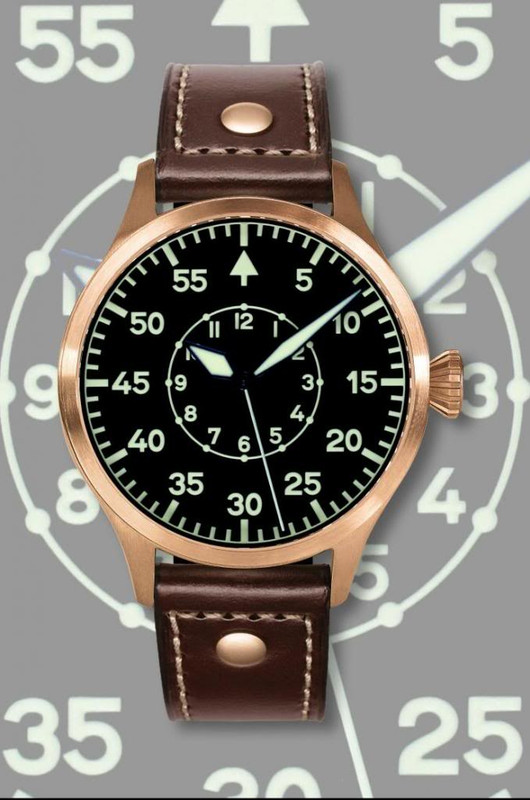 The new Archimede Type-B dial has the standard dial with large minute numbers and markings from 5 to 55, a small inner circle with hours, a triangle at the top. The hands are, of course, lumed. Some brands issue Type-B dials with brand markings on it, but I prefer the clean no-text dials such as this. Above the case is a convex double anti-reflective sapphire crystal.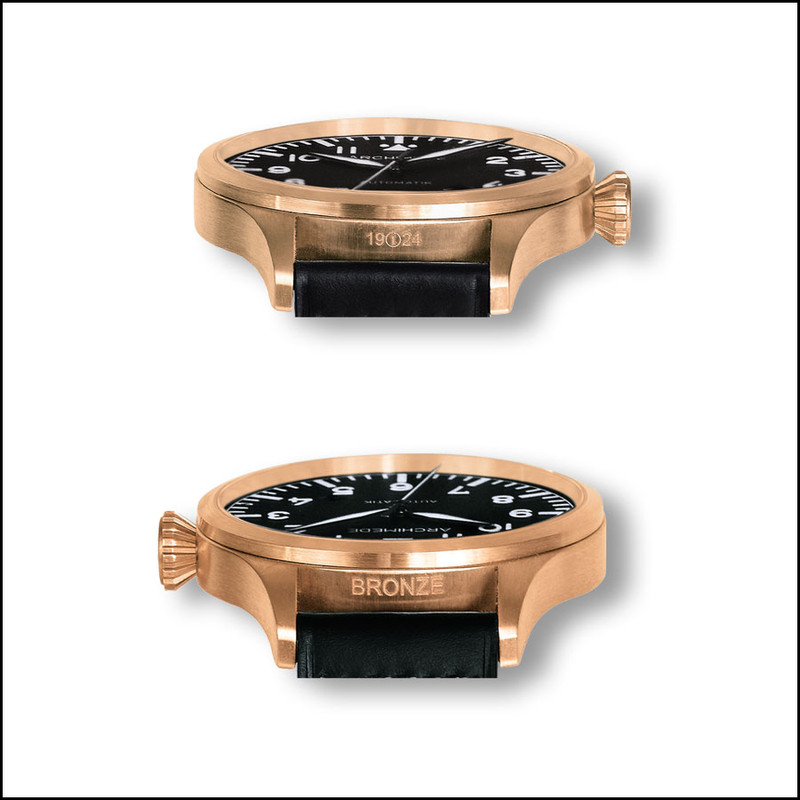 Archimede likes to use ETA movements, and these new models use the ETA 2824-2. These new models come on black, dark brown or light brown leather straps with two rivets and a buckle made of stainless steel or on a stainless steel bracelet.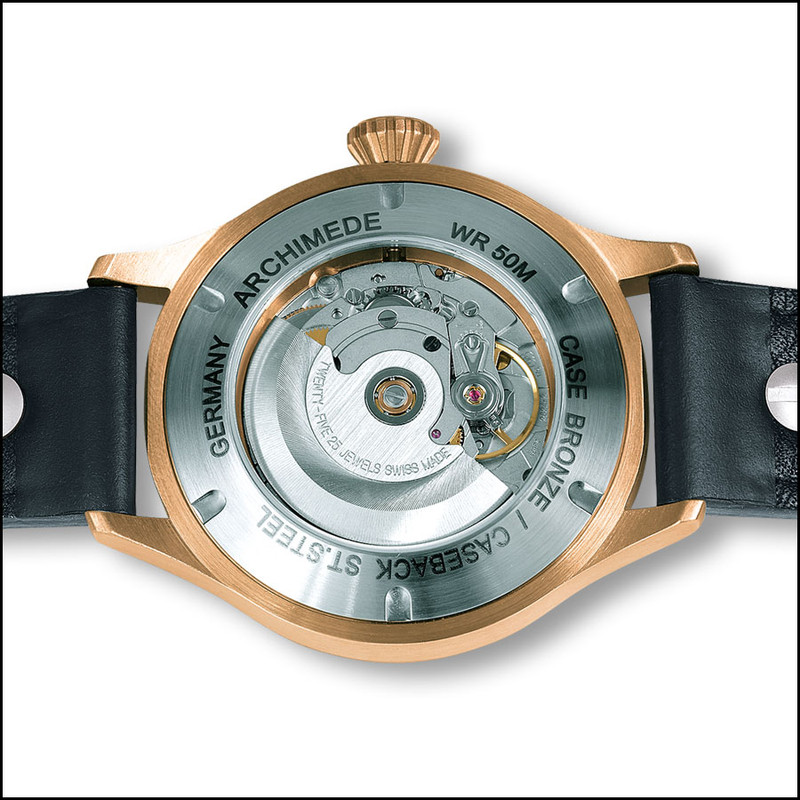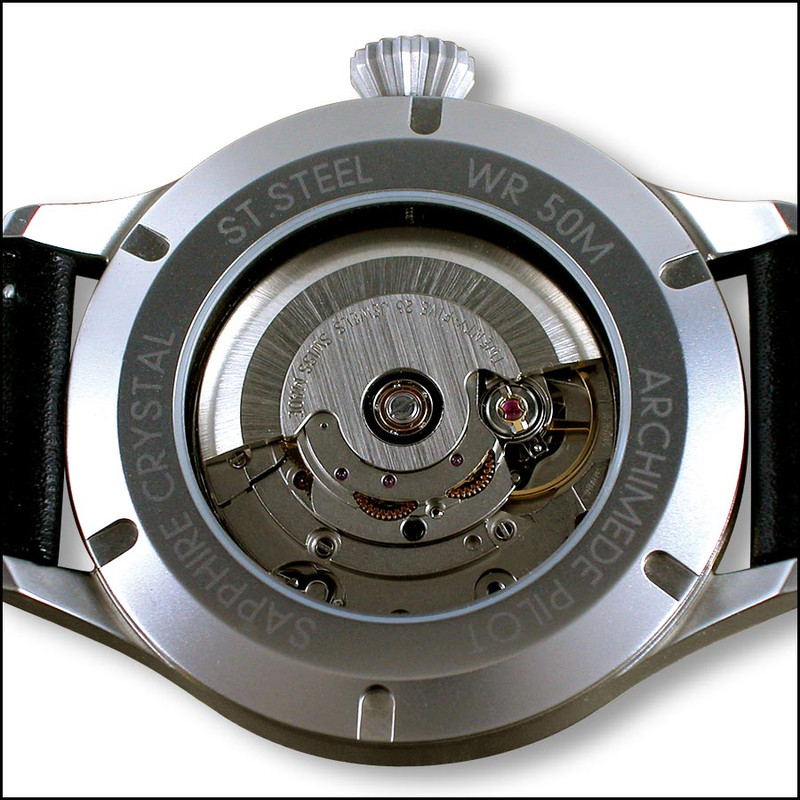 In spite of the brand deciding to join the 'bronze brigade', Archimede continues provides faithful and well made B-Uhrs at accessible prices that you can order directly from their website. Pricing? The stainless steel is 495 EUR, the titanium/ stainless steel with PVD models 535 EUR, the bronze 610 EUR, and the stainless steel version with a bracelet, 625 EUR. If you are looking out for this style of watch and want something that is bang for buck, Archimede is a brand worth considering.
---
---