Grieb & Benzinger are a German brand best known for their skeletonised watches, some of which use vintage movements (there have also been watches under the 'Benzinger' brand). They have just announced a new collection of white gold watches called 'Shades of Grey', comprising of different models of essentially two watches, the Polaris and the Tulip, all created by request from Grieb & Benzinger customers.
The new models are all 43 mm in size, and although their origins may be different, these watches all clearly share an aesthetic sensibility.
GREY TULIP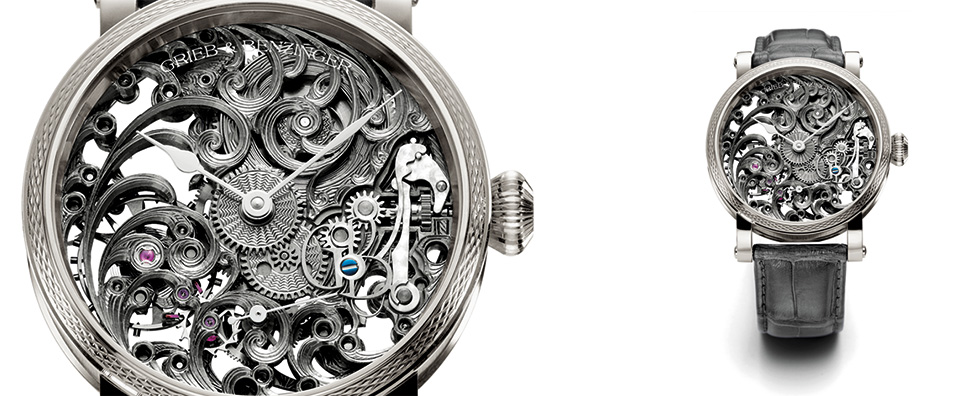 The Grey Tulip was created for a client from Eastern Europe who had seen the Black Tulip but wanted something slightly different for himself. It is a solid 18K palladium white gold case with a hand-guillochéd bezel and matching grey alligator strap with an 18K palladium white gold buckle.
Inside is a fuly skeletonised manual-wind movement that is hand-engraved and guillochéd and black-rhodium coated. There are also flame-blued screws, most of which are visible through the case back. Functionally, as well as the hour and minutes there is a small seconds hand at 6 o'clock which is perhaps slightly more difficult to see due to the full skeletonisation of the piece.
GREY TULIP DIAMOND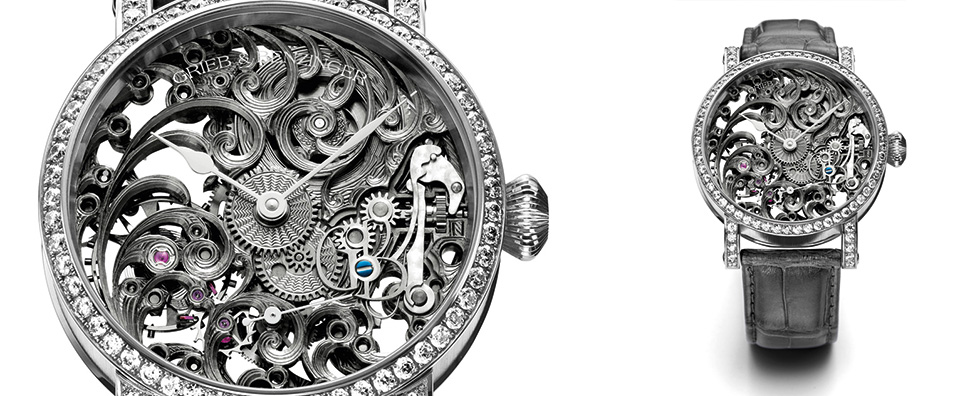 The Grey Tulip Diamond is also fully skeletonised, has the same guillochéd, hand-engraved and black-rhodium coated movement as per the Grey Tulip, and is also in an 18K palladium and white gold 43mm case. However, its bezel and lugs are set with 77 brilliant-cut Wesselton diamonds.
GREY TULIP IMPERIAL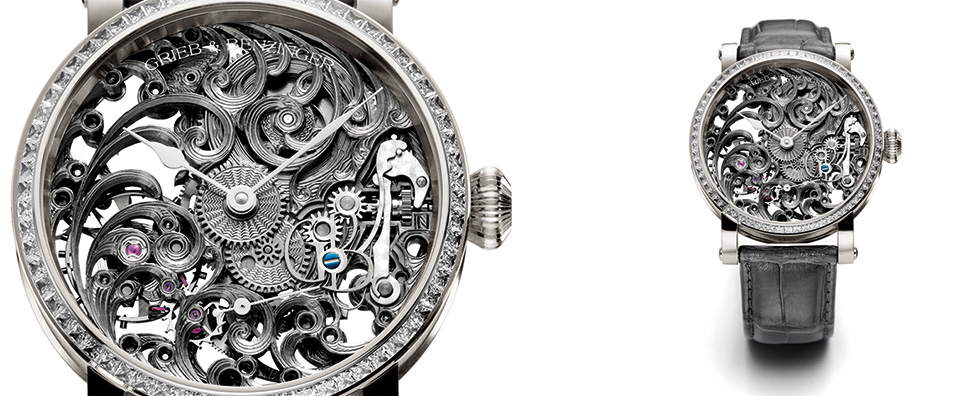 The Grey Tulip Imperial is a variant of the Tulip Diamond, with Wesselton Princess-cut diamonds set into the bezel. The Imperial and the Diamond, with their differently cut diamonds, were both created for the same client.
GREY POLARIS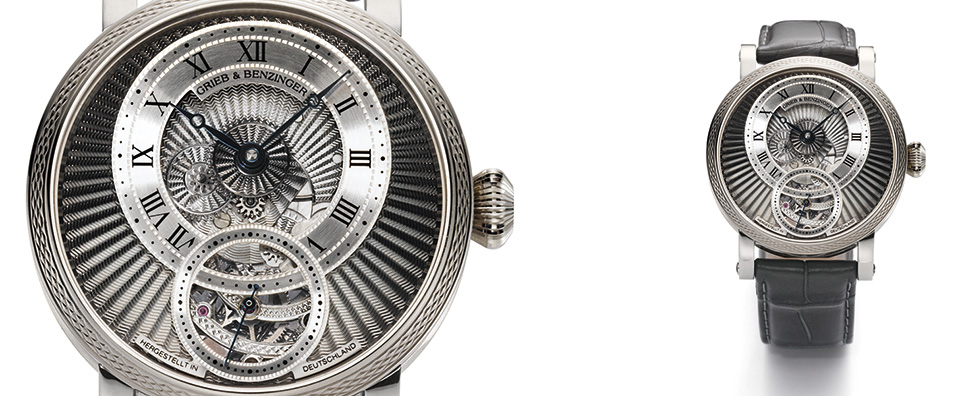 The Grey Polaris moves away from the complete skeletonisation. It is also in an 18K palladium white gold 43mm case with a hand-guillochéd bezel with domed sapphire crystal, screwed-in strap lugs, solid white gold crown, screwed-in case-back with flat sapphire crystal and hand made grey alligator strap with white gold buckle.
The dial sterling silver and in two parts. The base dial has hand-guilloché and hand-skeletonised work and a black-rhodium finishing, whilst the applied, skeletonised dial was coated with a lighter-colored rhodium, so that the shade and tone of grey changes according to the light shining upon it.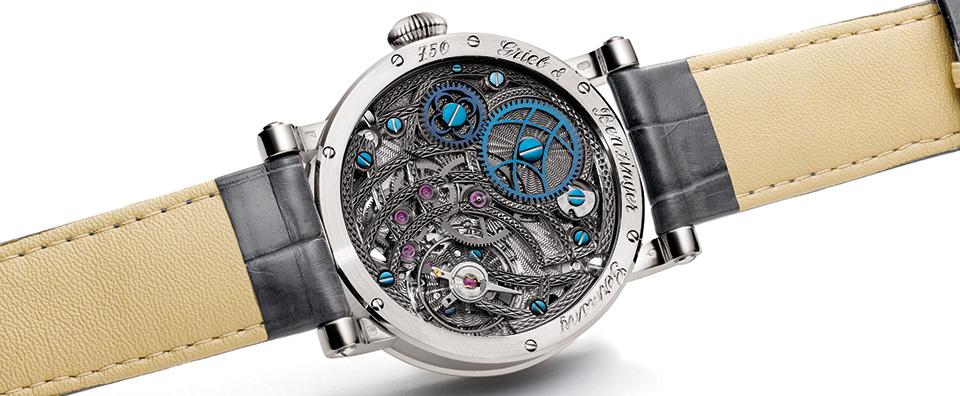 You can see the decorated base plate through the open dial at the small seconds sub dial. The movement is, again, manually wound, completely skeletonised, engraved and guillochéd by hand, but with hour and minute indication at 12 o'clock and a small second indication at 6 o'clock. There are flame-blued screws, flame-blued crown and ratchet wheel, and my favourite flame-blued Breguet style steel hands.
GREY POLARIS IMPERIAL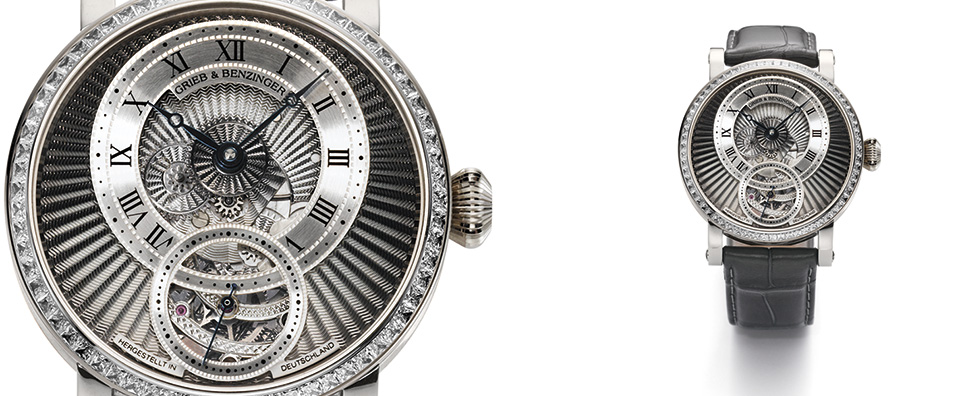 This is the diamond bezel version of the Grey Polaris, with all size and movement specifications the same, but with bezel set with Princess-cut diamonds.
---
---
Categories: German watches, Grieb & Bezinger, Limited Editions, News, watches