Along with a new CEO (Davide Cerrato) appointed last year by Kairos Technology Switzerland SA, who took over the brand, HYT is now back with a new watch – meet the Hastroid Green Nebula.
New leadership and restructuring hasn't (yet?) meant any seismic shifts for the brand, with the Hastroid, building on the most recent fluid mechanical model on which they had been working.
This new piece is in a case made from carbon-coated titanium with satin finishing and measures 48mm with a length of 5.3mm and thickness of 17.9mm. There may be liquid inside, but the watch itself has a water resistance of 50m.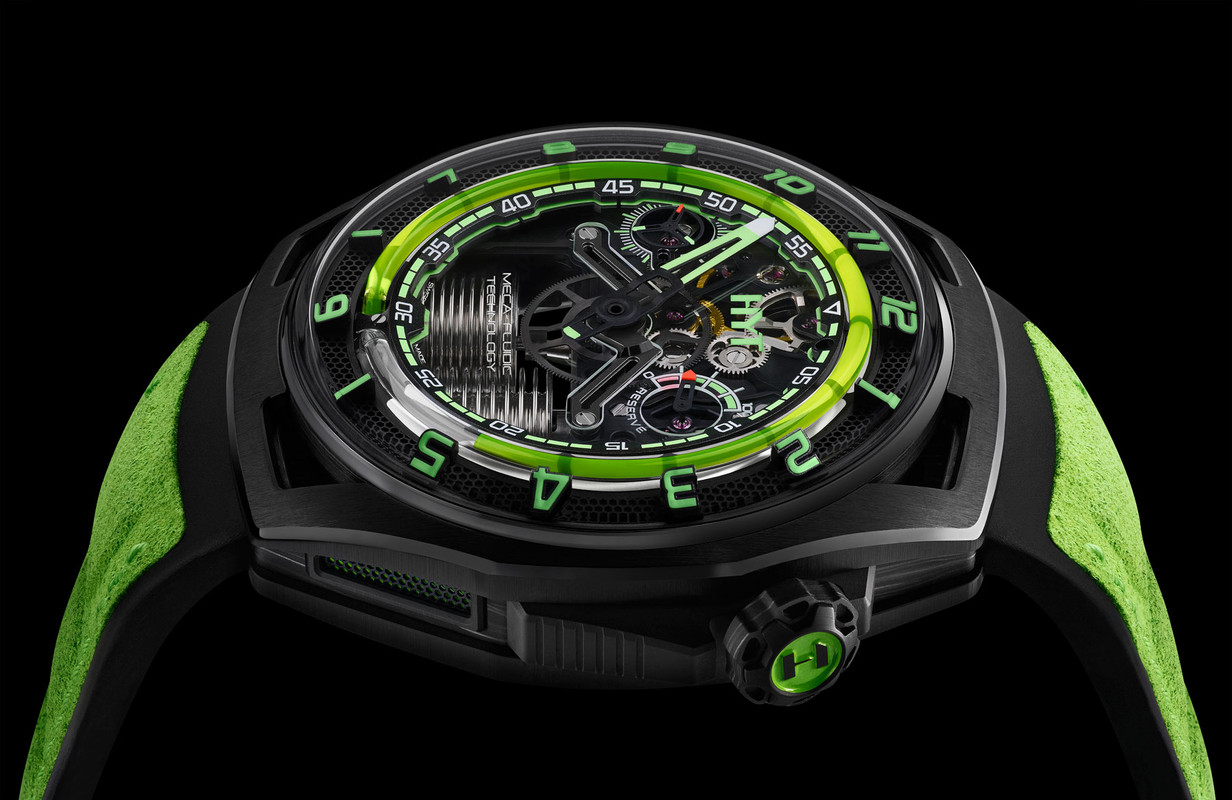 Functionally, it has a central minutes hand, small seconds hand, power reserve, and of course the retrograde 'fluidic' hour. Of particular note is the change in the placement of the numerals and related changes in the shape of the sapphire crystal, which traditionally has wrapped around the front and sides of their round-cased models.
The black dial is coated brass, but the black grid-like area is titanium. There is a sapphire plate. The hands are all black, matte, and have green and white, red and white, or red, SLN lume. The appliques have green lume.
The movement is manually wound, beats at 28,800 VPH, and has a power reserve of 70 hours. It was developed by Eric Coudray with Paul Clementy, and Arnaud Faivre at Pur TEC, their movement maker.
Coming on a black rubber strap with green Alcantara and a black titanium buckle, the Hastroid Green Nebula comes in a limited edition of 27 pieces with a price of CHF 70,000 (excluding taxes). You can buy it directly from them or via their authorised dealers.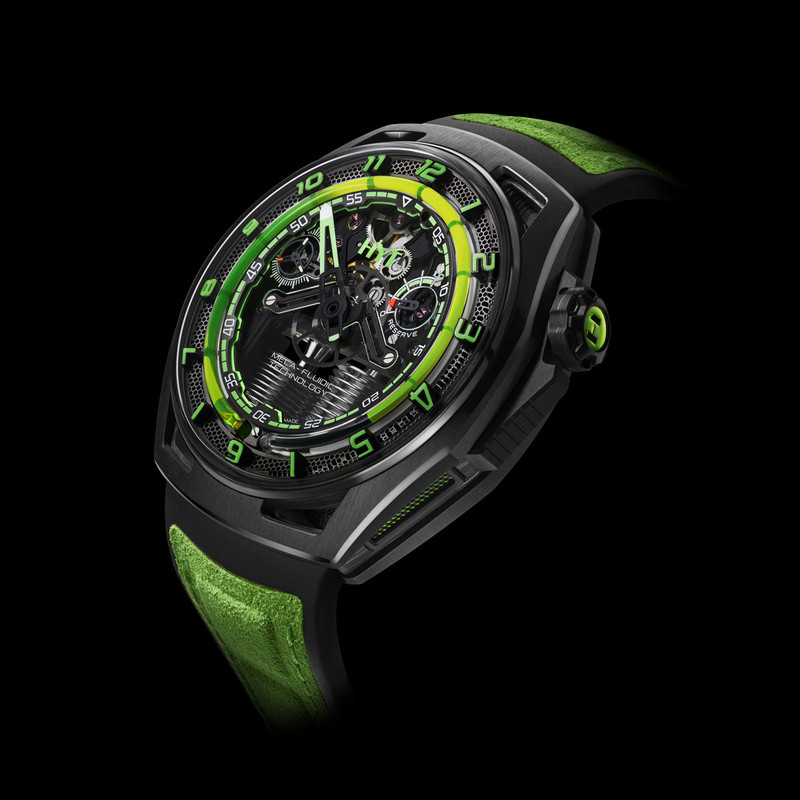 Although a watch from HYT can never be mistaken for a watch from anyone else, given its use of liquid timekeeping to show the time, the more streamlined case and design changes mark either a transition or expansion, of their collections. It  has a more sporty 'everyday wear' feel to it. As a sign of 'change at the top' for the brand this is an important signifier, so it will be interesting to see what other Hastroids and other models will follow.
[Photo credit: HYT]
---
---
Categories: HYT, Limited Editions, Watch Profile, watches, Women's watches