What's in a name?
Well when it comes to watches, in the case of historical U.S. name Tornek-Rayville, a lot.
Acquired by the Bill Yao, the owner of well-known and respected microbrand MKII Watches, the Tornek-Rayville name has been revived, with the pre-order allocation of their first piece, the USD TR-660, selling out in under an hour.
Having the MKII name behind it gives the new Tornek-Rayville a starting point beyond the name, as it has its own established following and is seen as a solid reliable tool watch brand.
Although Tornek-Rayville was not a watch brand, its name is indelibly tied to the modern watch history through the Fifty Fathoms and Blancpain, a brief history about which you can read here, and a small exhibition of which passed through Sydney earlier this year.
In the late 1950s, the U.S. Navy's (USN) Experimental Diving Unit (NEDU) were looking at supplying their special forces combat dive units with suitable watches under the MIL-W-2217.6A(SHIPS) naval specs. The naval specification called for a watch capable of operating at depths of up to 400ft, with an accuracy of at least 30 seconds a day and amagnetic.
They assessed a number of possible dive watches for use by its Underwater Demolition Team (UDT, later called the Navy SEALs). As a consequence of the Buy American Act (1933), preference was obviously given to American suppliers (in this case, watch brands), and the Navy provided specifications to the largest American watch companies of Elgin, Hamilton and Waltham, but nothing eventuated from this.
However, Bulova stepped in and committed to building some possible prototypes for testing.
Whilst Bulova was developing that watch, the NEDU looked at three commercially available dive watches to 'fill the gap' until the Bulova was ready – a Rolex Submariner, an Enicar Sea Pearl 600, and a Blancpain Fifty Fathoms. The Fifty Fathoms passed the tests (Project NS 186-200 Subtask 4, Test 43, 15 July, 1958), and was recommended for use until the Bulova was ready. Unfortunately for them, the Bulova watch did not do well when tested by the NEDU.
Because of the aforementioned Buy American Act (1933), which also gave American companies a 25% price advantage over foreign competitors, a Swiss watch brand purchase was not possible. In stepped Allen V. Tornek, a U.S. importer for the Rayville Watch Company of Villeret (the home of Blancpain), which imported Blancpain, amongst other watch-related activities. He won the bid to be the American supplier of Blancpain for the USN and came up with an idea.
He convinced Blancpain to re-badge the dial with "Tornek-Rayville U.S.". About 1,000 modified and re-branded watches were supplied by Blancpain, shipped to the U.S., and sold as an American-branded watch to the USN. Along with a new dial name also came a new way of illuminating it as well – promethium -147 rather than radium or tritium.
They were issued in two batches to special operations and marine divers. Of the 1,000 or so produced, only twenty are thought to be extant.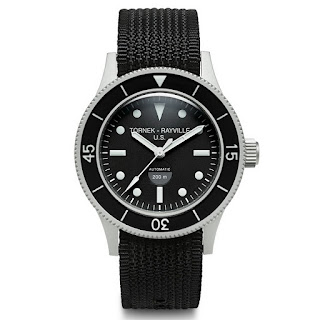 Now, the first release by the new Tornek-Rayville brand is directly inspired by that legendary TR-900.
The TR-660 comes in a 40mm-sized (thickness of 14.7mm) bead-blasted stainless steel case, with a water resistance of 200m. There is a double gasket screw-down crown.
Underneath the double domed sapphire crystal with anti-reflective coating you find illumination is now provided by Arclite Super LumiNova-coated hands and indices.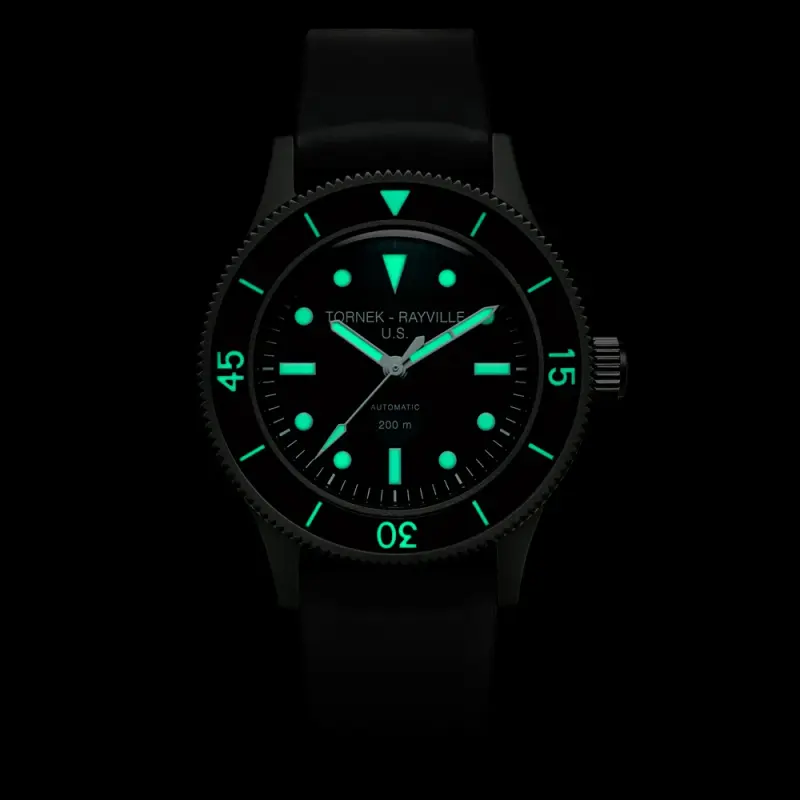 Inside is the automatic Seiko SII NE15 movement. With a rotor featuring Côtes de Genève, it beats at 21,600VPH, hacks, has a date functionality, and a 50 hour power reserve.
The watch is offered on a choice of one of three straps – NyTexTM Type I-M2 woven nylon, rubber with pin buckle, or NATO-style strap.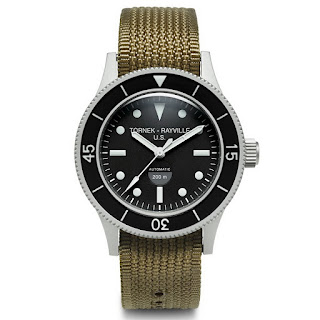 Getting an original Tornek-Rayville may be like hen's teeth, and expensive if one even comes up, but its legacy, and that of the Fifty Fathoms, have survived and thrived both in the form of Blancpain's Fifty Fathoms and in generations of homage watches that evoke their design.
This new Tornek-Rayville TR-660 is the modern far more accessible 'replacement' of the TR-900, and even though the pre-ordered pieces were gone in a flash, the new brand will be taking general orders (USD 900) after those first ones are delivered at the end of 2021. Go to their new site for further details.
For a look at earlier USN watches, go to this post to read about a vintage Hamilton BuShips (United States Navy's Bureau of Ships) canteen divers' watch. They were issued to members of the Naval Combat Demolition Units' (NCDU) underwater demolition teams (UDT).
[Photo credit: Tornek-Rayville]
---
---
Categories: Blancpain, Divers watches, Military watches, Tornek-Rayville, Vintage watches etc, Watch Profile, watches, Women's watches