When your brand becomes not just synonymous but primarily associated with something, it is an ever-present challenge to keep that concept fresh, and to constantly bring something new to the horological table. MeisterSinger, the name that immediately springs to mind when single-handed watches are mentioned, has brought something new that is a twist on an old complication.
The Bell Hora is a very modern single-hand watch with a "Sonnerie au passage" hourly chime complication, a melodic reminder to the wearer that an hour has passed.
We have covered a number of minute, Grand and Petite Sonnerie (not to mention Westminster) chiming timepieces before. They deal with the chiming of hours/ quarters/ minutes in passing, or 'en passant', and you can read about them at those links.
These sorts of high complications are about audibly telling the time. Mechanical alarms, another type of mechanical 'sound' complication, are about reminders. The Bell Hora however, is about a chime that is more of a gentle (timely) nudge. This concept and choice of complication is consistent with MeisterSinger's single-handed approach to telling the time – that it is not about the passage of seconds or minutes, but slightly more 'leisurely' periods.
A pusher at 2 o'clock allows the wearer to activate or de-activate the hourly chime. When the pusher is pulled out, the chime is switched off, indicated by a black circle on the pusher.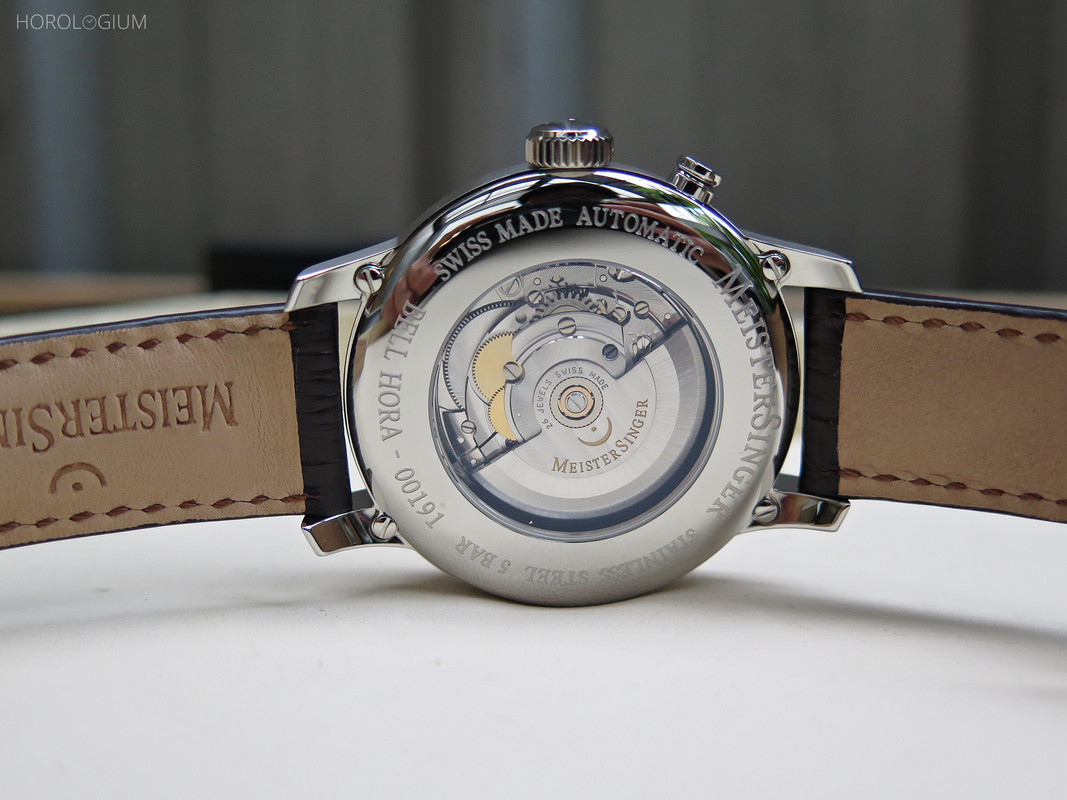 Through the open case back can be seen the automatic base Sellita SW 200-1 which beats at 28,800 VPH (4Hz) and has a power reserve of 38 hours. The chime is produced with MeisterSinger's module, the MS Bell; a hammer strikes a 'sound spiral' producing a chime.
The dial is pure MeisterSinger, with the use of double-digit numerals to mark the hours on the combined hour and minute track and a needle-shaped hand, but there is something different this time – a snailed 24 hour reading on the dial.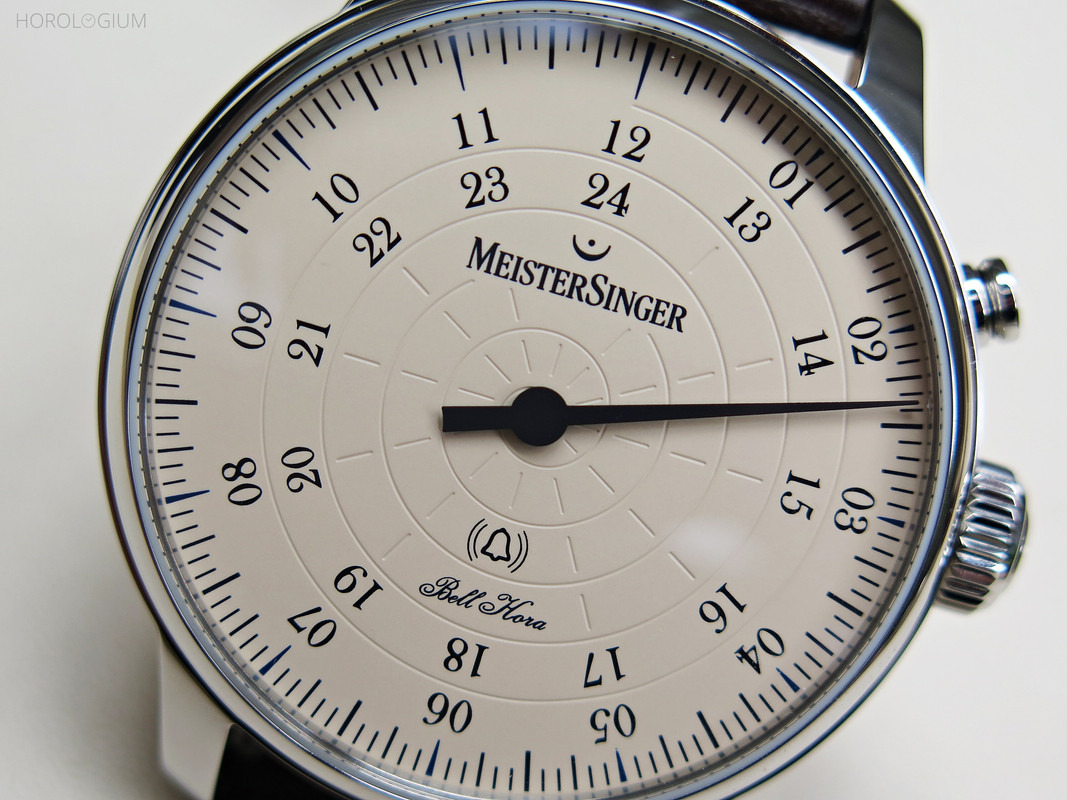 The Bell Hora is in stainless steel 43mm sized case with a thickness of 13.5mm and water resistance of 50m. There is a mix of polished (bezel, upper and lower lug surfaces and the case back) and satin (band and flanks of the lugs) finishing.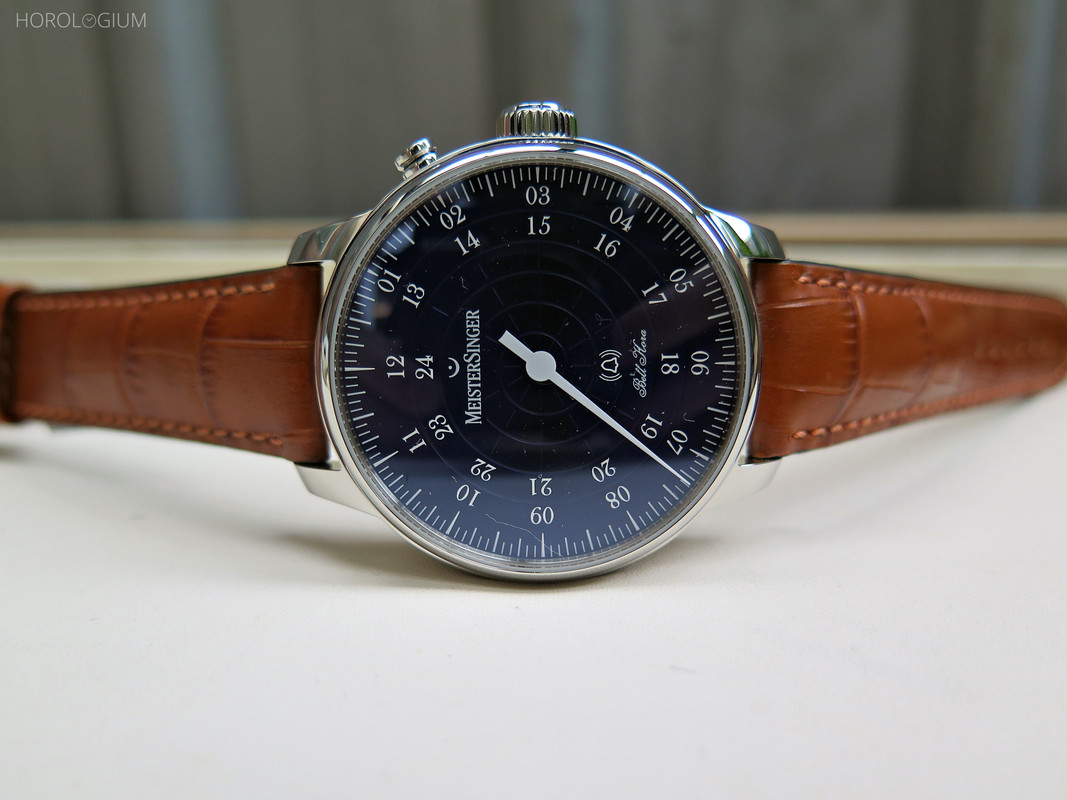 Because it is not about the audible chiming of the time nor an alarm, the sound is not about announcing something to those within hearing. It is a much more intimate relationship between the watch and its wearer because it is to remind them that an hour has passed and that perhaps it is time to move on to the next activity.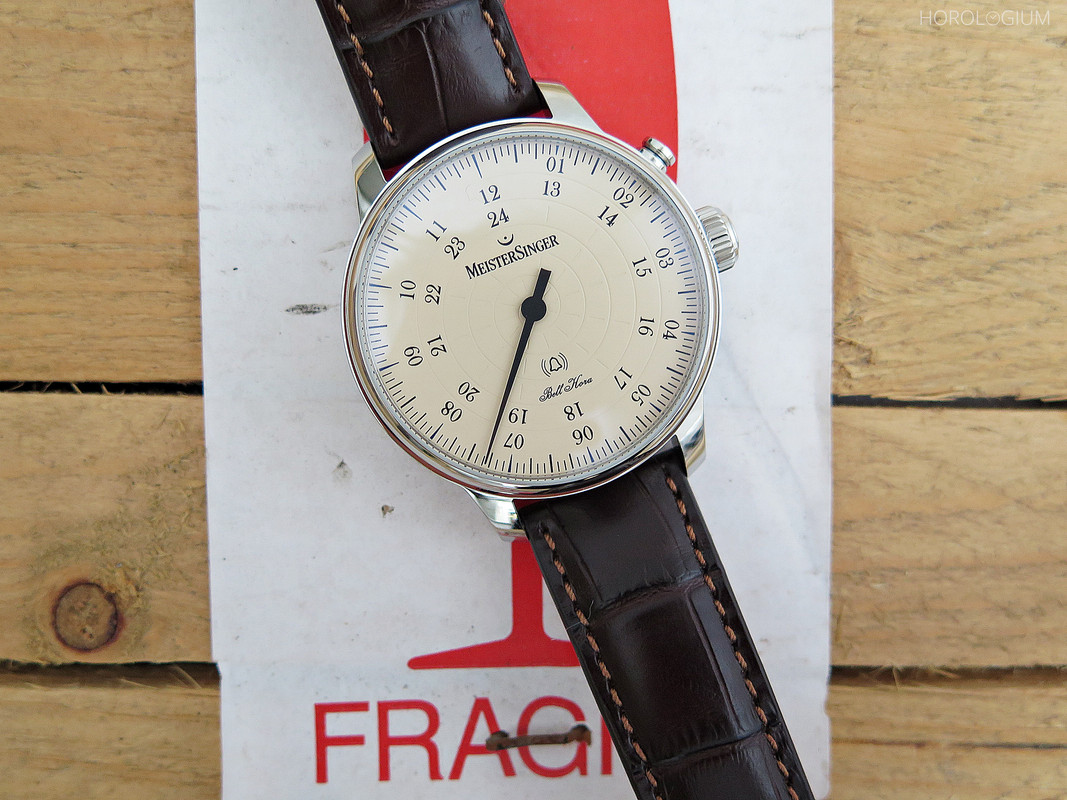 The MeisterSinger Bell Hora is a rather cool and yet also charming timepiece to mark two decades of the brand. Its appeal goes beyond those looking for a single-handed watch to those who have always wanted a mechanical chiming watch but for whom those are cost-prohibitive, and to those who just want something different in a mechanical sense. The sound is clear and in general it is just as appealing a watch in the metal as it is in concept.
Of the two colour variants, the ivory is my favourite, both for its colour and because it highlights the dial's details a bit more than the blue sunburst dial. Coming on a calf strap with a folding clasp, the Australian RRP is $5,590 and it is available from Independent Collective.
---
---
Categories: Hands-on, MeisterSinger, Sydney, Watch Profile, watches, Women's watches