One of the interesting things to have come out of the digital Watches & Wonders 2021 for me was the press Q&A session by Purnell. Although I knew of them, my knowledge was sparse and didn't go much beyond that, and I have not had the opportunity to see their watches. It's always interesting to learn about brands, but there is an added interest when it is a small brand that one is less likely to cross paths with, so today's post is as much about an introduction to the brand as it is about this pièce unique that was a key part of the presentation.
As they explicitly state, Purnell is about tourbillons. About trying to be different with them, but also about being a small brand. For 2021 they anticipate that it will be fewer than 100 pieces; last year it was in the mid to high double digits.
During his presentation, CEO Maurizio Mazzocchi summarised the brand's the vision with three words.
Firstly – 'motion'. He explained this by saying that for him, "motion is emotion", that it represents both life in living organisms and of motion in watchmaking, tourbillons being the key to this for Purnell.
The second word is 'simplicity'. This seems somewhat at odds with the whole 'tourbillon' theme, as watch complications are called that for a reason, but he means that watches should be easy for the customer i.e. easy to read, easy to use, easy to wind, easy to take care of. So the watch remains complicated but the user experience should be the opposite.
The final word is about being 'contemporary'. The brand is very young, it doesn't have a long history or legacy behind it that they can reference, so they want to focus on making movements that have new features, on trying to do something different.
Their watches are manufactured in the Vallée de Joux, and Purnell has a showroom on Geneva's Rue du Rhône. The key person involved in the Spherion triple axis tourbillon movement which forms speciality/ focus is watchmaker and renowned movement developer Eric Coudray (TEC Ebauches), whom we mentioned last year within the context of the work he did for another watch. He has played a critical part in watches as diverse as MB&F's Legacy Machine Thunderdome and the H5 collection from HYT. He was also at Jaeger-LeCoultre for two decades, and behind the Master Gyroutourbillon (2004).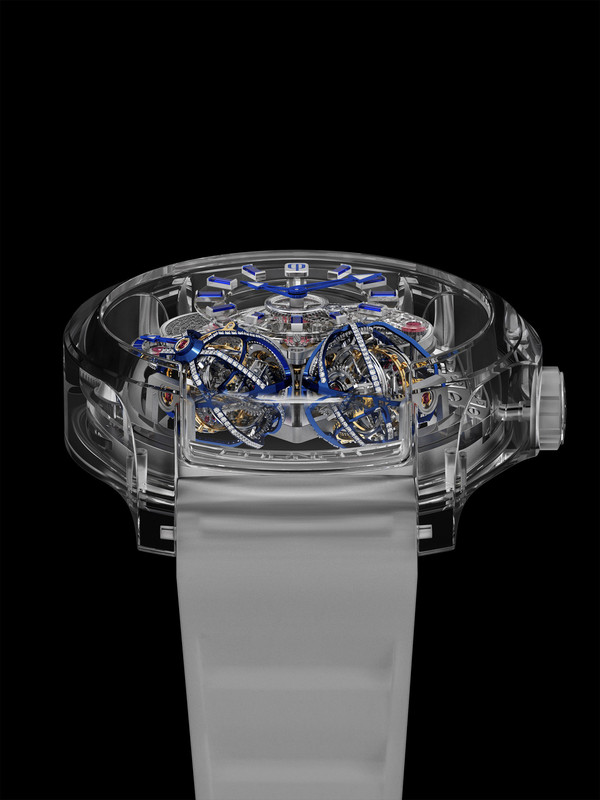 The triple axis Spherion is front and centre in the Purnell Escape II Absolute Sapphire. The inner cage revolves every 8 seconds, the middle cage every 16 seconds, and the outer cage every 30 seconds. This high rotating speed is achieved by a particular escapement patented in the late 19th century by watchmaker Albert H. Potter – the anchor operates on the inner side of the escape wheel. There are two Spherions rotating in opposite directions regulating this piece.
Because it is the same watchmaker behind both triple axis tourbillons, it is important to note the Legacy Machine Thunderdome. It was launched in 2019 as the world's fastest multi-axis "TriAx" tourbillon with a carrousel for the outer cage, with three axes in a two-cage configuration rotating at 8 seconds, 12 seconds, and 20 seconds. It also used the Potter escapement, with a fixed escape wheel, within the tri-axial rotating mechanism.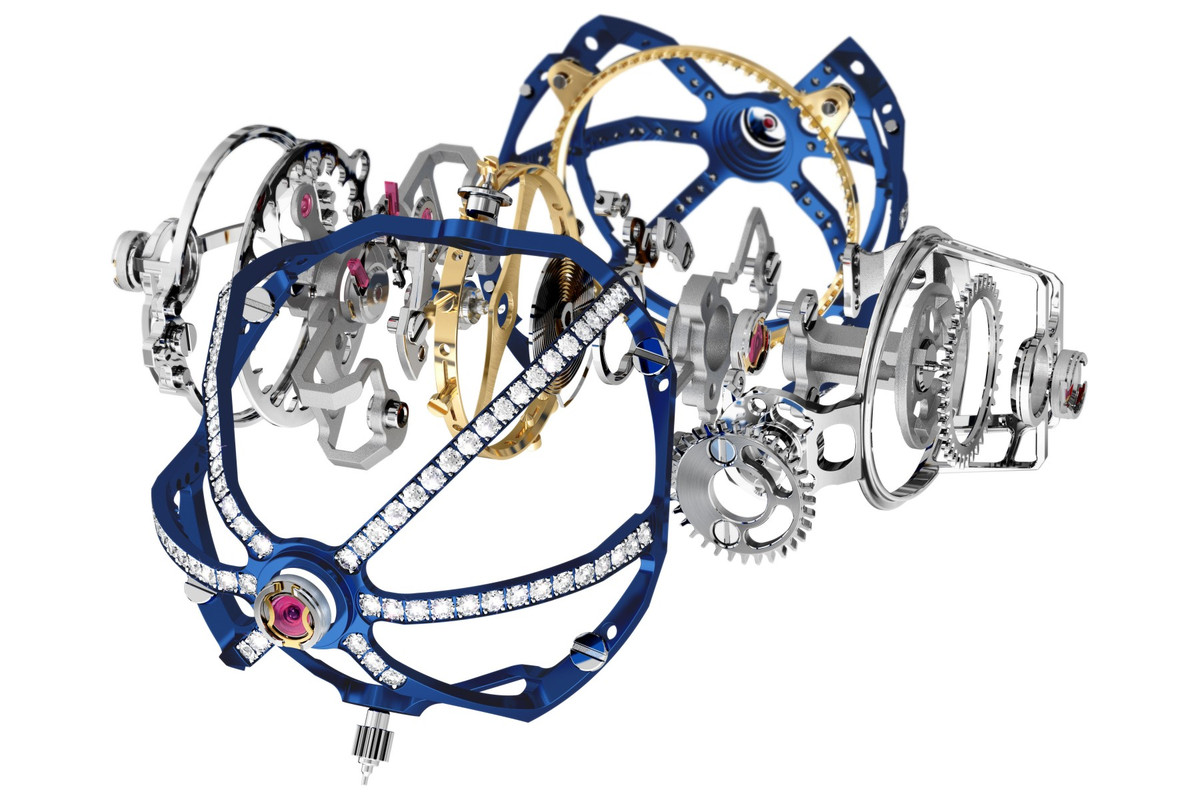 We usually talk about how light tourbillon cages are, but the Escape II Absolute Sapphire goes the opposite direction – they are blued titanium and there are 152 brilliant-cut diamonds set into the Spherion's outer cage. Given this is (the first) double triple axis tourbillon, yes that's 152 diamonds on each outer cage. The total Spherion weight is 0.831g.
Driving these two heavy, high-speed Spherions with their 304 diamonds obviously requires more power. The movement is the manually-wound CP03 beating at 21,600 VPH and with a power reserve of 32 hours. There are six mainsprings in four parallel barrels arranged in two stacks. Each of these barrel columns has a cover with relief-engraved phrases describing Purnell's philosophy (and mentions Eric Coudray), a feature which may sound a little familiar.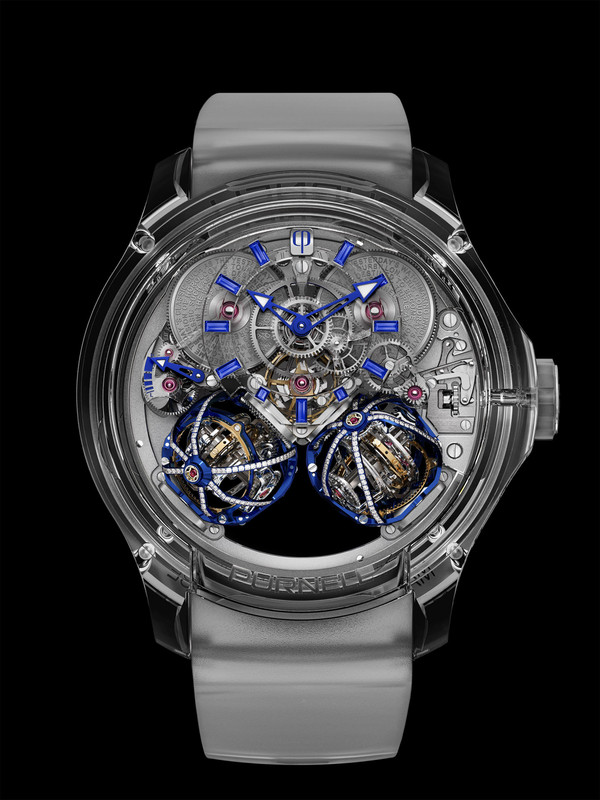 The 48mm case is, as the name states, made from a single block of transparent sapphire, and it is made in Switzerland. The sapphire dial is set with eleven baguette-cut blue sapphires as indices (1.04 carats), with matching blued hands. It comes on a matching transparent strap with a grade 5 titanium buckle.
This is a very technical piece but also a visually extravagant one. If you want to look at more of Purnell's pieces, go to their website here. You will find that this combination of a Spherion with modern materials and looks is key to the brand's identity. The brand and model introduction clearly piqued my interest enough to write about it, but when international travel is possible again and hopefully I find myself once again in Geneva, I shall try and see one 'in the metal'.
To read an earlier post about a triple axis tourbillon from a watchmaker renowned for his work with double and triple tourbillons, hit this link.
[Photo credit: Purnell]
---
---
Categories: Limited Editions, Purnell, Watch movements, Watch Profile, watches, Watches & Wonders Geneva 2021, Women's watches