As a part of Bvlgari's LVMH Watch Week releases were a trio of new Divas' Dreams – the Peacock Dischi, Peacock Diamonds, and Peacock Tourbillon Lumière.
Colourful pheasants known for their iridescent tails, peacocks are not unknown for watch decorations, and the use of feathers, whether they belonged to a peacock or other bird, are a niche form of watch art material that goes back a number of decade but is still umcommon in its usage. Both have made previous appearances in Bvlgari's Divas' Dreams collection, but this year brings two new limited editions and one unlimited piece, all featuring combinations and permutations of these features and themes.
The pièce de résistance is the limited edition Divas' Dream Peacock Dischi, which has a peacock feather marquetry dial. The inner disc uses twenty-four hand-cut tail feathers, representing a peacock's eye. The outer dial area has a geometric pattern in brilliant blue. They are surrounded by a 37mm sized rose gold case. The case and fan-shaped lugs are set with brilliant-cut diamonds, and the bezel has both brilliant-cut diamonds and blue sapphires, the latter doing double-duty as hour markers. A second smaller inner circle, also set with these two types of stones, acts as the minute ring.

Powering it is the in-house automatic "dischi" Calibre BVL 308 which uses two rotating discs to indicate the hours and minutes through a round and a pear brilliant-cut diamond respectively.
On the two ends of the case, where the blue alligator strap is attached, are two fan shapes, both set with diamonds. The strap's rose gold buckle is also set with diamonds.
Limited to fifty pieces, it is priced at EUR 55,000 (including taxes).
Next up is the new Divas' Dream Peacock Diamonds, whose peacock is set against a mother-of-pearl background with diamond-centred stars. Here, the bird has been realised in a combination of champlevé enamelling in fourteen shades of green and blue, and diamonds. The fan shape mentioned in the first model, which is a consistent collection motif, is carried through here to the peacock's depiction.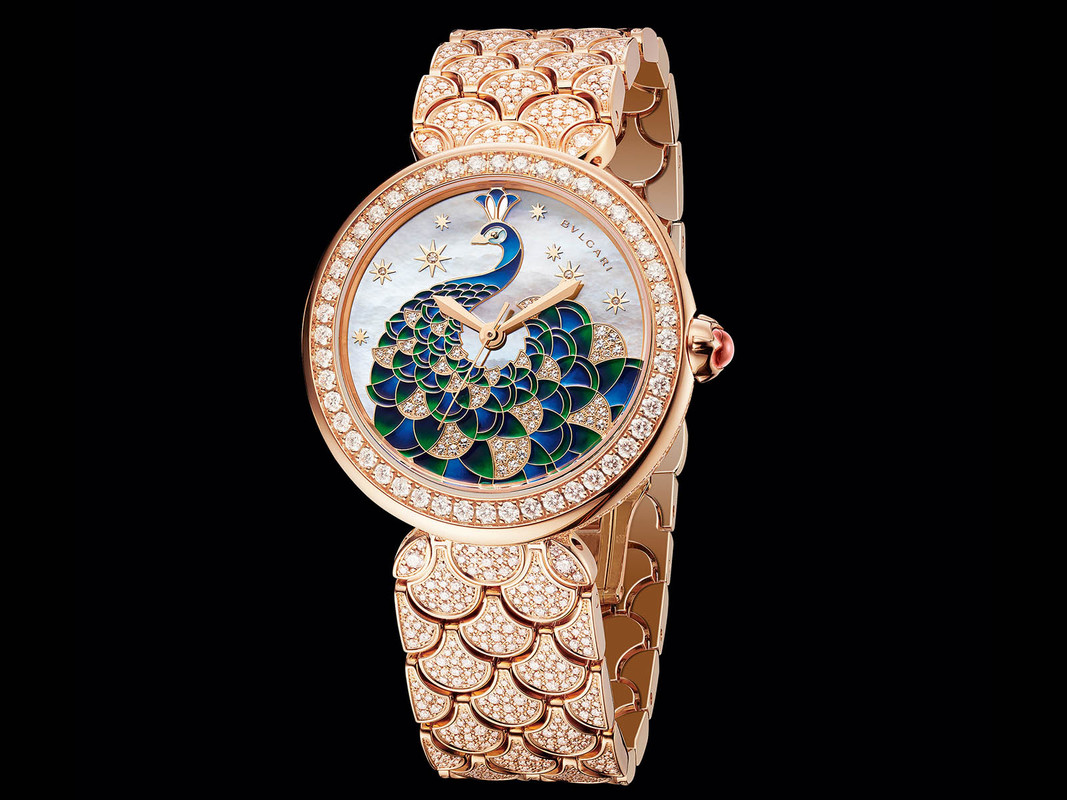 It also continues through to the design of the bracelet of the 37mm rose gold case, whose links are similarly shaped. Diamond by name and diamond by nature, as the stone-setting continues in full flight here, as well. There are a total of 1,452 diamonds, and the crown has a cabochon tourmaline as well.
Movement-wise it has the automatic Calibre BVL191, which has 42 hours of power reserve and is visible through an open case back.
The Divas' Dream Peacock Diamonds will set you back EUR 80,600 (excluding taxes).
Finally, there is another limited edition, this time of ten pieces – the Divas' Dream Peacock Tourbillon Lumière, whose 37mm rose gold case, bezel and lugs again feature brilliant-cut diamonds. This time, feather marquetry comes on a skeletonized dial with snow-set diamonds.
To create this ornamentation, the dial is laser cut into the desired pattern, after which it is decorated with contrasting areas of hand-polished surfaces and sand-blasted stripes. The fan-shaped cells are shaped, before being filled with the peacock feather marquetry. Diamond-studded stars also make an appearance in this model.

The movement is the manually-wound Calibre BVL208, with the skeletonised tourbillon visible from both front and back and a power reserve of 64 hours.
Coming on a blue alligator strap with rose gold folding buckle set with brilliant-cut diamonds, it is limited to ten pieces and has a price of EUR 157,000 (excluding taxes).
For those who might be interested in looking further into the topic, the most well known feather marquetry artist is Nelly Saunier, who has done work not just for a number of watch brands (some of them are listed on the site), but also fashion ones.
In case you are wondering, the 'tail' (train) feathers of peacocks are not quill feathers but elongated upper tail coverts, and constitute more than 60 per cent of the bird's total body length. Peacocks have approximately 150 to 175 of these, which sit over shorter tail feathers that support the weight of the longer feathers. Peacocks shed their feathers at the end of every mating season.
[Photo credit: Bvlgari]
---
---
Categories: Bvlgari, Limited Editions, Watch Profile, Women's watches