An unexpected partnership between two very different brands and a decade long relationship between Edouard Meylan and Maximilian Büsser have lead to MB&F putting a new spin on the 'friends' of the 'F', and H.Moser & Cie putting their distinctive mark on one of modern watchmaking's revolutionary brands. The new models that are the result of this have come with an interesting and dare I say fun, dual branding exercise.
Maximilian Büsser asked Edouard Meylan if he was interested in a collaboration involving the double balance spring, fumé dials and Concept series and he agreed, on the condition that H.Moser & Cie could have a play with an MB&F. In a side note, H.Moser & Cie's sister company Precision Engineering AG supplies MB&F's balance springs.
In a nutshell, H. Moser & Cie. and MB&F have jointly launched two models – a new Legacy Machine LM 101, and the Endeavour Cylindrical Tourbillon. They are available in several versions, each in fifteen piece limited series. This number is a nod to MB&F's fifteen years as well as marking fifteen years since the modern rebirth of H. Moser & Cie.
The LM 101 is a pared back Legacy Machine, and so perhaps for this reason it is fitting that it was also the model chosen to pair with the 'Concept concept', as it were. On the dial are the time, a (45 hour) power reserve, and the (redesigned) suspended 14mm sized balance wheel. In line with the Concept pieces, there is no branding. When H.Moser & Cie started these unbranded dials, I'd wager a guess that no-one thought that it would be transplanted onto another brand's watch, let alone with a fumé dial.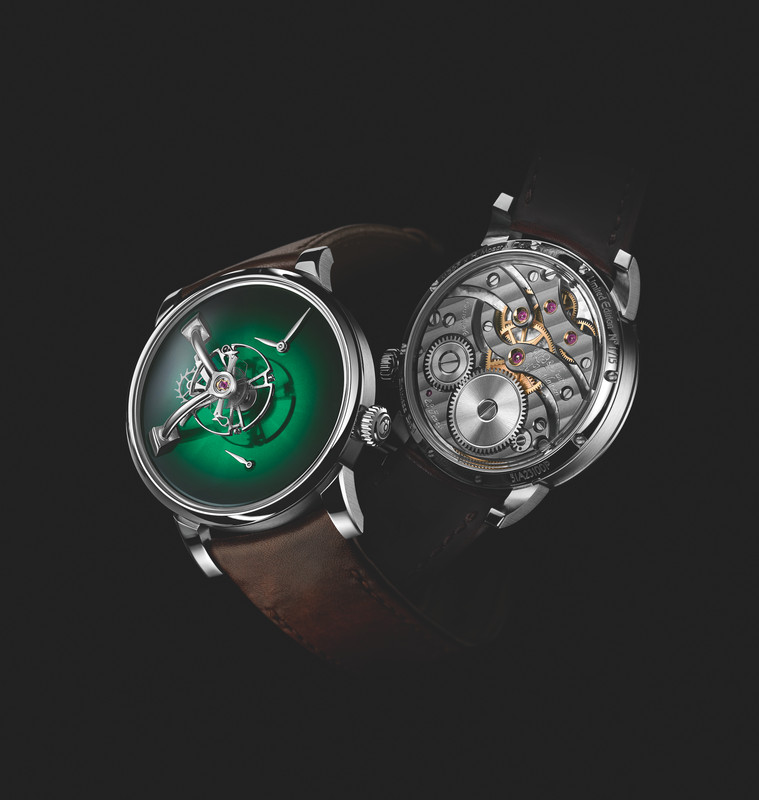 This balance wheel has the double balance spring produced by Precision Engineering AG. The use of this is for two reasons. Firstly, the displacement of the point of gravity by each spring as it expands is corrected, improving precision. Secondly, the paired balance springs also reduce the friction effect normally encountered with a single balance spring, optimising isochronism.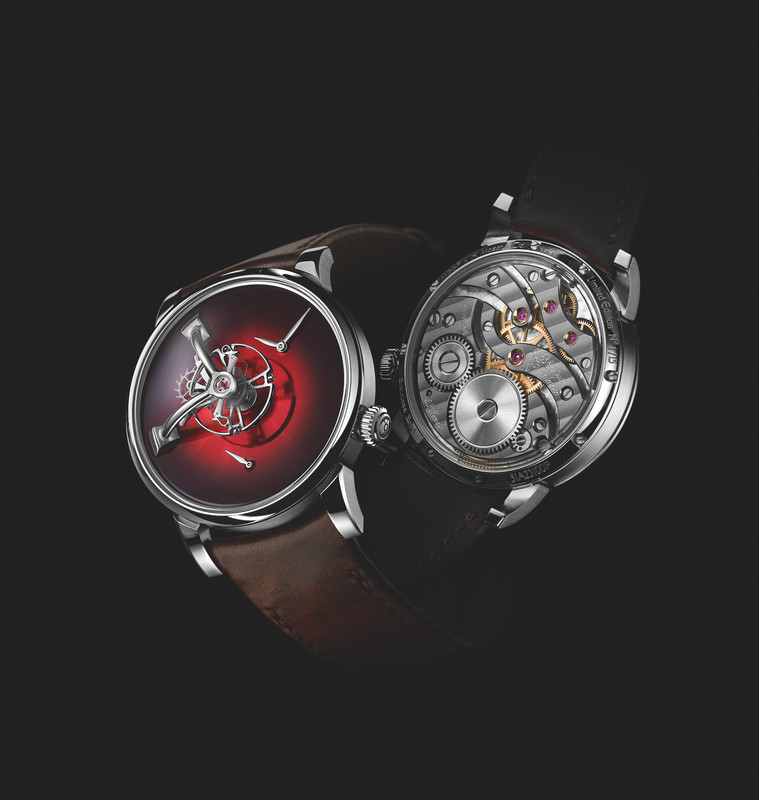 The manually wound movement can be seen through the open case back and is familiar creation with Kari Voutilainen but with finishing differences; it is hand finished engraving, Genevan waves, and NAC-treated black bridges. It beats at 18,00 VPH, has a power reserve of 45 hours, and has gold chatons with polished countersinks.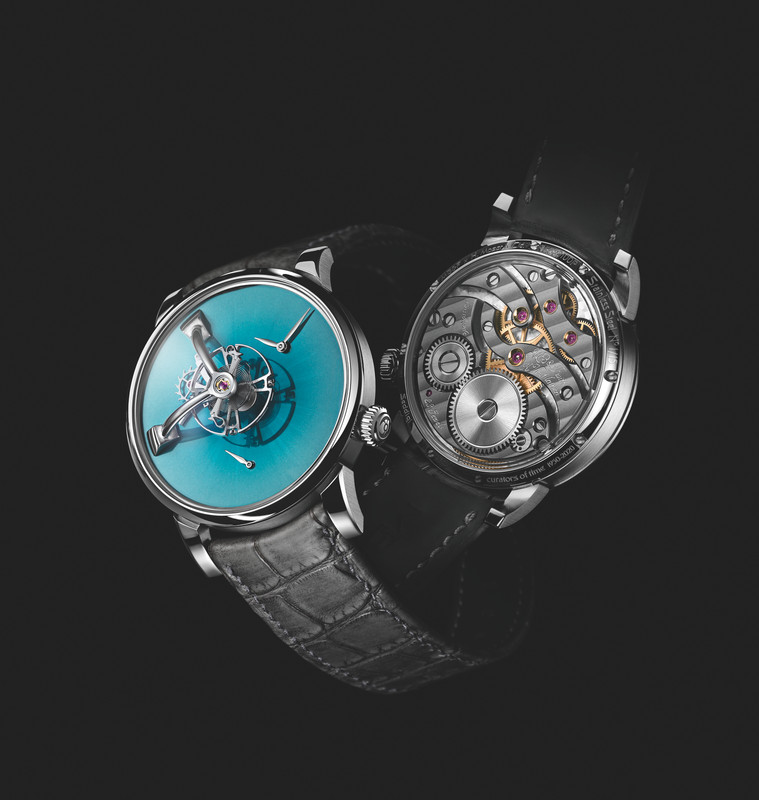 Coming on a calfskin strap with a titanium folding buckle, the 40 mm case is made of steel (their third venture into this metal). There are four dial colours, each in limited editions of 15 pieces – Red, Cosmic Green, Funky Blue, and a special Aqua Blue (my favourite colour of the options) edition for their retailer Ahmed Seddiqi & Sons. They are all priced at CHF 53,000 (including tax).
Now for the more complex Endeavour Cylindrical Tourbillon.
You get the feeling that H.Moser & Cie had fun with this. This new pieces has some key characteristics of MB&F such as a vertically tilted dial, exaggerated movement design with a vertical tourbillon and a very convex sapphire dome to put their spin on a one-minute flying tourbillon at 12 o'clock that has the same cylindrical balance spring that Precision Engineering AG developed for the MB&F Legacy Machine Thunderdome, with which it also shares attributes.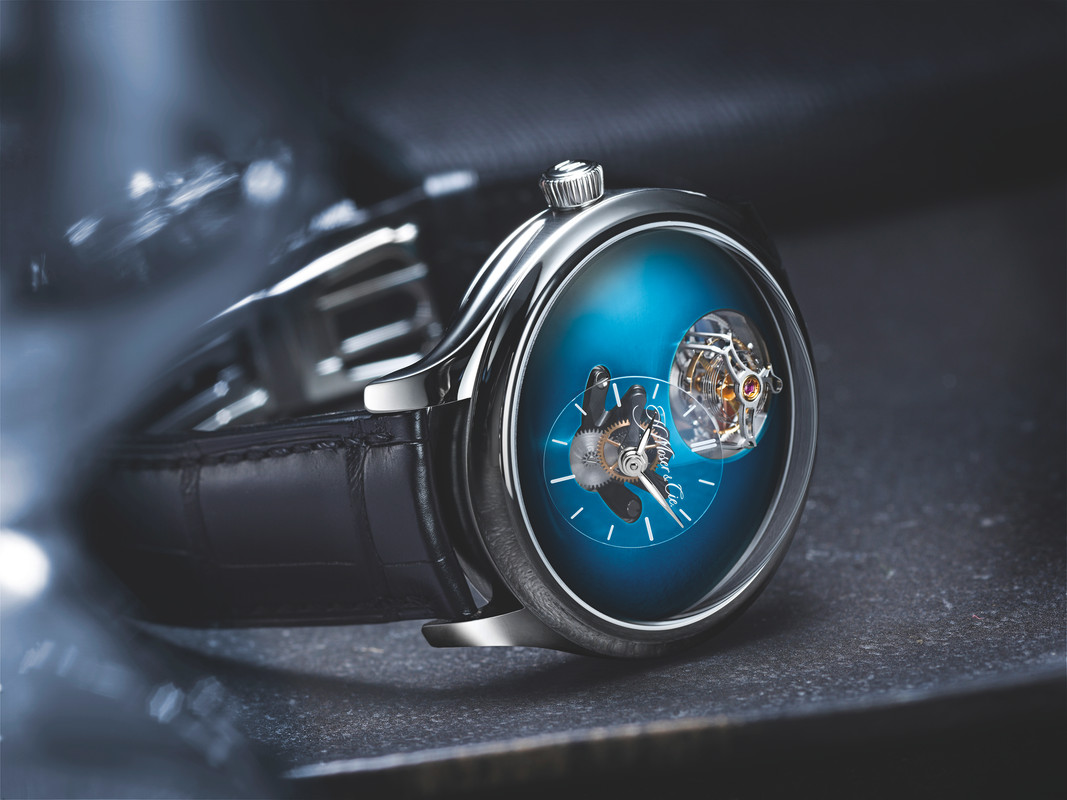 The cylindrical balance spring rises concentrically the upper rod of the balance staff. I mentioned the balance spring earlier, but as Moser puts it, this gives it an advantage over the flat balance spring, whose opposite ends tend to exert forces on the pivots despite the use of Philips or Breguet terminal curves which were developed to partially correct the non-concentric opening of the balance spring. Fitted with a Breguet overcoil at both attachment points, the cylindrical balance spring reduces pivot friction and greatly improves isochronism.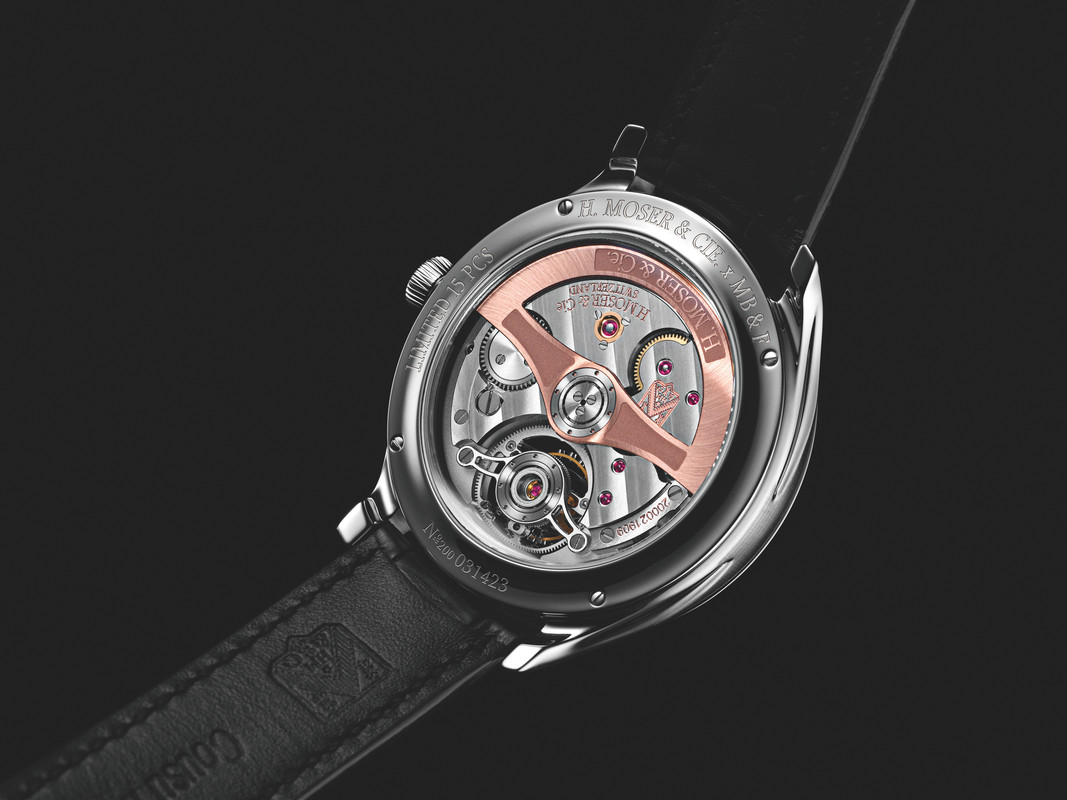 The movement of which it is part is the automatic Calibre HMC 810, which beats at 21,600 VPH, has an 18 kt gold oscillating weight, and a power reserve of 72 hours. The one minute flying tourbillon at 12 o'clock has skeletonised bridges.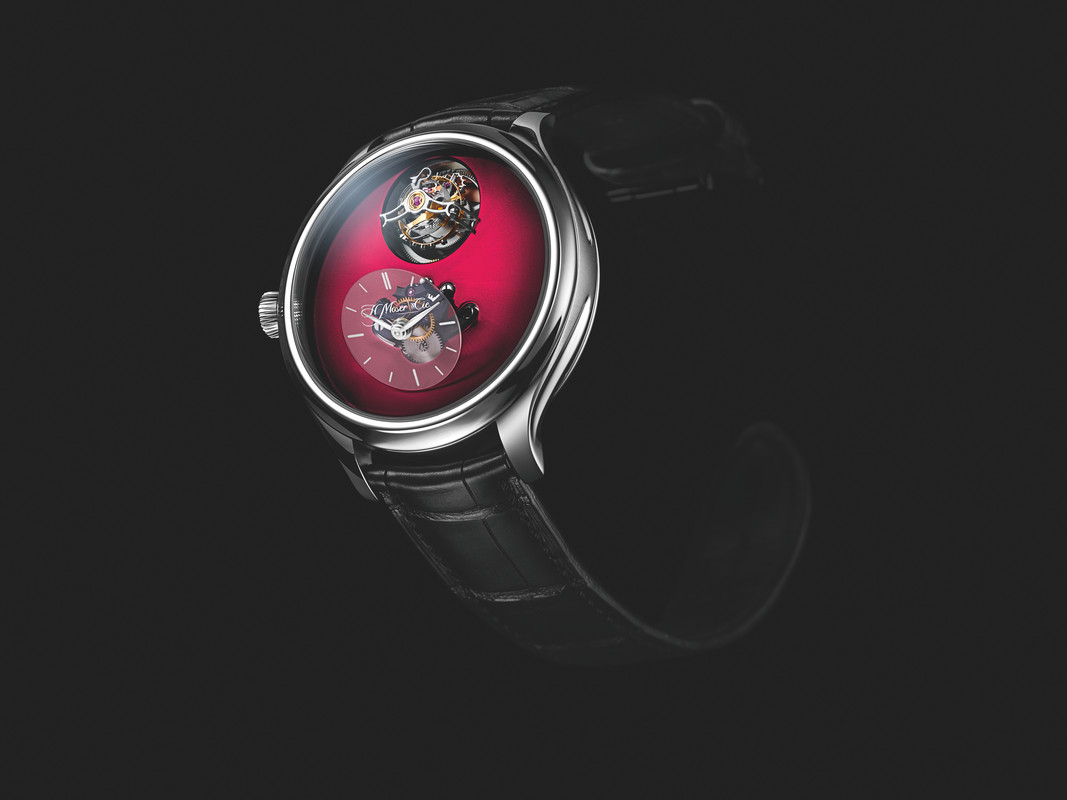 The MB&F styled tilted hour and minute dial is inclined at 40° and mounted on a conical gear train. In a very Moser type of whimsy, the dial is sapphire so as to not interrupt the visual flow of the fumé dial. Continuing on this theme, their branding is inscribed into the sapphire.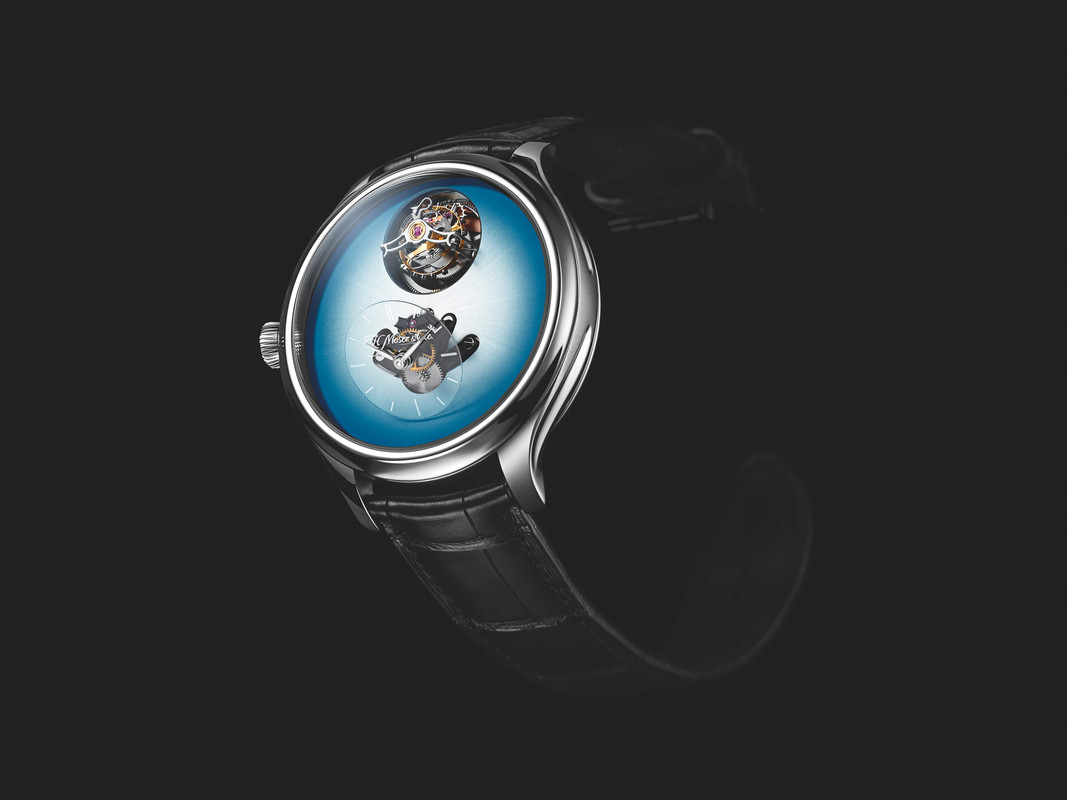 Coming on a black alligator strap with a steel folding buckle engraved with the Moser logo, the Endeavour Cylindrical Tourbillon is in a 42mm sized stainless steel case (height of 19.5mm) and available in five limited editions of 15 pieces each – Funky Blue, Cosmic Green, Burgundy, Off-White fumé (which has blued hands) and Ice Blue. The price is CHF 79,000.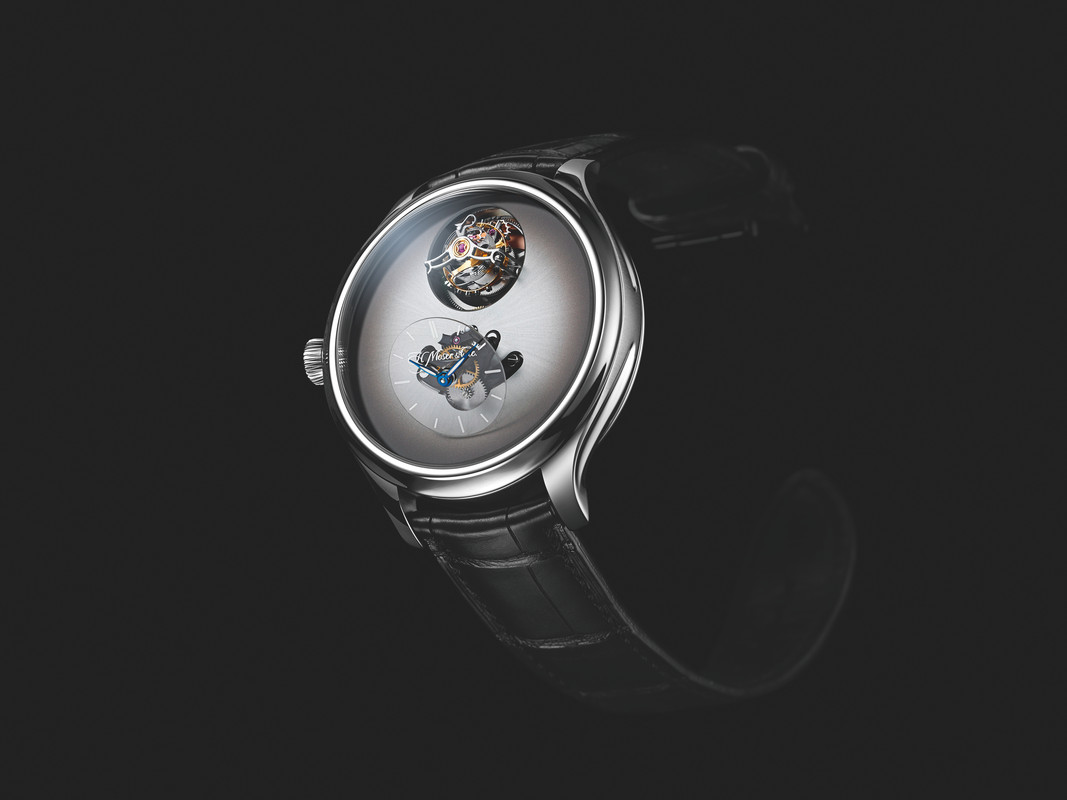 To purchase the Endeavour Cylindrical Tourbillon, click here. For the MB&F Legacy Machine 101, go to this link. Or for further assistance, ask your local authorised dealer for either brand. In Australia, the Endeavour Cylindrical Tourbillon has an RRP of AUD 131,000 via Hardy Bros.
[Photo credit: H.Moser & Cie, MB&F]
---
---
Categories: H. Moser & Cie, Limited Editions, MB&F, Watch Profile, watches, Watchmaking, Women's watches