Last year saw retailer The Hour Glass release a number of 40th birthday commemorative limited editions in conjunction with their brands. Some of them sold out immediately upon announcement. One of these was the the watch that is the subject of today's post – a special iteration of their Freak X that came in an edition of thirty pieces.
Launched at SIHH 2019, and covered by us at this post, the Freak X differs from previous Freak timepieces (going back to its launch in 2001) in two key ways – it is smaller (a new more rounded 43mm case instead of 45mm), and it features a traditional crown for time adjustment. This is moving back to convention, away from the crown-less original wherein time correction is via the bezel, a feature that made it so groundbreaking and which is still a feature of the models based on the original.
The 'baguette' movement is unchanged i.e. a carousel, turning once on itself every hour to indicate the time. With no dial or hands, the central bridge acts as a minute hand and one of the wheels indicates the hours. Both are treated with Super-LumiNova, as are the indices. The movement is the automatic Calibre UN-230, which rotates around its own axis once every hour, with a silicium balance wheel and nickel flyweights . It is an amalgam and reworking of the Calibres UN-118 and Freak Vision UN-250, beats at 21,600VPH, and has seventy-two hours of power reserve. It also features the use of Super-LumiNova.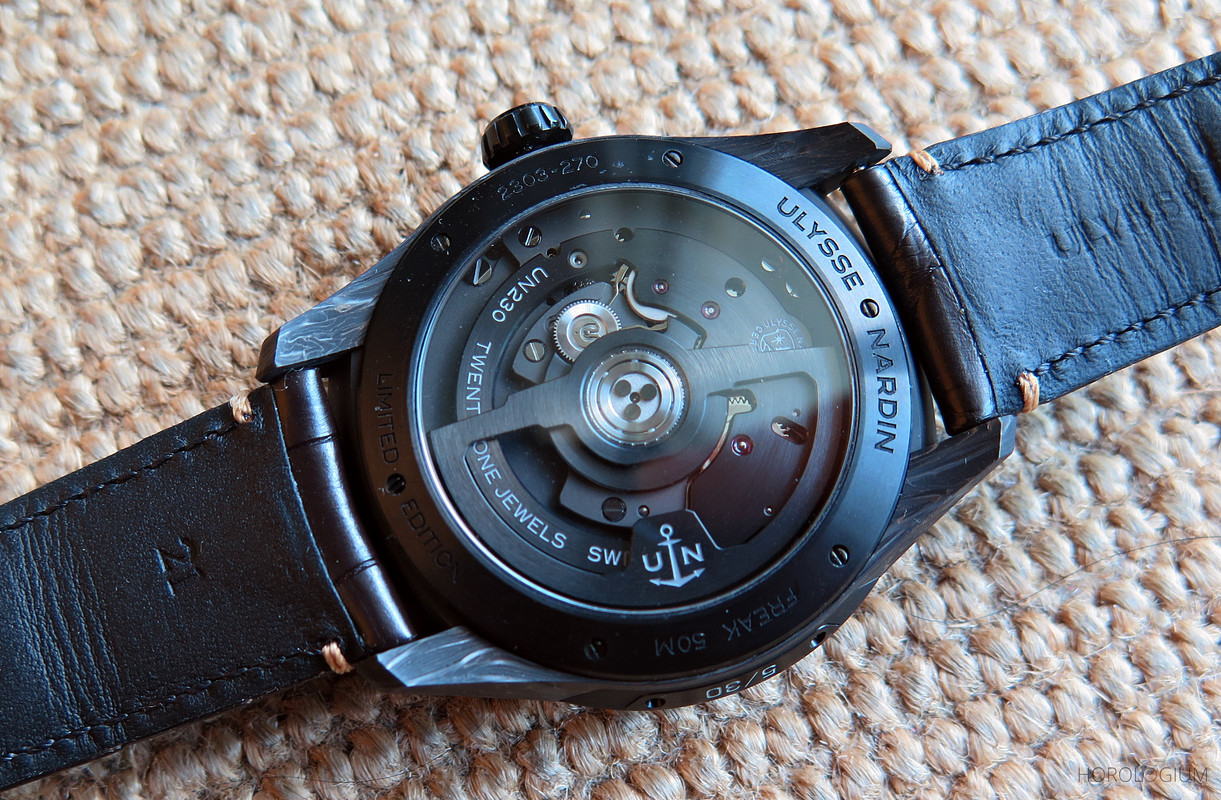 The launch of the Freak X had two other main points of note apart from the smaller size and crown – the introduction of Carbonium® as a case material (a first in the industry), and a lower pricing. With regards to the former, it was available in titanium with a PVD finish, 5N rose gold/ titanium with black DLC, and matte-finished Carbonium® with titanium with black DLC.
Carbonium® is a composite material made from gold particles and 7μm aeronautical grade carbon fibres. The latter are twice as light as aluminum, and 95% sourced from carbon by-products used in the aeronautical production industry. As well as being light, it is also tough (and thus has good scratch resistance) and has an interesting texture visually. The process development used to turn the carbon by-products into this composite is, according to Ulysse Nardin, based on three patents led by Lavoisier Composites.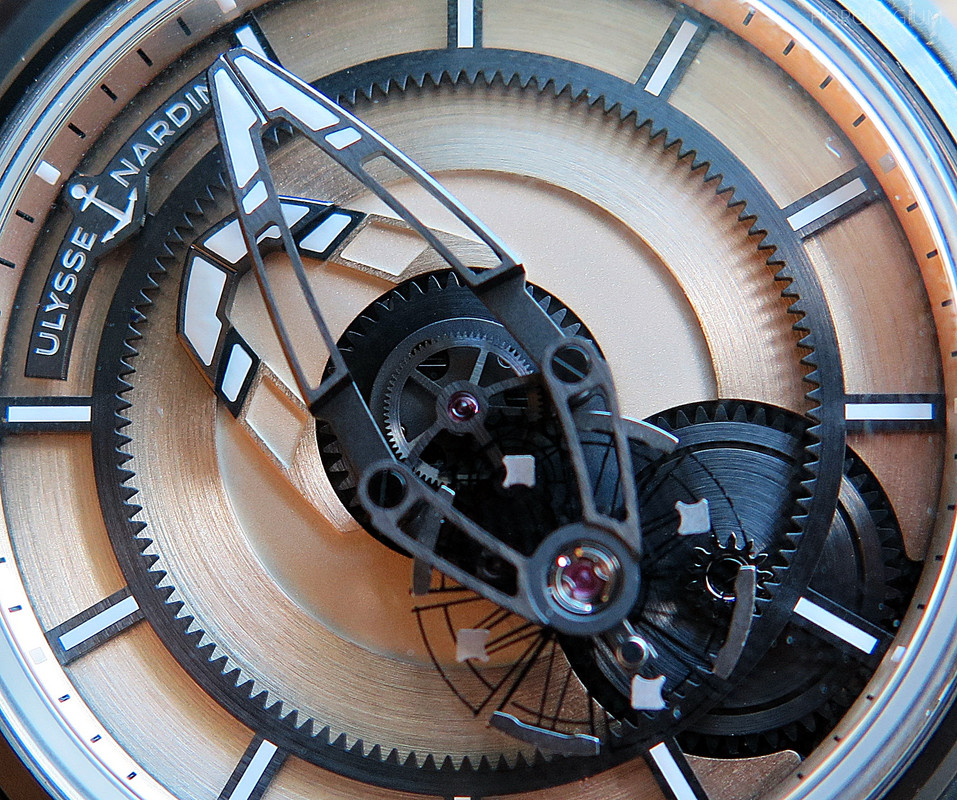 It is not unexpected that the material chosen for The Hour Glass Freak X Carbonium® was this new composite, but with a special champagne-coloured dial. The matte Carbonium® and titanium case is light with black and gold waves; each model has a slightly different pattern and thus, identifiable to its owner, which is a nice bit of personalisation. It comes on a dark brown alligator strap with champagne-coloured stitching.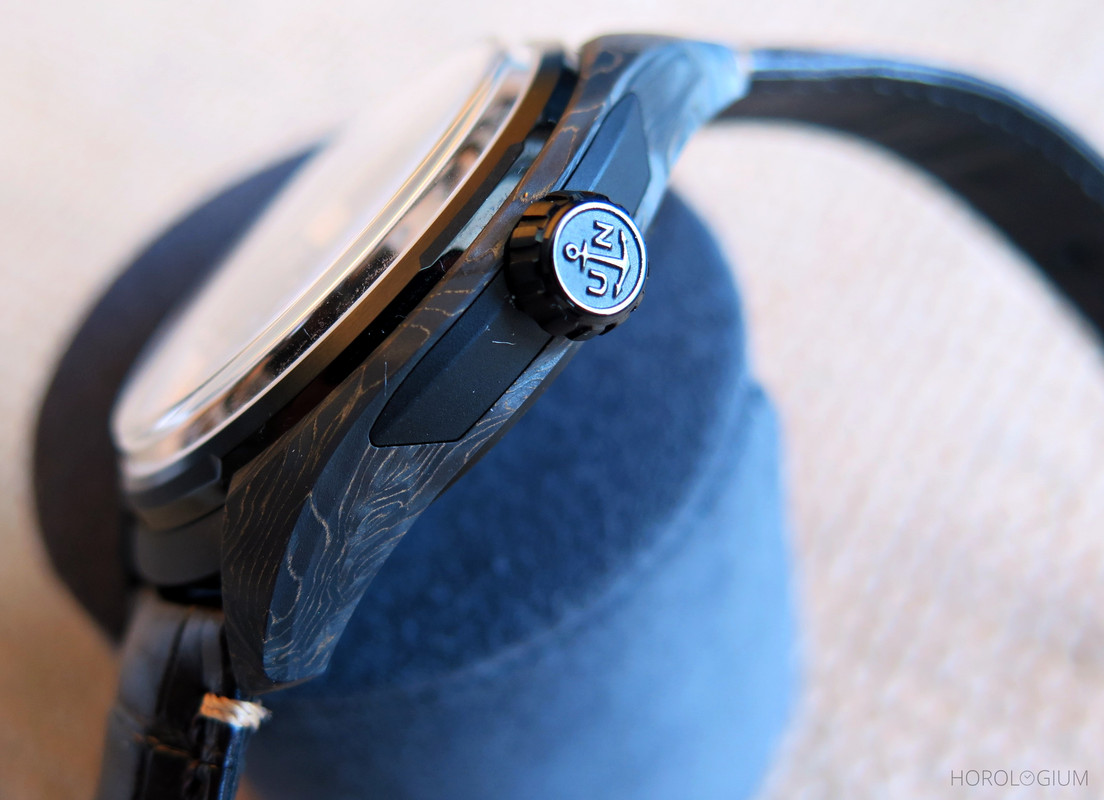 It was in a limited edition of thirty pieces and as I mentioned, they all went pretty much immediately, so I was fortunate to be able to wear one on and off for a couple of weeks. The aesthetics are down to a matter of individual taste, so I won't focus on that.
The most notable thing about having it on the wrist is, of course the weight, or lack thereof. If you are used to having a little heft on your wrist, it will take just a short period of mental adjustment to wearing Carbonium, but it makes it an easy presence on the wrist. The 43mm size makes it comfortable, as does the case/ lug design.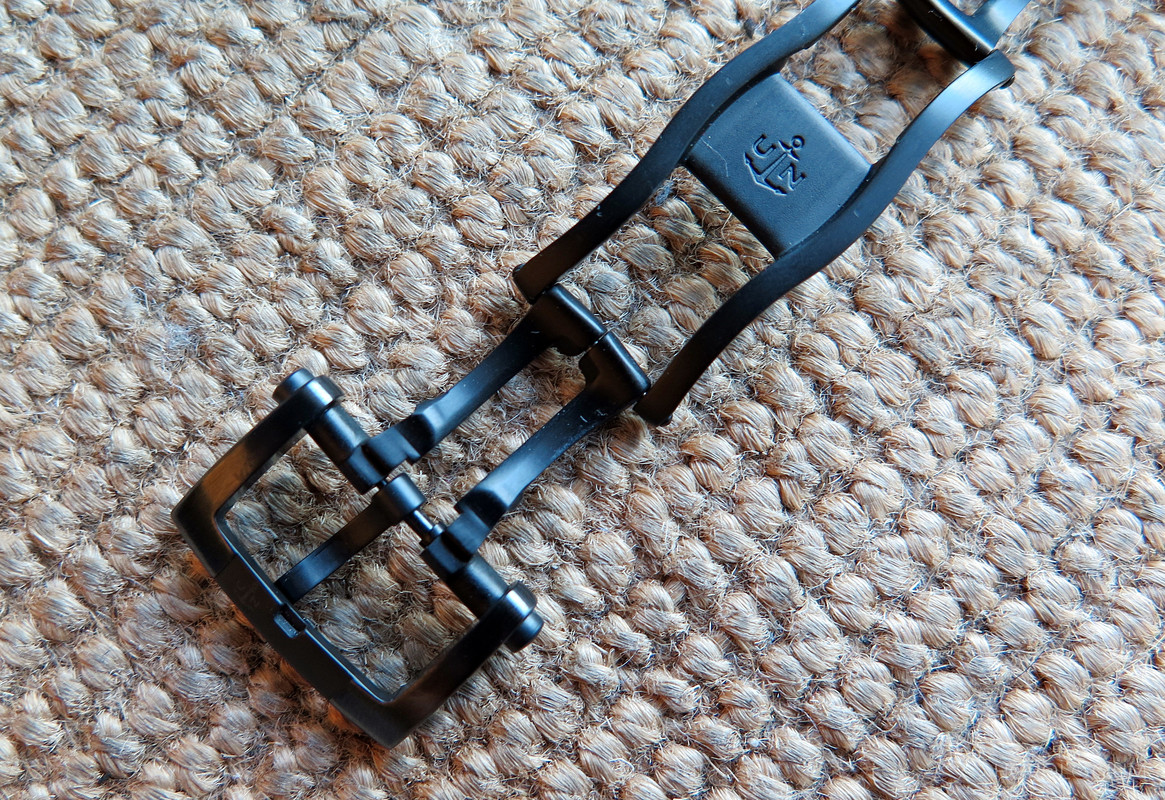 The strap comes on a clasp with a pin buckle, and this is where the biggest issue arose in its wearing. As you can see in the photo the pin is not held securely in place, which meant that it slid side to side and sometimes risked ending up on the other side of the buckle. It also made it more fiddly to put into the appropriate hole. Once in, the watch was secure on the wrist, but the gap made it wobble around far too much, and it felt insubstantial. I do not know if this was all accidental or intentional, but would have preferred it to have been otherwise.
---
---
Categories: Hands-on, Limited Editions, On the wrist, Sydney, Ulysse Nardin, Watch movements, Watch Profile, watches