This year's horological half centuries continue with today's post about another such commemoration. Fifty years ago this December, Seiko introduced the world's first quartz wristwatch – the Quartz Astron. The Astron 35SQ was based on a quartz crystal oscillator (an electrical signal with an extremely precise frequency), and its importance is acknowledged by its registration on the IEEE Milestone list as a major advance in electrical engineering.
Ten years ago on the occasion of the 40th anniversary, Seiko commissioned 40 new designs based on the original Quartz Astron which were exhibited at the 'Seiko Power Design Project' in Dec 2009. The culmination of Seiko's commemoration was the limited edition (200 pieces) Quartz Astron, powered by the SEIKO quartz caliber 9F62, accurate within 10 seconds a year, and with its date change completed in an astonishing 1/2,000 of a second.
Let's go back a bit.
In 1880 Pierre and Jacques Curie discovered the electrical potential of quartz crystals when pressure is applied, known as piezoelectricity. They devised the piezoelectric quartz electrometer, which can measure faint electric currents. The question was then how to practically apply this.
By 1927 Bell Laboratories demonstrated that accurate time could be measured by using a quartz crystal, implementing the results of the Curie brother's experiments. In 1959 Suwa Seikosha Co Ltd, one of Seiko Group's Research and Development labs, built its first quartz timepiece – a large clock 2m high and 1.5m wide, which was successfully used in a radio station in Japan. The task was then given of miniaturising this new technology, and Project 59A was launched to focus on achieving this end.
In 1962, the company managed to produce 'smaller' (30kg) version of a quartz marine chronometer, which was utilised in the Japanese shipping industry. By 1963 Seiko managed to further miniaturise it down to the QC0951, which weighed 3kg.
Launched at Basel in 1969, the original Quartz Astron was produced in 18 carat gold case in a run of 100 pieces, costing JPY 450,000, more than a Toyota Corolla at the time.
The first quartz watch that was available to the general public was the 3823 calibre, also known as the 38 SQW, which was introduced in October 1971 at a price of JPY 150,000. This was equivalent to two month's salary for a Japanese university lecturer.
In 2004, the Quartz Astron received the IEEE Milestone Award for its breakthrough contribution whose use has gone far beyond watches.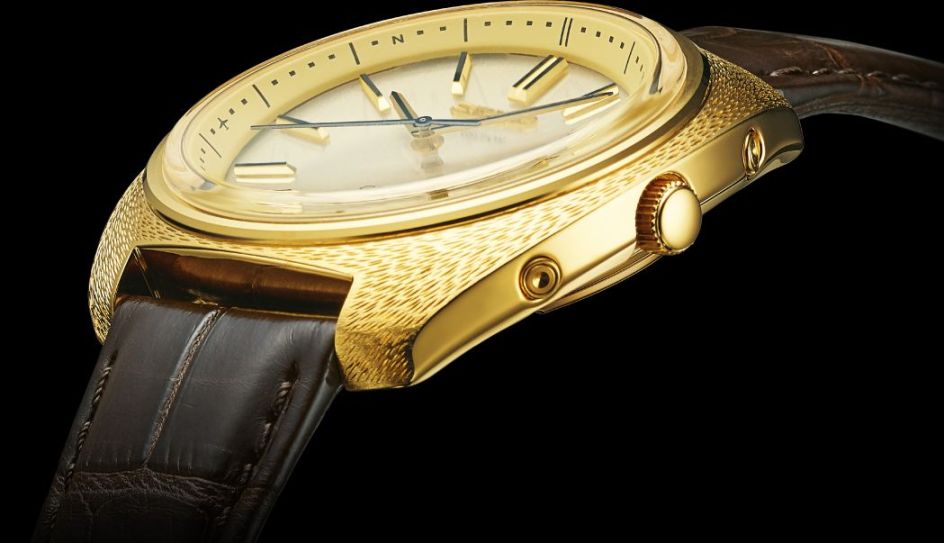 Today's 50th anniversary piece is known as the Ref. SBXD002 and comes in a limitation of 50 pieces. Seemingly reminiscent of this year's Grand Seiko Spring Drive Thin Dress Series Ref. SBGZ001 with its 'hammered' looking hand-decorated platinum case but actually a clear homage to the design of the original, today's watch is a hand-carved 18 carat yellow gold case measuring 40.9mm x 12.8mm. The dial has a vertical hairline pattern, hands are thin batons, and the multi-faceted indices are topped with a thin black line as per the original. As you can see in this photo provided by Seiko, the rehaut is quite deep and steep, unlike the original on which it is based.
Atop the dial is a box-shaped AR-coated sapphire crystal, and the case back is marked 'Commemorating the 50th anniversary of Quartz Astron, released on Dec 25, 1969'.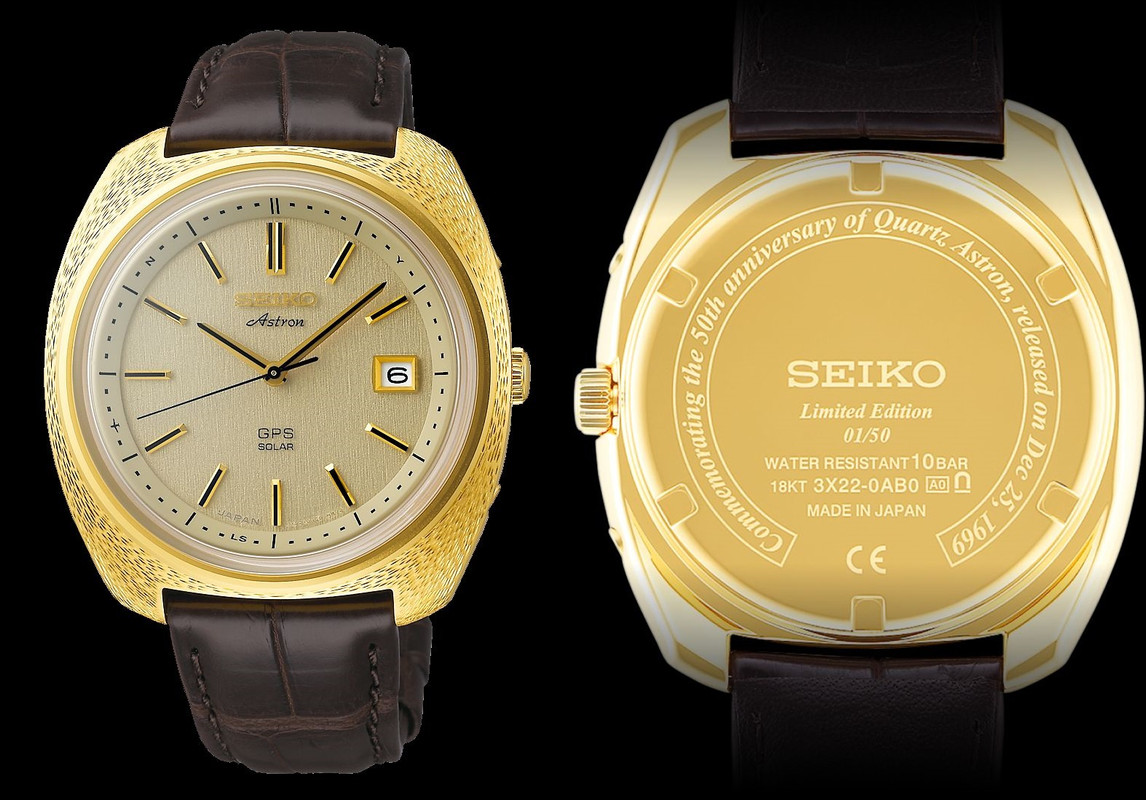 Inside is the new Seiko in-house Calibre 3X22 which, according to the brand, is the world's thinnest GPS solar calibre with GPS accuracy. ±15 seconds per month (without receiving a GPS signal and at temperatures between 5°C and 35°C).
As a GPS Astron, the watch features automatic connection up to twice a day to the GPS network to check timekeeping. Timezone adjustment is via a button. The watch also has an in-flight mode to stop the GPS signal reception function when required, and self-prevents against overcharging.
The new 1969 Quartz Astron 50th Anniversary has a magnetic resistance of 4,800 A/m.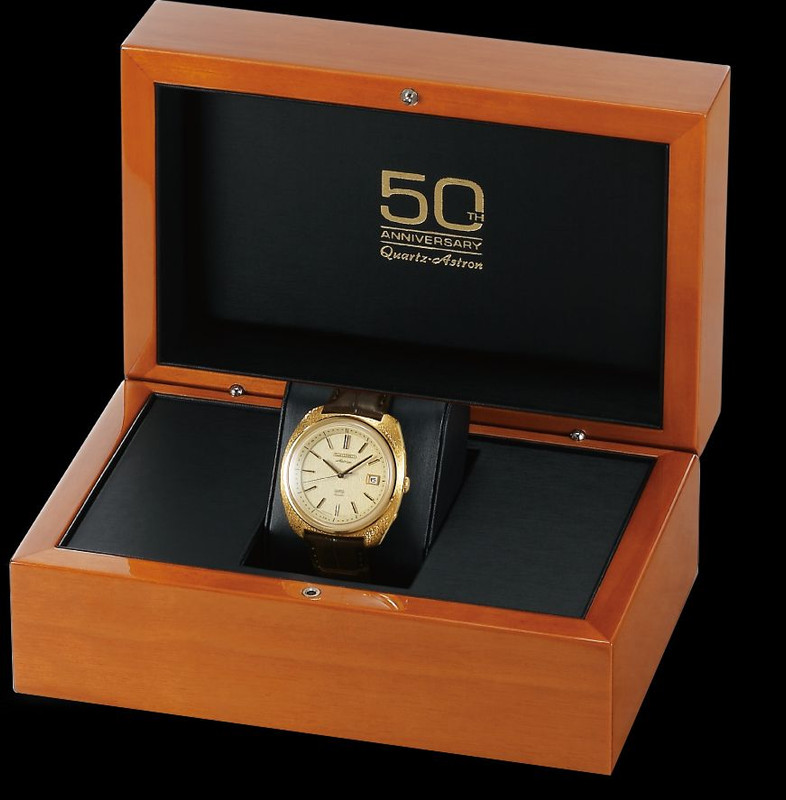 Coming on a black crocodile leather strap with an 18 carat yellow gold folding clasp, it will be available from December 2019 at selected Seiko boutiques for EUR 38,000.
[Photo credit : Seiko]
---
---
Categories: Japanese watches, Limited Editions, Seiko, Watch movements, Watch Profile, watches