When the David Rutten Meteorite Watches brand and its inaugural model the DR01 Streamline were launched, like many I was curious (especially as a sub CHF 10,000 meteorite watch), but as it is a niche limited edition (88 pieces) watch sold through a single website, I figured that I would be unlikely to see it.
However, its appearance on the shortlist of pre-selected watches for the GPHG 2019 awards meant that it came to Sydney as a part of the worldwide travelling exhibition, and so it found its way into my hands.
The use of meteorite in watches is something that we have covered before, most commonly in dial form showing the natural patterns, but also as a highly treated dial or treated case. Most popularly collected in and of itself, when used in other ways, this space debris can lend itself to people waxing lyrical.
David Rutten is a Belgian designer making a foray into watches. Malik 'Pifpaf' Bahri, the other public name behind the brand, is a watch blogger and member of various watch fora. As they put it, the goal with this new brand is not to incorporate meteorite watch but to incorporate a watch into meteorite. In their case, iron meteorite.
For this first model Rutten has referenced the 1930s, both with the curves that are reminiscent of car design of that period and with a guichet ('window') style watch featuring a jumping hours, digital direct read minutes, and seconds (the font also designed by him). If you have come across the original guichet watches you will know that the windows are very small by modern standards, to the point where legibility is an issue for those with suboptimal eyesight. The DR01 may be retro in design but in size it is not, measuring 53mm (including lugs) x 37mm, with a thickness of 12mm. The time aperture is commensurately larger and legibility not a problem. Because the watch case is curved, along with the design of the lugs, it actually wears quite comfortably.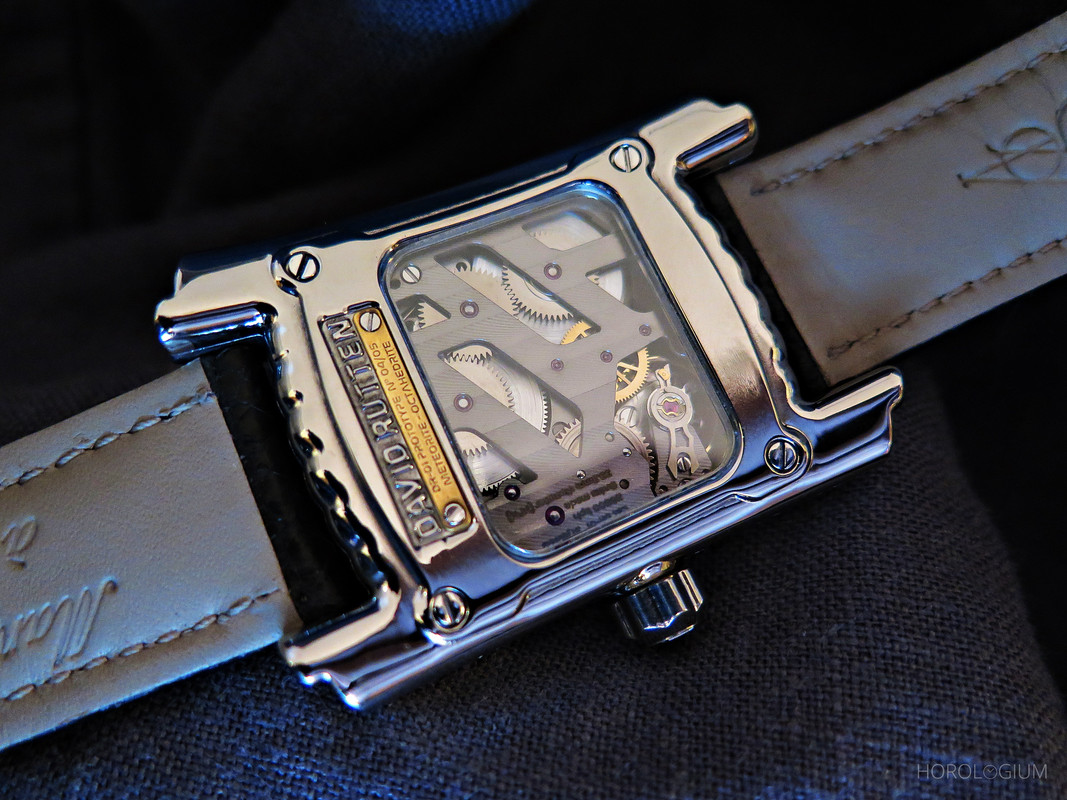 As well as wearing easily it is also quite light – a total of 120g including the black python strap. The watch is built around the movement, with 2mm of meteorite covering the 33mm calibre, accompanied by a polished titanium base and crown. The manual-wind DR01 movement beats at 28,800VPH and has a power reserve of 120 hours. It features Côtes de Genève decoration, and the bridges are treated with ruthenium.
The Streamline's case is made from part of the large octahedrite meteorite called Muonionalusta found on the Swedish/ Finnish border in 1906. Meteorites are divided into three main groups: irons, stones and stony-irons, each of which has numerous sub-classes. Octahedrite is the most common type of iron meteorite, which is a type dominated, as the name indicates, by iron, but they also contain metallic nickel. They are dominated by nickel-iron minerals Taenite and Kamacite and are named for the octahedral (eight-sided) shape of Kamacite crystals. What is the difference between these two? Well both are silver-coloured but Kamacite is rich in iron, whereas Taenite is rich in nickel. This particular meteorite is 8.4% nickel.
When sliced, etched with a weak acid, and polished, octahedrites show a Widmanstätten pattern, about which you can read at my post about another meteorite (dialled) watch from a couple of years ago.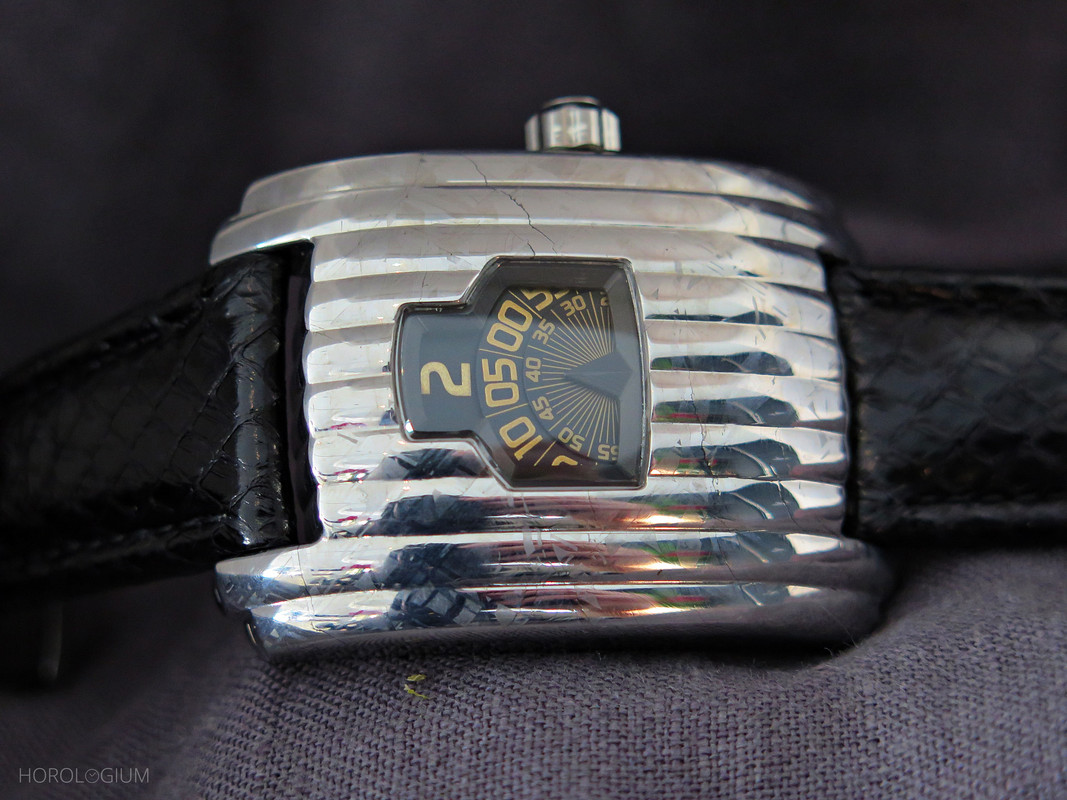 This is not the only watch featuring meteorite that we've covered this year, and as we mentioned at the beginning, not the first watch we've handled with a case made from it (that one also featured a digital display). The ones using meteorite as a dial material have a similarity to them and the De Bethune pieces are, given the boundary-pushing nature of the brand, in a league of their own.
The 88 piece limited edition David Rutten Streamline, which comes with a guarantee of three years, is again a completely different proposition in terms of price, design, and overall impression. This is not just because of the time display choice and case shape, but also because although also featuring octahedrite, the way in which the patterning on the top of the case is seen amidst the curves gives an almost 'patination' type of feel to it. If you have seen other watches featuring meteorite before, it is still worthwhile seeing the Streamline as a point of comparison.
For further details and/ or to order one, go directly to their website.
[My thanks to The Hour Glass Australia, at which I took these photos during the GPHG 2019 travelling exhibition]
---
---
Categories: David Rutten, Hands-on, Limited Editions, Sydney, Watch materials, Watch Profile, watches, Women's watches