Earlier this year Andersen Genève introduced a new collection called 'Art & Culture' and with it, a limited edition (twelve pieces) launch model called 'Vita Vinum' ('life wine' in Latin). One of the six finalists in the GPHG 2019 'Artistic Crafts' category, I had the opportunity to see it during the awards' travelling exhibition.
The Vita Vinum is a tribute to the process of wine making, albeit in a more historical traditional form than modern viticulture/ oenology/ winemaking. This is done on a charming hand-painted disc (that completes one full rotation every 365 days) that depicts twelve numbered scenes (one for each month) of a Swiss winemaker's work.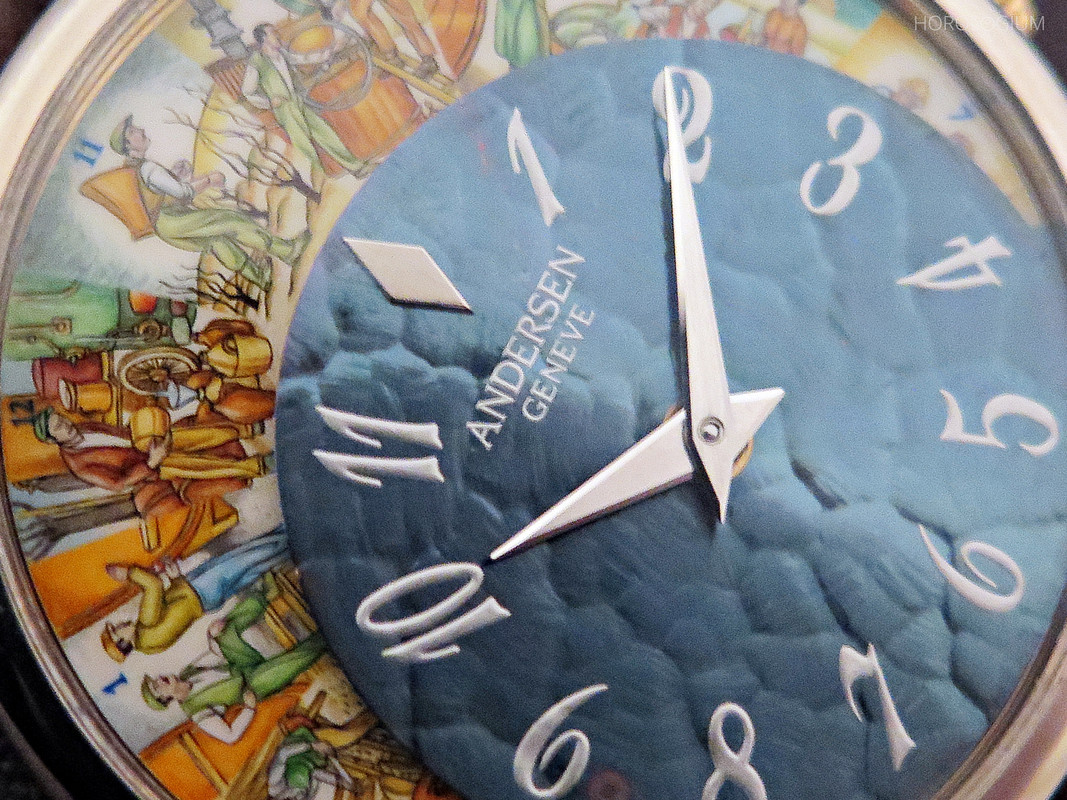 Atop this is a fixed disc of 21ct 'Blue Gold' with a guilloché "tapisserie" pattern that has the time function. Both the blue gold dial and the pattern will be familiar to those with some knowledge of Andersen pieces, the former being most widely known as being on his Worldtime model. The hour and minute hands are white gold.
You will note that there are two crowns; one to set the time and the other for adjusting the 12 months disc.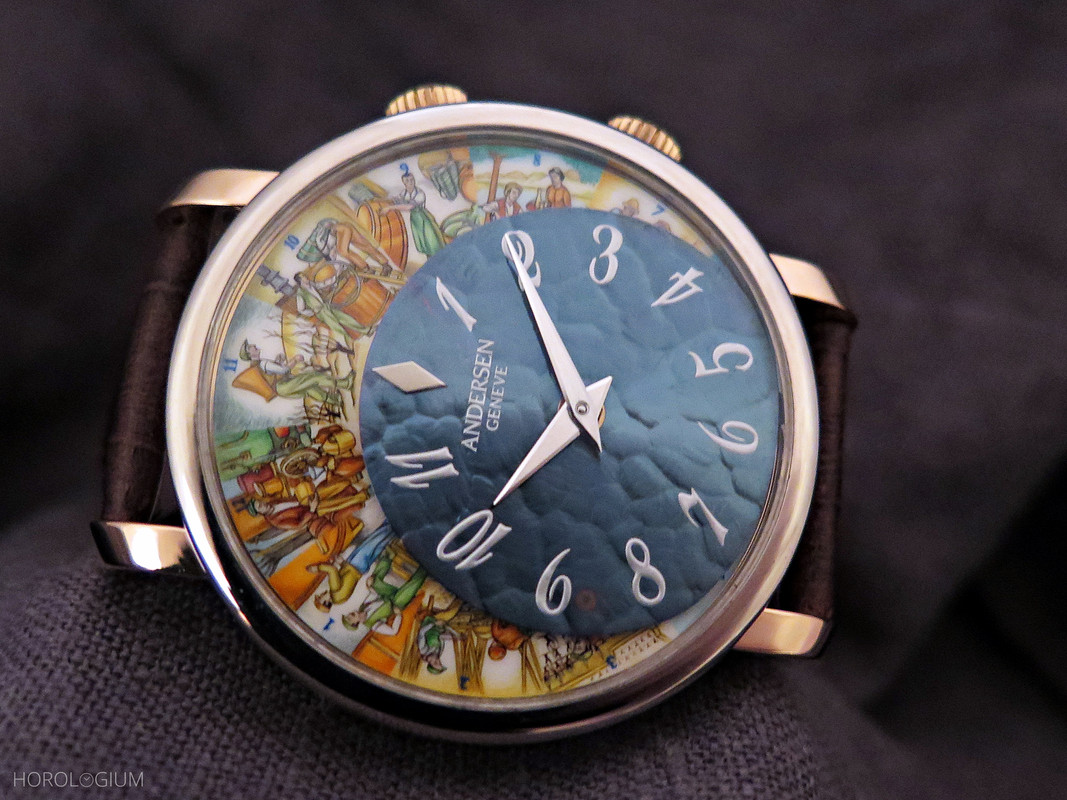 Inside is an automatic movement to which Andersen has added an in-house developed module that moves the decorated disc once every 24 hours. It beats at 21,600VPH and has a power reserve of 36 hours.
Coming on a hand-stitched alligator strap, the 42.5mm sized case is bi-metal (5N red gold and white gold) and with a thickness of 11mm, sits comfortably on the wrist. The case back is closed, and a master hand engraver will customise its decoration for the owner; perhaps to their own vineyard or favourite winemaking region.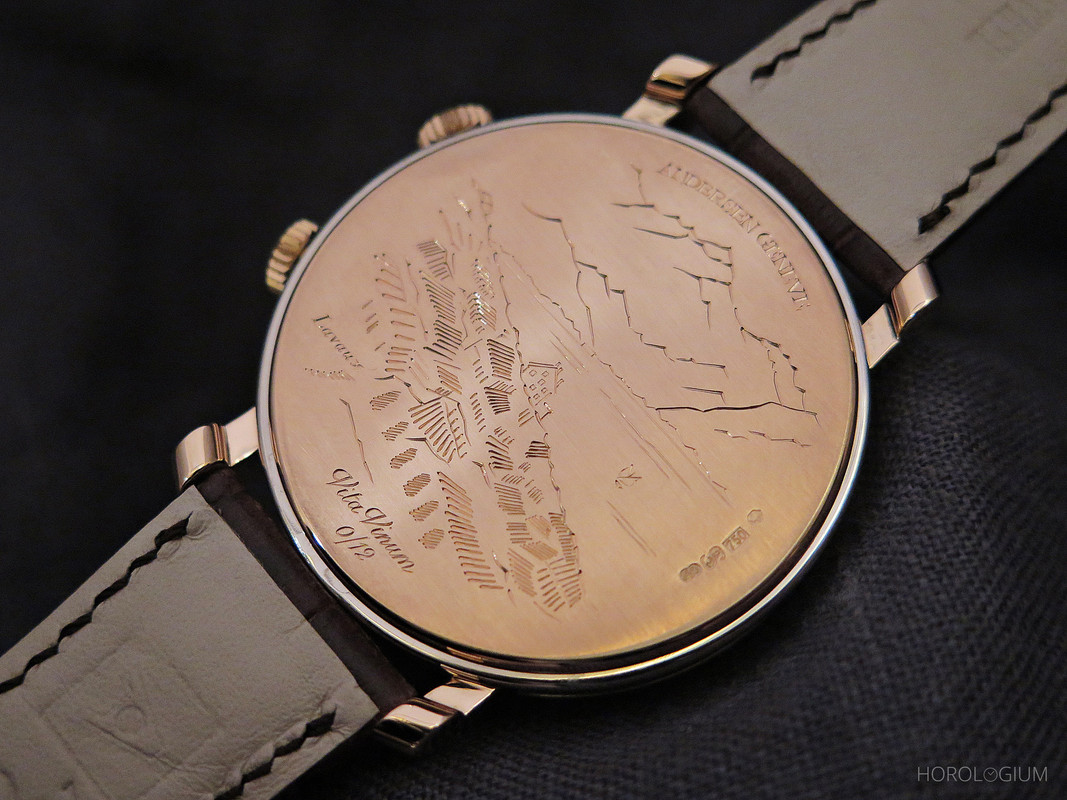 This is a niche brand and a niche watch. For those unfamiliar with this small brand, and my own first 'hands-on' experience with them was only a handful of years ago during a small group presentation, go to their site here. Apart from the aforementioned world timers, the brand is perhaps best known for their 'Automaton' collection and Montre à Tact 'dogs playing cards' watch, and for their flexibility in creating personalised and pièces unique. Because it is so uncommon to come across this small brand, it is interesting when the opportunity arises.
The Vita Vinum is limited to 12 pieces and has a price of CHF 42,800 excluding tax.
[My thanks to The Hour Glass Australia, at which I took these photos during the GPHG 2019 travelling exhibition]
---
---
Categories: Andersen Geneve, Baselworld 2019, Hands-on, Limited Editions, Sydney, Watch exhibition, Watch Profile, watches