At next week's SIHH Piaget will present three additions to their Altiplano collection family, one of which features a dial material familiar to some of you, meteorite (see here for a sister brand's past offering, this link for another one from the same year, and for something wildly different a meteorite case or an unusual approach to a meteorite dial). The trio play to the brand's well established aptitude in this collection family, and provide Piaget's ultra thin fans with more offerings from which to choose.
Firstly, there is a new 40mm model in a pink gold case with a grey Widmanstätten meteorite dial. Widmanstätten patterns (or Thomson structures) are found in the octahedrite iron meteorites (the most common class of iron meteorites) and some pallasites (a class of stony–iron meteorite) and consist of fine interleaving of kamacite (an alloy of iron and nickel found on earth only in meteorites) and taenite (an alloy of iron and nickel found mostly in iron meteorites) bands, between which are often a mix of kamacite and taenite called plessite can be found.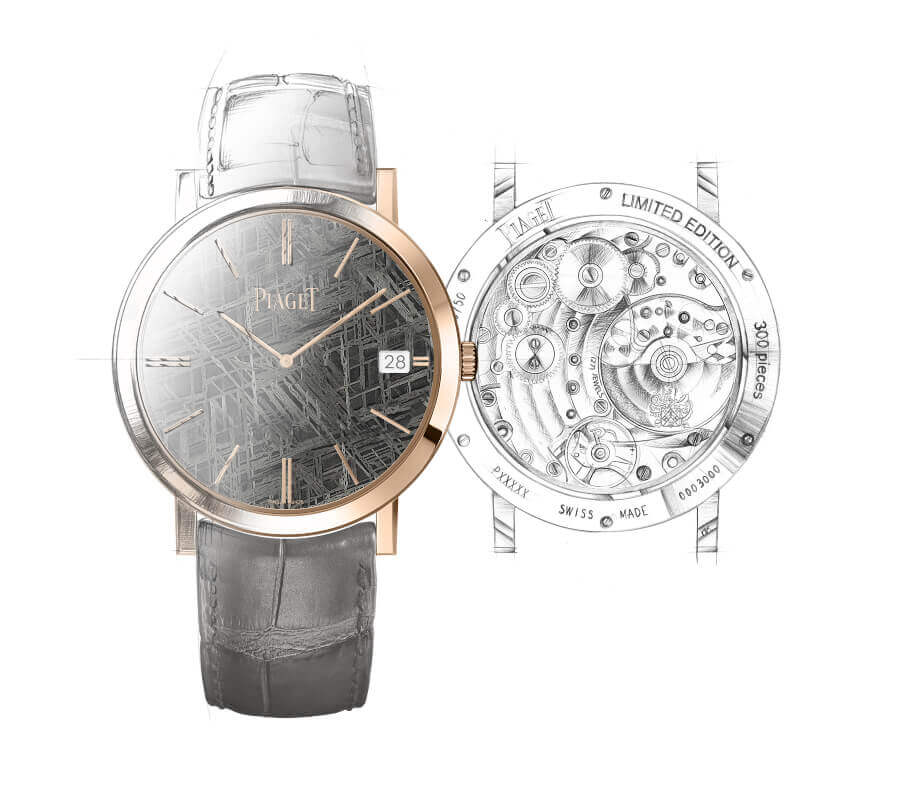 'Widmanstätten' refers to Count Alois von Beckh Widmanstätten, director of the Vienna Imperial Porcelain Works who, whilst flame heating iron meteorites in 1808, noticed that the varying rates of iron alloy oxidation lead to colour and texture variations. His find, although not published, was acknowledged by Carl von Schreibers, director of the Vienna Mineral and Zoology Cabinet. Mr Thomson, on the other hand, noticed the phenomenon in 1804 whilst applying nitric acid to a meteorite and published his findings in the Bibliothèque Britannique. They were posthumously re-published in 1808.
A simple affair with time and a date window, this new model is limited to 300 pieces. Inside is the Piaget automatic Calibre 1203P which is a scant 3mm thick and beats at 21,600VPH. It has an oscillating weight in 22 carat rose gold and a power reserve of forty-four hours.
If you have a weakness for rock type dials, last year Piaget released an Altiplano Stone Marquetry tourbillon in both malachite and lapis lazuli versions.
Which brings us to the second of the new SIHH 2019 Altiplano trio, a limited edition (twenty-eight pieces) 41mm pink gold Altiplano Tourbillon with a blue meteorite dial and a diamond bezel.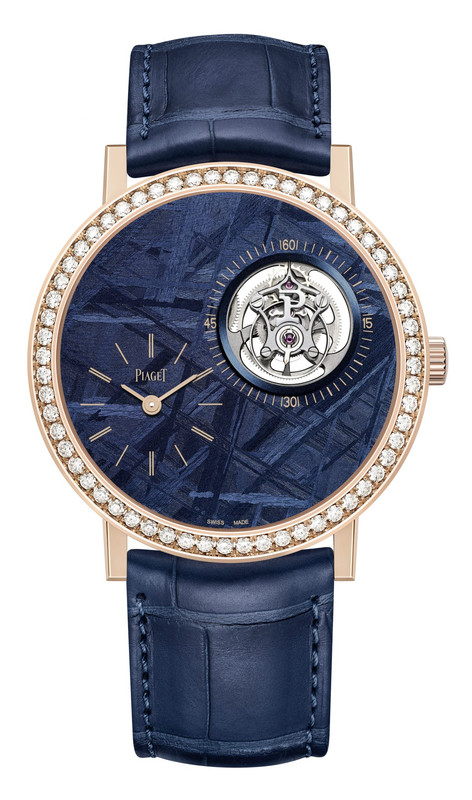 In 2017 a tourbillon appeared for the first time in the Altiplano collection, and about which you can read here. It featured the ultra-thin (4.6mm) manual wind Calibre 670P, which is the same movement as the one in this new one. It beats at 21,600VPH and has a power reserve of forty-eight hours.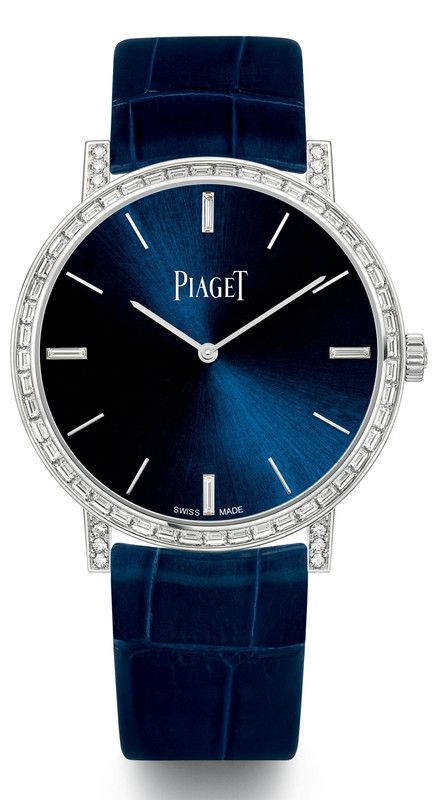 That 2017 model was in the Altiplano High Jewellery collection, and so too is the last of the new releases, a 36mm white gold limited edition (eighty-eight pieces) watch with baguette diamonds on the bezel, and a sunray-brushed blue dial. Powering it is the manual wind Calibre 430P that is a mere 2.1 mm thick, beats at 21,600VPH, and has a power reserve of forty-three hours.
The Altiplano Tourbillon G0A44053 is CHF 110,000 excluding taxes, and the Altiplano with grey meteorite dial G0A44051 is CHF 24,500 excluding taxes.
[Photo credit : Piaget]
---
---
Categories: Limited Editions, Piaget, SIHH 2019, Watch Profile, Watch shows, watches, Women's watches