Van Cleef & Arpels has both a watch and jewellery history in themes relating to astronomy and western astrology. Although it will not be formally launched until later in 2018, earlier this year we had the opportunity to see some pieces from a new collection which straddles both of these areas, but which is also illustrative of the importance that Van Cleef put into the movements of their 'poetic' pieces.
The Midnight Zodiac Lumineux is not just about a watch with one of twelve Zodiac signs on it, but as the name indicates, it is also about luminescence and the movement that drives it.
The design and creation of the Zodiac depictions on the front are made at Van Cleef & Aprels's Meyrin workshops. The dial is made of a mix of white gold and blue glitter enamel, with each constellation composed of translucent blue enamel beads shaped by hand. Some of these, you will note, are slightly unusual.
When you press the pusher on the left of the case the magic, as they say, happens.
If you remember the Midnight Nuit Lumineuse from 2016 then you will know what to expect. If you haven't had the pleasure, then you are in for a very Van Cleef & Arpels type of surprise as the constellation lights up. This is charm backed by something genuinely unusual and interesting in a watch.
Piezoelectricity (the electric charge/ potential that accumulates in certain materials in response to latent heat) is what drives this. The depression of the pusher triggers a vibrating ceramic strip (the vibration being the result of the movement of the watch when worn) which powers electroluminescent diodes, with the number of these varied depending on the constellation. These diodes illuminate the translucent enamel beads of the constellation on demand for approximately four seconds. The module responsible for this light-on-demand features a ceramic blade whose vibration—under the effect of the wearer's movements—enables electrical energy to be generated mechanically,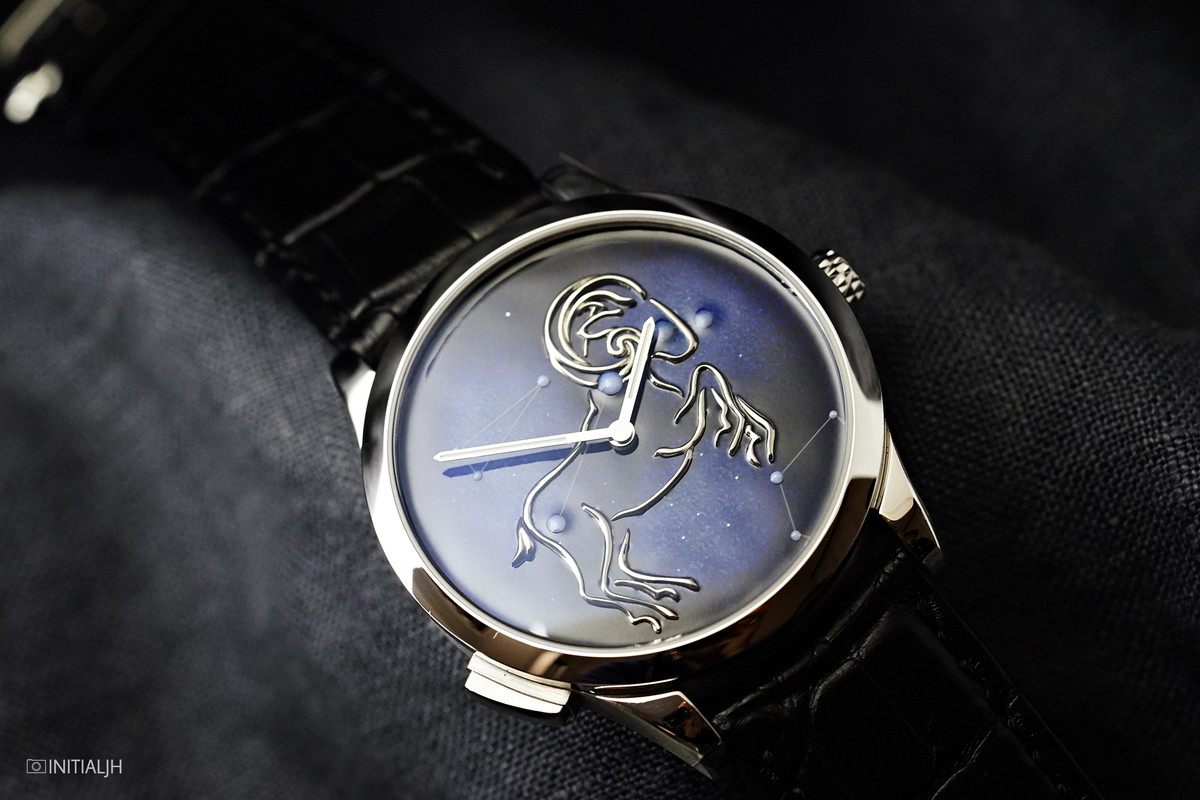 Discovered in 1880 by French physicist Jacques and Pierre Curie, the word 'piezoelectricity' is derived from the Greek πιέζειν (piezein), which means to squeeze or press, and ἤλεκτρον (ēlektron), which means amber, an early source of electric charge.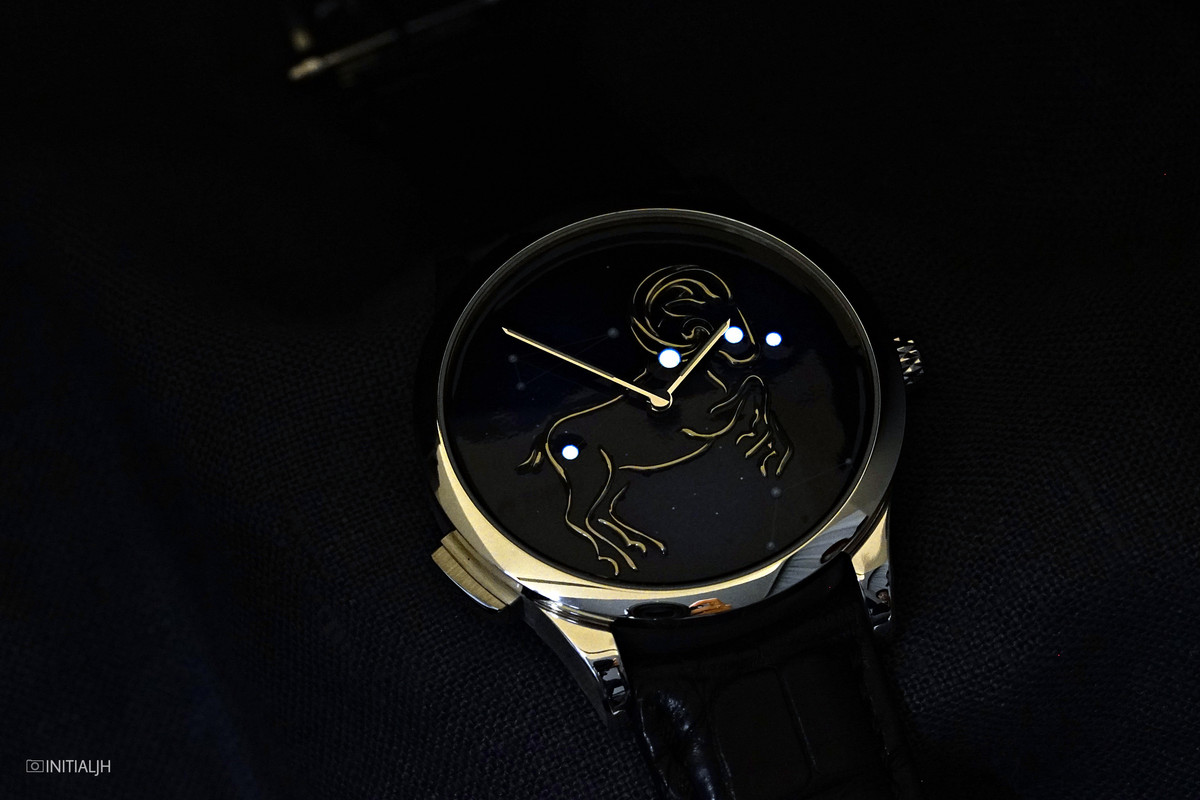 What makes this possible is the same movement that was in the Midnight Nuit Lumineuse watch, the automatic Valfleurier Q020 with a 40-hour power reserve.
On the back of the 42 mm sized white gold case is an engraving of the same design as seen on the dial.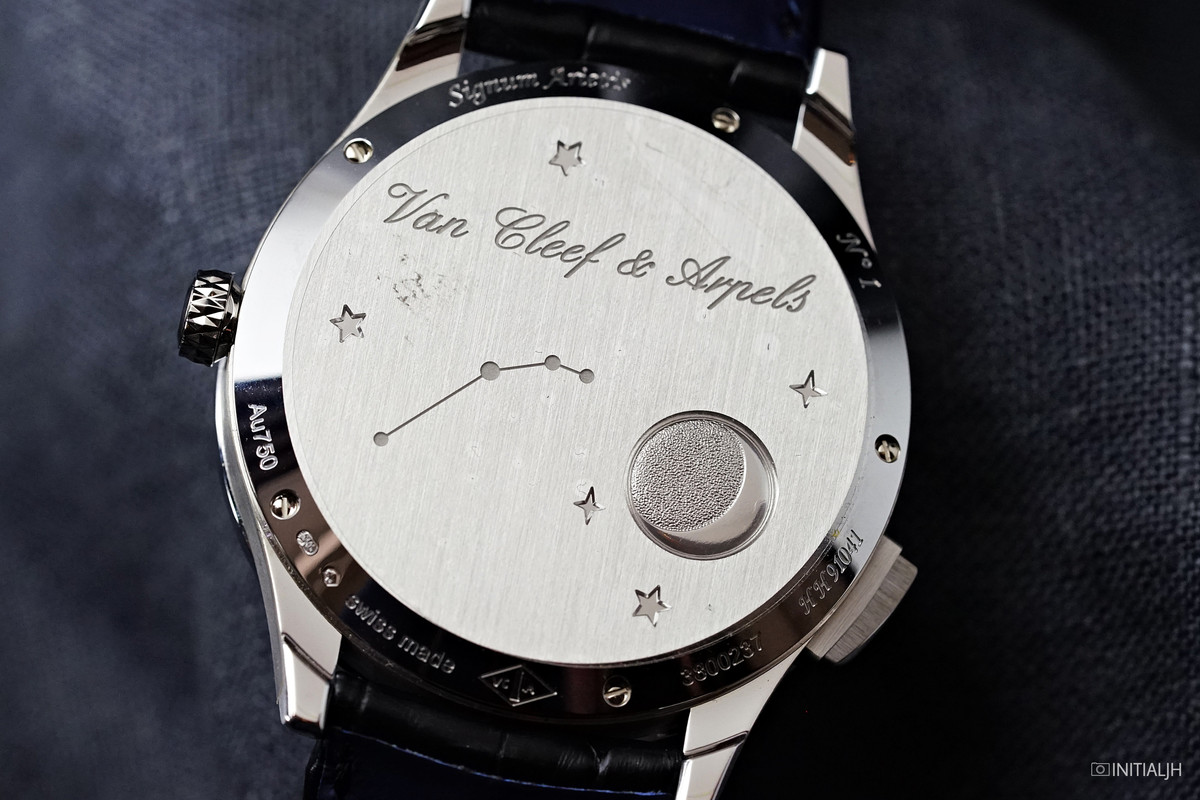 All watches are in numbered editions, and come complete on black alligator leather straps. As mentioned at the outset, the new Zodiac series will be released later this year, with the price TBA. If you have means, then for the Zodiac-and-constellation-minded person, these might make for an unusual and rather cool, gift.
---
---
Categories: Hands-on, SIHH 2018, Switzerland, Van Cleef & Arpels, Watch movements, Watch Profile, Watch shows, watches, Women's watches