The name of Sylvie Deschamp may not be familiar to you, but you may nonetheless have seen photos of her work with Piaget, with whom she started collaborating in 2012.
An embroiderer of note in her native France, she harks from the region of Charente-Maritime, from whence she received a diploma in Gold and Fantasy Embroidery before moving to Lyon and eventually, national recognition as one of France's top embroiderers, working in a myriad of forms including haute couture.
Earlier this year I had the opportunity to meet Ms Deschamps and with the aid of an interpreter, asked her about her work and challenges involved in creating this small masterpiece – a Yves Piaget rose decoration for a watch dial.
Q : Your relationship with Piaget started in 2012 and I believe will last for five years. In a previous interview you mentioned that the silk dial adorned with nedle-painting embroidery and the silk dials with gold thread embroidery were the first time that you had done something like that (i.e. work on such a surface and in such a size). Will the next few years of your collaboration with Piaget also involve trying to do things that you have never done before, or use you expertise in existing methods to realise Piaget's dreams?

For every piece that I create I want to bring something new to it, but using existing techniques. So with Piaget, new for watches, new for dials, but the technique is already known. The technique depends on the pattern of course. Piaget can come up with an idea and I will advise as to whether it will work.
Q : Could you please explain the steps of the collaboration process with Piaget?
When Piaget starts working on a project they first come up with an idea. The first piece in any collaboration is a bit more challenging, but after some time both sides get more experience working with each other and about how to achieve something together. The design comes from Piaget and I bring my input and expertise into the idea. I saw some Piaget roses made of cloisonné , liked them, thought it might be interesting to have a silvered/ gold outline and then saw how this could translate to embroidery. Some technical points turned out to be impossible, so we made had to make changes.
Q: What has been the greatest challenge for you in terms of working with this new type of surface?
I had in mind the idea of using pointilism because I take a lot of my inspiration a lot from art. I wanted to test that approach. The challenge was to have a final result that was visually appealing. Technically what is difficult is to be able to get small knots that are regular and as perfectly similar one to another as possible.
Q: Are watches the most unusual objects you've been involved with?
I never thought that one day my embroidery would be on a watch. Even now people will ask me 'where, what, how'. No I don't normally wear a watch.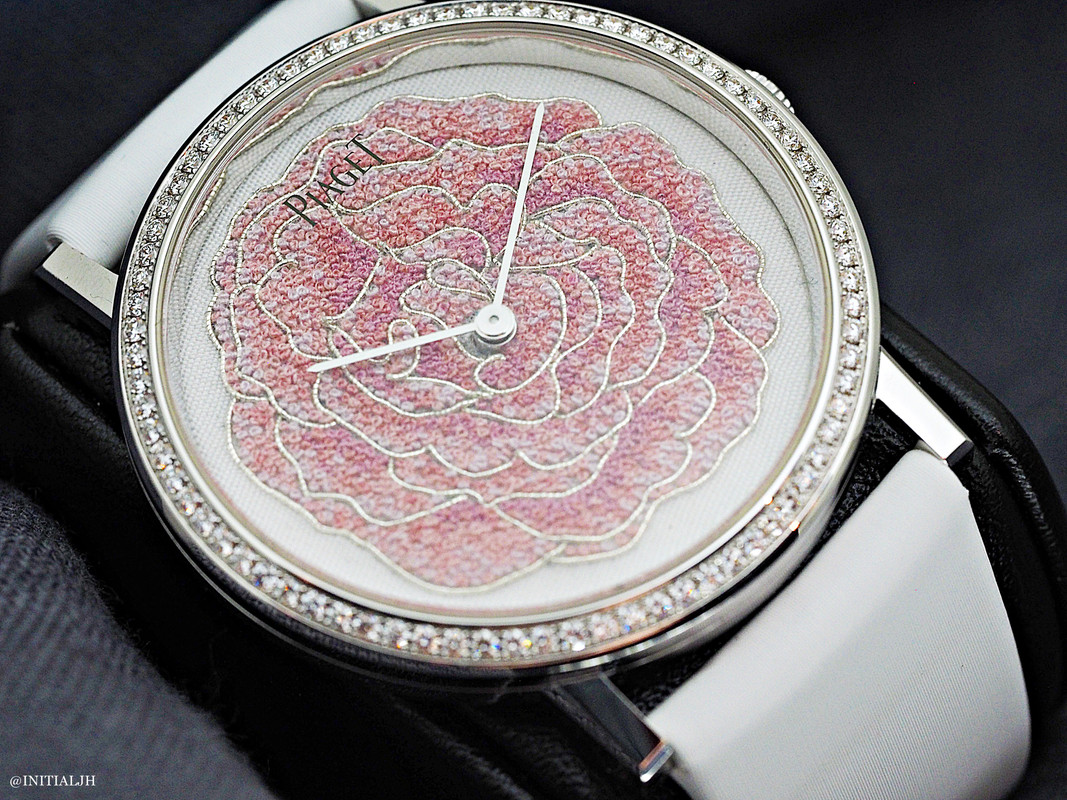 Q: Apart from obviously great patience, good eyesight and a steady hand, what does it take to make a good embroiderer? What does it take to make a 'great' embroiderer?
Passion is important. Also, having new challenges – I am working in different domains; haute couture, parfum etc. I try to reinvent embroidery every day.
Q: In the 21st century, how difficult is it for someone who practices the craft of embroidery to make a living out of it?
It is really about mastery of embroidery. Even if it's a traditional technique, always propose and try new things, be modern, show different types of techniques…there are regional specialities, however. I am the only awardee of that award in gold precious embroidery. One of the duties of having this honour is to transfer the know-how, I have a student who has worked with me for ten years. When you master something, it is important to give something back and to teach.
Q: Are there special difficulties with thread tension on such a small surface?
The difficulties are to do with the tension on the material more than the thread, so it doesn't pull on the fabric.
Q: What about colour fading?
It is a specific fabric made in Paris. Grande Teint. They tested it under UV etc to see how it reacts. It is stable. I use very high end extra fine silk tested for fading. It is a special delicate thread that I use for Piaget.
Q: You were awarded the French title of "Maître d'Art" in 2010 in recognition of your expertise and what you have given to embroidery. Embroidery has been called a craft, but I suspect that most if not all, would call the results of your collaboration with Piaget 'art' What do you think is the difference between 'art' and 'craft', especially given that what many craftsmen and women create is called 'art' but they do not call themselves 'artists'?
The base work is still a craft, but at some point it becomes about the 'wow' effect. When you have this emotion, when you connect, respond to something with an emotion, then it becomes art. It is a very personal reaction.
With over forty hours of work required for a single embroidered rose for these rose dials, these are an exercise not just in expertise, but also in patience and eye strain. The overall aesthetics of her work for Piaget are impressive enough, but it is only under a loupe (in this case I used a Loupe System) that the immense skill becomes even more obvious – in particular the knot consistency that she mentions is just breathtaking.
Unfortunately for those captivated by this 38mm white gold timepiece, inside which is the manual wind Cal 430P, it is only in a limitation of three pieces. Fortunately, this has not been her only embroidered piece done for Piaget (another example is below), and with a few more years left in the collaboration, it will be fascinating to see what comes up next.
My thanks to Piaget Australia for making this interview possible.
---
---
Categories: Interviews, Limited Editions, Piaget, SIHH 2015, Switzerland, watches, Watchmaking, Women's watches