A year ago, De Bethune were not present at their usual January hotel location at which they show new pre-Baselworld releases. Those of us who visited them did so at their offices in central Geneva, and were able to see the astonishing 'Kind of Blue' piece unique tourbillon meteorite, as well as the DB 25L Milky Way.
There have been dramatic changes at De Bethune in recent times, and January 2018 saw De Bethune re-emerge in their hotel guise, with new (old) CEO Pierre Jacques, now also a shareholder and Chairman of the Board, joining the new De Bethune team to show off some new pieces.
Two pieces were shared with us, with one, the Titan Hawk v.2, the most illustrative of a new direction for De Bethune. As Mr. Jacques said to us, there is a change in strategy; De Bethune will expand its offerings price point wise. There are many admirers of De Bethune who have found the starting price points a bit beyond their reach, so it will be interesting to see how the brand manages to balance keeping exclusivity and the design and finishing for which it is renown, whilst making it more accessible.
This new Titan Hawk, at 37,000 CHF, will be an important testing ground for this new approach.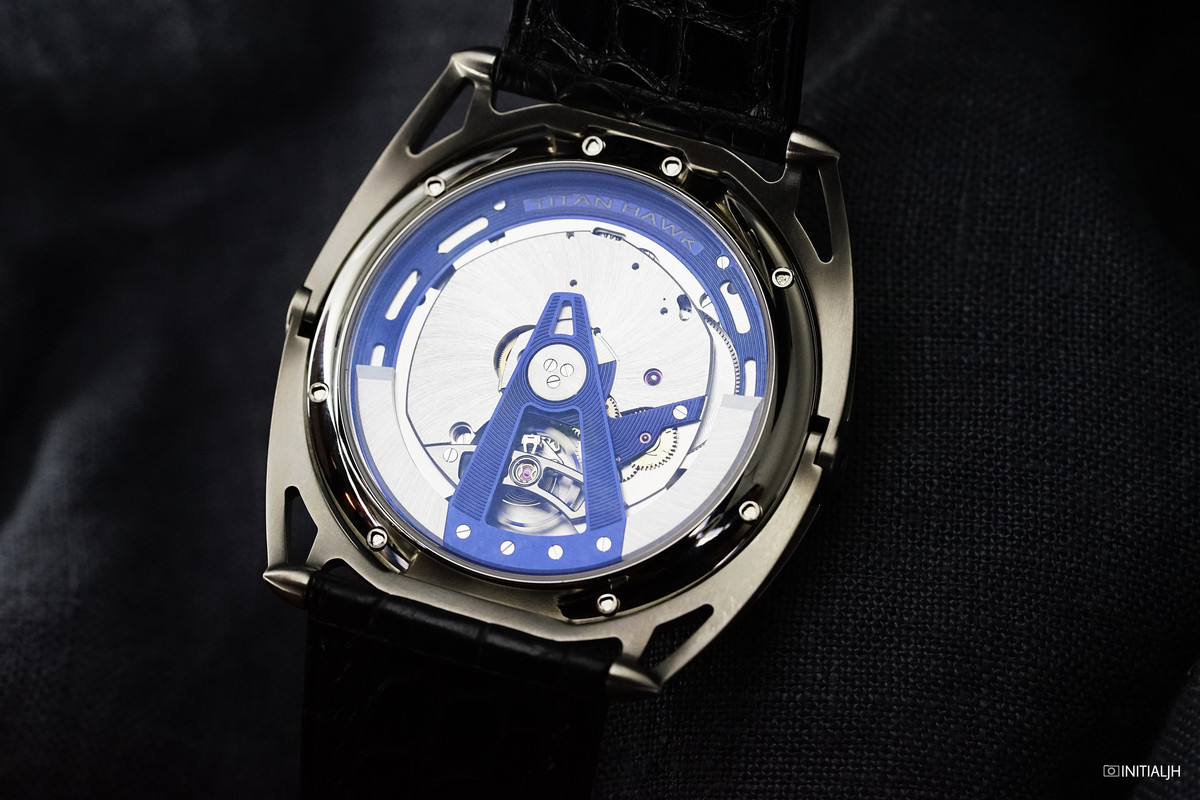 The original DB27 Titan Hawk was created to mark De Bethune's 10th birthday. Coming in a 43mm case in Grade 5 Titanium, it was distinguished by having all the mirror-polishing familiar to De Bethune, along with the floating lugs and dial aesthetics, but also featuring cut out hands and an unusually shaped date pointer. It was De Bethune, but in a less expensive and perhaps more 'conservative' vein.
Its success was followed by other Titan Hawk variants in Rose Gold, Black, and All Black.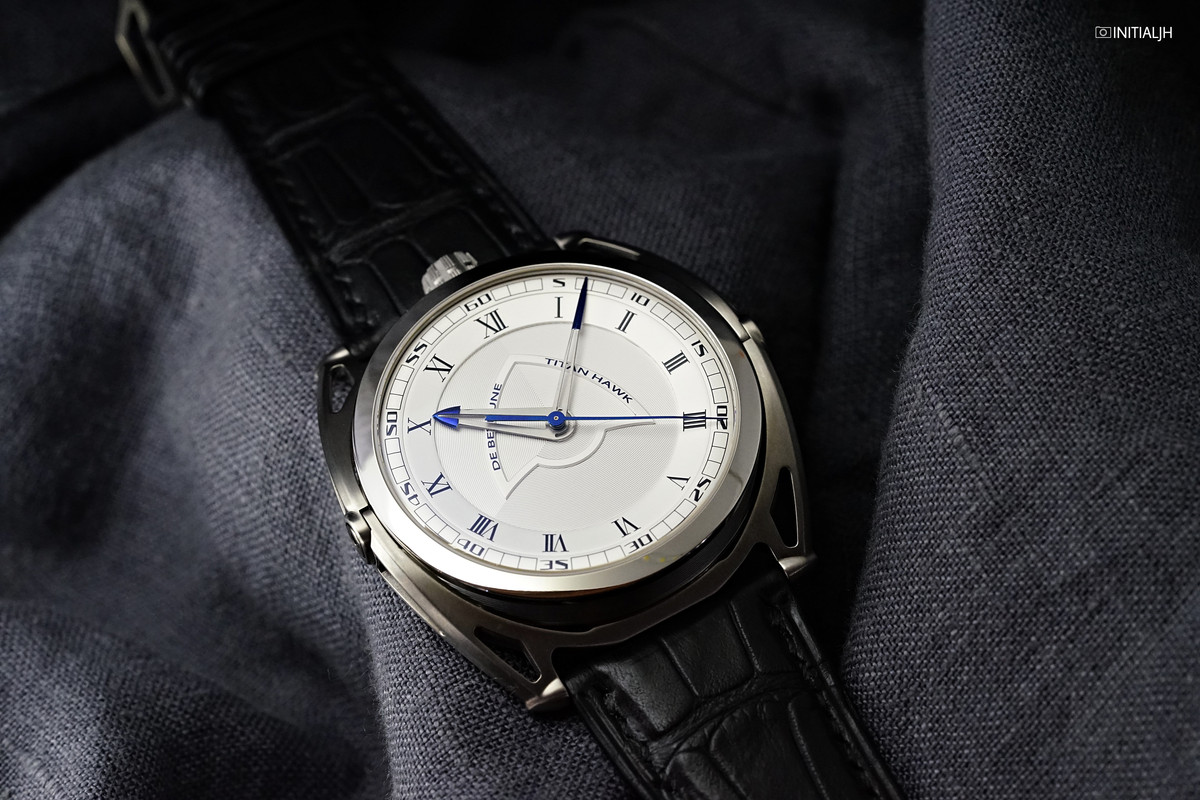 This new one shares a name, a case size (43mm), and dial design, but gone is the date function and in its place is a seconds hand. The hands are also noticeably different, the hour hand having a triangular blued end, but its general shape almost reminiscent of the date pointer of the first version of the Titan Hawk. The minute hand also features blue, but in an extended fashion, and the seconds hand is in the same De Bethune blue.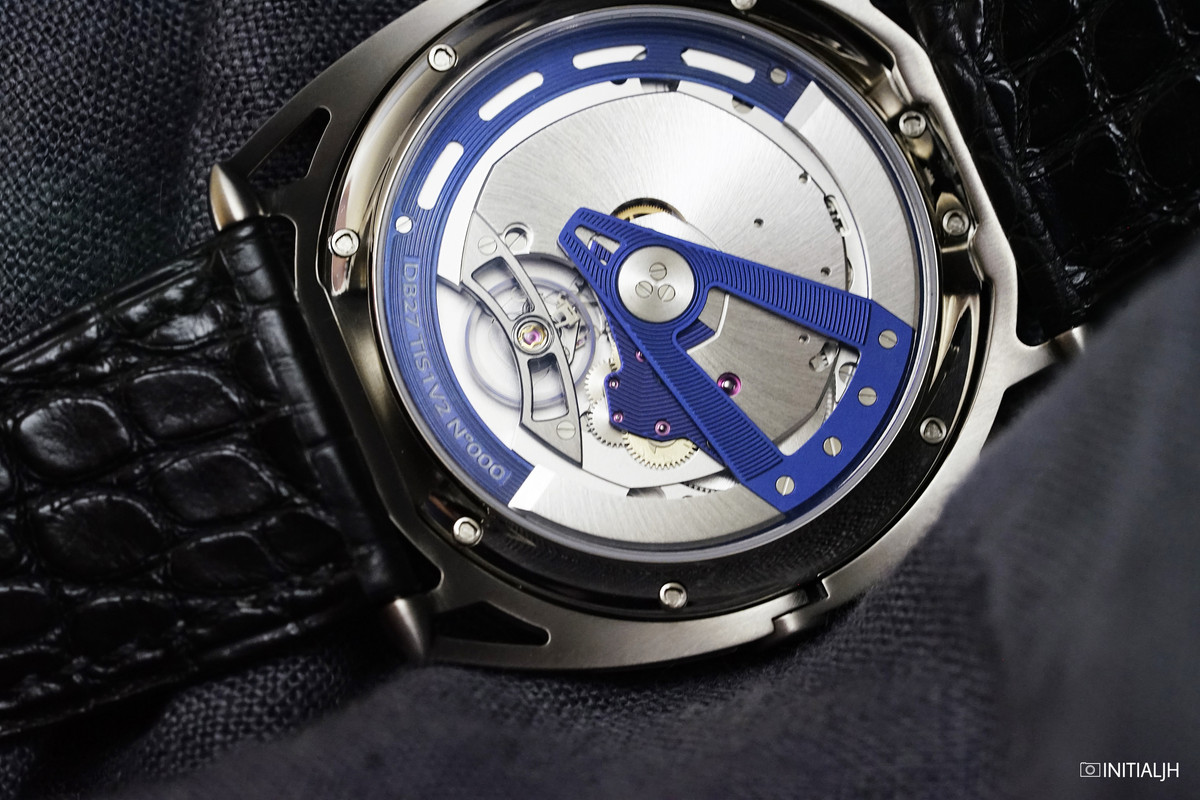 Version 2 of the Titan Hawk also contains a new movement, now visible through the open case back, with a three day power reserve. They could have chosen to do almost completely closed case back like Titan Hawk v.1 but have chosen not to, again reinforcing the new Titan Hawk direction, but amping up the use of blue on the movement to remind us that it is a De Bethune.
As mentioned, there was a second De Bethune watch launched – the DB 28 'Steel Wheels'. We will deal with this in another post but its name is also a statement – named after the Rolling Stones' comeback album.
---
---
Categories: De Bethune, Hands-on, Switzerland, Watch Profile, watches