Dresden watchmakers Lang & Heyne basically quietly do their own thing, creating a scant few dozen watches a year in a small number of models. You may recall an earlier post on Horologium about a special Friedrich III. Well today, we bring you the Lang & Heyne 'Albert', named after King Albert of Saxony, with a similar Roman numeral and enamel dial, but with some design differences and a extra complication – a monopusher column wheel chronograph.
The Albert is not just a monopusher chronograph, but one with a co-axial elapsed seconds and minute hands. The blued hand is the seconds hand and the silver hand is the minutes hand. The sunken sub-dial at six is for the running seconds.
The hands, dial and case are all made by Lang & Heyne. The sunken dial is white fired enamel in this instance, but the Albert also comes with a black dial option, as well as a white gold model with rose gold hands instead of blued ones. The blued steel spade hands are handmade and, if you look carefully at them, especially through a loupe, They show an incredibly high level of thought and finishing, as they are in fact slightly rounded at the edges. Lang & Heyne really do exceptionally beautiful hands.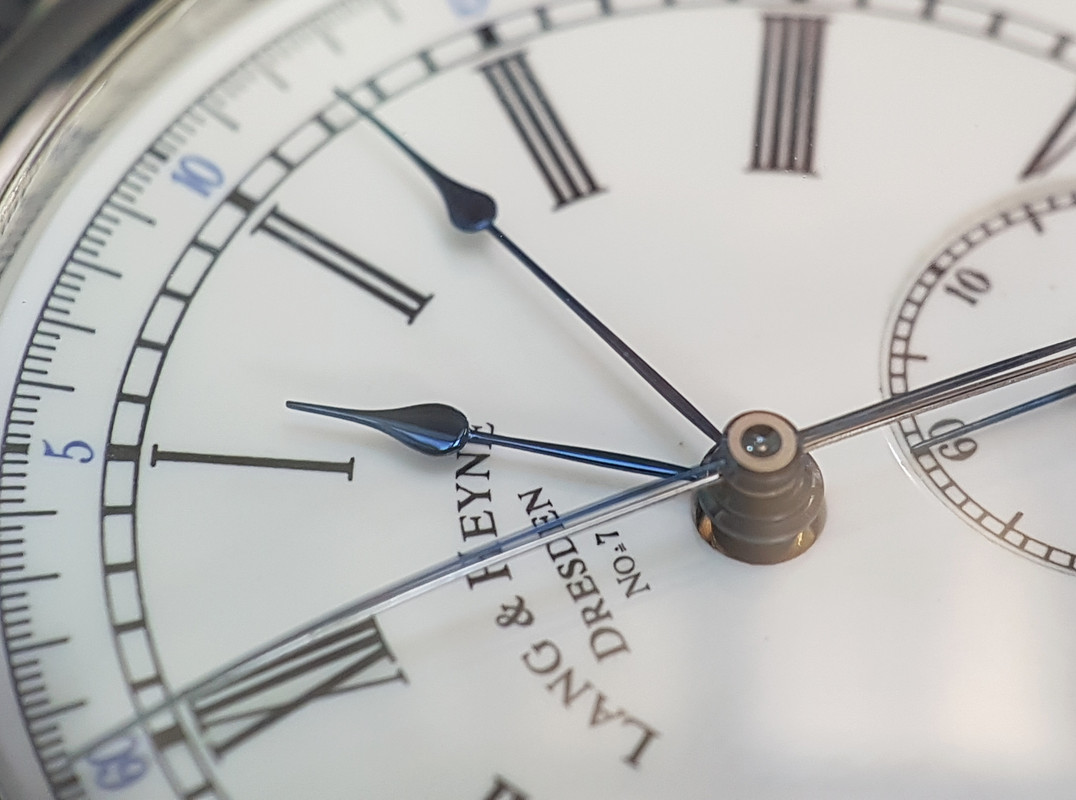 This Albert's 44mm case is white gold, with a height of 12.5mm. The pusher, integrated into the crown, requires a firm depression to activate the chronograph function, but what is interesting is the crown. Inside this watch is the manual-wind Calibre IV with a 46 hour power reserve. The winding of the crown is just buttery smooth. For those who like manually wound watches, you will not be disappointed with this.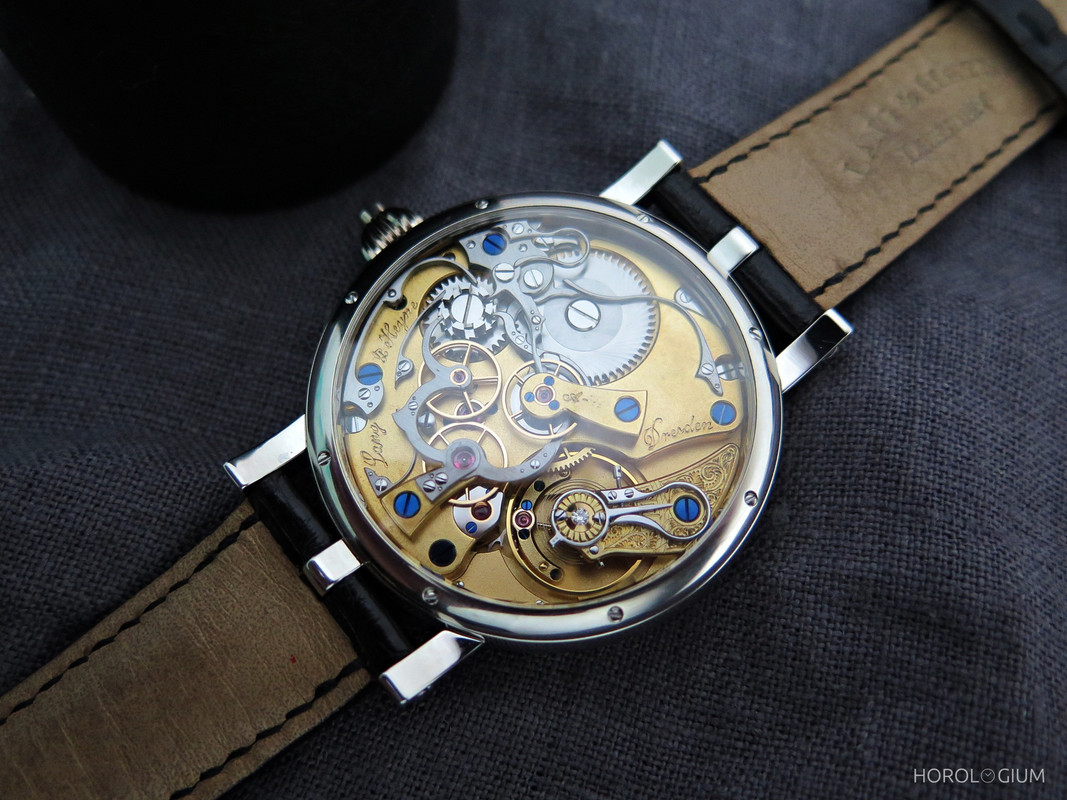 Although the movement is a highly reworked Unitas 6497 base, quite frankly, with the amount of work that has gone into it, this is an irrelevancy. As well as the chronograph addition (with black polished levers) there's the addition of a three-quarter plate. The bridge, base plate, chronograph and hairspring are all made by Lang & Heyne. If you look carefully you will see that the hand-engraved balance cock has a diamond end stone atop a ruby.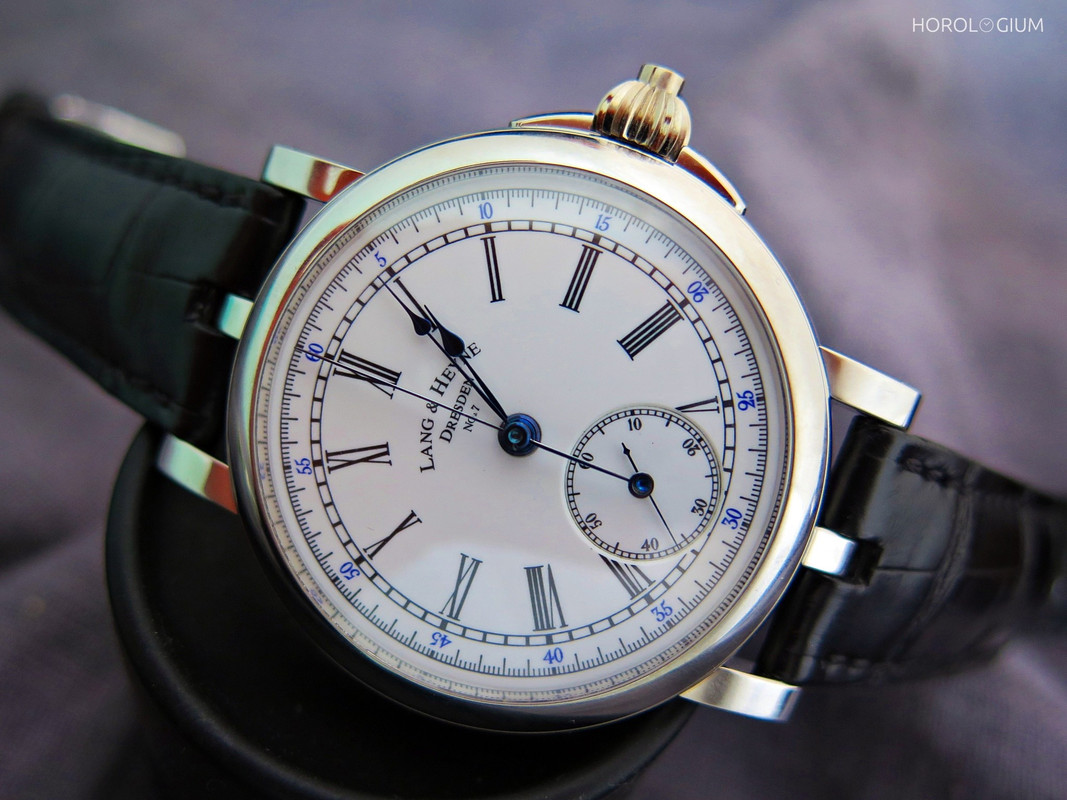 To hold, this Albert does have the noticeable heft of platinum, but once on your wrist, it sits comfortably and far more lightly. I mention this because it is not uncommon for people to worry about platinum being too heavy for regular use. Such worry isn't always necessarily; a lot depends on the case, the lugs, and how these sit on the individual wrist.
With similar restrained classic pocket watch looks to that of the Friedrich III, the Albert is a rather beautiful piece of watchmaking and well both taking a look at and winding (yes it's that smooth).
To see the other Albert models available, go to this link.
---
---
Categories: chronograph, German watches, Hands-on, Lang & Heyne, Platinum, Watch Profile, watches