Some of you may recall that at Baselworld 2015 H.Moser & Cie formally launched their Endeavour Concept Watch Fumé, a very pared down riff on an existing model. A part of Moser's experiments with notions of purity and no branding or markers, it is a sibling to H. Moser's Endeavour Centre Seconds Fumé, and you can read about it here.
With the arrival in Australia of Moser via the Avstev Group we thought we'd take the opportunity to share with you another Concept model subsequent to this one and the 'regular' perpetual calendar on which it is based, both of which we managed to see for the first time earlier this year. As you will see they are both distinctly Moser, with or without the branding and markers. However, the Concept one does require getting one's head around it, as our brains seem to be so attuned to looking for particular features when it comes to perpetual calendars.
So let's start at the beginning, with the Endeavour Perpetual Calendar.
Formerly known as the Perpetual 1 and H.Moser's first piece when the brand was re-launched in 2005, the current version, revamped by the Meylan family who purchased the Moser Group in 2012, it continues to be a success story for the brand.
For perpetual calendar watches that don't follow the conventional calendar register format there's a certain risk both in terms of how potential customers may respond to it, and in terms of whether the design has longevity. Whatever you may say about the register format there's no denying that it has staying power. However, given how classically looking the idiosyncratic layout and design of the Moser Perpetual is it may, in time, also be a watch that does not 'date', aesthetically.
So, how do you read this rather elegant calendar? The clear and big date is, as we are accustomed to in date functions, at 3 o'clock, and instantaneously jumps at midnight. A small sub seconds resides at 6 o'clock, and the up/ down indicator at 9 o'clock is the power reserve.
Then we have that very short/ small hand that you can see with the regular-sized arrow – this is the month indicator.
Perhaps it is because perpetual calendars are seen as horological 'complications' that we tend to think that well, their depiction is also going to be 'complicated'. If you pause for a moment, you start to wonder why this method of display hasn't been more widely taken up. I mean it makes sense; twelve months, twelve markers for the hours. Why not let the markers do double duty as month indicators?
Rather than have the four year cycle on the front, it is on the back. That small star-shaped wheel visible through the case back is the leap year indicator, with the black segment indicating the leap year.
As you may have noticed by now, there isn't a day of the week indicator. Is this a deal breaker as far as perpetual calendars are concerned? Well I guess it depends on whether this is a feature that is important to you both personally and in terms of how you view perpetuals. For me, it is not vital enough that its absence detracts from a very interesting and attractive watch.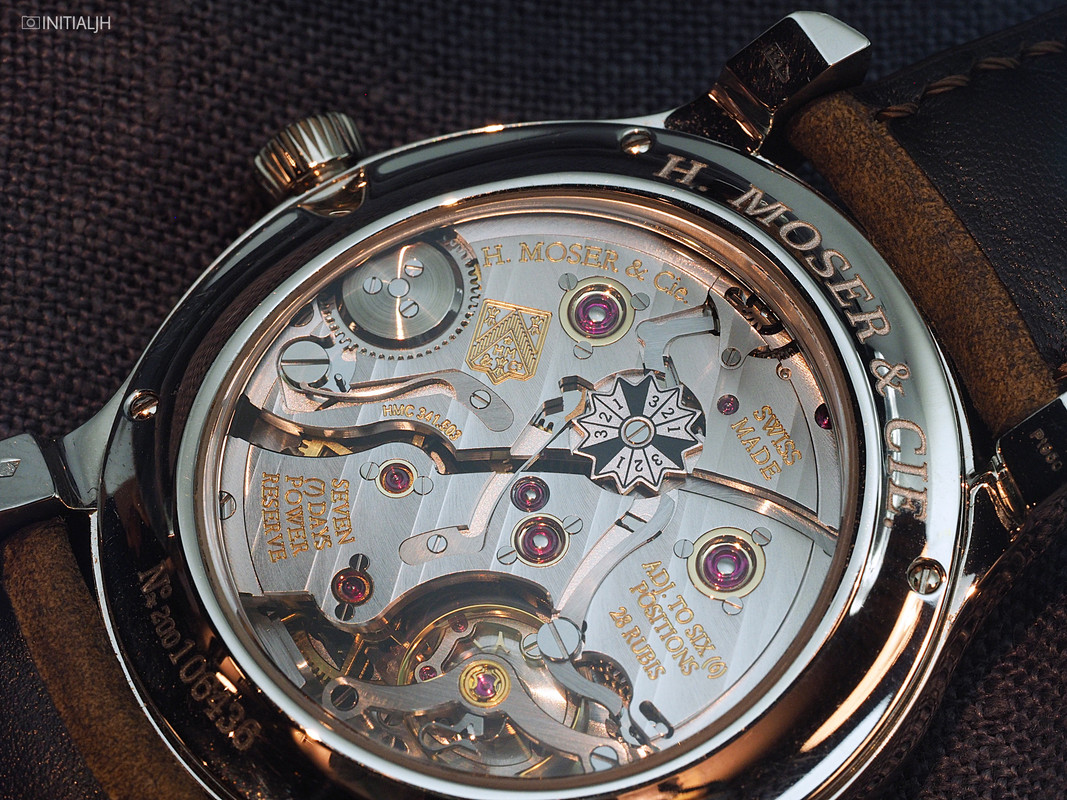 Inside is the in-house double-barrelled manual-wind Calibre HMC 341 with a seven day power reserve and beating at 18,000 VPH. The movement features an in-house escapement that is designed with the intention of being replaced upon servicing, a Moser feature. I tend to mention this when it is a feature, as it matters to some, but there is a hacking seconds.
So how is this all operated? Via a double-click crown that allows you to go forward and backward when setting.
It's all rather cool, isn't it?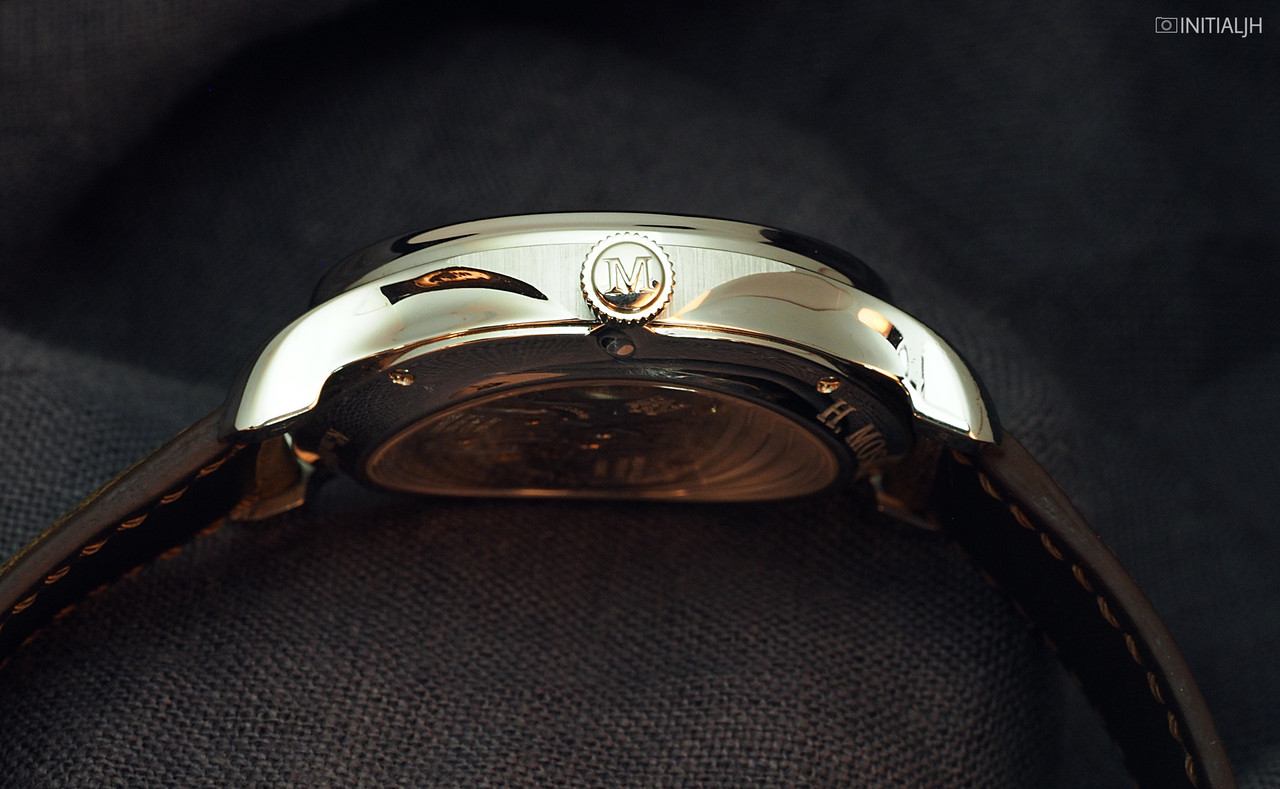 The classic Endeavour Perpetual is available in platinum, white gold, rose gold and titanium with a number of different dial colours. T see the full range click on this link. At 40.8mm and with a thickness of 11.1mm, it's in a really comfortable size 'sweet spot' for me.
So now to the Endeavour Perpetual Calendar Concept. The one we are featuring here is in a limited edition of ten pieces in white gold, and was launched at SIHH 2016 to mark the tenth anniversary of the Endeavour Perpetual Calendar.
So if you look at the older sibling above and compare it with this one, you will see what has gone in the name of minimalism. Basically, all that is left on the dial are hands, a date window, and Moser's distinctive and renowned fumé dial. No markers, no branding, no writing.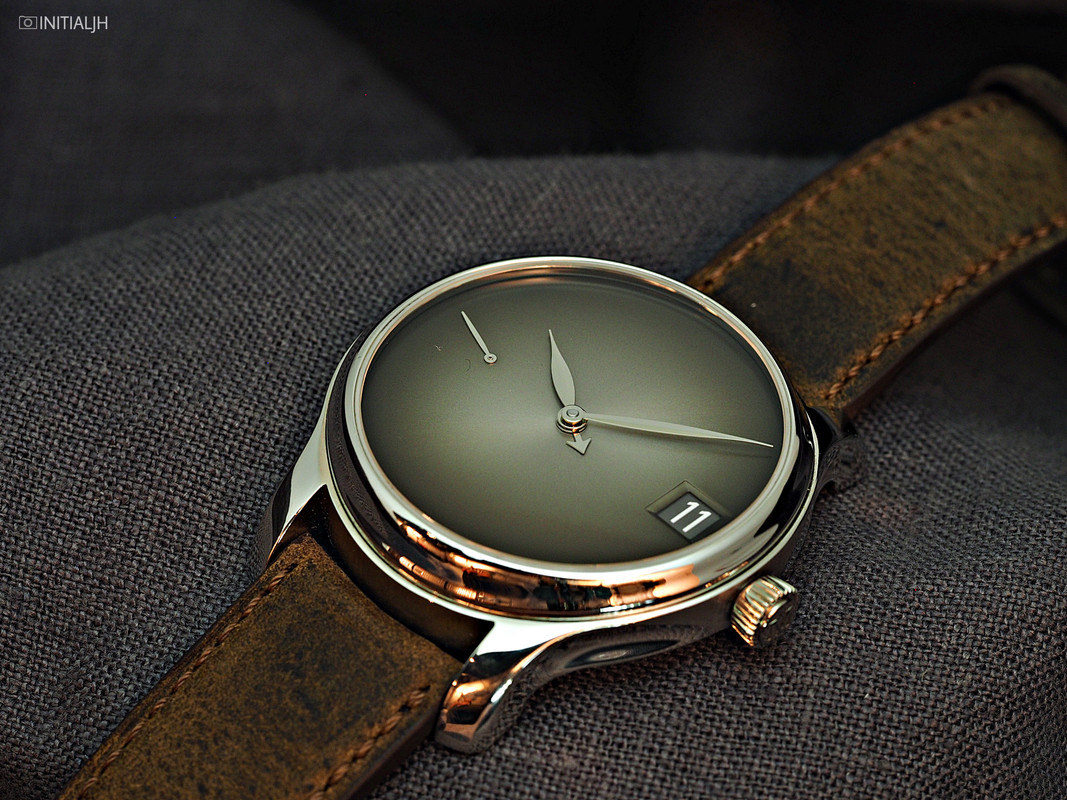 The seconds indicator of the Endeavour Perpetual Calendar has also gone. This decision is one I rather like, as I am not particularly tied to the seconds sub dial for this particular dial design. Could they have also got rid of the up/ down as well? That's something to ponder.
Perhaps it is only for those who are already accustomed to the Moser Endeavour Perpetual who won't require a few seconds to get their heads around a first reading of this because of its unfamiliarity.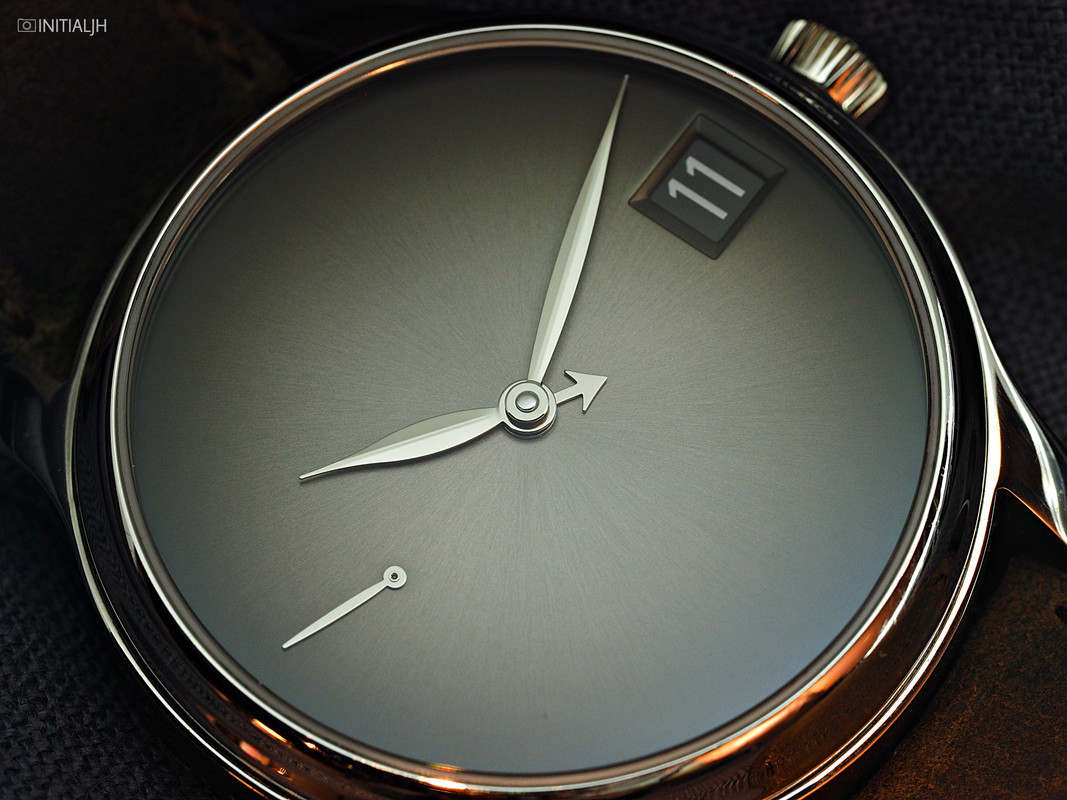 Inside the same sized white gold case as the Endeavour Perpetual is the same manual-wind Calibre HMC 341 with a seven day power reserve.
After we saw this Concept, Moser launched a version in Moser's 'Funky Blue' which is perhaps even more interesting. In a stainless steel case (a first for the brand), it has done away with the power reserve indicator. In a limited edition of ten pieces, you can read their press release at this link. The photo below is from Moser.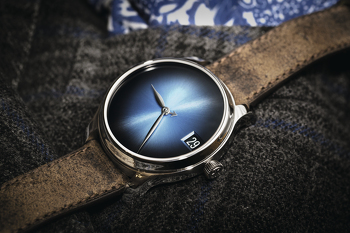 As mentioned at the outset, H.Moser & Cie are now represented in Australia, so for those who are unfamiliar with the brand and for those who are perhaps looking for something unusual in the line of perpetual calendars, keep your eyes and ears open. They are well worth looking at.
---
---
Categories: H. Moser & Cie, SIHH 2016, Switzerland, Watch Profile, watches