Today is all about one of Zenith's most notable releases for 2016 and one which, in its short life since its unveiling at Baselworld 2016, has already had a small tweak.
Launched as the 'Heritage Pilot Café Racer Spirit' and inspired by the 'Café Racer' bikers movement in England, Zenith has since changed its name to the 'Ton Up', so don't be confused when reading about a watch that seems to be identical but have different names; you will find it under both monikers.
A central part of 2016's wheels-oriented year, with both classic cars and bikes focal points for the brand, I found myself a bit torn when I first saw this watch in March. Having seen it a few times in Sydney since then, the pedant in me still has the same small question.
The 45mm 'aged steel' case with its matching dial is attractive, as is the choice of strap; it is a very easy watch to like. However, as a road-vehicle focused watch, I have wondered about the use of a pilots' watch. As no-one with whom I've discussed the watch has raised this, I shall assume that I am in a rather small minority here.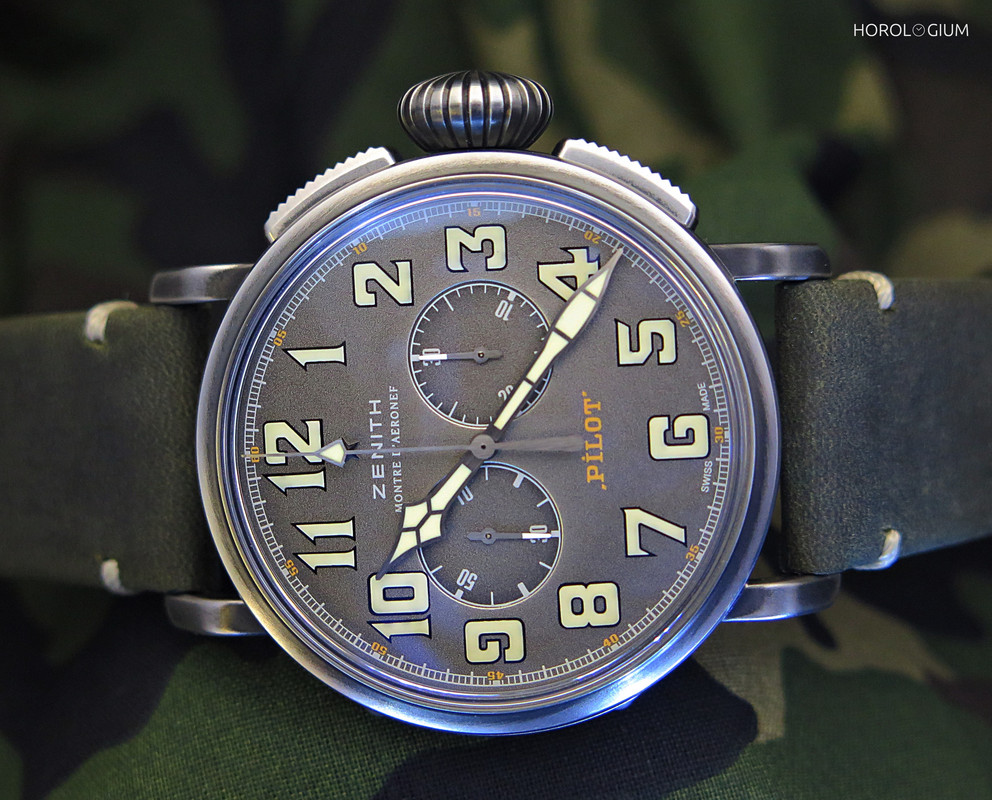 Aesthetically, the look of the Ton Up doesn't come off as an attempt at 'faux vintage', although with the dial colour and effect, choice of strap, and 'aged steel', some may consider it as such. To me, because the case metal and dial combination are so unusual, it has its own distinct personality that takes it from being an attempt at 'vintage' into a a rather modern-feeling watch. The slate-grey of the dial with its grained effect is done well, and the contrasting Super-LumiNova coated large beige Zenith Arabic numerals look good even when not lit.
Inside is the automatic El Primero Calibre 4069 chronograph with a 36,000VPH and power reserve of 50 hours that drives the time and two register chronograph functions – a small seconds at 9 o'clock and a minute counter for the chronograph at 3 o'clock. The original El Primero movement on which this is based is, of course, a triple register chronograph.
The solid titanium back of the case, which is water-resistant to 100 metres, is engraved with 'Café Racer Spirit'.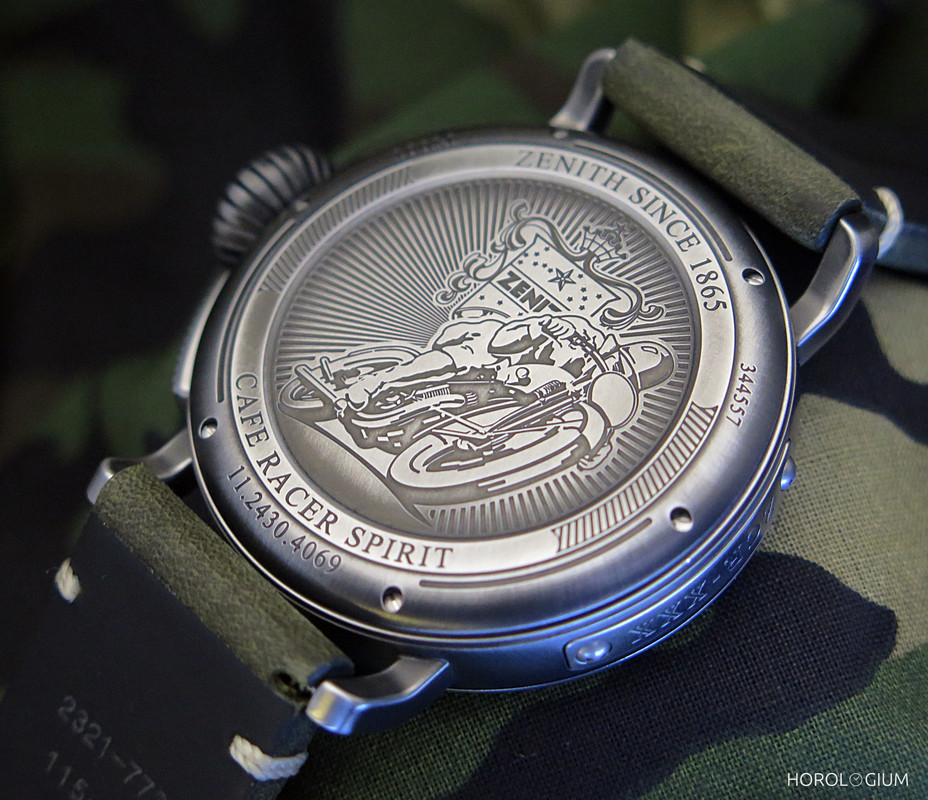 So about that name.
The original name under which this watch was known was inspired by the 'Café Racer' bikers movement that was born in postwar England. The 'Ton Up' name takes us to the 1950s and refers to the 'ton-up boys', a name given to members of a 1950s biker subculture that centred on British café racer motorcycles and rock 'n' roll music. These racers took motorcycles and modded them down.
The 'ton' refers to riding 'a ton' i.e. at 100mph; groups of racers would meet at popular transport cafés and then ride, attempting to achieve 100mph, to another café destination. It was about the bikes and the speed, but it was also about an attitude (rocker), and the right outfit. The motorcycles themselves were lean and light.
Coming on an oily nubuck rubber-lined strap with a titanium pin buckle, to my mind this is one of Zenith's best-looking releases of 2016. Although this may be a tad larger than watches that would have been worn in the 1950s, this case has proven to be very successful for Zenith, and this version will probably continue this winning streak. The Australian RRP for the Ton Up is $10,200.
---
---
Categories: watches