Stepan Sarpaneva's Korona K3 has come in a number of forms, including a quite amazing white enamel dialled Northern Stars (amazing because the enamel dial somehow seems more stark and pristine than your usual enamel dial) which I only fleetingly saw at Baselworld 2016 before it was snapped up by one of his retailers (the last of the limited edition of eight). However, I did get the opportunity to see his new 'follow up' model, a black enamel version.
The new black dial model comes in an 18 carat red gold case measuring 42mm x 10.2mm. Inside is the now familiar modified Soprod Calibre A10 automatic movement with Mr Moon.
Perhaps it is because of the manner in which the high-fire enamel dial was created, but the blackness of this dial is really deeply black. Feel free to disagree with me, but black dials really do seem to vary a lot in terms of 'blackness', and this one is not only REALLY black, but also has a very real sense of depth to the colour as well. However, as well as being quite beautiful, it is also a challenge to photograph, so if you click on this link you will find an official photograph of it from Sarpaneva.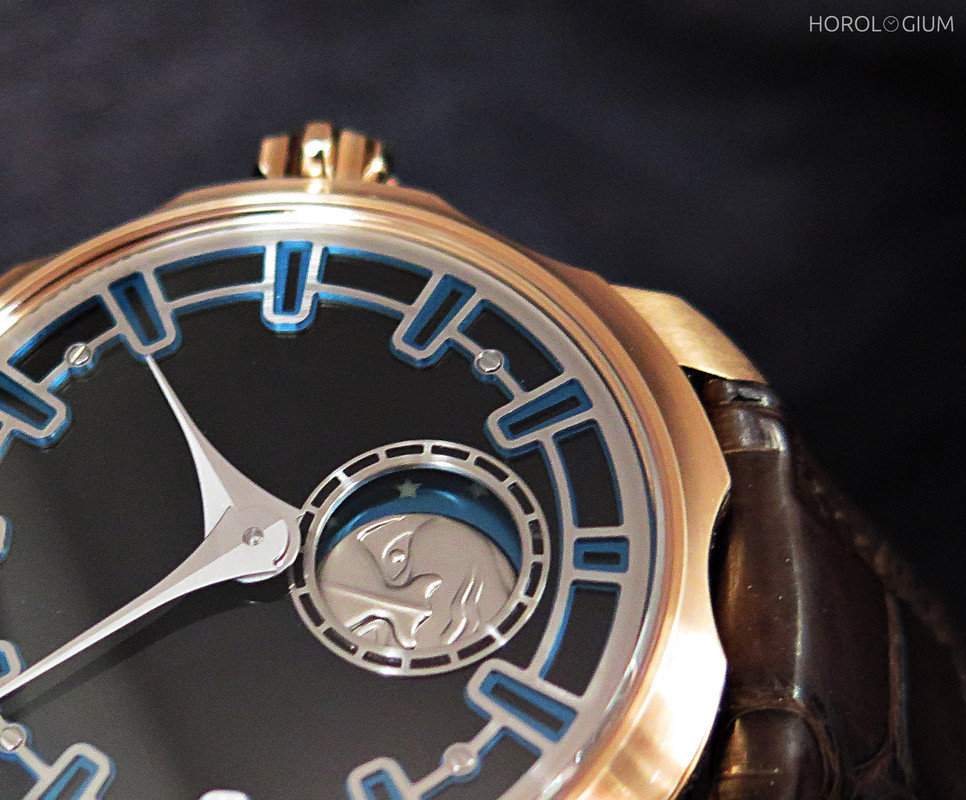 The use of blue and silver steel Sarapaneva-styled grates, which do double duty as both decoration and indices, really stand out against the almost pitch-black blackness of the dial. It's one of the strengths of Stepan Sarpaneva's Korona watches that they are so identifiably his; there's no mistaking the case shapes, the grates, and of last but never least, his endearing moon.
With a limitation number of ten pieces, this new piece can be yours for the price of €26,000 (plus taxes).
---
---
Categories: Baselworld 2016, Hands-on, Limited Editions, Sarpaneva, Switzerland, Watch Profile, watches, Women's watches