In what has become a ritual of sorts we paid a visit to M.A.D. Gallery Geneva last week. Usually the visit is after SIHH, but this year, it was on the Sunday before the start of the fair, at which MB&F made their maiden appearance as an exhibitor along with eight other small and/ or independent brands.
MB&F have stated that one of Sherman's two goals in life is to make people smile, and judging from the responses of those who were at the Gallery at the same time as we were, he succeeded. Cute as a button and with some heft, but small enough to cradle in your hands and take away with you. Buckets of personality, like Melchior.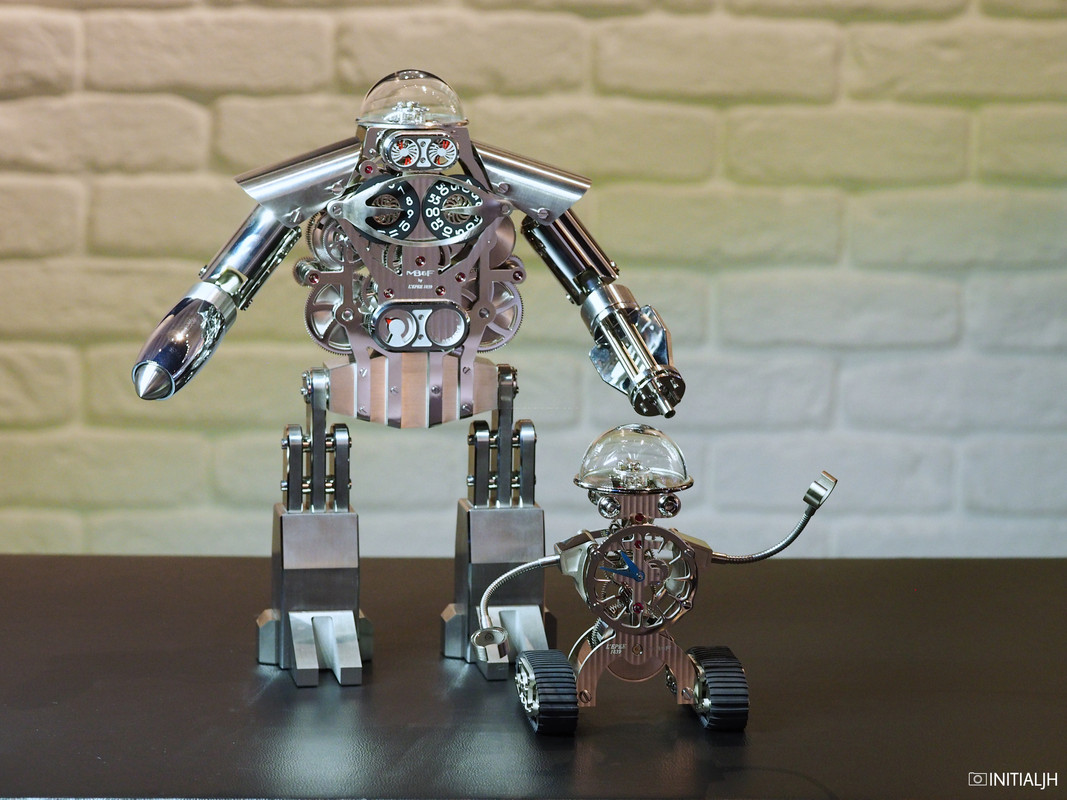 Sherman is also a clock, lest we forget this.
Conceived and developed by Max Büsser/ MB&F and engineered and by L'Epée 1839, with whom they have partnered for a number of pieces now, his clock bits are based on a L'Epée 1839 in-line eight-day movement with 18,000BPH. You wind him via a key in his back, which is also where you set the time.
Sherman's mainspring barrel bridge extends down to support his tracks, movement spacers act as shoulders for the arms, and his eyes are bolt heads supporting the regulator. The movement plates and bridges of the clock also make up his skeleton and body.
Inside the mineral glass dome of Sherman's head is his regulator. Sherman's arms are articulated and his hands used to hold items. His rubber caterpillar tracks are functional. I know because I spent some time moving him about…
To be available in limited editions of 200 palladium-plated, 200 gilded and 50 diamond-set gilded (735 VVS diamonds around the eyes/ hour markers/ head) versions, Sherman weighs 0.9kg and measures 143mm x 109mm x 80mm. We saw the gilt version at SIHH and would vote for the palladium-plated version.
You can take him home for 13,800 CHF in palladium-plated or gilt, and CHF 33,000 if you want him bejewelled.
---
---
Categories: Clocks, L'Epée 1839, Limited Editions, MB&F, SIHH 2016, Switzerland