During Baselworld 2015 De Bethune released a piece with the unusual name of 'Quetzalcoatl', and I finally had the opportunity to see it in Sydney during an Australian visit by Alessandro Zanetta, who was travelling with a very large number (some two dozen) pieces to show to local clients, watch enthusiasts, and media.
First things first – what is the significance of the name? Well it is a composite name in the Nahuatl language of the Nahua peoples of Mexico and Central America. Derived from quetzalli, it is used to describe the large and much-valued green feathers of the sacred quetzal bird, and means 'snake'.
A sacred symbol of Mesoamerican culture, this mythical creature is believed to govern the time of the day between dawn and dusk, is associated with crops, and the protector of goldsmiths and artisans.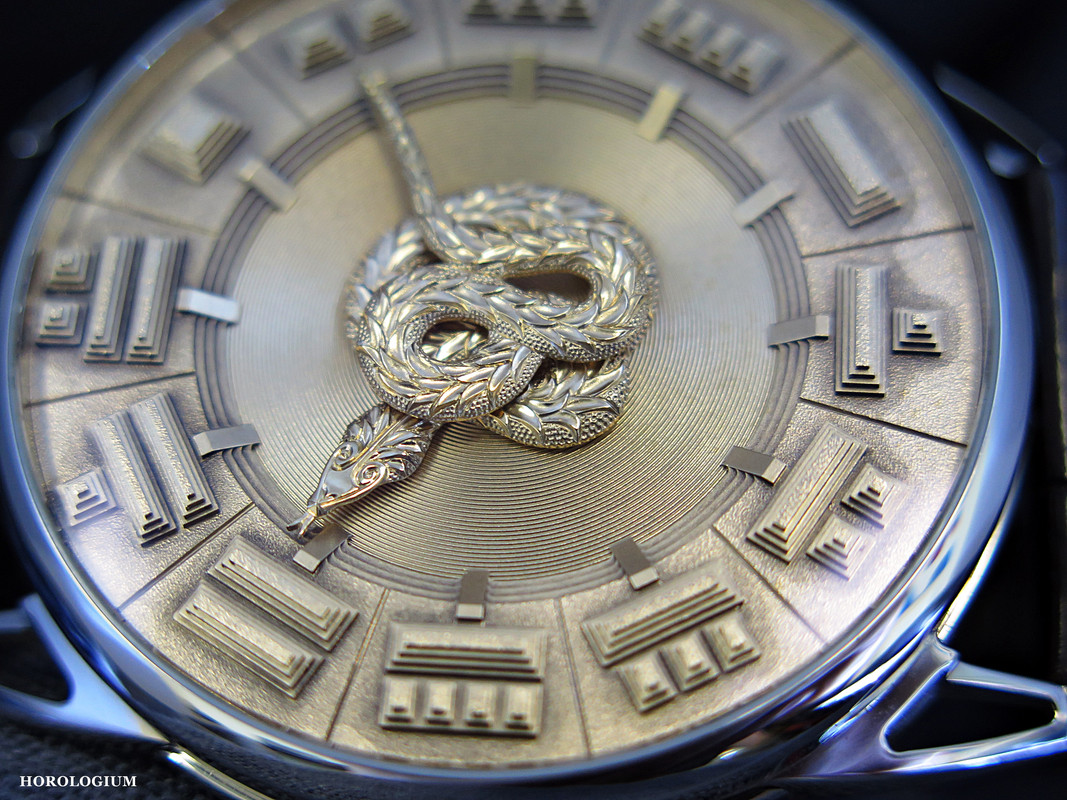 This new piece has a two-part solid gold dial with a coiled serpent created by engraver Michelle Rothen and based on drawings by David Zanetta. The serpent's head points at the hour (hour indicators are in the form of representations of the now ruined Aztec temples of Tenochtitlan's Templo Mayor) and its tail indicates minutes.
Despite being solid gold, what is really interesting is that the dial isn't as in-your-face as some gold dials are. With a circular guilloché motif in the centre, the use of different types of finishing, and the many layers to the decorative components, this is a visually strong watch that nonetheless somehow manages to retain an unexpected level of delicacy to it. I know this sounds a little contradictory, but the serpent is remarkably detailed and shows a light hand at work.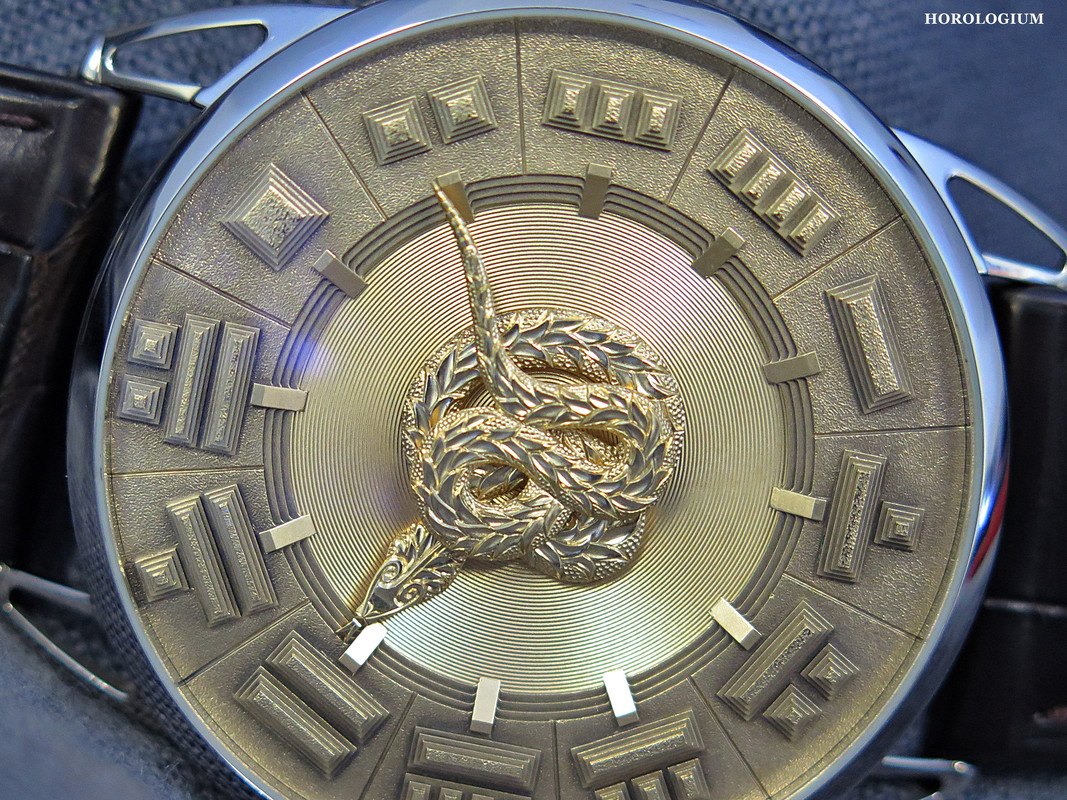 As well as the high level of finishing on the dial side, the flip side shows De Bethune's signature mirror-polishing, in this instance of the manual-wind Calibre DB2005 with its six day power reserve, patented triple pare-chute shock-absorbing system, silicon escape wheel and balance-spring with flat terminal curve. You will notice one lonely gold temple at the top of the movement, balancing the limitation number plate at the bottom.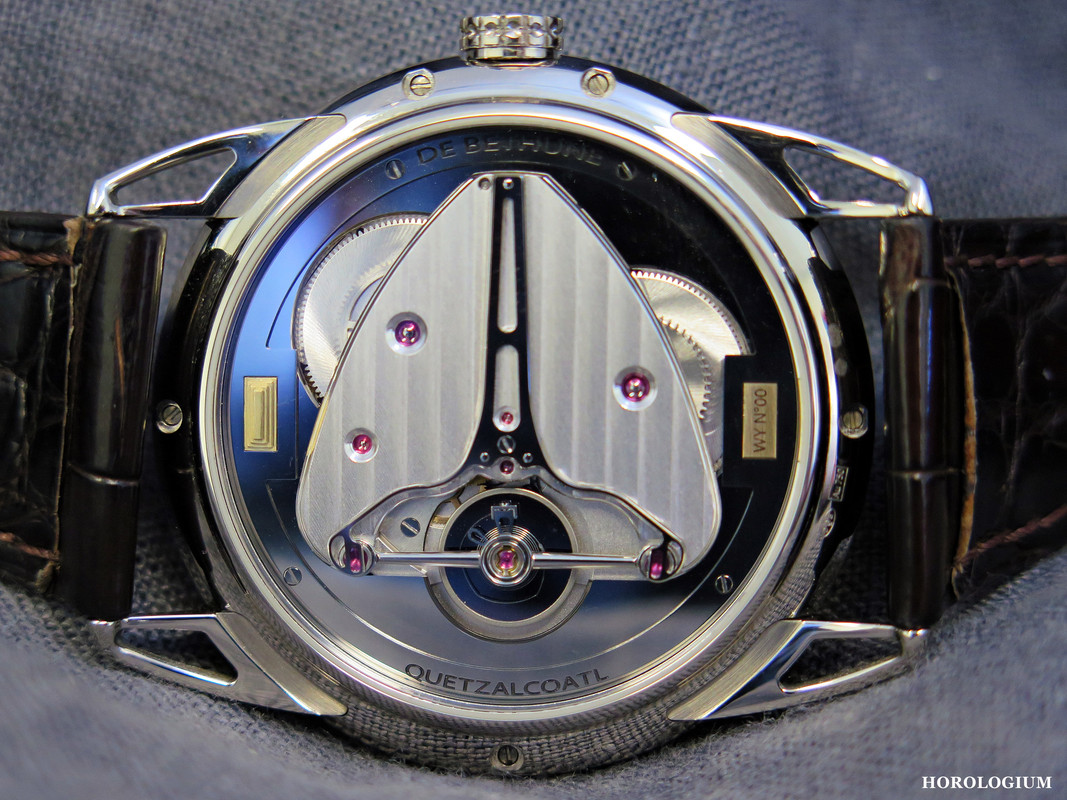 The dial is yellow gold but the case is white gold and measures 44mm, with a thickness of 12.50mm. It comes on an alligator strap with pin buckle.
The De Bethune DB25 Quetzalcoatl is available in a limited edition of twenty pieces with a price of USD 120,000.
---
---
Categories: Baselworld 2015, De Bethune, Limited Editions, Sydney, Watch Profile, watches