At SIHH 2015 IWC released the Portugieser Annual Calendar, their first such complication and one about which we wrote at this link.
With thanks to IWC Australia we recently had the opportunity of having one of these new Annual Calendars for a few days, and took the chance to take it on a whirlwind tour of one or two places of note before our final destination of the sun dial at the Botanic Gardens (more on that later).
Having the choice of more than one dial/ metal combination we selected this one and not the blue dial because the blue seems to have had more coverage, but having seen both colours, the choice of this one ended up unexpectedly changing our views about certain aspects of this watch. But more on that later.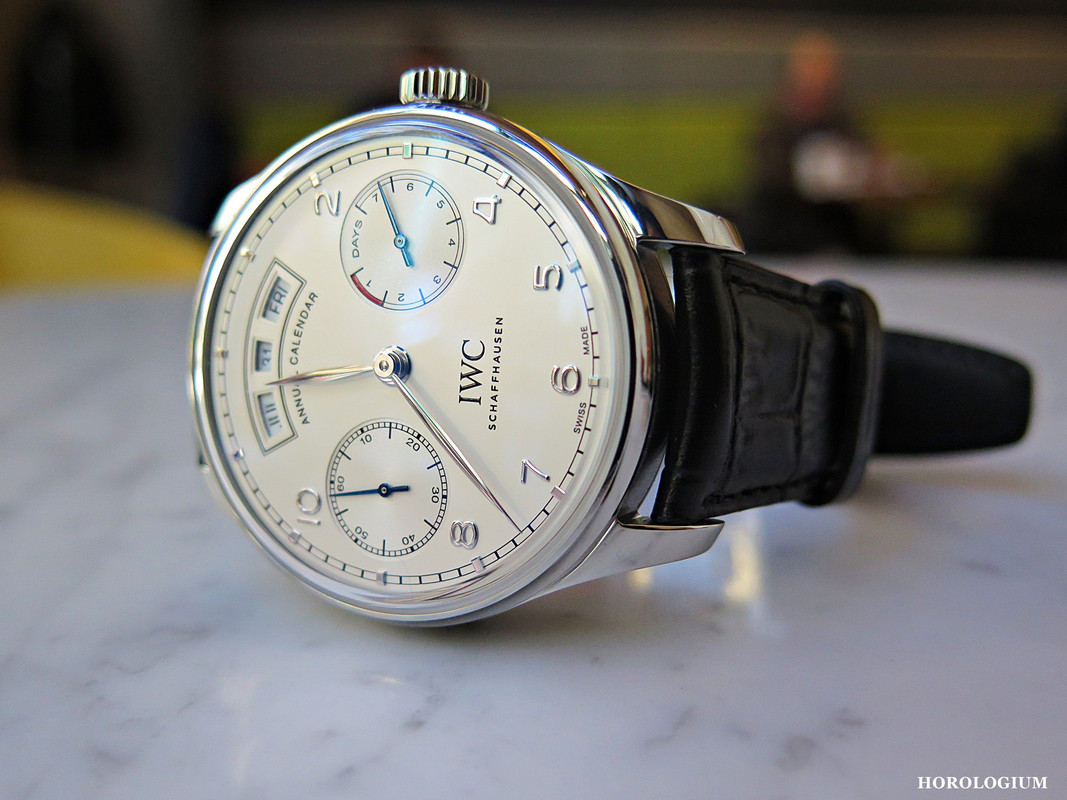 Firstly, let's recap.
THE WATCH
This year sees the celebration of the Port's 75th birthday, and amongst the pieces released to mark this occasion is a new Annual Calendar, Ref. 5035. The first such complication in its repertoire, it is intended to fill in that gap between the perpetual calendar and the rest of the watch pack. For those unfamiliar with this complication an annual calendar, unlike a perpetual calendar, will need to be adjusted on leap years.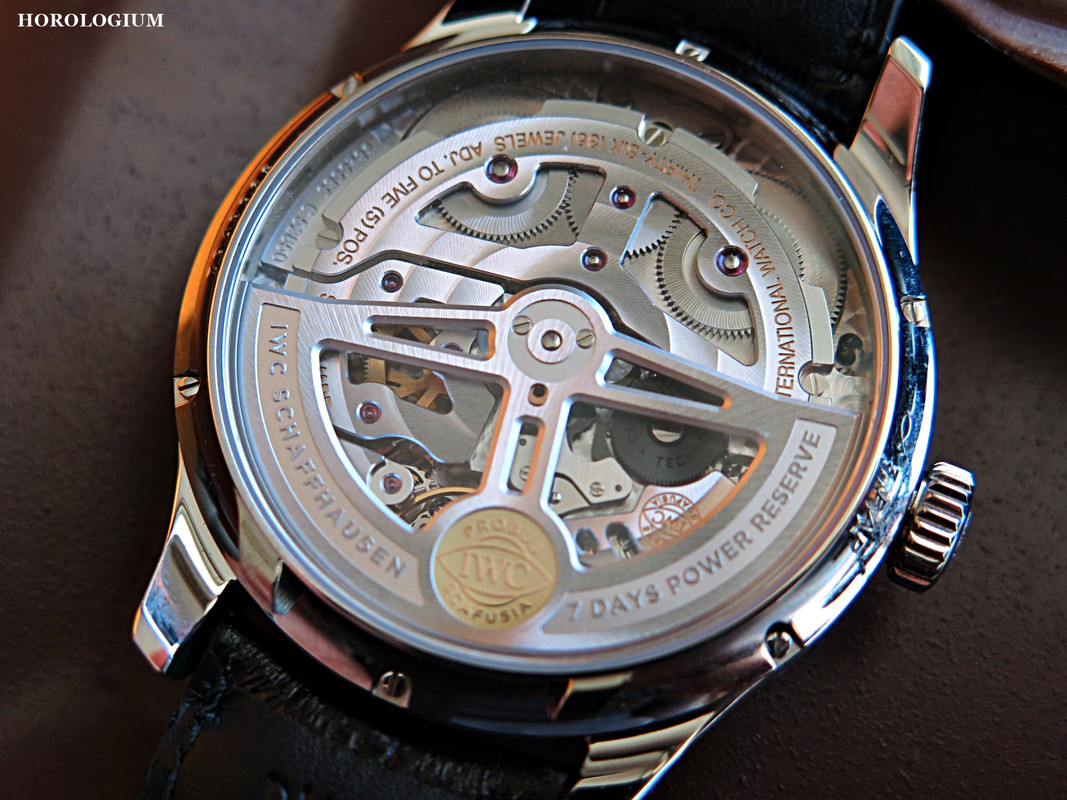 Containing the new IWC-manufactured Calibre 52850 with a seven day power reserve, the design of the dial has proven to be one of its biggest talking points since its release. With the month, date and day in three separate semi-circular apertures at 12 o'clock, it is very symmetrical, very balanced. The month/ date/ day sequence aka 'American' style, is a nod to founder F.A. Jones.
At 44.2mm and a thickness of 15.mm it is bigger than the Portugieser Automatic, which is 42.3mm with a thickness of 14mm. It comes in three models : two steel ones with either a midnight blue or silver-plated dial, and an 18k red gold on with a silver-plated dials.
SPECIFICATIONS
Features
– Power reserve display
– Annual calendar with displays for the date, day and month
– Small hacking seconds at 9 o'clock
– Glucydur® beryllium alloy indexless balance with high-precision adjustment screws on balance rim
– Breguet spring
– See-through sapphire-glass back
– Rotor with 18-carat gold medallion
– Glass: sapphire, arched edge, antireflective coating on both sides
– Water-resistant: 3 bar
– Diameter: 44.2 mm
– Case height: 15.3 mm
Movement : IWC-manufactured calibre 52850
– Frequency: 28,800 A/h / 4 Hz
– Jewels: 36
– Power reserve: 7 days (168 h)
– Winding: automatic
Ref. IW503501: case in stainless steel, silver-plated dial, black alligator leather strap, folding clasp in stainless steel
Ref. IW503502: case in stainless steel, midnight blue dial, black alligator leather strap, folding clasp in stainless steel
Ref. IW503504: case in 18-carat red gold, silver-plated dial, black alligator leather strap, folding clasp in 18-carat red gold
ON THE WRIST
As mentioned at the outset, one of the reasons for choosing this model was the dial colour. One of the subjects that has come up a bit about this watch has been the size and dominance, space wise, of the apertures. Some people have expressed a dislike of this.
On the blue dialled model they are indeed rather striking, in large part due to the contrasting colour of the background, and not to everyone's taste. However, what the two of us who spent some time with this piece can say based on our experience over that time is that the silver-dialled one is an entirely different proposition and may just change your mind about the windows, if that has been your concern. It had been ours.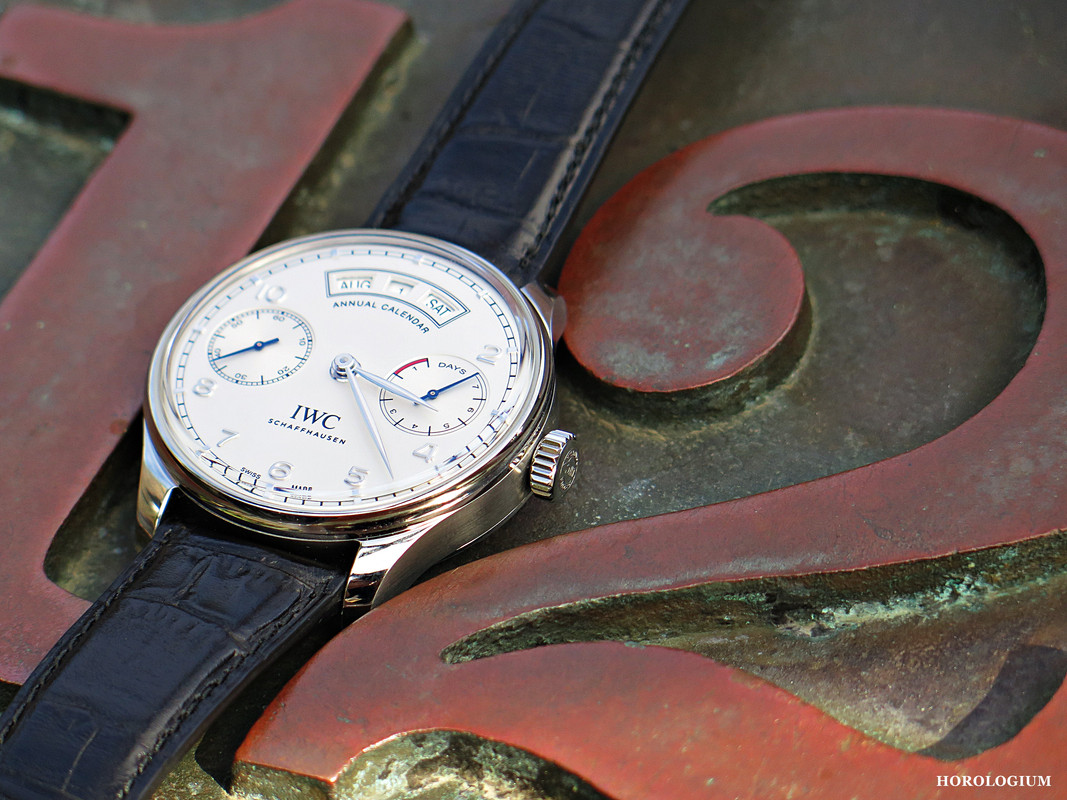 For us, silver dial > blue dial. The IWC blue is one for which it is known and has many admirers. A few years ago I met an American collector whose special focus is blue-dialled IWCs, and I know there is a great deal of affection for it. However, for this watch at least, the silver-dialled version just seems that little bit more 'clean' and thus perhaps that little bit more elegant, essentially because the apertures blend in.
Sizing. For those who are familiar with the classic Portugieser 7 Days, to compare with a popular model that many of you are most likely to have seen, it is not too big a leap in terms of comfort on the wrist. Slightly more heft, but not enough to worry about it being a ding magnet. In terms of the 'overall build', as they say, it is solid, the case and dial nicely finished.
Where is an Annual Calendar most at home? With a sundial, of course.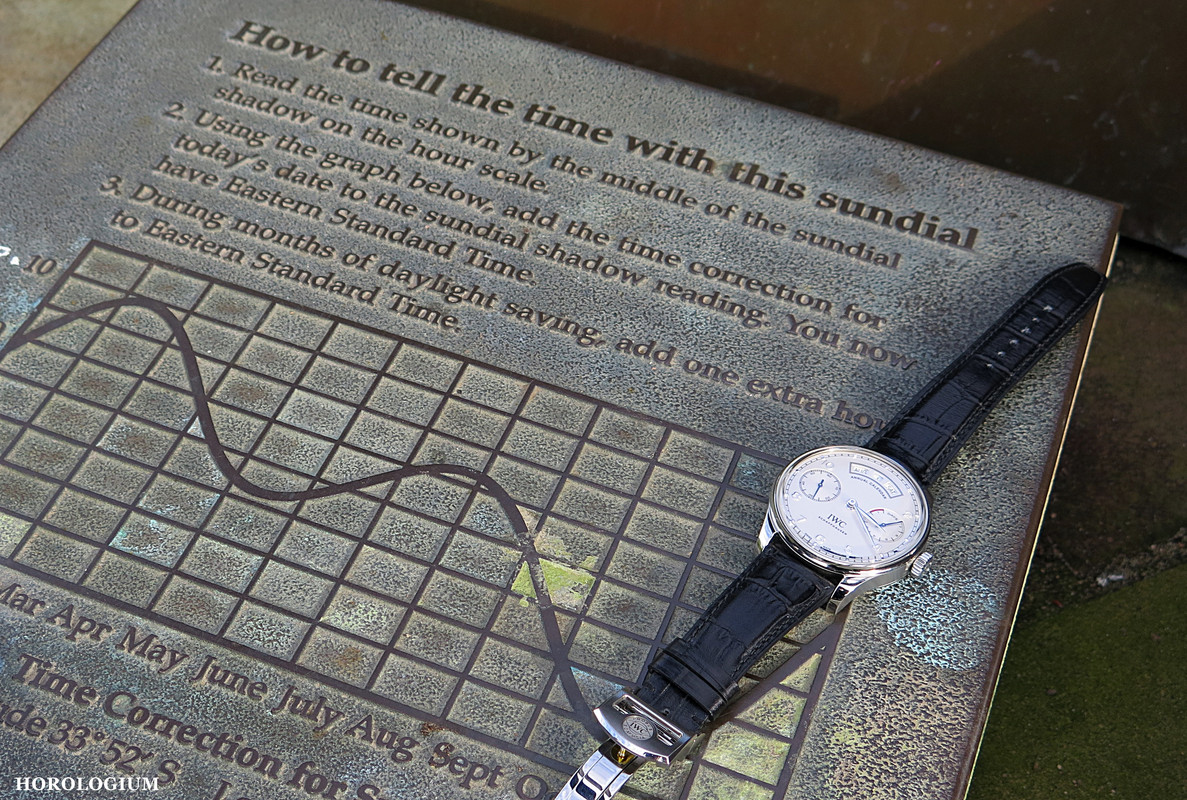 This Armillary sphere sundial is situated in the Herb Garden of the Royal Botanic Gardens, Sydney. Cast from silicon bronze, is is 2.4m high, 1.8m in diametre and weighs 1.5 tonnes. The four cardinal points of the compass are marked at the four feet that support the meridional, equatorial and horizontal rings of the sphere.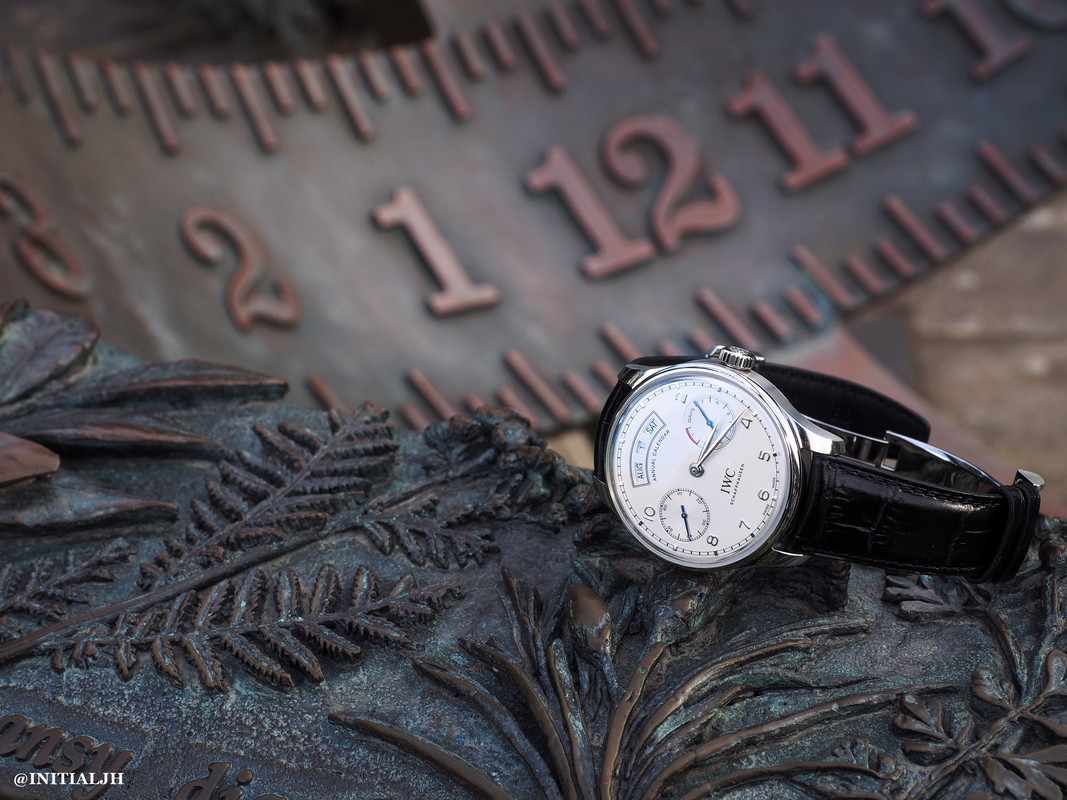 Cast in 1993 by Margaret Folkard and John Ward of Sundails Australia, the hours from 6am to 6 pm are marked with 10 minute divisions on the inside of the equatorial ring. The most charming thing about it is its nod to its placement in the herb garden
As to the accuracy of the sundial…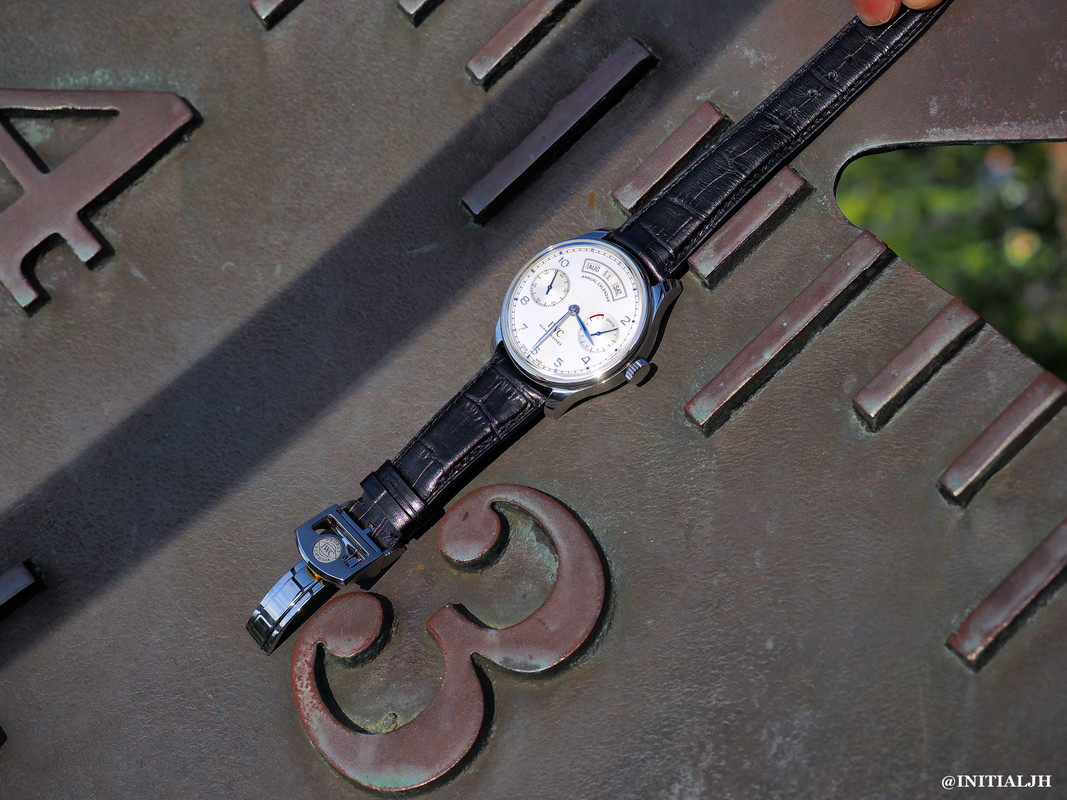 CONCLUSION
With looks that are quintessentially Portugieser, an annual calendar is a nice addition into that family's mix for those who want a calendar complication from IWC but for whom a perpetual is either not what they want or more likely, not within budget. However, the looks of the two different dials are that marked that we would encourage you to look at both the blue and silvered dials.
For those whose response to the new annual calendars has been somewhat ambivalent based on the photographs that they've seen of it, this is a watch that may just surprise you 'in the metal'. On the flipside, some have found it sitting bigger than they had anticipated, so as always our advice is to go to an AD or boutique and try one on for size.
The Australian RRP for thie Ref: IW503501 (stainless case/ silver-plated dial)is $29,100.
---
---
Categories: IWC, On the wrist, SIHH 2015, Sydney, watches