At Baselworld 2015 Tudor presented a new version of their phenomenally successful Pelagos in matte blue, as well as a 'MK II' (so to speak) version of the first black model, about which I wrote (and compared with the first Black Bay), here.
Last year there were rumours about a new movement for the Black Bay and/ or Pelagos, so there was a ripple of anticipatory excitement when Baselworld hit.
With thanks to The Hour Glass (Sydney) I recently had the opportunity to see some of Tudor's new releases for this year, including the new Pelagos.
Firstly, these new 42mm satin-finished titanium cased models have a Monobloc middle case, screw-down stainless steel case back, triple waterproof system and anti-reflective crystal.
The new colours are Ref 25600TN (black) and Ref 25600TB (blue), and the COSC-certified (as it says on the dial) movement MT5612 movement has a silicon hairspring and a 70-hour power reserve. What it replaces is the ever-popular and reliable ETA 2824-2. This is great for those for whom the movement is important but perhaps not so important for those for whom it is not a deal maker or breaker.
Perhaps more important for many who liked the design of the Pelagos above all are the tweaks that have been made in this area.
This brings us to the new lines of text on the dial, which is now a 'five-liner', as opposed to the previous two lines, but first – colour.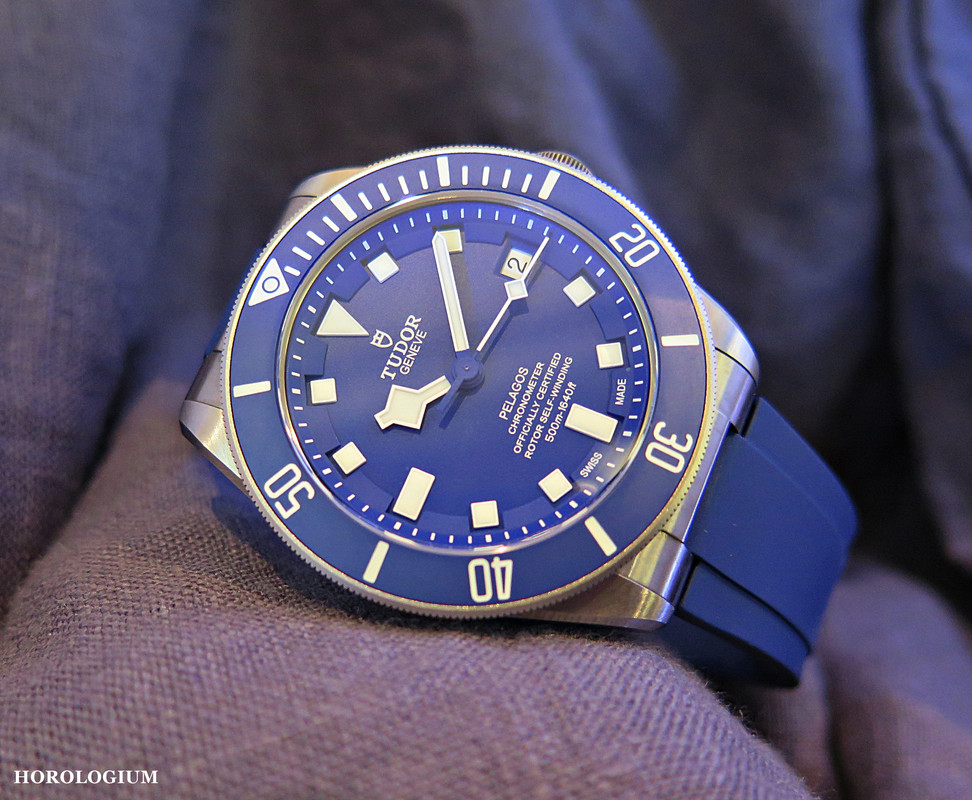 Blue. That has been the biggest talking point. Blue diving watches aren't new, blue watches for Tudor are not new, but the type of blue used in this one has proven to be somewhat divisive, as when photographed, the tone is quite bright indeed.
I am a fan of the first black one, and when I first saw the photos of the blue I wasn't convinced that I'd like it 'in the metal'. Now, after having seen it, the blue is slightly more muted than it appears in photos, but it is still a rather bold colour and not for everyone, especially on the blue rubber strap. It isn't unattractive, but it's probably down to a matter of individual taste with this particular shade.
The lines on the new dial are the other major talking point. Í am of the 'less is more' school of thought when it comes to descriptions on dials, and prefer the earlier version. This doesn't feel cluttered as such, but much of the text seems unnecessary, and to my mind at least, subtracts from the previous clean dial design. I can see the point of mentioning COSC, but 'Pelagos' less so.
As is also clearly signposted on the dial, the new Pelagos is also rated to 500m. It also has a helium escape valve. For those unfamiliar with this, here is a note from #thewatchnerd, who is a diver.
"Helium is only for saturation diving. That is when divers live in a chamber and make dives from there. They are constantly breathing special mixes of gases under extreme pressure. For example, in a chamber at 90m / 280ft, breathing are would be impossible. The very oxygen we need to fuel our cells would kill us (oxygen is toxic above a partial pressure of 1.6 – it's normally 0.21 at the surface). At 90m, there are an additional nine atmospheres of pressure, so the amount of oxygen wishing the breathing mix needs to be reduced. It could just be replaced by nitrogen, but that causes other issues so they replace the O2 with helium, or even hydrogen.
Because the diver lives in a saturated environment, everything s/he wears/ uses is at the same pressure all the time. Helium is a tiny atom. It seems to be able to seep through seals and into watch cases. That's not really a problem – in fact, it may even be an advantage outside the chamber when diving, but as the divers end their series of dives, and the chamber is raised, things change…
As the chamber is raised, the pressure drops. While this may take many many hours and even days, the pressure is slowly brought back to atmospheric. And as that happens, everything that was under ten atmospheres of pressure begins to expand. That includes those little helium molecules within the watch case.
Towards the end of decompression, as the pressure goes from three, to two, to one atmosphere, the pressure change is at its most extreme. Going from 10 to 9 is an 10% change. But going from 3 to 2 is 33% decrease. From 2 to 1 the pressure effectively halves, and so the Helium in the watch case expands at increasing rates.
There's a chance that, as the gases expand, they can blow the crystal or cause other damage. So the He release valve allows these built up, expanding gases to vent."
The blue rubber strap is quite striking because it is same(ish) blue but the bracelet, in titanium, is worth noting. It is light, strong, not as susceptible to scratches as stainless steel, and perhaps the highlight – the strap adjustment mechanism is beautifully simple and smooth. It is patented, with a spring-loaded clasp that allows quick micro-adjustments, even under water. At its max, it can expand up to 25mm. Of course the rubber strap also has an extension system.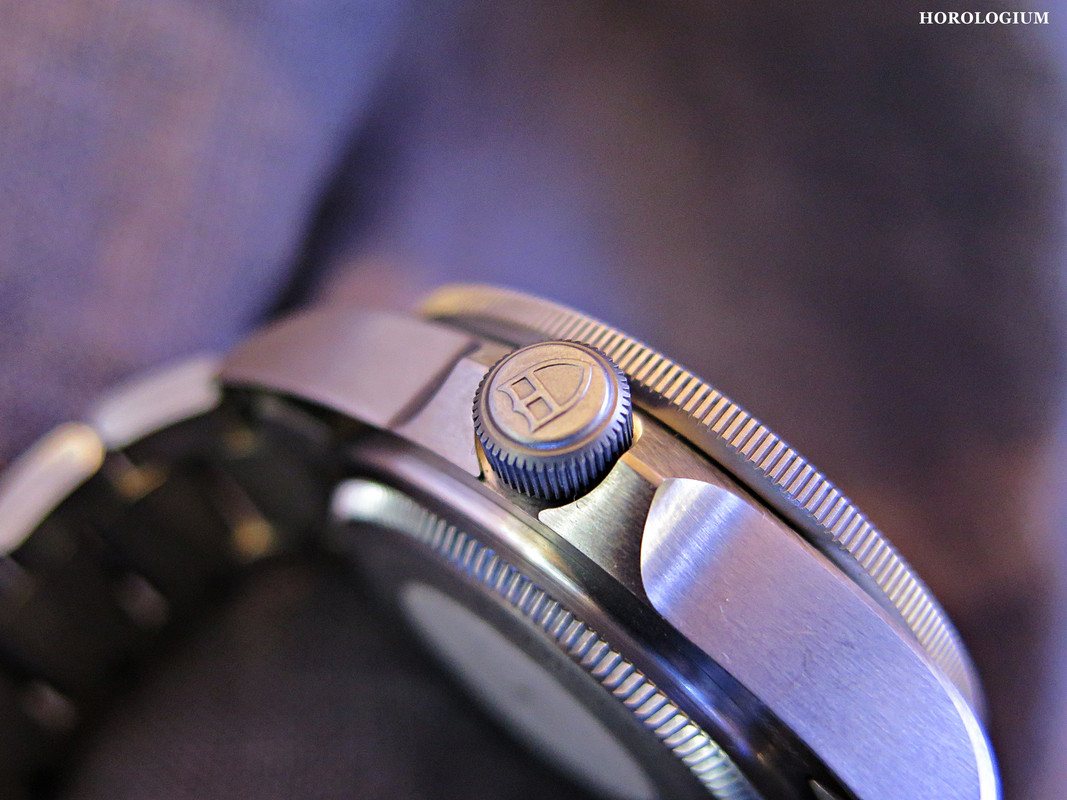 This is a diver, so the lume must be addressed. The Pelagos has a ceramic unidirectional bezel with injected (blue) Super-LumiNova.
Another change is the missing (lumed) hour marker at 3 o'clock, which on the original model, stuck out next to the datewindow. Whether this is a pro or a con is a matter of personal preference, I don't mind either, but am aware that there have been some strong preferences articulated about this.
In time the Pelagos, whether MKI or MKII, may well be considered as an excellent example of a modern sports watch at an affordable price point. Black or blue is down to individual taste and whether you want a watch that is more discreet or makes its presence known. However, what will be interesting to see is how the different versions endure in relation to each other, and which will be seen by enthusiasts as the more 'preferable' option. Will movement be king? Or design?
Meanwhile, if you are interested in getting one, the Australian RRP is $5,250.
---
---
Categories: Baselworld 2015, Divers watches, Sydney, Tudor, watches