The just-finished Baselworld 2015 was where De Bethune formally launched the DB28 GS for which they did a 'soft launch' in late January. Those of you who follow Horologium on Instagram will have seen a photo that posted on the Sunday when we saw it.
This watch is the second of the two big releases that they announced at that time, the other being the DB25T Zodiac which was covered earlier in this post.
Meet the DB28 GS (Grand Sport), the first DeBethune marketed as a sports watch and also their first watch to come on a rubber strap,  rather interestingly molded into the lugs.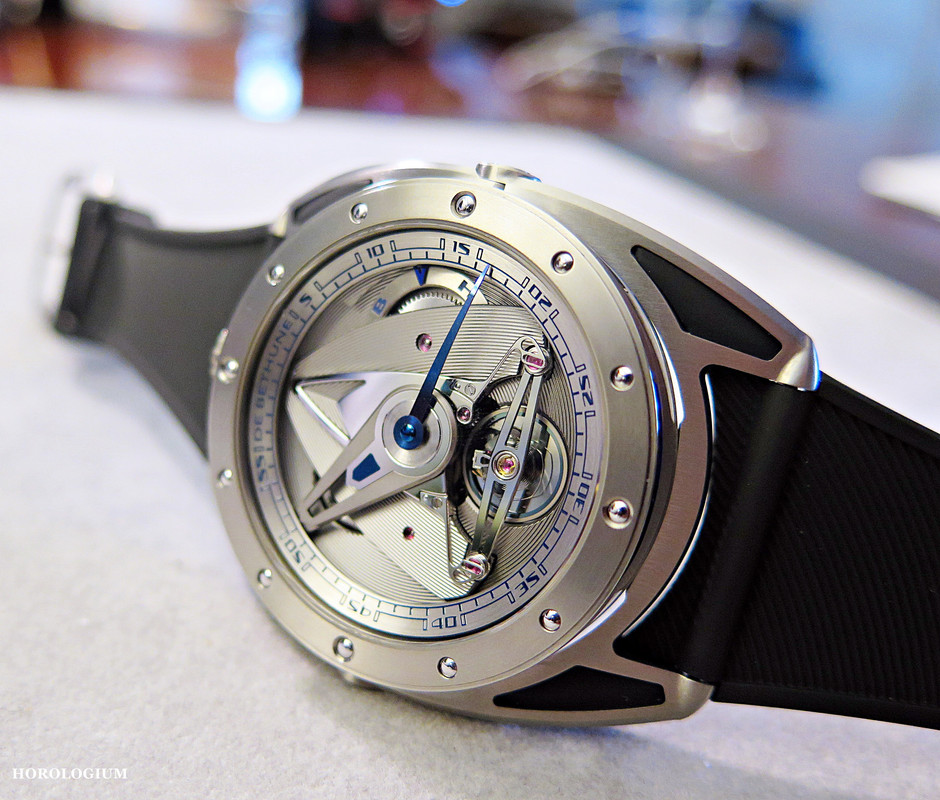 With the familiar 44mm DB28 at its design core, this new piece is in titanium with a matte finish, making it both incredibly light and comfortable on the wrist. It comes on the classic De Bethune short or long floating lugs which are also in Grade 5 Titanium.
Designed by David Zanetta and Denis Flageollet, the signature DeBethune elements such as the lugs and 'Star Trek' deltoid shaped bridge are all present on the dial, which features both titanium and polished steel.
Inside is the hand-wound Calibre DB2115 with a six day power reserve, whose 'performance' can be seen via an indicator between 2 o'clock and 3 o'clock. The 'H' and 'B' on the indicator stand for 'haute' and 'bas', or 'high' and 'low', referring to the barrels and whether they are fully wound (H) or not. The ideal status is for the indicator to sit in the midle, indicating that the watch is running consistently (constant force).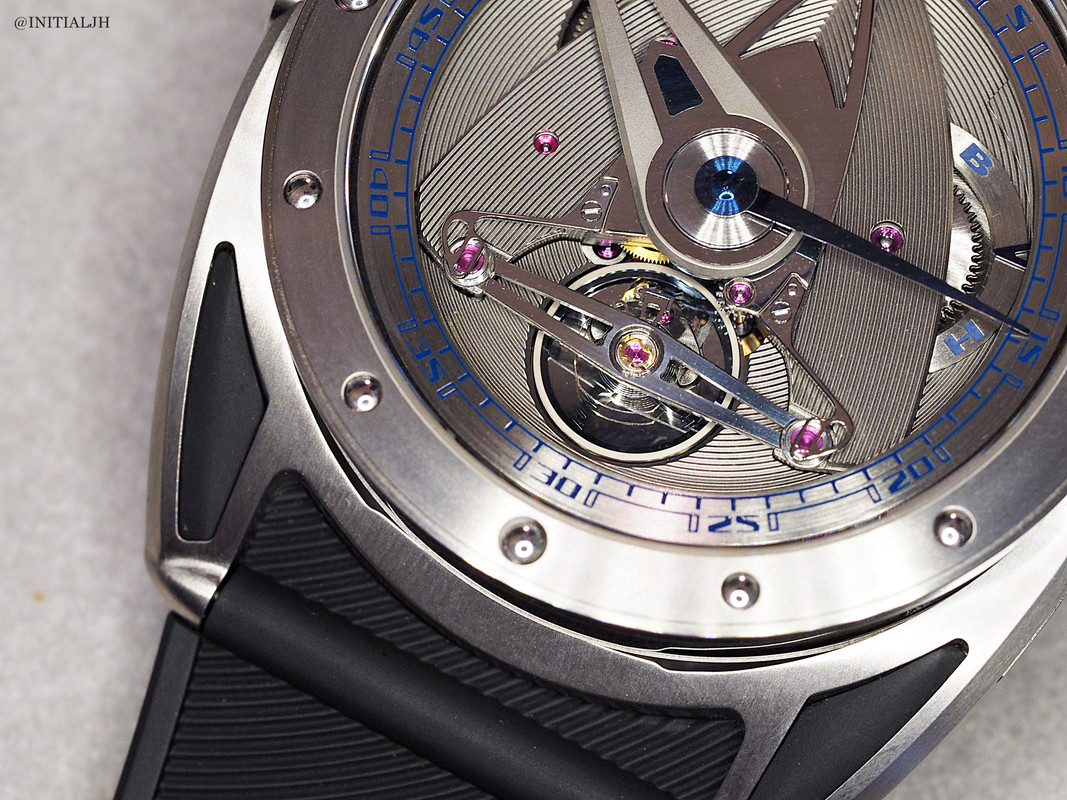 The movement consists of two hundred and sixty two parts including the patented Triple Pare-cute shock absorption system and the usual high level hand-finishing, polishing and decoration seen in De Bethune watches.
The bridges are finished with what De Bethune calls 'microlight', a pattern of finely engraved lines, and this finishing contributes to what makes the watch 'sporty' to look at. It makes it seem 'less' formally finished than many other De Bethunes because it gives the dial a very strong contrasting texture of a type that is not 'delicate'. The large flat bezel and the use of a large open hand with a blued steel insert whose shape is almost like a nod to the deltoid shape give this watch a far more informal feel than other De Bethune pieces, and the blued needle-like minute hand is a nice continuity of De Bethune's famous 'blue'.
You will notice the many layers and textures to the dial. It is a very good looking watch but there is a relaxed elegant ruggedness to it that is not present in its more dressy stablemates. With so many variations to the DB28 theme over the years, this new piece is a great way to refresh the line and a welcome option for those who like De Bethune but who wanted something more 'casual' (it's all relative).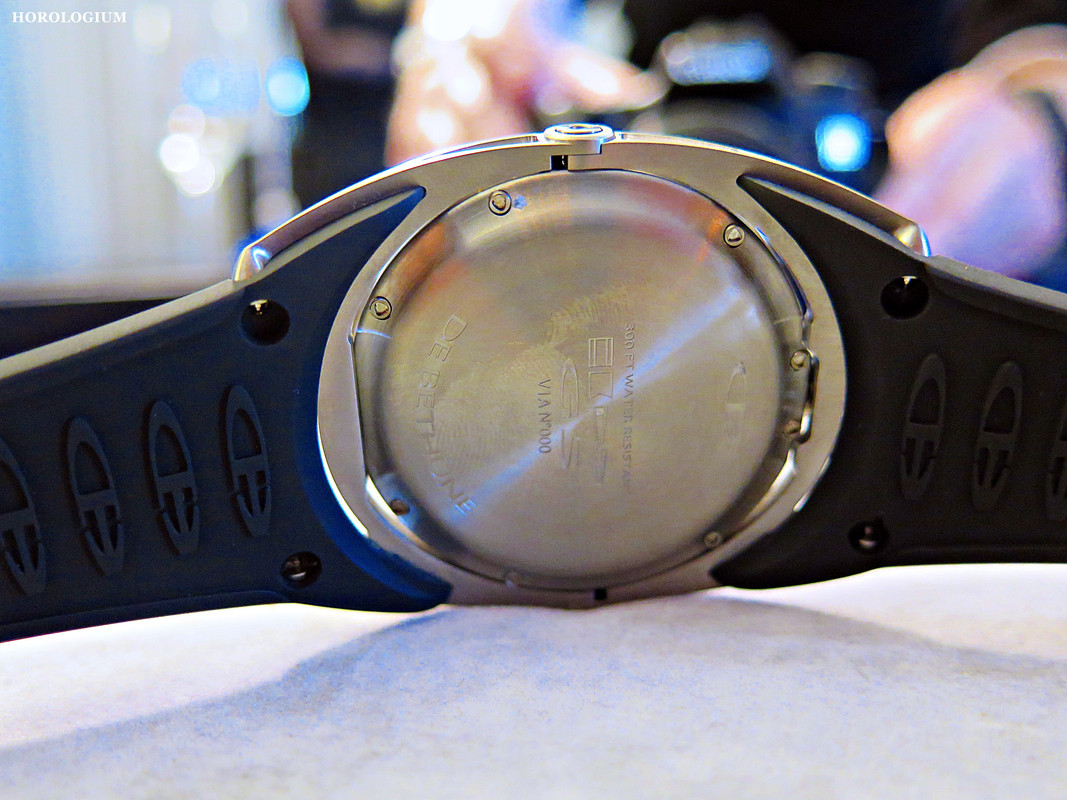 I had a discussion recently with a collector about De Bethune and whether particular models are dress or sports watches. What was interesting was how differently we stand in terms of what makes a watch a 'dress' watch versus what makes a watch a 'sports" watch. How do you define 'dress' vs 'sports', and is the 'grey' area ever growing?
If you are looking for a new sports watch to not wear when you are engaged in sporting pursuits or to wear when you're watching rather than participating, the price of the DB28 GS is CHF 75,000. The DB28 GS has a water resistance of 100m but I remain doubtful that owners will be tempted to test this.
---
---
Categories: Baselworld 2015, De Bethune, Hands-on, Switzerland, Watch Profile, watches