For a few years now, brands have been reaching into 'their' 1960s and 1970s for inspiration. Many brands have gone down the path to those decades for, in particular, sports watches, but to modernise dress watches from that period is possibly a rather more tricky proposition, especially in the case of women's watches, which were considerably smaller then than what the 21st century woman is accustomed to.
I am not old enough to have registered the profile of Piaget during this period but my father was, and it was through his eyes that I first learned about Piaget. As a child there were several brands of which I was perhaps more aware than others because of his ownership of them, and Piaget was one of them. His was a dress watch on a yellow gold bracelet with a stone dial. Very bold and reminiscent of what I see in the watches the subject of today's post.
Two models symbolising this period of Piaget's history have been added to what they call the 'Extremely Piaget' emblematic watches line.
The first of these is the one at the top of this post, the (double) cushion-shaped Black Tie Vintage Inspiration. It is based on the Beta 21 quartz movement piece owned by Andy Warhol but now contains a mechanical movement (automatic Calibre 534P). This new version is in a white gold stepped case with a brushed bezel measuring 45mm x 40mm and an onyx black dial. This is actually a great looking watch; very strong lines but in spite of its size pretty dressy, and reeking of suitability for evening wear. It is limited to twenty-eight pieces.
Those with their finger on the Piaget retro pulse may know that there has been another similar piece in the Extremely Piaget' collection, but with its case in 18 carat yellow gold and the dial a natural green jade colour. In comparing them both, this new white gold one seems more modern and probably with broader appeal.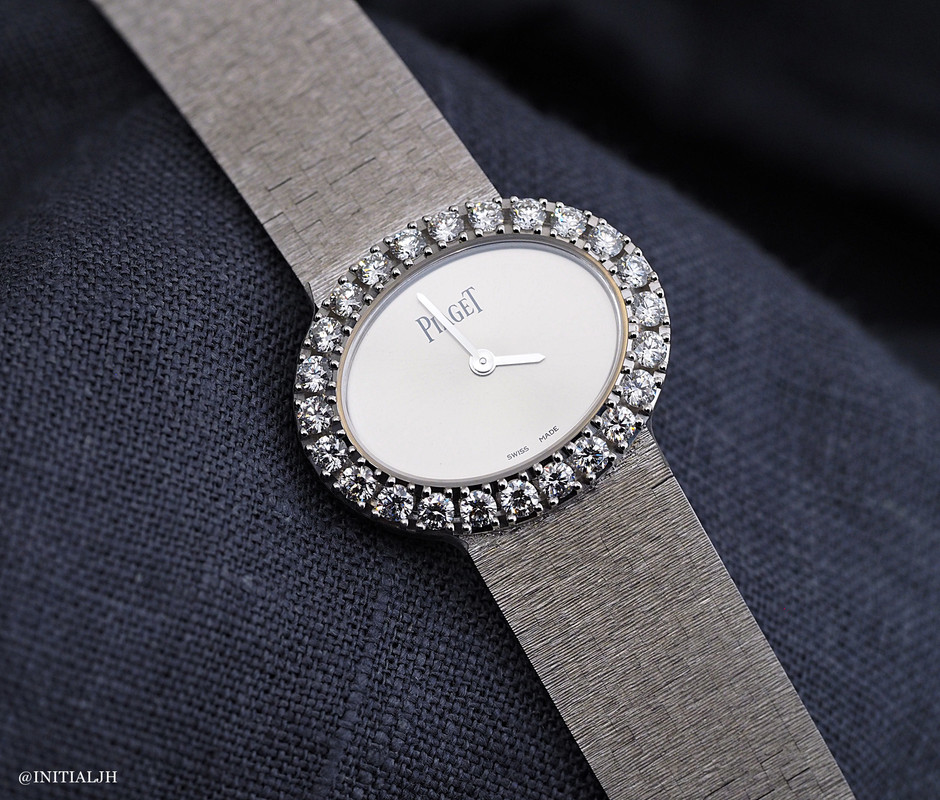 The second 'vintage inspiration' model launch at SIHH 2015 was a women's watch in a retro oval shape that is a nod to a piece from Piaget's past. It featured an oval case set with diamonds and emeralds with a matching jade dial, came on a gold bracelet, and was the inspiration behind subsequent similar oval models. You can see the original piece on which this was based on Piaget's website at this link. Its most famous fan was Jackie Kennedy Onassis.
In many ways the bracelet is key with this new piece, and Piaget are proud of what is called a 'palace' finish. Although the goldsmith was not there when I visited the booth, they had someone there demonstrating the art of creating these bracelets so that they are not only comfortable, but achieve that almost shimmering effect on the wearer's wrist. The bracelet is fitted directly to the case.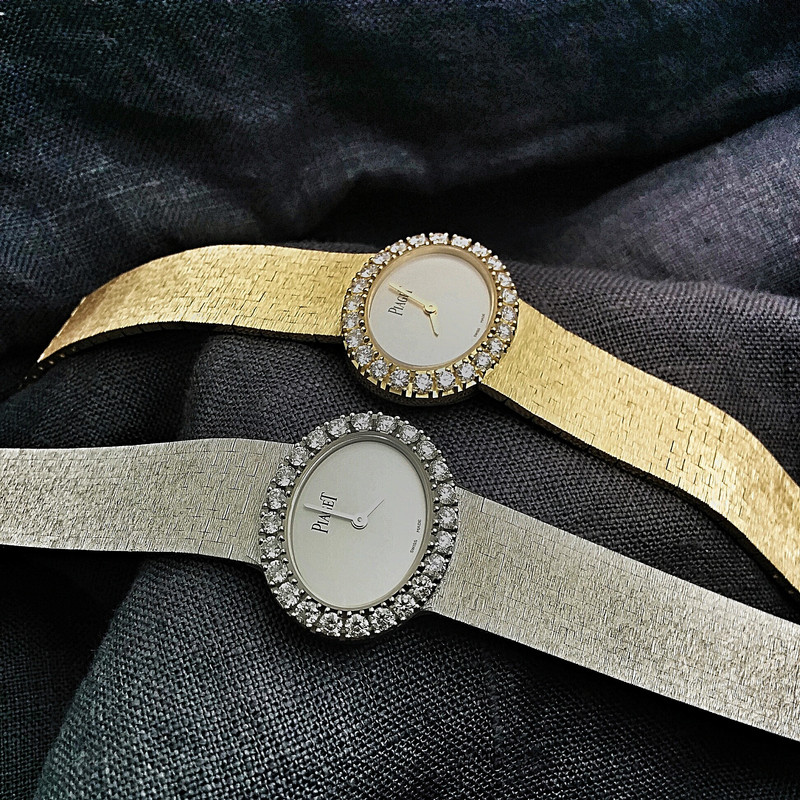 This watch may be familiar to those of you who know the 'Extremely Piaget' women's watches well – it is already a part of that collection in the form of a pink gold version with twenty brilliant-cut diamonds and four turquoises on its bezel and a matching turquoise dial, and a white gold version with twenty brilliant-cut diamonds and four blue sapphires on its bezel, surrounding a matching lapis lazuli dial.
This new model comes in two variants : a silver-toned oval dial with a diamond bezel, and the watch itself in either white or rose gold. The size is 27mm x 22mm, and the twenty-four brilliant-cut diamonds are a total of 1.46 carats. Perhaps the one 'downer' in these watches is that they contain a quartz movement, the Piaget 56P, but I recognise that the movement probably isn't the critical element to these watches.
---
---
Categories: Hands-on, Limited Editions, Piaget, SIHH 2015, Switzerland, Watch Profile, watches, Women's watches