Firstly, a disclosure.
The photos that appear in this post are 'best under the circumstances' photos. For ones that do the watches justice, go to Fiona's website.
So why did I take them and choose to share them? Well if I am honest I'd probably have rather just chatted, but it was an unexpected pleasure to be introduced to her (if you look at the time on the watches you will notice that it was late at night and involved beige backgrounds, never a good combination when it comes to taking photos of watches) and I couldn't let the opportunity go by without some quick snaps, as I do not know when our paths will cross again. Those of you who follow me on instagram will have already seen one or two photos from that evening.
It's a tough world the watch one, and anyone who is bold and arguably reckless enough to start their own brand deserves kudos for bravery. Anyone who starts their own brand with a very clear aesthetic vision that is slightly unconventional is braver still.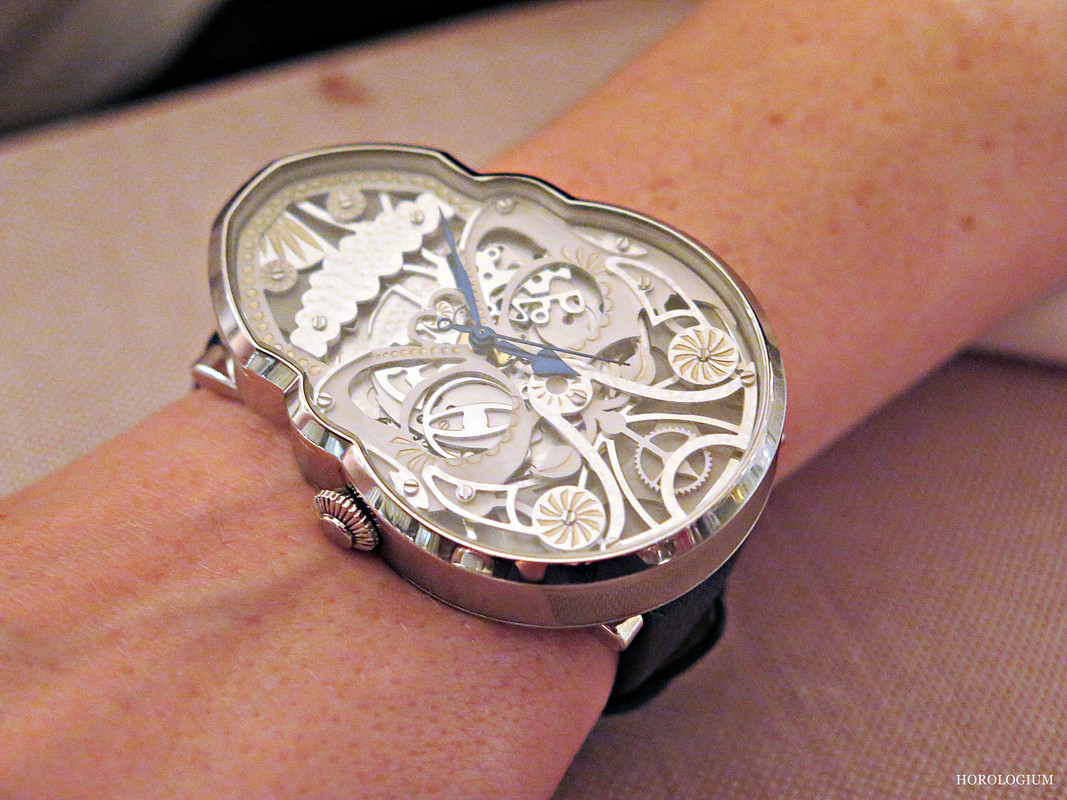 I had seen photos of these distinctive skull watches online but never thought that I would have the opportunity to see them 'in the metal'. They stayed in my memory not just because of their skull shape, not just because they made me think of The Day of The Dead, but because of their skeletal design and their sheer size. I wondered to myself whether it was slightly bonkers to create a skull watch of such proportions – who could possibly wear it?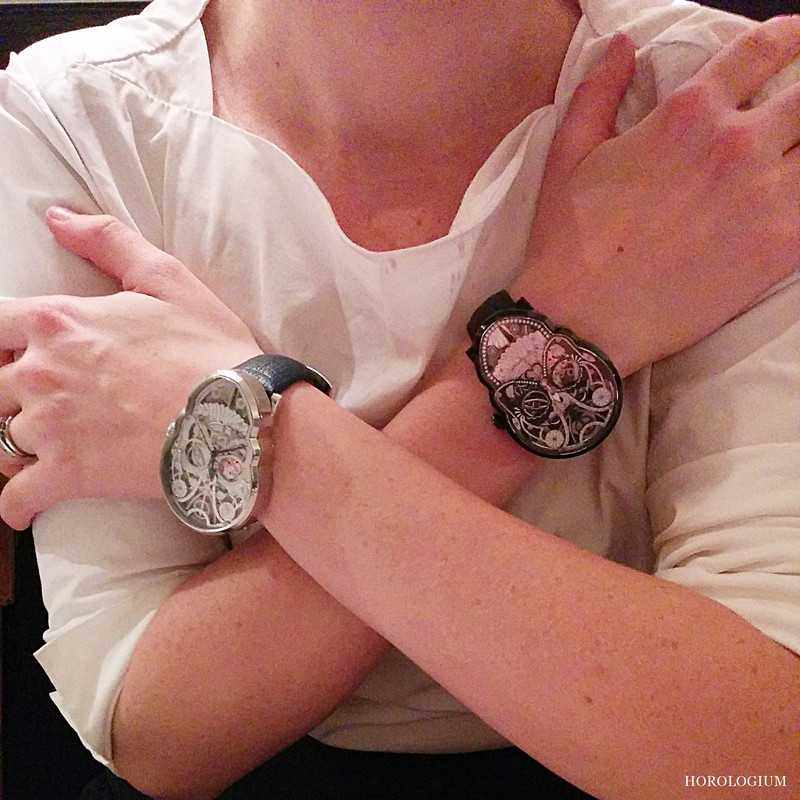 For those wondering, the answer is 'yes'. When I met her I told her this, that my first impression had been of a watch that might be unwearable. In trying it, I admit that I was surprised. Despite its measurements (57.4mm x 41.3mm, height of 10.3mm) and this is a large watch by any stretch, it is actually comfortable on the wrist. Fiona herself has slim wrists, and as you can see in the photo above, they sit well. They do not protrude as uncomfortably as one might expect, are not too heavy, and are quite playful. The hands are blued galvanised brass for those who are wondering.
So who is the lady behind the watches? Fiona Krüger is a Scottish artist and designer inspired by the 17th century skull watch of Mary Queen of Scots, the Mexican celebration of Dia de Los Muertos ('Day of the Dead') and, of course, mortality.  The skull was Fiona's starting point, and the design of the watches flowed from that. She clearly sees the skull not just as representing an end, and the Mexican influence in the decorative aspects of her watches is strong.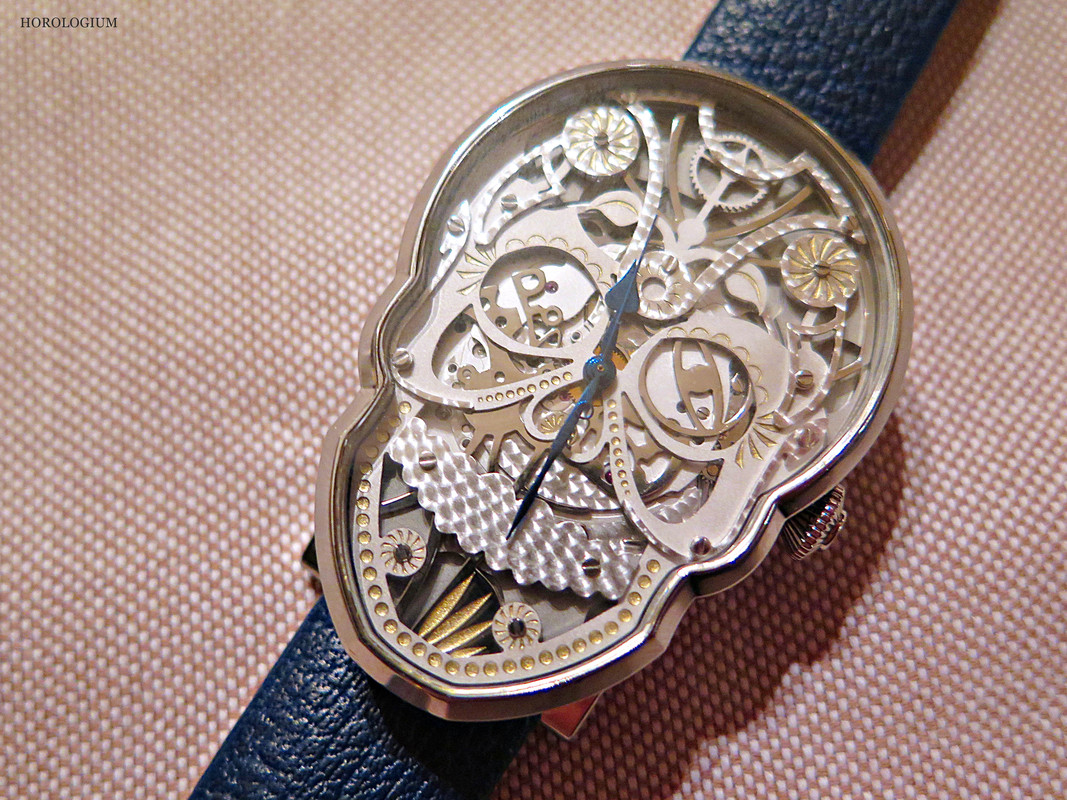 So far she has released two versions of the skull watches, in steel and black, and is about to launch the 'Celebration Skull'. For those familiar with the Day of the Dead, the vivid colours in the new model will be be evocative of its underlying belief that the best way to commemorate the lives of the dead is with food, drink, dancing – celebrations.
The watches are produced in limited editions of twelve pieces. Each is made in Switzerland and powered by a Swiss mechanical movement with a five day power reserve, but the key to these watches is their design. The skull's hand-decorated three layer dial mirrors the movement beneath it.
So what part does she play in her brand? This is made clear even on her website. She is a designer who loves watches, mechanical watches. She has a Fine Art background that informs her design and she is part of a collaborative process, even though her name is 'on the dial' as it were. As a designer, she carries around a sketchbook of course, which she shares online here for those interested in the creative process.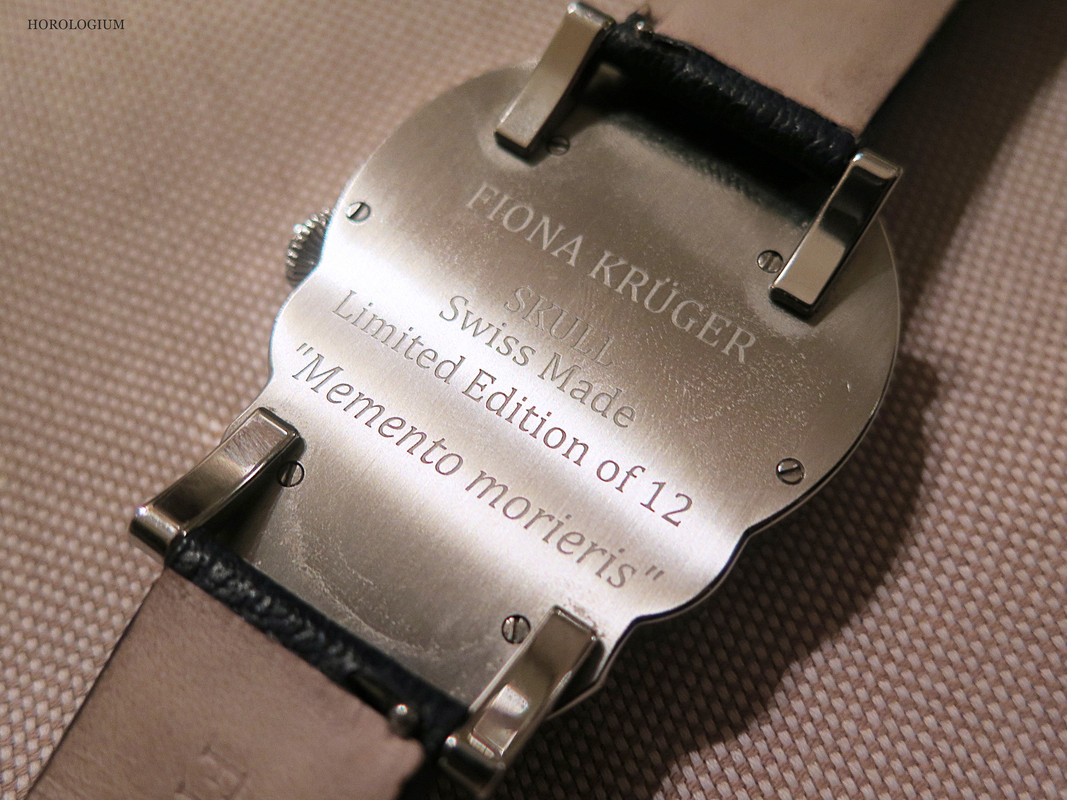 The original Skull is sold out. The Black Skull, whose case is PVD-coated stainless steel, is still available. Click on this link for details. The price is Price: 15,200 CHF ex VAT.
For those who would like to read more about the Mary Queen of Scots skull timepiece made by Swiss watchmaker Moyant A Blois (and subsequently modified in the 18th century by J. Moysan of Blois) that is believed to have been given to Mary Seton, one of her maids of honour, go to this link at the Seaton family website. An early engraving of it is in the Victoria and Albert Museum Collections and can be seen here. For those who want to see other early horological representations of Momento Mori, here are some at the British Museum
---
---
Categories: Baselworld 2015, Fiona Kruger, Switzerland, watches