A little while back Horologium introduced MB&F's latest Horological Machine, the Space Pirate. A little while after its launch MB&F Head of Communications Charris Yadigaroglou came to Australia with the new HM6 for its Australian launch, and I had the opportunity to see handle the watch ahead of its local launch.
If you want the specs, you can click on the link above to read my first post. This post will concentrate on the all-important 'in the metal' experience, which I had for an hour or so at The Hour Glass, and then that evening at a Sydney launch dinner with local collectors.
One of my recurring themes is how important it is to keep an open mind about pieces that you have read about and seen many photos about, even those for which you may have seen up to a hundred press and live images. Even the best of us may have a preconception about a watch based on what we see and read on our screens, but too often, the reality of handling the watch is different to the pixels of it.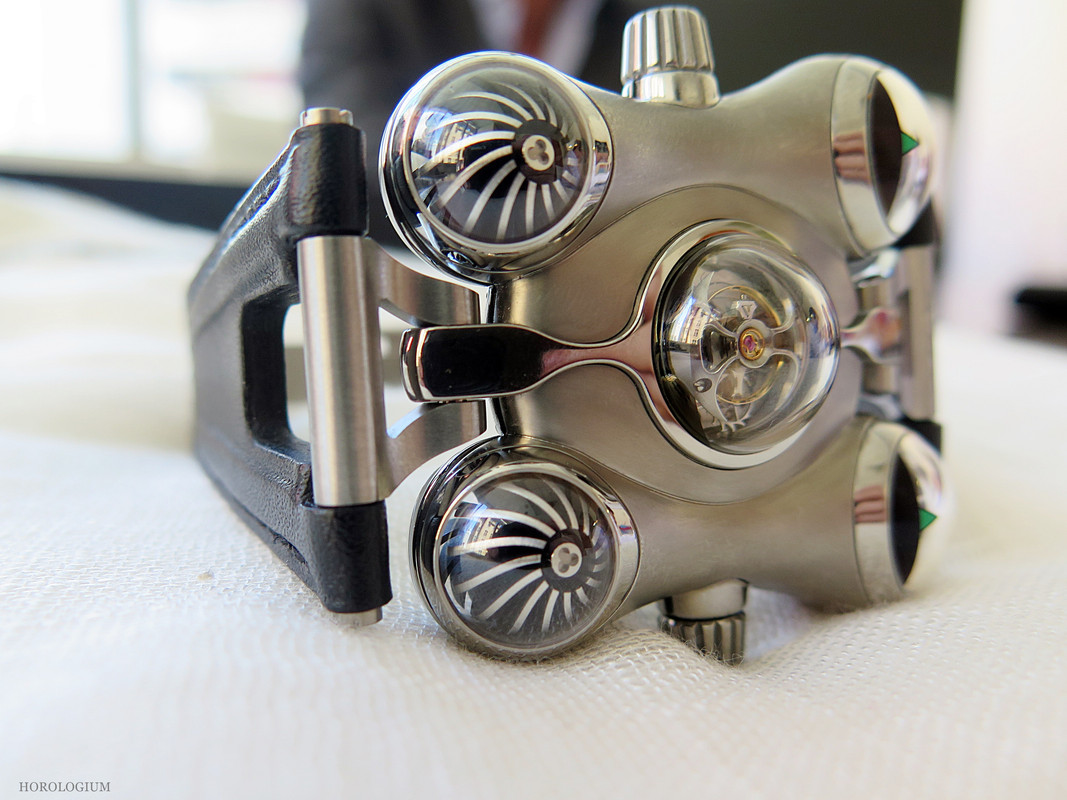 As I discussed with a few people during the Sydney HM6 launch dinner, most of whom were handling MB&F watches for the first time, it can be a divisive brand, designwise. As with a number of independent brands, perhaps with the exception of the more classically styled Legacy Machine watches of recent times, MB&F pieces are not watches that are intended to have broad appeal. When I first saw the photos of the HM6 I confess that I wondered whether this would fall into the 'unwearable' category, with its large size, protrusions even on the caseback, and general bulk. Was the HM6, I pondered, so totally out of even the MB&F ballpark that I simply would not 'get' it?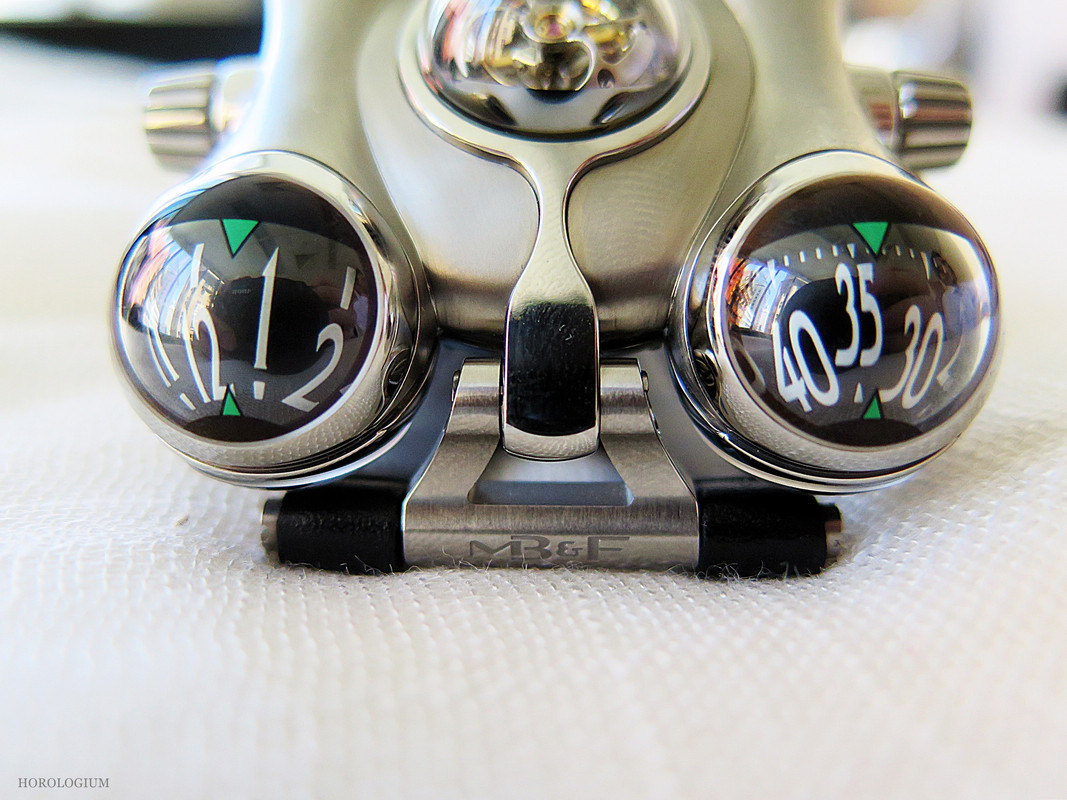 The Space Pirate is inspired by a part of Max Busser's childhood, the Japanese cartoon Capitaine Flam, so it was this thought in my mind when I picked up the watch. This is where the first surprise hit me.
Something that had I had not fully grasped when reading about it, even with the knowledge that the case is made of titanium (the parts of the case are, in fact, made from a single block of the stuff), is how light this piece is. I believe that I may have look startled when I picked it up, and deeply clichéd though the expression may be, I may have said something at the time about it being as light as a feather. My friend the#watchnerd had seen the HM6 at Salon QP and told me that it was very wearable and light, but it appears that I need to experience this for myself. Not only is it incredibly light but also extraordinarily comfortable, surprisingly so. The bumps on the back about which I had reservations went unnoticed when I had it on my wrist, the size of the watch somehow became irrelevant because it sits so comfortably. So much so in fact, that one is in danger of not remembering that it's there (always a fear for those of us who worry about dings on our watches).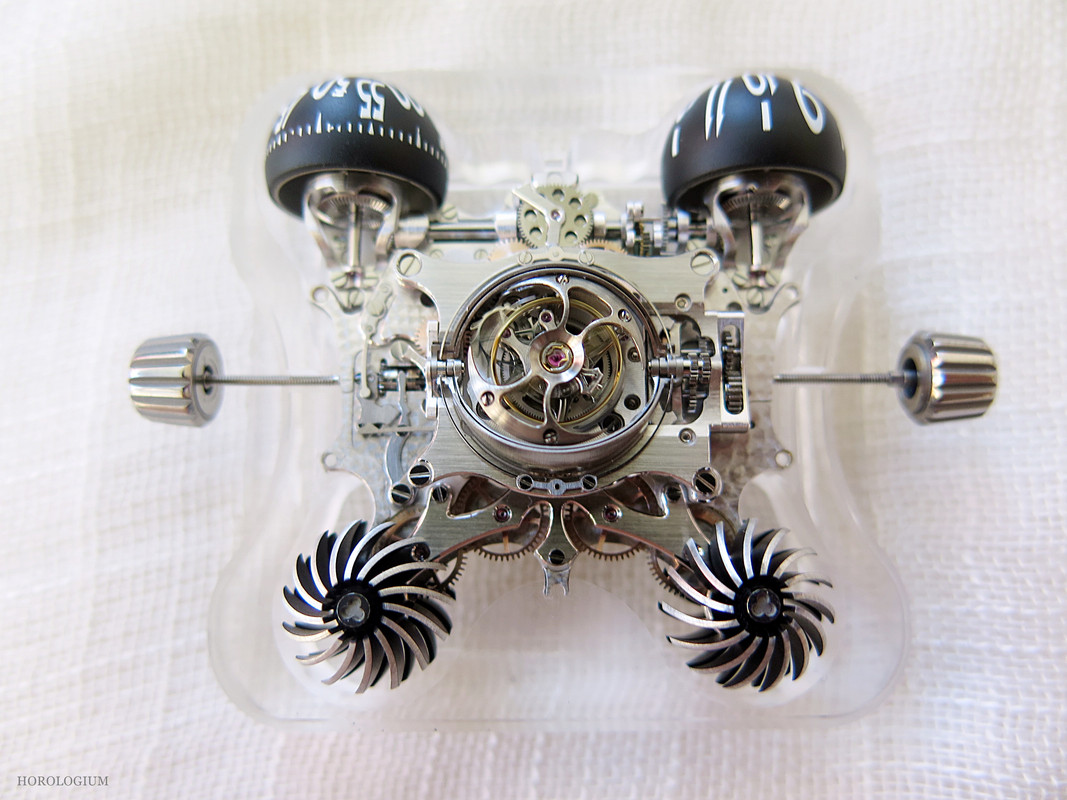 It is a far more engaging watch than I had expected it would be, a far more comfortable watch than I had thought it would be, and I was reminded about why it is important to not let the often dominant exterior of MB&F watches dominate one's thoughts about them. The HM6's movement is not to be sneezed at. Recall that it is a new automatic movement for them, that it has a sixty-second flying tourbillon. The movement, of which there will only be one hundred made, has 475 parts, and took three years of development. The winding battle-axe rotor is Pt 950.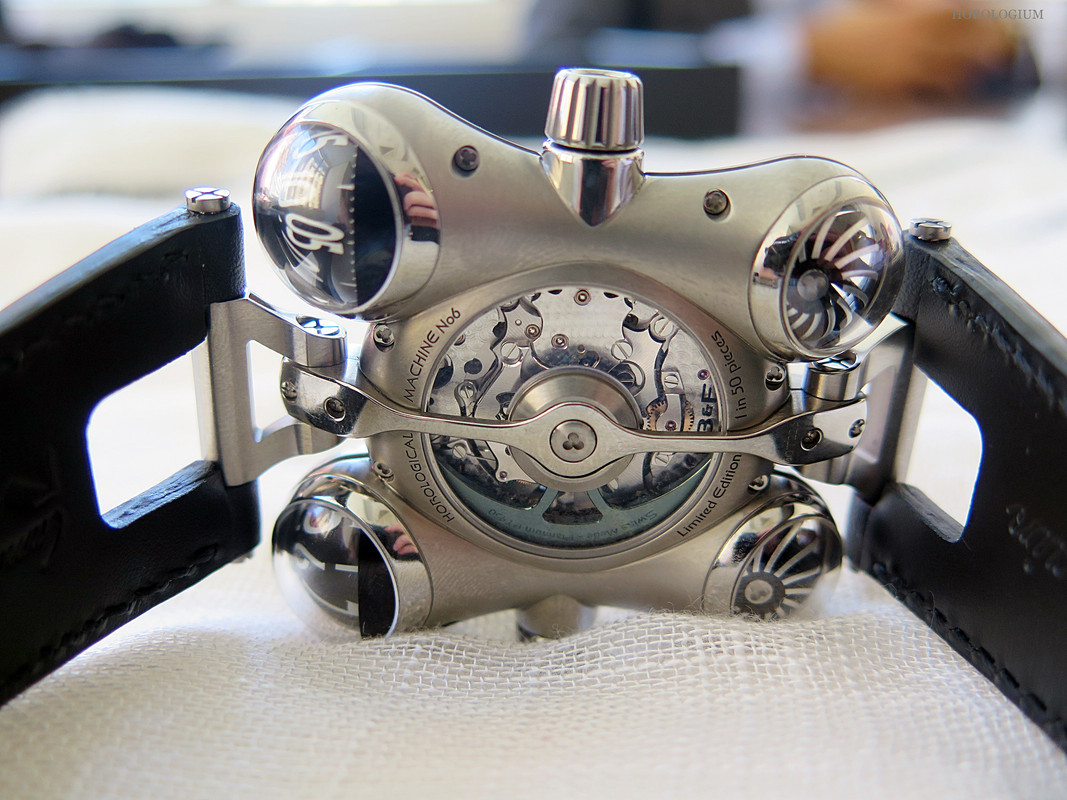 In each of the four corners of the case is a 360° sphere, capped top and bottom by transparent sapphire crystal domes. A non-watch person, upon seeing a photo that I posted and perhaps confounded by its design and not knowing where to look, couldn't immediately tell where the time indicators were, but they are easily found – the two spheres at the front with their semi-sepherical indicators that rotate in a circle, displaying the hours and minutes. The two turbines at the back, which balance the design, spin horizontally, regulating the winding system.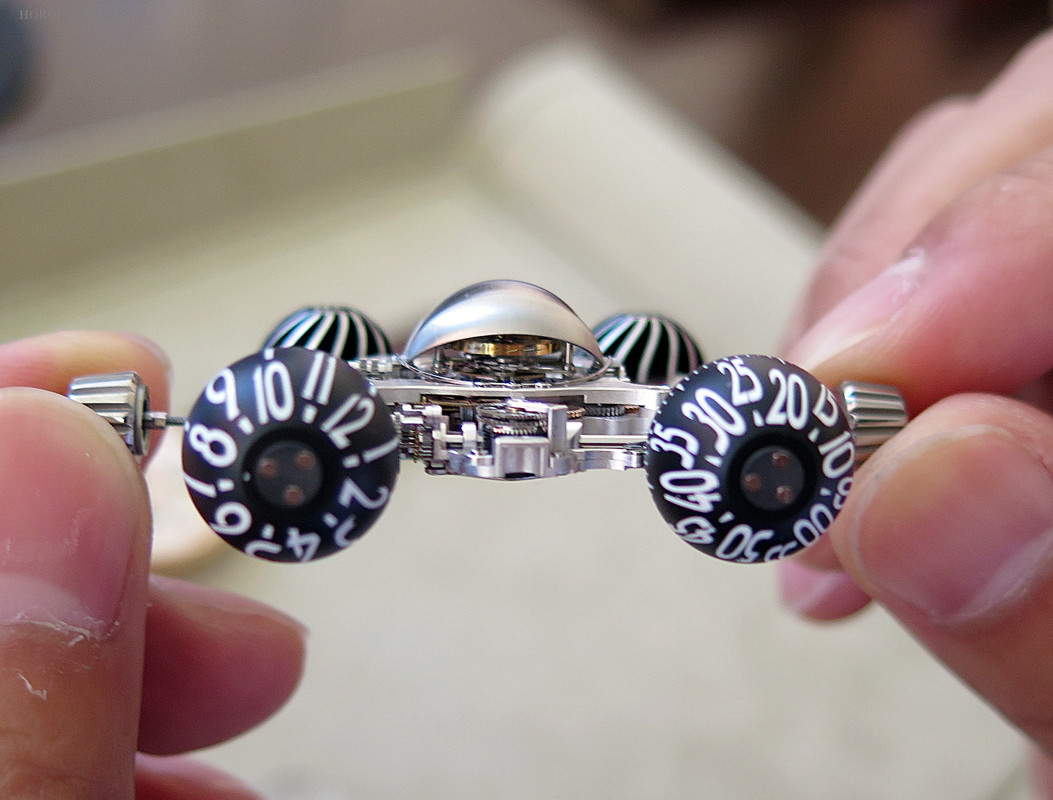 In my earlier post I wondered whether the twin turbines were a nod by Max Busser to the HM5's louvres, and I still ponder this. What was fascinating was that the longer the time that I spent with the watch, the more time I spent looking at it, the more it seemed to take on different identities. It started off very much as a machine (which, after all, is that to which the 'M' in 'HM' refers, quite apart from the Capitaine Flam references) but then, as the rather addictive (and hypnotic, but repetition tends to do that, I find) ability to open and close the toubillon's retractable cover (which as an ingenious safety mechanism so that you do not accidentally go too far and 'force' the closure or opening) took hold of me, the Space Pirate gradually became less machine and more a live creature.
At some times I saw the tourbillon cover as a mouth, at other times an addition 'eye' to those of the turbines. Perhaps I was seeing some of the protrusions from other MB&F watches as I interacted with it. Perhaps it was becoming almost like a cyborg in my mind's eye, but with the organic parts hidden from view. In looking at MB&F's own description, they call the case 'biomorphic', and whilst I may not have agreed with this before I saw the piece, after having handled it I can see and recognise this biomorphism.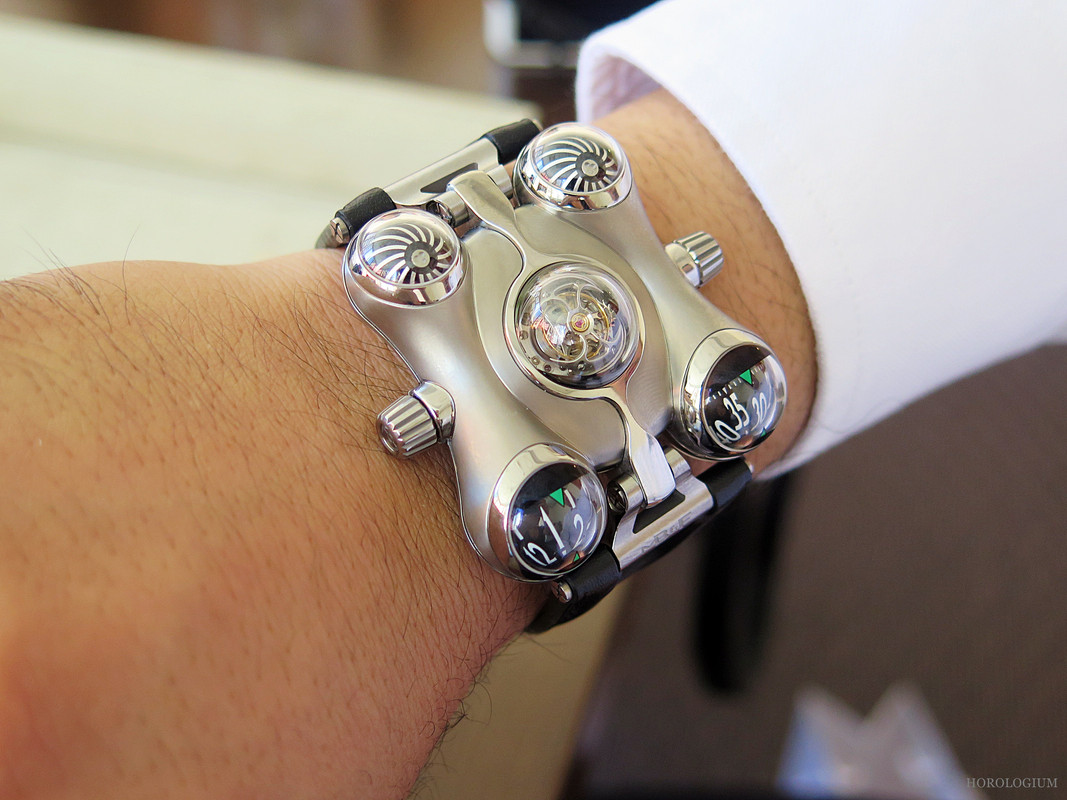 This is not a watch that you simply look at and say 'wow' to, although this is very likely the initial impression that is aroused in most of us. It is a watch to be touched, worn, and examined quietly. It is also much more wearable than, for example, the HM4. When I saw it with Charris at The Hour Glass, who are MB&F's authorised dealer in Australia, I was with a long time collector and enthusiast who started ruminating aloud about how really, does he need somewhere to live? I'm not encouraging living in a car in order to get a watch, but yes, the Space Pirate that kind of effect on people.
---
---
Categories: Hands-on, Limited Editions, MB&F, Sydney, Watch movements, watches