Vacheron Constantin's Patrimony collection, now with the Patrimony Tradtionelle models called 'Traditionelle' and the Contemporaine models becoming 'Patrimony', gained a number of new models during Watches & Wonders 2014, all in rose gold with a slate grey dial, but in 40mm and 42.5mm sizes depending on the model.
First up is the new dial colour/ metal combination for one of my favourite Vacherons, the Patrimony Retrograde Day-Date (86020). For those unfamiliar with this model, or with retrogrades, the dial is happily self-evident, with the day of the month indicator at the top, and day of the week, at the bottom. With the range already including two light (white and cream) dialled versions in white and pink gold, the addition of a pink gold version with a grey dial. Inside the 42.5mm case is the automatic Calibre 2460 R31 R with a forty hour power reserve.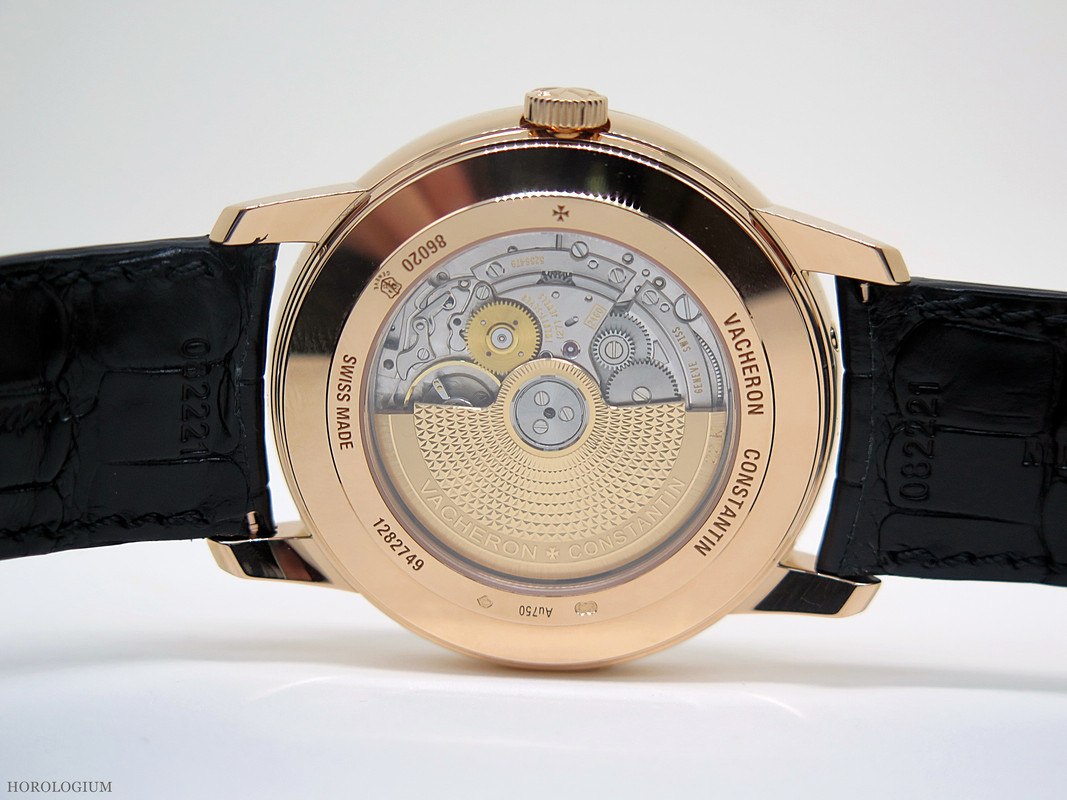 This watch is for fans of retrograde indicators and for those who have looked at the previous iterations and not quite felt that 'tug' on the heart, as it were. It is more dressy than its lighter dialled predecessors (which were hardly casual watches themselves), but a welcome addition as an option for those who prefer watches with dark dials.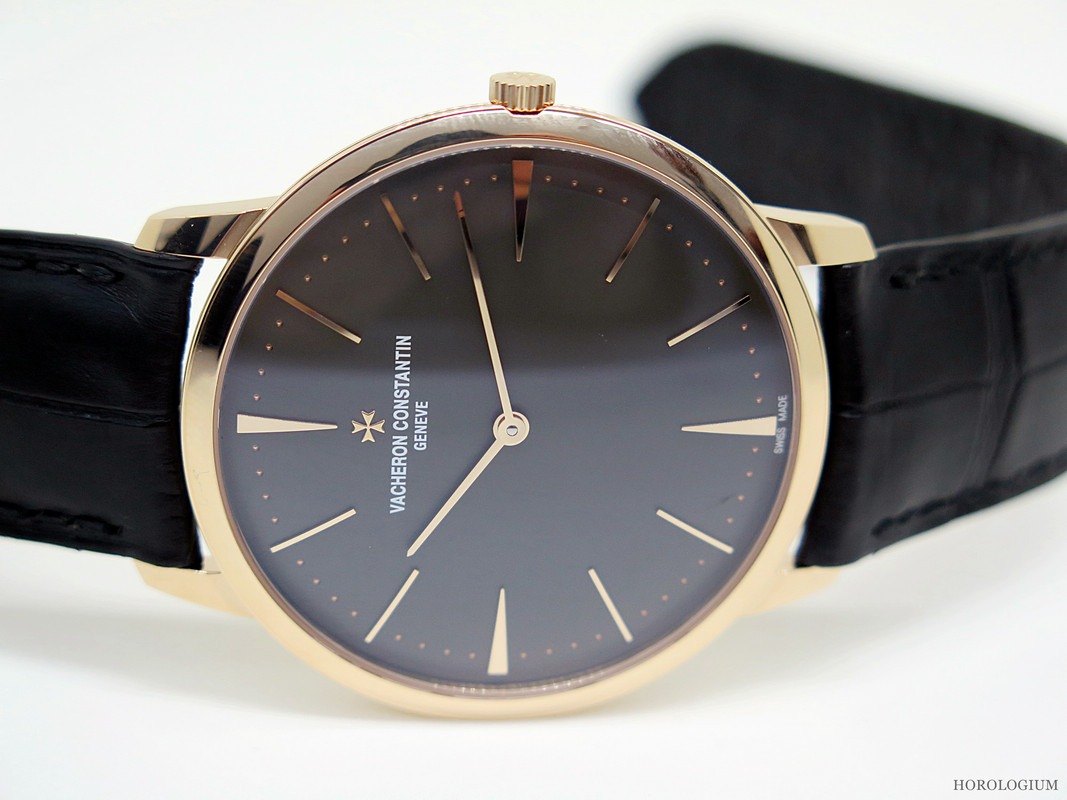 Next up is the Patrimony 81180, the new darker grey dialled version of a model already available in a lighter grey but in platinum unlike this one, which is in a more price accessible pink gold. This one is 40mm and contains the Calibre 1400. It's an elegant addition to an enduringly popular and eternally stylish time-only Patrimony model.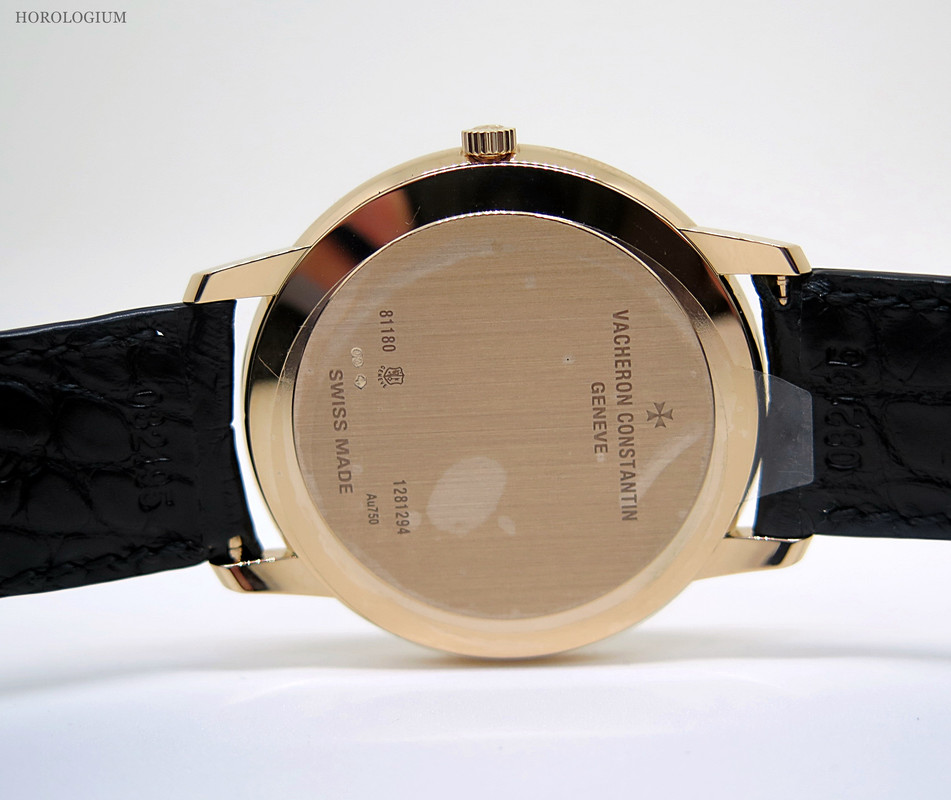 Last but not least is the Patrimony 85180, also 40mm, and a new sibling for three other light-dialled time and date Patrimonys. Inside is the automatic Calibre 2450 Q6 with forty hour power reserve, which is visible through the transparent caseback.
A funny thing about this piece – the date window with its white background wasn't something that I particularly noticed as standing out when I saw it at the time, but now having looked back at it repeatedly and after having discussed it, the more I look at it the more I notice it and wonder how it might have looked if the background had been the same grey as the dial, and the numerals in the same colour as the text on the retrograde…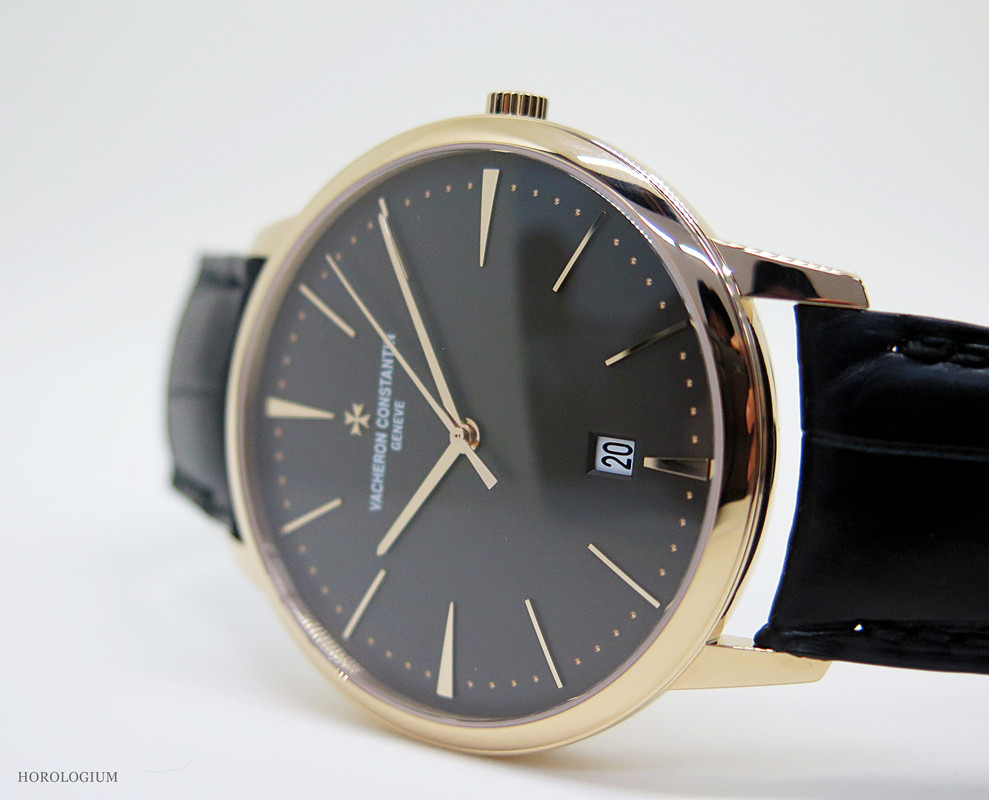 The date window question aside, these bold coloured new models are damn fine looking additions to their respective model lines, and for me, quintessentially Vacheron.  My thanks to Vincent Cuche of Vacheron Constantin Australia for giving me the opportunty to see these pieces up close.
[Horologium attended Watches & Wonders 2014 at the invitation of Richemont Australia]
---
---
Categories: Hong Kong, Vacheron Constantin, Watch Profile, watches, Watches & Wonders 2014