Earlier this year, I covered Baume et Mercier's new Clifton Retrograde Date, which I first saw at SIHH 2014. Recently, I had the opportunity to test drive one for a month with thanks to Baume et Mercier Australia.
For those unfamiliar with the Clifton range, it was introduced in 2013 and has proven to be very successful for the brand, with its 43mm case and classically conservative dials having broad appeal.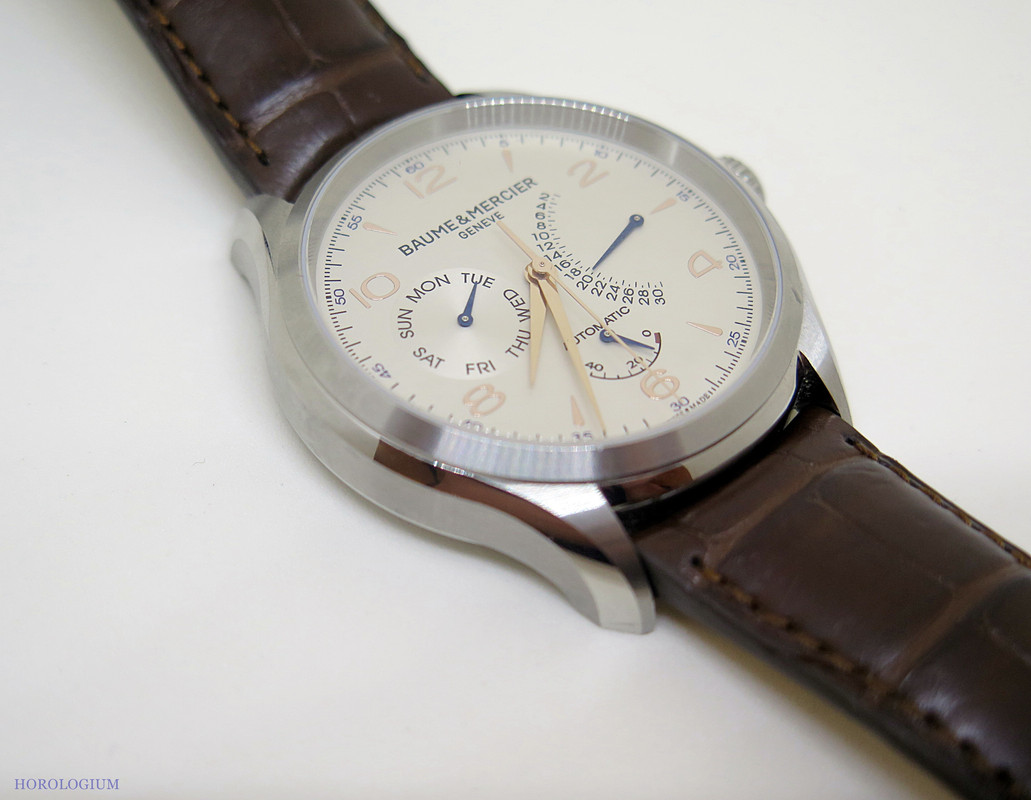 When I first wrote about the Retrograde, I made a comment that it is my favourite Clifton model so far, both because of my fondness for retrogrades and because I thought that it was a good expansion to the range for those who like the core of the Clifton design but are in search of something a little bit different. So, after a month with it on my wrist, do I still feel this way?
The short answer is 'yes'.
I wear both vintage and modern watches, with my largest watch an aberration measuring 47mm, but with a personal preferred size zone of 36mm – 42mm. With this in mind, 43mm is at the upper end, but the Clifton case is not a big one to wear, and because the Retrograde is light, even those accustomed to sub-40mm dress watches may not notice the size as much as they think they would. The lugs are short and curved, and it's not a hefty watch. It sits very comfortably, and during the month that I was wearing it, I found that I wasn't that conscious of its size.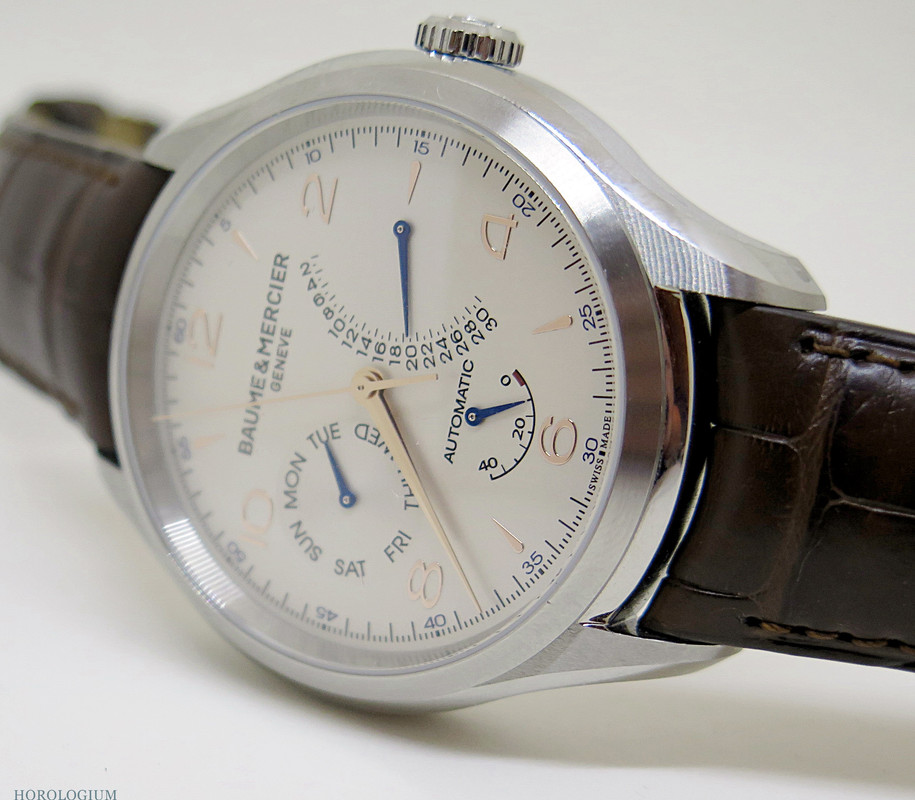 In showing the Retrograde to (watch) friends, there was some debate about the symmetry and balance of the dial, namely with regards to the size of the retrograde indicator. It's large, but I don't personally have any major balance issues with it – it cannot be too small within the context of the size of the dial, although perhaps there is a point about it being a fraction too close to the centre of the dial (a shorter indicator hand would allow for a slight move), but this would be nitpicking. The retrograde date is easy to see at a glance, even those with poorer eyesight, and this is a tick in its favour for me.
As mentioned in the previous post, the movement inside the Clifton Retrograde is the an automatic Soprod 9094 calibre (i.e. ETA 2892 with a Soprod calendar module), visible through the open case back. As you can see in the photograph, the movement is small – in fact it's 25.6mm. The watch is 43mm. That leaves a lot of space, which is the reason for the size of the open section of the case back.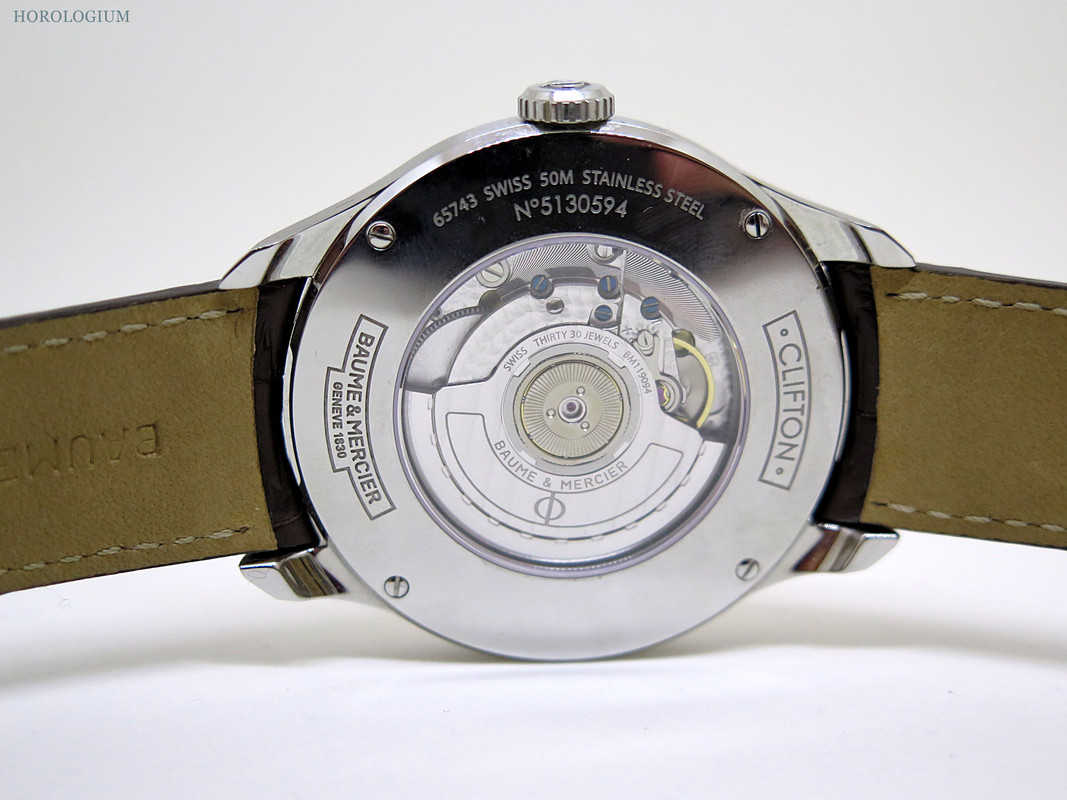 There has been some discussion by those who, because of the size and type of movement, are of the view that Baume et Mercier should have considered a closed back, perhaps with an engraving on the caseback. There are, as ever, arguments to be put on both sides of the open/ closed debate when it comes not just to this watch, but to those watches that use movements such as the ETA2892.
It is fairly much indispuitable that for the average watchnerd/ collector, if there is an open caseback then they want to see something quite decorated, a complex movement etc. However, don't forget that the average watch consumer isn't a movement geek and quite likes the idea of seeing a movement 'do its thing'at the back of their watch; there is room for all of us.
This is the first watch with a power reserve indicator that I've worn for any period of time. What I learned from this was that I became hyper-aware of how much power was left, and I tried to keep it at a minimum of 75 per cent. One thing about this watch and its movement – if the power reserve is low, it doesn't take very much wearing of the watch to get it back up to capacity again. I was pleaantly surprised at how even an hour or two of wearing it whilst working at a computer could make such a difference.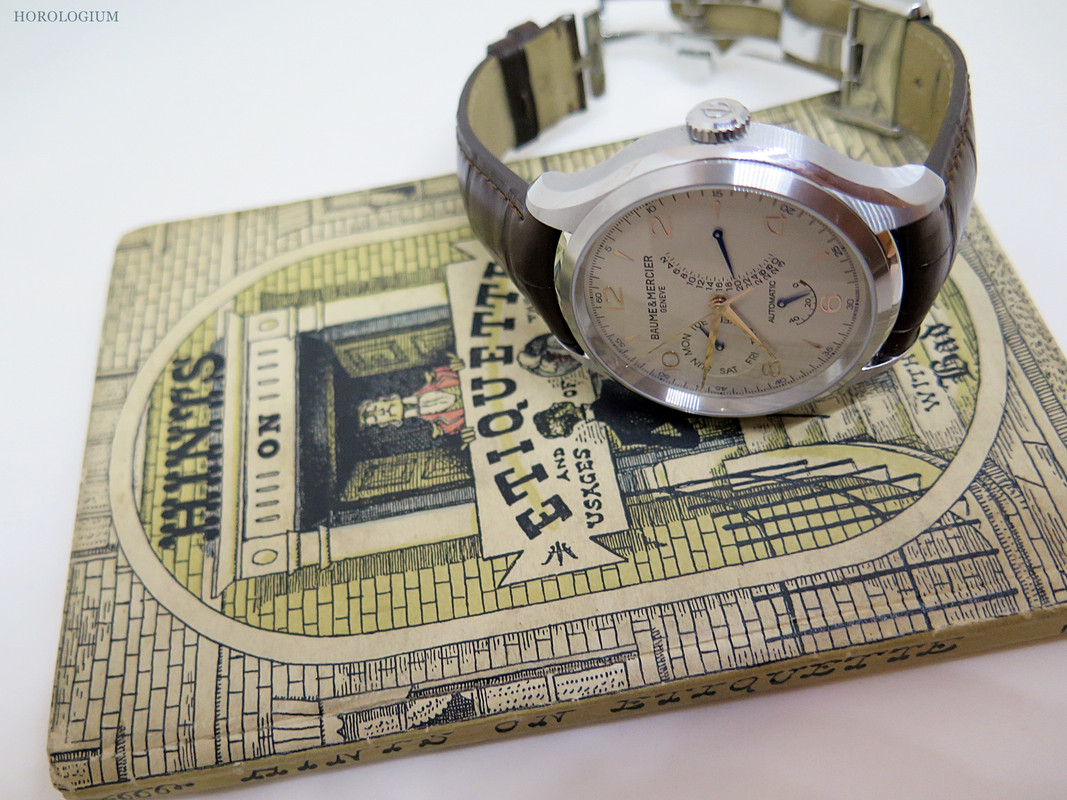 The Retrograde is a dress watch but in wearing it, I found it versatile for both dressed up and down occasions; it is equally at home with a pair of black jeans as it is a suit. As mentioned earlier, it is light and as with the other Cliftons, sits easily and comfortably on the wrist. It was a watch I enjoyed wearing, and my thanks to Mathilde and Grace of Baume et Mercier Australia & NZ for entrusting it to me for a test drive.
The Australian RRP for the Clifton Retrograde Date is AUD 7,200.
---
---
Categories: Baume & Mercier, On the wrist, SIHH 2014, Sydney, watches