Oris are known for producing solid tool watches, including a number of divers' models. This year, they have released the first divers' watch which measures depth by means of the intuitively horrifying idea of allowing water to enter the timepiece.
The new Aquis Depth Gauge takes the Aquis collection case and combines it with a new domed crystal that is 50% thicker than average and treated with an anti-reflective coating on both sides, patented by Oris in 2012. The crystal features a channel milled into the side which runs anti-clockwise around the dial, stopping between one and two o'clock. At 12 o'clock you can see what appears to be an indent but is in fact a hole leading into to this channel. The join between the crystal and the case is sealed by a rubber Zytel® gasket.
The patented system in the Aquis Depth Gauge uses the principle of the Boyle Mariotte law — named for the two scientists who discovered it — which states that if the volume of a gas is decreased, the pressure increases proportionally.
On descent the air inside the milled glass channel along the side is compressed by the surrounding water pressure, allowing water to enter through the hole at 12 o'clock. The edge, in light grey and dark grey, differentiates between water and compressed air on the yellow depth scale around the outside of the dial, acting as a depth indicator whilst descending/ ascending.
Even with the milled channel, the Aquis Depth Gauge is water-resistant to 50 bar/500m.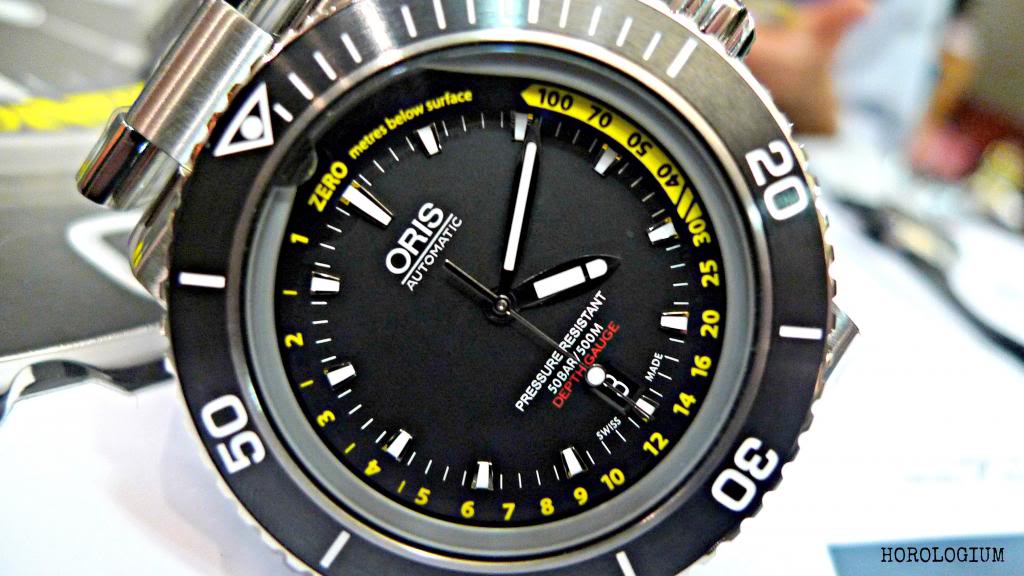 The watch has a uni-directional divers bezel with a black ceramic inlay engraved with a 60 minute dive-time scale with minute lines to fifteen. I have a soft spot for ceramic bezels, and this one has an attractive finish.
Oris is known for their solid reliable pieces. The Aquis Depth Gauge is an attractive watch with a simple, clear and legible black dial with black indices and hands that have SuperLuminova BG W9 for underwater visibility.
At 46mm and 1.811 inches thick, this is a bulky heavy watch, especially on the bracelet, and for those unused to wearing watches of this size, it will probably take a little getting used to.
To prevent the crown from being accidentally interfered with, especially during dives, Oris have used a screw down that is embedded/ protected by stainless steel crown guards.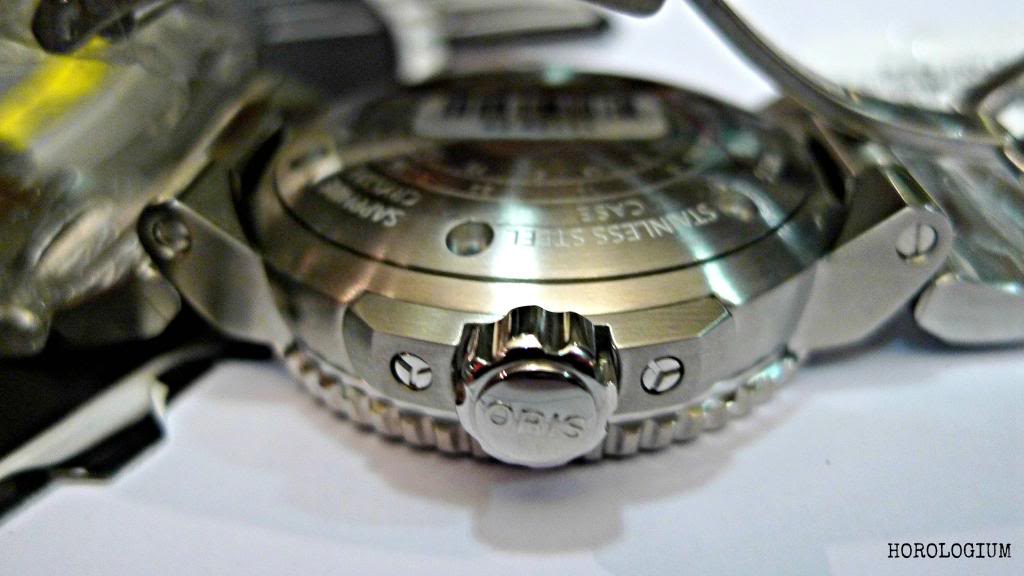 The Aquis Depth Gauge features a solid case back that has been engraved with a 'meter to feet' conversion scale that allows for quick calculation. Inside is an automatic Oris 733 (base SW 200-1) with a power reserve of 38 hours.
It comes in a large Pelican-type waterproof case which contains a replacement metal bracelet and tools for strap changes plus a cleaning device for the milled channel, but if you would like a rubber strap, which would be my preference, you have to get that separately. The folding divers' clasp on the rubber strap allows a quick and easy size adjustment.
As has been mentioned by others, the Aquis Depth Gauge does have one issue that it is important to note – it displays depth but not the deepest reached depth, which is critical for calculating times and surface intervals. In that sense, perhaps this is a watch less for serious divers and more for occasional (or desk) ones. In any event, this is an interesting and intriguing watch and for those looking for a new diver, worth looking at.
---
---
Categories: Divers watches, Hands-on, Oris, Watch Profile, watches