Horologium has a particular fondness for independent watchmaking and today we bring another example, courtesy of a local collector who kindly brought his new toy along when we met for a coffee.
Kari Voutilainen, born in 1962, is a Finnish watchmaker residing in Môtiers, Switzerland. After having started at the renowned Finnish watchmaking school Tapiola, which his countryman Stepan Sarpaneva also attended, he went to Switzerland for WOSTEP (to which he would later return as a teacher) and eventually, started his own independent watchmaking business in 2002.
Admirers of his watches speak most about modern classicism, technical beauty and finishing. The Voutilainen Vingt-8 with which I spent some time was introduced in 2011, and seen as a successor to the very popular Observatoire.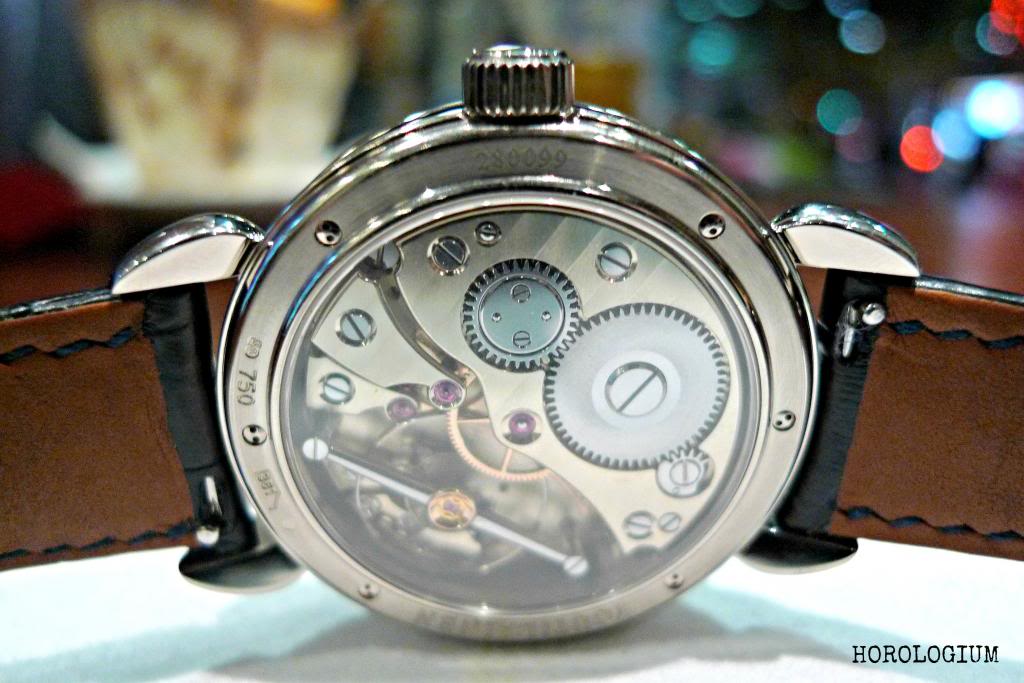 The in-house movement of the Vingt-8 was designed, built, fabricated, finished and assembled in its entirety in the Voutilainen workshop. Measuring 30mm x 5.60mm it features a main plate and bridges made from German silver, and wheels of rose gold. However, neither the silver nor gold are treated.
The Vingt-8 movement utilises a direct impulse escapement designed by Voutilainen that requires less energy and has a power reserve of fifty hours, the technical aspects of which you can read more here on his website. The movement is, of course, hand finished. In looking at it with a loupe through the caseback it is evident from a close look that this is a handmade and finished piece.
The watch case is handmade from strips of gold with an interesting point of difference. The edges are higher than the centre for practical reasons – in thinking about how watches are worn, the design takes into account that most of the wear and tear happens on the side, where the watch is likely to be placed (e.g. watch photos?), and through polishing. The extra metal is allowance for this loss.
Each dial is engine-turned for two days, resulting in a surface with three different textures. Each hand takes a day to craft. These are watches for which you have to wait for about a year, and this is one of the reasons why. Every Vingt-8 is made to order, meaning that there is the opportunity to customise as well as select dial colours and surfaces. The owner of this piece spent a number of months corresponding with Kari Voutilainen about colour and dial (finishing) choices, as well as one small personal 'mark' that you will not notice.
The Vingt-8 looks similar to the Observatoire, including the tear drop lugs. Its owner does not own 'safe queens'; every watch (and he is a keen supporter of independent watchmakers) takes its turn as a 'daily wearer'. This one, he reports, has been very comfortable to wear, sitting low and the tear drop lugs neatly, over his wrist. He has also found it a very versatile watch, able to be worn both with work day wear and more casually on weekends. One of the aspects about it that he's loved the most is that it is discreet. It is distinctive and recognisable to 'watchnerds' but otherwise slips under the radar.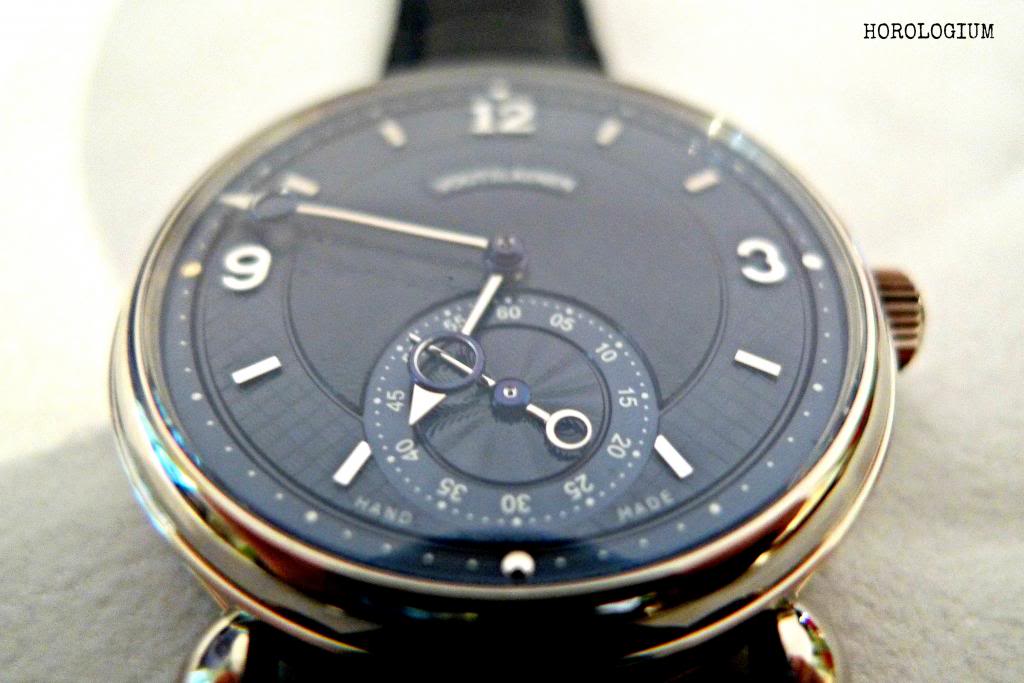 The owner also had the privilege and joy of picking it up not only in person from Kari Voutilainen but at the workshop. As I have mentioned before, one of the perks of 'going independent' is the very personal relationship you can develop with your watch and its makers, especially for watches where there is an amount of personalisation available, as in this case.
The Vingt-8 is available in red gold, white gold and platinum. If you are interested, contact Kari Voutilainen via his website.
---
---
Categories: Hands-on, Independent brands, Kari Voutilainen, Watch Profile, watches