With men's watches so dominant in the watch industry it is easy for women's watches to be an afterthought. Men are the major market/ consumers of watches after all, especially in the 'luxury' area. There are, however, an increasing number of women who, for a myriad of reasons (including design, size and yes, movements), eschew women's watches in favour of the wider range provided by men's timepieces.
I have long been of the view that women's watches are an under-explored and unexploited part of the market. To cite a recent 'real life' example I was given by a watch enthusiast looking at buying a watch for his non-enthusiast wife, if you are looking for something mechanical, of decent quality, not a 'fashion watch', with a versatile classic design that will be able to worn for not only a long period but also for a range of occasions and 30-35mm in size, the options are nowhere as great as if you are looking for the same requirements in a men's watch, albeit in a larger size.
The watch that my acquaintance has decided upon (pending agreement by his wife) is a steel version of the Omega Ladymatic, the most recent range launch of which was attended a few months ago by brand ambassador and 'face of Ladymatic' Nicole Kidman. The Ladymatics, launched in 2010, are Omega's first fully mechanical women's collection, with the name taken from a historical (1955) model which was one of their first automatic watches designed for women.
The collection had its origins in 2008 when Nick Hayek Jr made the decision to create a new watch design for women using the Calibre 8520/ 8521 co-axial movements. The Ladymatic is about taking women's watches seriously from a movement point of view, and each of them is also an officially certified chronometer.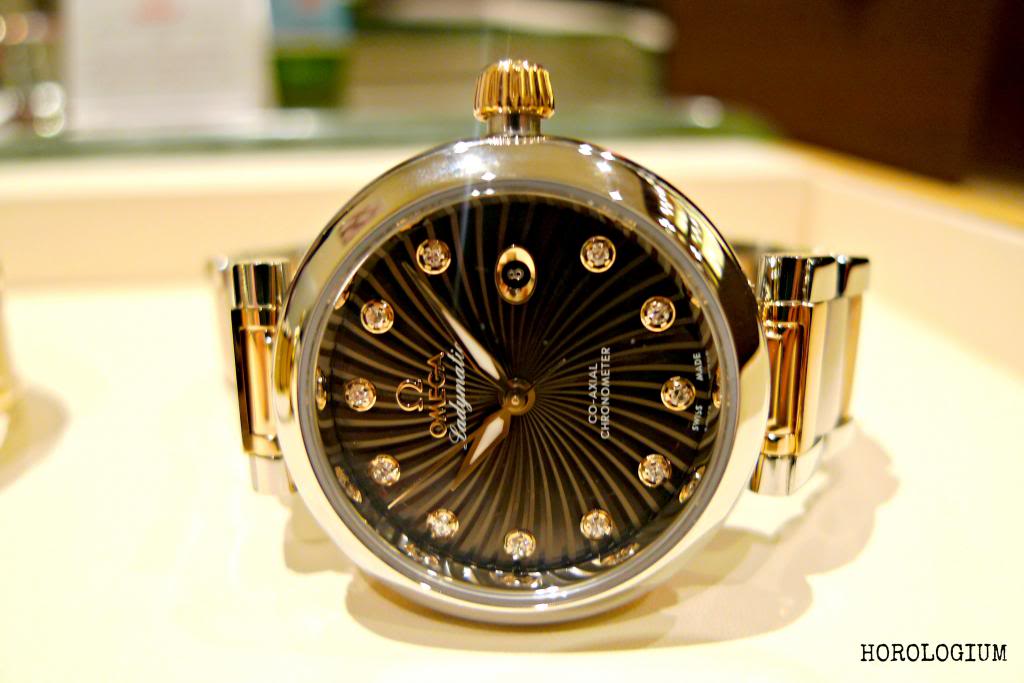 2013's new models consist of a new range of materials and colour, including a new bi-metal of steel and gold with a range of dial colours, and a new leather satin-brushed strap. All Ladymatics are in a 34mm case in red or yellow gold, stainless steel or the aforementioned bi-metal. They have a unifying dial theme of a swirling supernova pattern  and also a date window across the models.
When I saw these vintage Speedmasters there were also a few Ladymatic models around, so here are some photos about three quite different versions.
First is the bi-metal steel and red gold model, which has a brown dial with diamonds and a transparent case back through which to view the 8520 co-axial movement with a 50 hour power reserve.
Secondly we have the yellow gold version on a bracelet with a black dial, also with diamonds in the markers.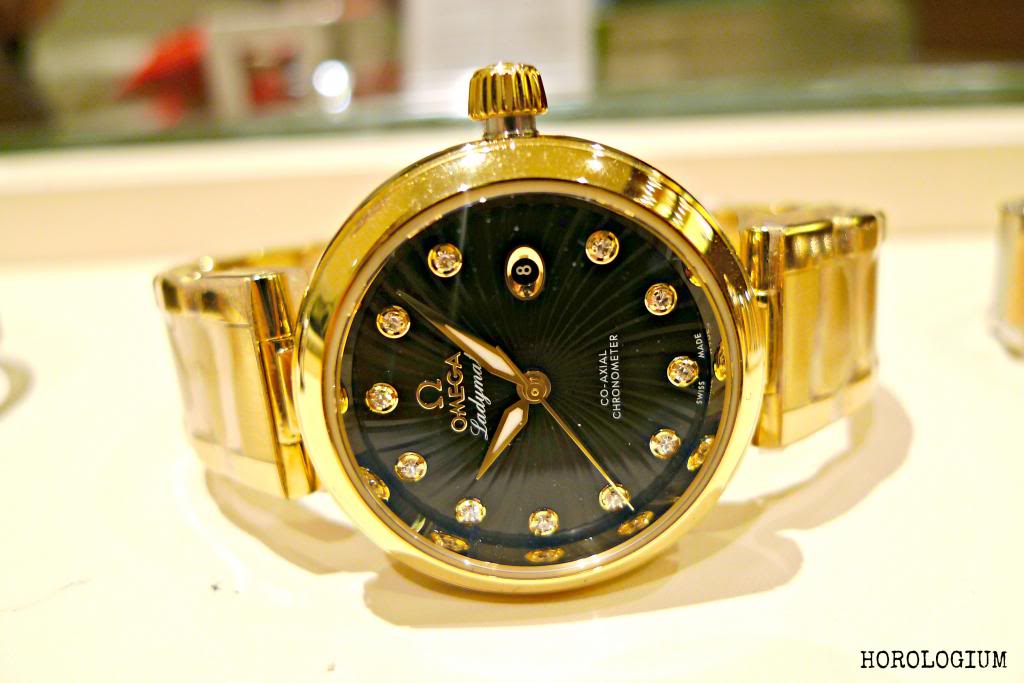 The final model is a stainless steel version on a leather strap. The specs are the same but this one has a grey dial and diamond bezel. It's not too small, elegant and dressy but not too much so. My favourite of these three Ladymatics.
At 34mm they are comfortably sized for a most women but they do have a fair amount of height/ thickness to them, for those who prefer their watches slim.
This has been an immensely successful line for Omega, and there are currently a staggering 60 models in the Ladymatic range, so if you like the look and sound of them, go to the collection's page here to find one that suits you.
---
---
Categories: Omega, Sydney, Watch Profile, watches, Women's watches