I own a small number of watches, though never enough, of course. Amongst them, there is one that stands out as a watch I can wear without having to worry about inconveniently placed pieces of steel or concrete deciding to unapologetically launch themselves at my wrist without so much as a by-your-leave – my Sinn U1, in all its ding-proof tegimented steel glory.
Sinn are well-known for utilising the tegiment method of metal hardening, and amongst the brand's Baselworld 2013's offerings are two new diving models – the T1 and T2, both in high-strength bead-blasted titanium with tegimented ratchet bezels, Ar dehumidifying technology, and with water resistance of 1,000m (100 bar) for the 45mm sized T1 and 2,000m for the 41mm T2, the pressure certification by Germanischer Lloyd Hamsburg, who tested them based on European diving equipment standards EN 250 and EN 14143.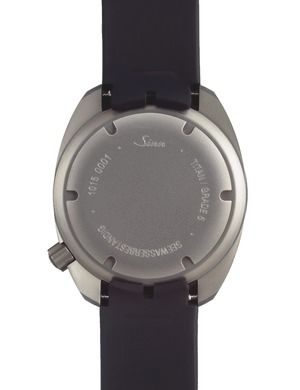 Both watches have what Sinn call a 'Captive Safety Diver's Bezel', which has a patented guard to securely attach and prevent accidental rotation. The watches also have a screw-down crown.
Dial-wise, the look is classic Sinn, but an arrow-shaped minute hand is used for the first time for diver's watches to make it easier to read. I really like this change, and hope that they use arrow-hands again in future models. The T1 and T2 also have colour-differentiated luminous paint for the minute hand and the triangular bezel marker.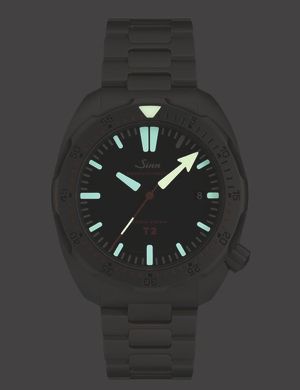 Sinn states that both the T1 and T2 are functionally reliable between – 45°C to + 80°C. Given how tough their watches can be, I am content to accept this without conducting personal testing, though I'd obviously be more than happy to road test the T2…
The T1, the larger model, is 45mm with a thickness of 12.5mm and a weight (sans strap) of 71g. The T2 is 41mm, 20mm thick and weighs 59g when strapless. Inside both of them is the automatic Soprod A10-2A.
The shape of these watches is one of the interesting new things. With a different lug/ case shape, the look is a bit retro and bulkier, though being titanium, they will be significantly lighter, and the slight downward curve of the short lugs intended to sit snugly on the wrist.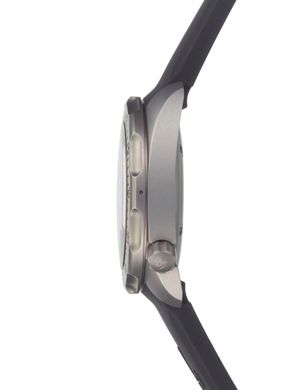 These new Sinns encompass all the things which draw people to the brand's tool watches – durability, toughness, utility, and legibility. The new shape may not appeal to all of the hardcore Sinn-ers, as fans of the brand sometimes call themselves, but I like it. I have not been able to find a confirmed price for these two new models but one watch forum has given a figure (obviously TBC) of 2,690 EUR for both models on rubber, and 2,650 EUR on bracelet, which doesn't make all that much sense to me, so check with your local Sinn AD.
[Photo credit : Sinn]
---
---
Categories: Baselworld 2013, Divers watches, German watches, Sinn, watches