I have written about some important historical Longines aviation watches, namely the rare Longines-Wittnauer Second Setting watch and the well-known Longines Lindbergh, and today's offering is in the spirit of these. It is Longines' newest addition to what I think is an increasingly strong heritage inspired range, with its 'aviation' and 'navigation'portmanteau name of the Avigation Watch Type A-7.
The new Avigation, available from this month, is a new single push button column wheel chronograph inspired by the brand's rich historical relationship with the world of aviation and the world of military watches.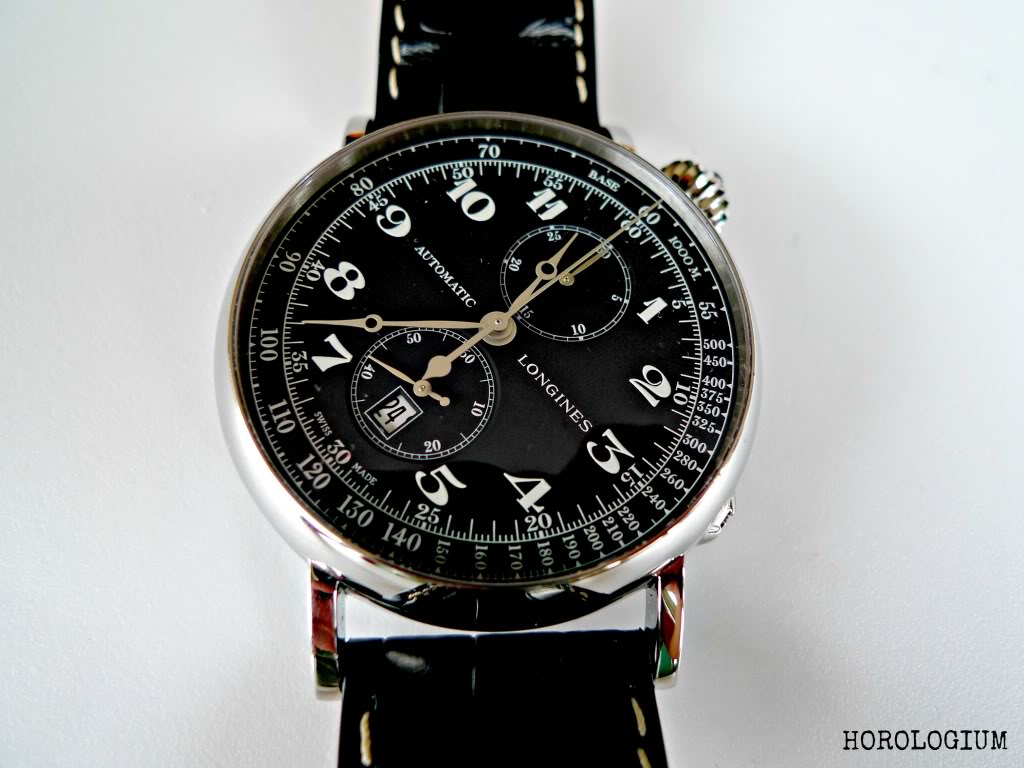 During the World War 2 era, the most commonly used watch used by the U.S. military was the Type A-11, about which you can read a bit more here, but there were some other Type A military watches, such as the A-17 and the A-7 specifications. The A-7 was produced during the late 1920s to 1930s and called the 'Avigation' – yes this is not a new fangled model name thought up by Longines, but a genuine nod to its history. The A-7 was a chronograph with a Gallet chrono movement and looked like an angled pocket watch strapped to the wrist. I have found a photo of the original design from MWRF member 'zumann' so you can see how Longines' new version compares with the original.
This new model is clearly spiritually faithful to the original and at a rather large 49mm, makes its wrist presence felt. The case, at a 50° angle to the right, is stainless steel and contains the L788 Longines column wheel movement, operated by a single-button onion styled crown.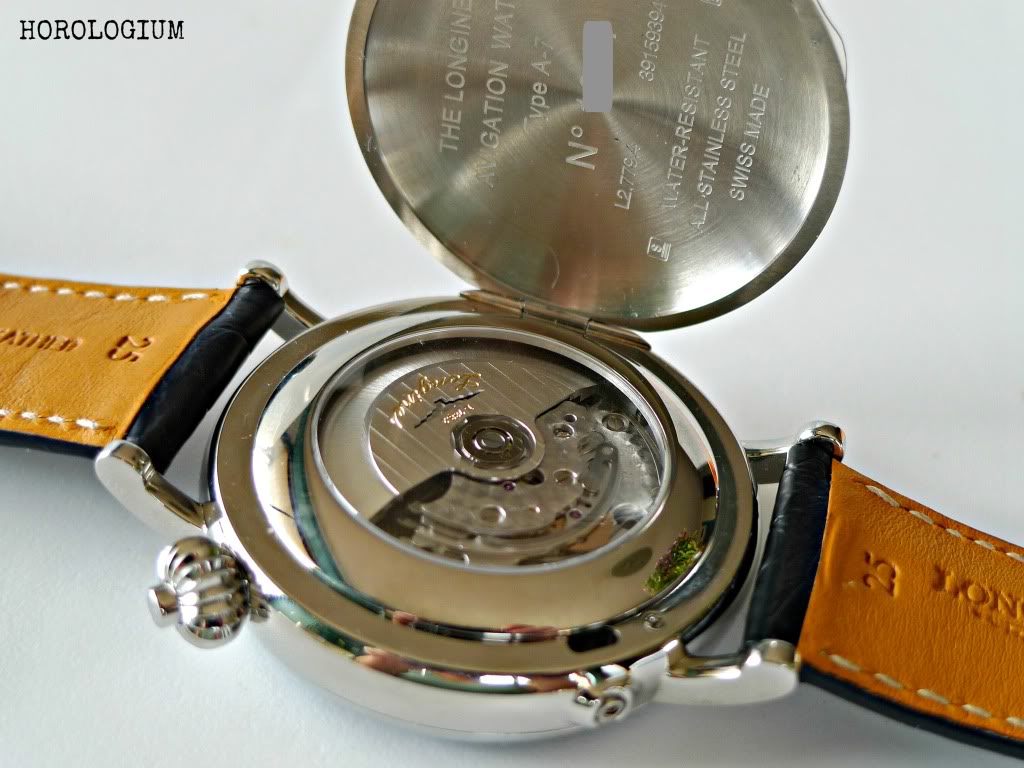 Historically, the angling of the dial was so that the watch could be worn on the inside of the wrist and aligned with the aircraft's instruments. This, in addition to the size, was to ensure that they were quickly and easily read at a glance during flight missions. The design of the crowns was deliberately large so that pilots could get a grip on them when wearing gloves.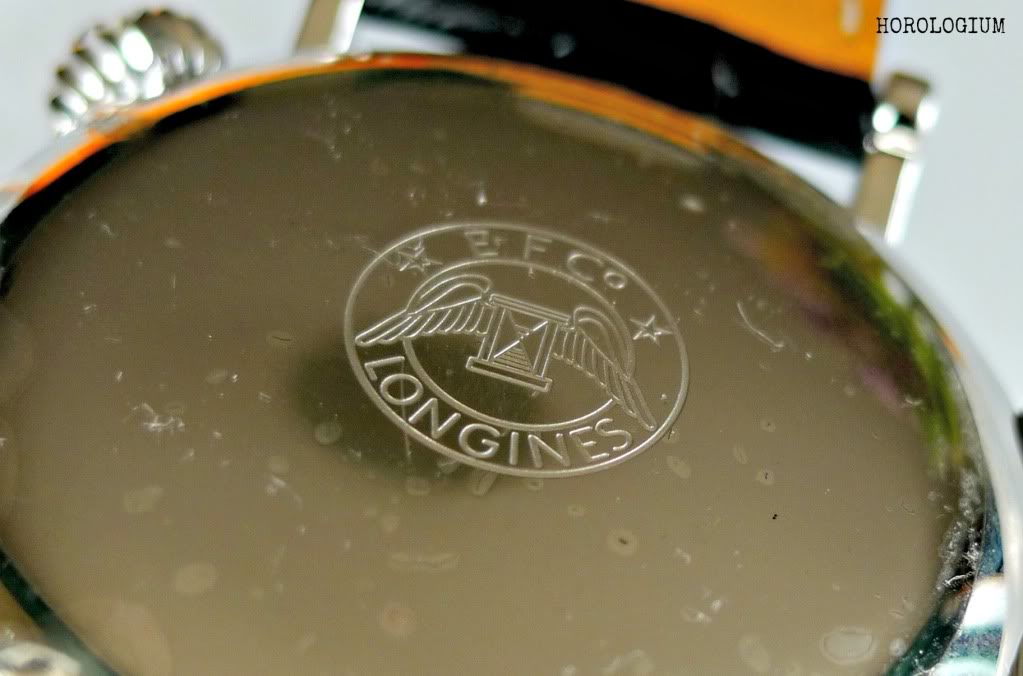 I really like the sleek deep black of the A-7's dial. It is symmetrical and balanced, has a clean classic design, and is very eye-catching. I have a particular fondness for Breguet-style hands (these are Rhodium-plated), and am pleased to see that this has been maintained. There is also the addition of a tachymeter scale around the outer edge, a 30-minute counter, and a date window.
On the flipside, the A-7 is a hunter caseback opened via a pusher on the bottom right, with a sapphire open caseback under the cover. Given that they are using a column wheel chrono movement, the capacity to see this will please a lot of people.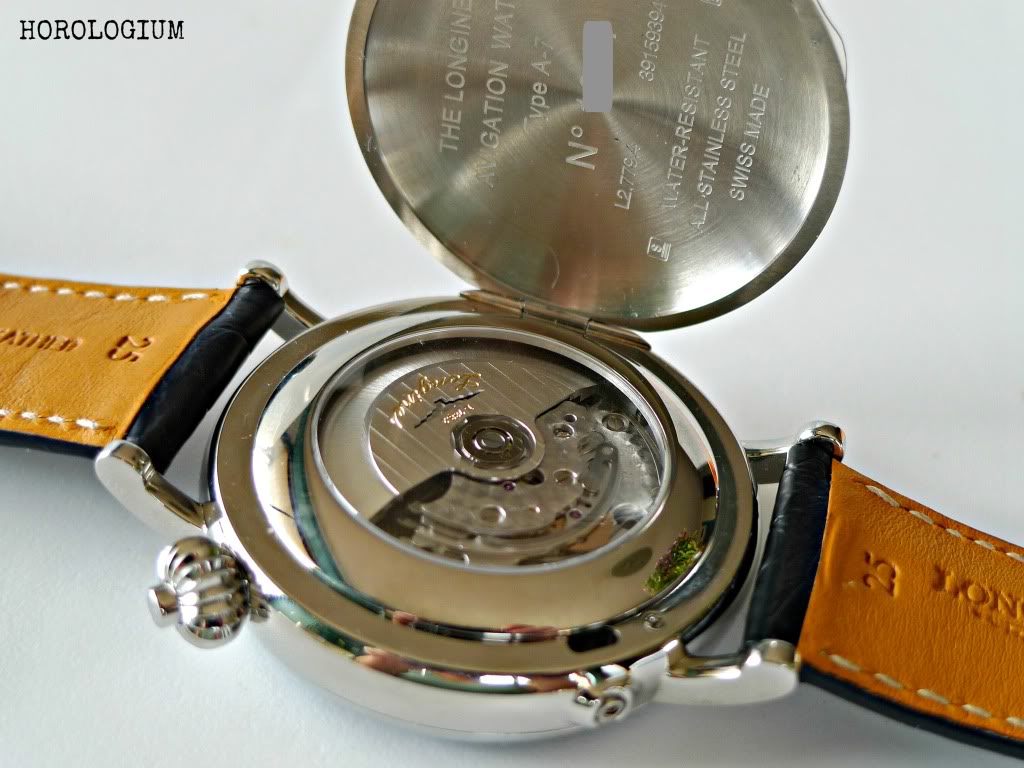 Unfortunately, as this was a non-functioning prototype, I can't tell you how the monopusher feels when functioning, but what I can tell you is that the pusher itself is very easy to use.
It's unexpectedly comfortable, despite its size and thickness. The Avigation feels less about the 49mm (it sits like a 47mm) and more about the thickness when it is actually on your wrist. With its heft also comes a definite wrist presence; you are not likely to forget that you are wearing this watch. It looks like a converted pocket watch (including the onion styled crown), and it fairly much sits like such a conversion as well.
During its week with me, I shared it with a number of people with varying wrist sizes, to try. We were split about whether we thought it should be thinner, with half believing that as was like a pocket watch conversion, it seemed to suit the design.
Whether you like this style of case angling may well determine whether this watch is suited to you or not, but regardless of this, it is undeniably a good looking timepiece.  An angled dial is not everyone's first choice but you quickly become accustomed to reading the time that way after only about an hour or so of wear.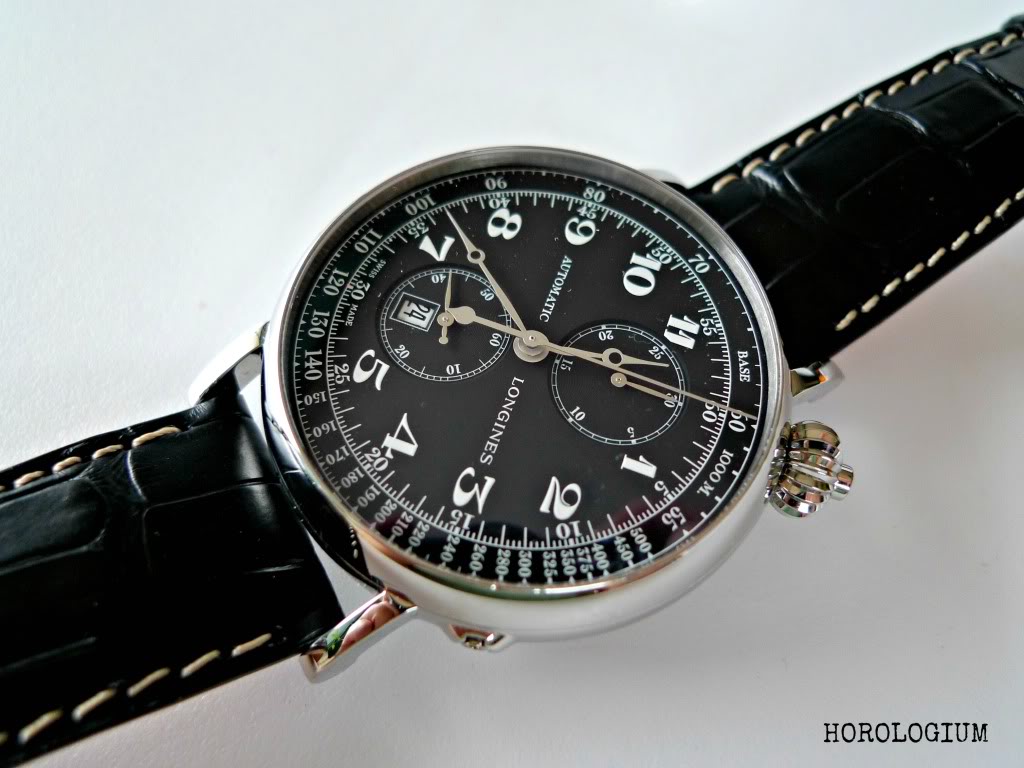 Me? I liked it. In fact more so than I had expected to before I got the opportunity to handle one.
In the end a watch should be worn; that was the intention of the designers and the watchmakers in its creation. I had assumed that the A-7 would be too big to comfortably wear; I have looked a number of watches this year which have been 47mm plus. Some of them have just been ridiculously big and impossible to wear but the Avigation, unless your preference is strongly for traditional dress watches and the like, is very much wearable. I realise that there are historical reasons for this angled design, but should Longines come out with a model with the same dial at a smaller size/ thickness and with the angle 'normalised', I suspect it would be rather popular.
The Avigation comes on a black alligator leather strap and will be priced at AUD5,925 here in Australia. In the U.S. it will be USD4,900.
Many thanks to Longines (Australia) for providing the prototype review watch.

---
---
Categories: Hands-on, Longines, Military watches, On the wrist, Vintage Longines, Watch Profile, watches