That watches are about time, in whatever form, interpretation or incarnation, is self-evident, but the first release in URWERK's new 100V Time and Culture line, which they say was based on an idea from watch journalist and collector SJX (to close the top of the UR-100), is about how time is perceived, as the name states, across cultures.
"This line is about History, Cultures, our place beneath the stars, the research and observations that have been conducted around the world using the same sky above our heads as a source of knowledge. I am always fascinated to see that these unique observations, made thousands of kilometres away, have given birth to a universal language, that of time", explains URWERK co-founder Martin Frei.
This first in the 100V Time and Culture line takes a popular cultural route – Aztec. In this instance, with the copper-coloured closed top of the UR-100V, which is engraved with decorations from/ inspired by, the 'Sun Stone'.
The 'Sun Stone' (Piedra del Sol) is a late post-classic Mexica sculpture housed in the National Anthropology Museum (Museo Nacional de Antropología) in Mexico City, and is perhaps the most famous work of Mexica sculpture. Carved from a single piece of porphyry, it measures 3.58 m in diametre, is 98 cm thick, and weighs 24,590kg.
It is commonly known as the Calendar Stone; its symbols relate to the Sun and highlight the Sun's role in Aztec belief and religion. URWERK tells us that the decoration inspired by the Sun Stone contains small details, references and perhaps mini-stories in themselves, for the owner to find in their own time. Micro mysteries.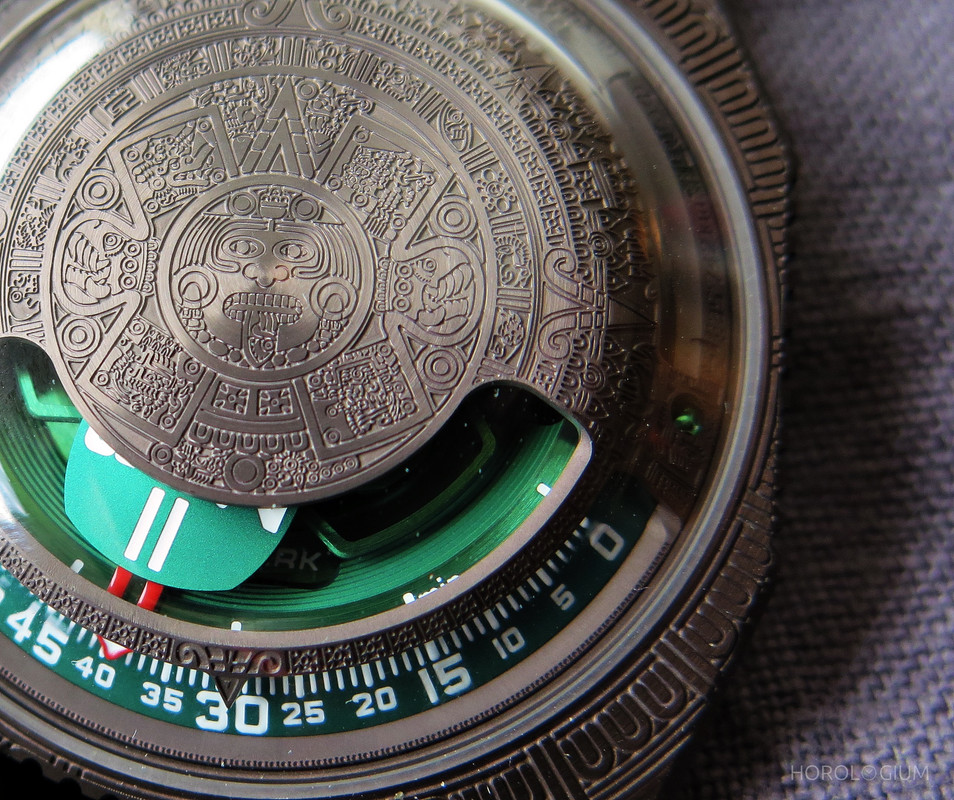 The detailed decoration on the UR-100V is engraved, with the milling cutter having a 0.05mm point. The ridge lines of the motif are satin-brushed, and the hollows are micro-sandblasted.
The case is a combination of steel and titanium, measuring 41mm x 49.7mm, with a thickness of 14 mm.
On this first UR-100V Time and Culture there is also a new piece of information added to the hours and minutes display – once the 60th minute has passed, the minutes hand disappears and reappears as a kilometre counter. It illustrates the 524.89 kms covered every 20 minutes in Mexico i.e. the average speed of the Earth's rotation calculated at Mexico City.
This is, of course, a reference to the core part of the UR-100/ V series. click here for some more detail about this if you aren't familiar with it and the orbital displays. The satellite hours are Aluminium, mounted on beryllium bronze Geneva crosses, with an aluminium carousel and ARCAP dome. There is, of course, Super-LmiNova on the hour and minute markers. Finishing consists of circular graining, sand-blasting, micro-blasting, and circular satin finishing.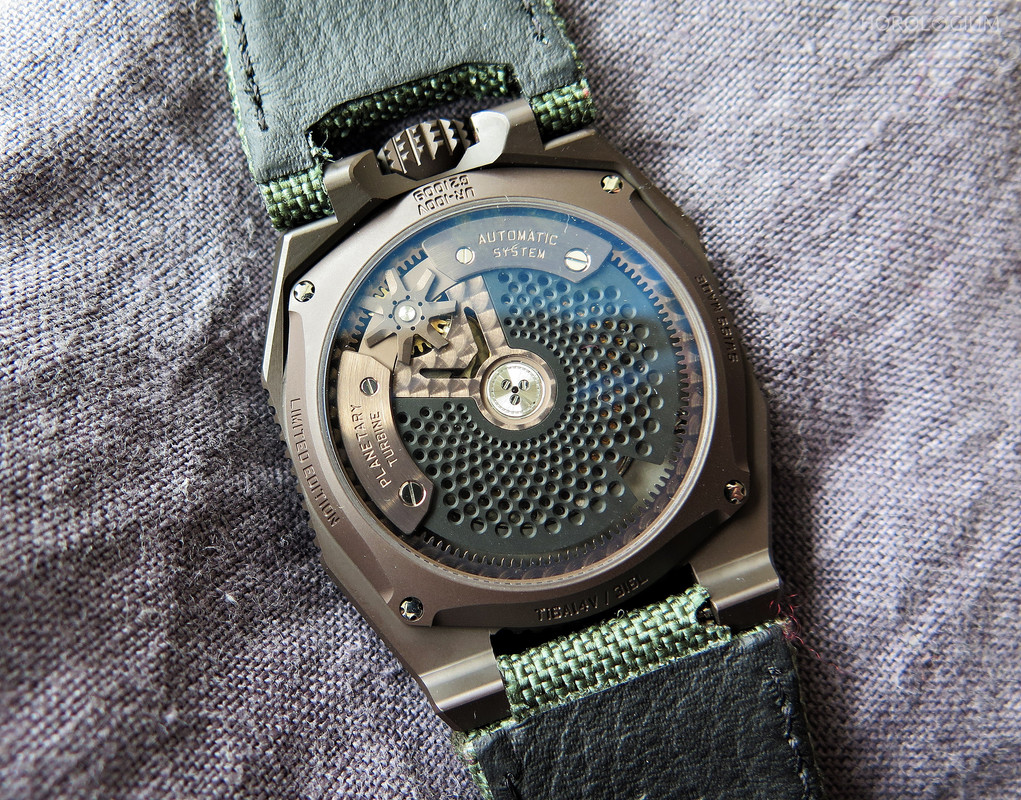 Powering the watch is the automatic Calibre UR12.02 beating at 28,800 VPH with a power reserve of 48 hours.
Coming in a limited edition of 20 pieces, it is priced at CHF 68,000 (excluding taxes).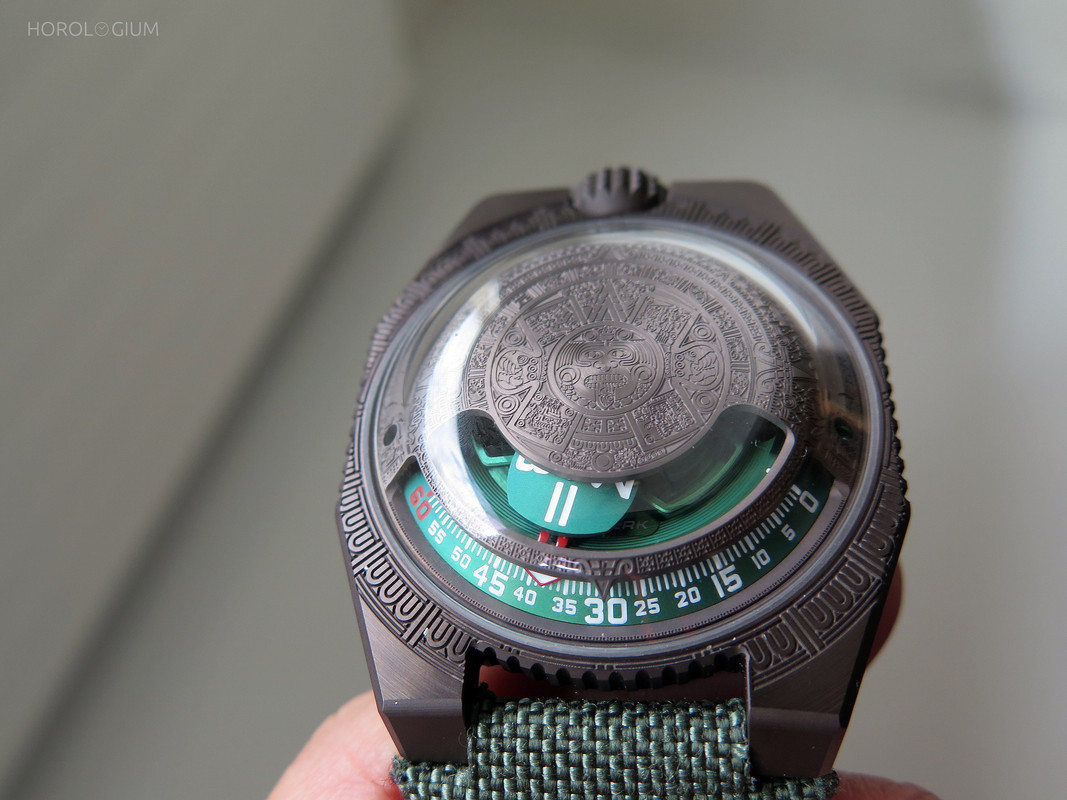 During our chat with Martin Frei at URWERK's new Geneva HQ we talked not just about this watch but more broadly about time and how it is understood, as well as how differences in these are negotiated across cultures in daily life.
The variations across cultures (past, present and future) between experiencing time in a linear fashion versus something else; time seen through observation, or in relation to other things. It will be interesting to see what inspires the next in this Time and Culture series.
---
---
Categories: Hands-on, Limited Editions, URWERK, Watch Profile, watches, Women's watches