In the modern era of watchmaking it is unusual for a brand to have, as one of its best known (ongoing) horological creations, a piece involving an automaton. There are some independent watchmakers such as Svend Andersen who are renowned for their skill in this highly specialised field, and brands such as Van Cleef & Arpels who have become known for their creative use of 'poetic complications', but a standout in this niche is that of Jacquet Droz's Bird Repeater.
To mark 300 years since the birth of Pierre Jacquet-Droz, the brand that bears his name has created a limited edition (eight pieces) variant of the Bird Repeater with a dial in white mother-of-pearl and black onyx in an 18kt red gold 47mm-sized case. The red gold extends to the appliqués.
This time, the combination of minute repeater and avian/ egg automata, the latter all hand-engraved and hand-painted, is all about geographical relevance.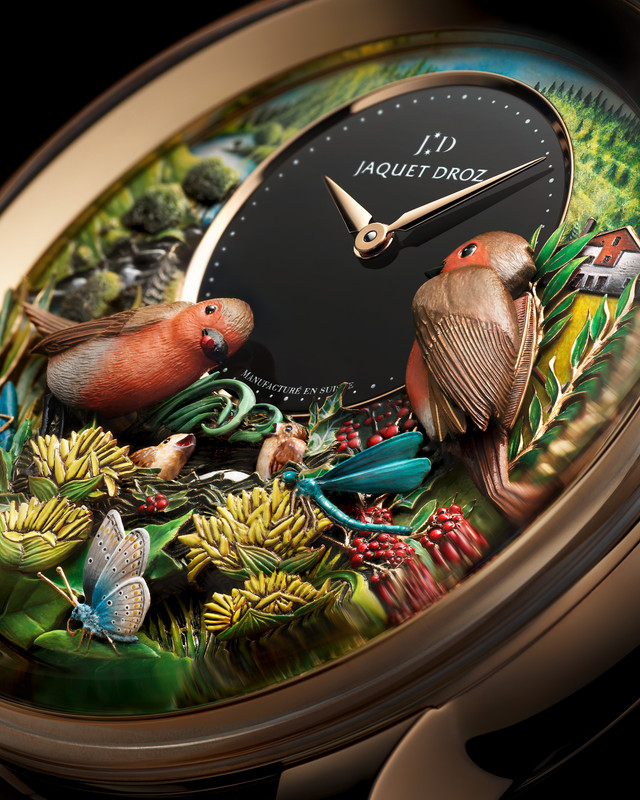 In the foreground are a pair of female and male robins with their offspring both present and imminent, birds that are found in Switzerland. Off to the right in the background is a farmhouse – this is a depiction of the birthplace of Pierre Jaquet-Droz. The left side of the dial shows a valley and river – respectively the La Ronde, encircling the La Chaux-de-Fonds valley.
The flowers are Gentia/ Gentiana. There is a double meaning to this. Trumpet Gentian are a quintessentially Swiss Alpine flower, and the plant's wooden stalks are used as a polishing stick in watchmaking for movement finishing.
There are also nods to La Chaux-de-Fonds in the form of red berries and holly leaves, a blue butterfly, dragonfly, and a grasshopper.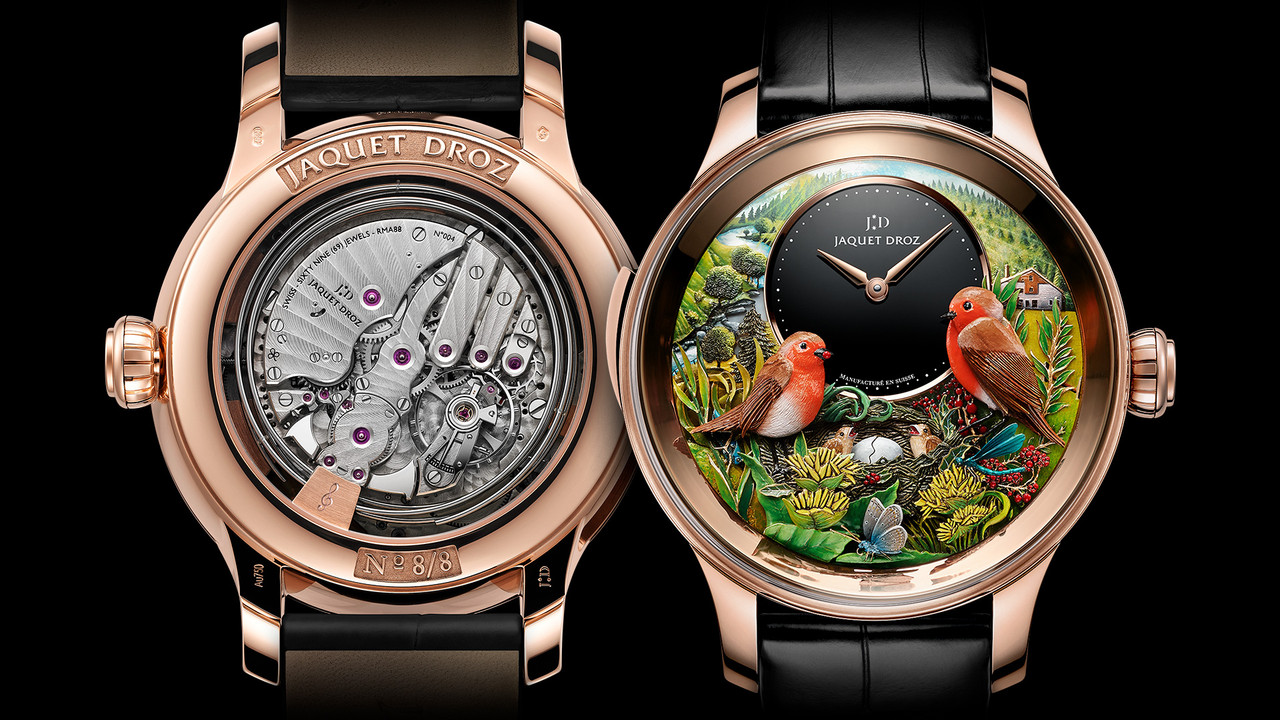 Powering the watch and automata is the manually-wound Calibre RMA88 which beats at 18,000 VPH and has a power reserve of 48 hours.
For those who are interested, you can either contact your nearest Jacquet Droz dealer or send an enquiry via their dedicated page.
The Bird Repeater made its inaugural appearance in 2012, which raises the tantalising question of what Jaquet Droz have planned to mark a decade in 2022.
[Photo credit: Jaquet Droz]
---
---
Categories: Jaquet Droz, Limited Editions, Minute Repeaters, Watch Profile, watches, Women's watches