"If we want to survive we need to be different."
This was said during an online H.Moser & Cie press session, and whilst being different has been a core part of the brand's identity, whether in terms of their watches or their marketing, it's something for which small(er) brands in general, need to find that difficult balancing point.
The 'difference' approach may be to be the risk taker and carve out an entirely new area for those who buy watches by taking them somewhere completely new, or differences that are more akin to nudges into new areas that retain an air of familiarity, but are still different enough to appeal to those with an eye or hankering for something slightly different but not 'too' different.
We were told, during the press launch/ Q&A session, that Moser are doing well. In fact better than they have been doing for a couple of years, with 2020 being stronger than they had anticipated. They have hired/ are in the process of hiring, ten new staff. A year ago, like other brands, they had to reduce manufacturing capacity by 50 per cent because of COVID-19. They have increased direct sales and e-commerce, the latter which they had to implement last year by necessity because of the pandemic, but are still restricting what is available online. Selling directly, the interaction with the customer, is still their number one priority. As a part of their growth they will be opening new boutiques this year, including their first in Beijing.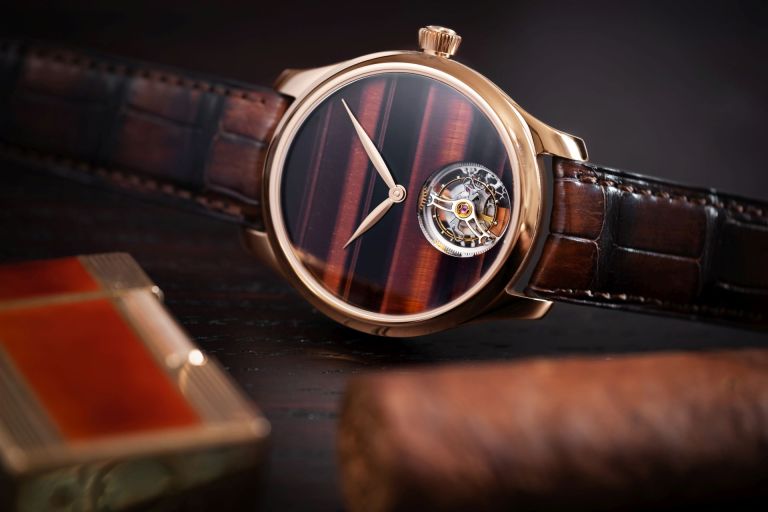 On the spectrum of 'being different', at Watches & Wonders 2021 Moser has launched the Endeavour Tourbillon Concept Tiger's Eye, a new model with two variants that falls into the 'familiar but different' category, and reminiscent of watch dials of the 1970s.
Meet the Falcon's Eye and Ox's Eye, which use this popular gemstone for their dials. They are in limited editions of fifty pieces each, the former in a 40mm sized white gold case and the latter, a red gold case.
Tiger's eye is a variety of microcrystalline quartz formed after a natural process called 'pseudomorphosis', which leaves a stone that is fibrous (which leads to the iridescent effects) and chatoyant – chatoyancy is the phenomenon of certain minerals which causes them to have a small narrow band of reflected light across their centre. Tiger's Eyes are mostly commonly golden to red-brown in colour. The blue variety of the stone, whose colour comes from veins of fibrous crocidolite and silica, is known as Falcon's Eye. In this reddish-brownish colour, it is called Ox's Eye.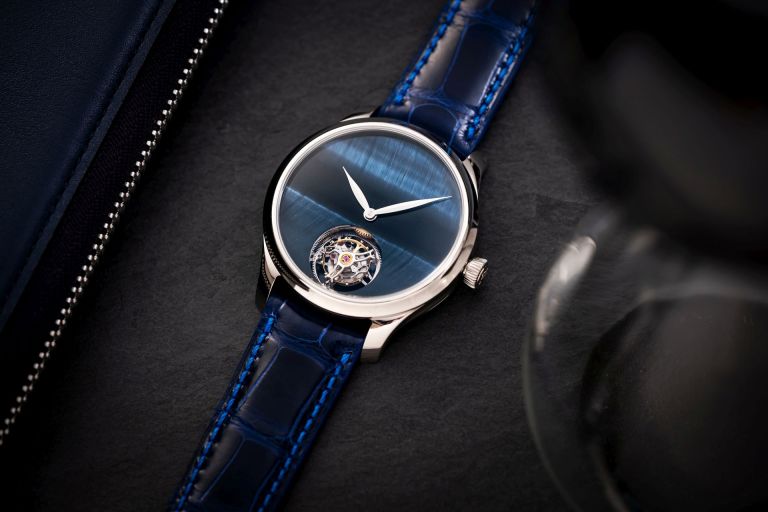 The dials of these new watches are, of course, clean of markings but with the leaf-shaped hands, but still identifiably Moser. There is a one-minute flying tourbillon with skeletonised bridges at six o'clock, but apart from this, the dial is about the stones taking centre stage.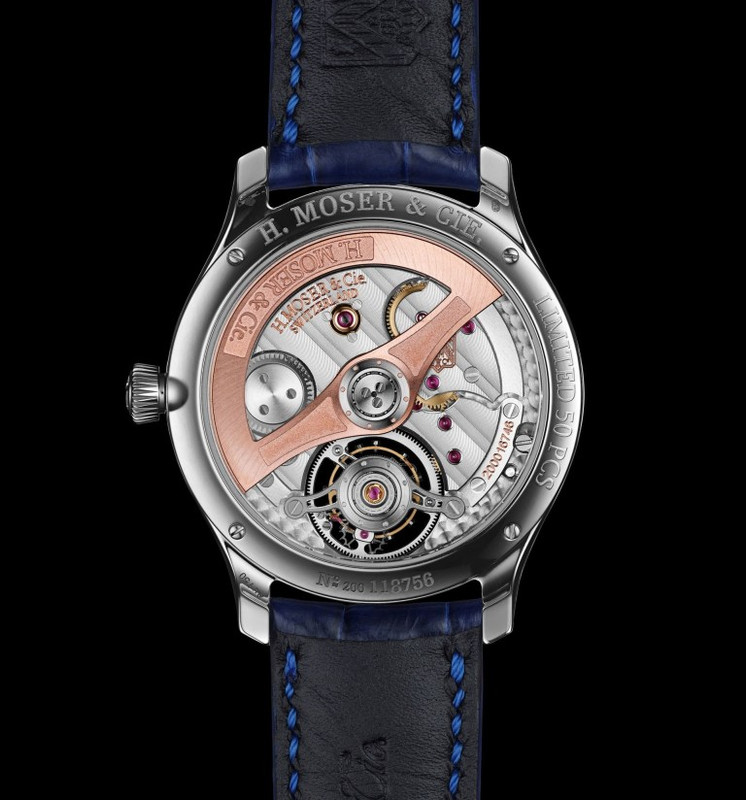 The Endeavour Tourbillon Concept Tiger's Eye watch is powered by the automatic Calibre HMC 804 which beats at 21,600 VPH, has an 18 kt red gold oscillating weight, and a power reserve of three days.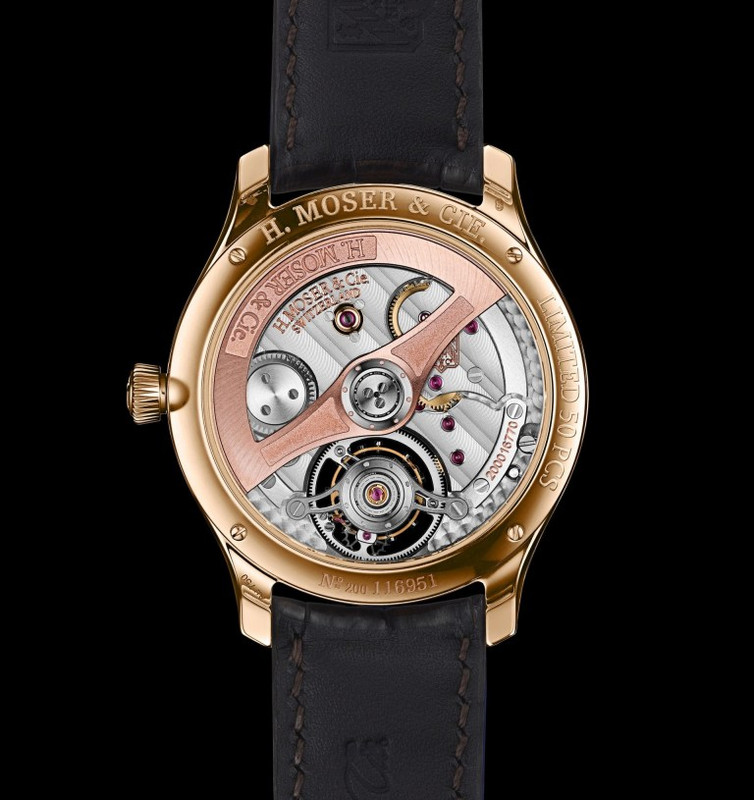 A question was asked during the virtual press session about any difficulties that have arisen working with this stone for a watch dial. The answer was that they have had to go through a lot of it in order to ensure that they have ones that are not internally imperfect, which is not known until they are cut, and they want ones with straight lines inside, so that has also been a process of elimination.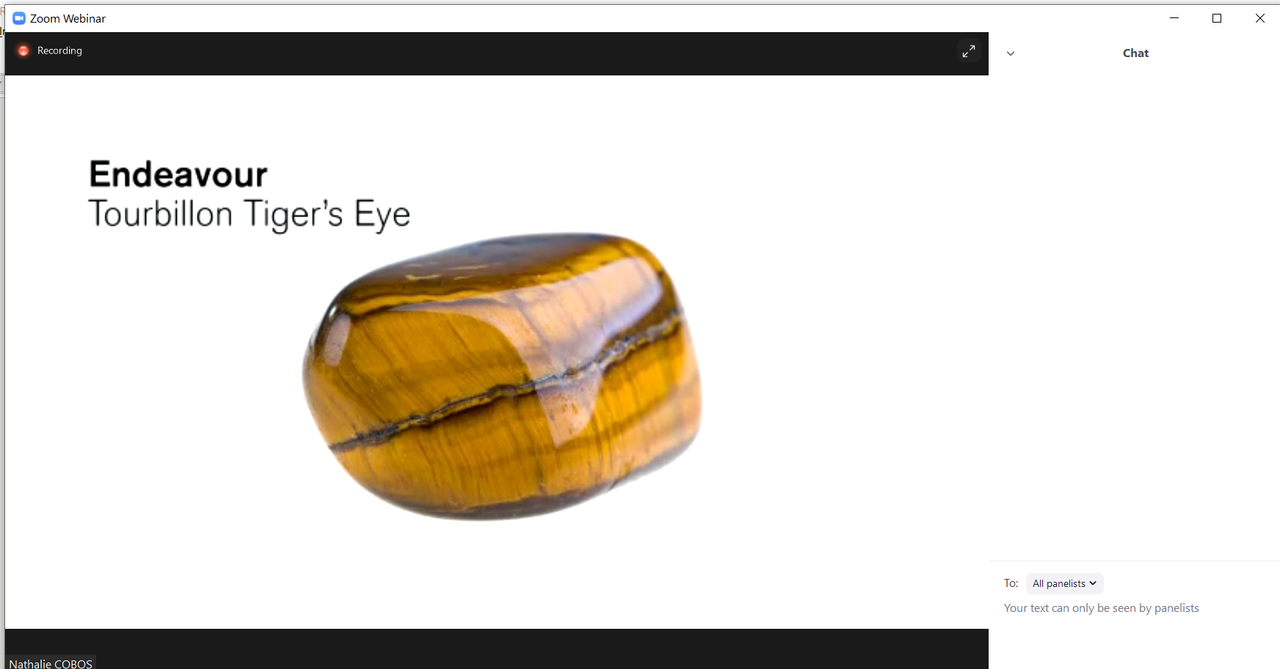 Being a natural stone, Tiger's Eye stones are all different, so every dial will be different. Coming on blue or brown alligator straps with metal-matched clasps, the RRP is CHF 69,000.
[Photo credit: H.Moser et Cie plus screenshot from online presentation]
---
---
Categories: H. Moser & Cie, Limited Editions, Watch Profile, watches, Watches & Wonders Geneva 2021, Women's watches