Louis Moinet, creator of some of the more eye-catching watches around today, has announced a new pièce unique which will be the first in a series of eight pièces unique created to commemorate the brand's new partnership status with the Fondation de la Haute Horlogerie (FHH). It is one of forty-three brand partners.
The concept is called 'Wonders of the World' and the first piece is the 'Chichén Itzá Pyramid' tourbillon, dedicatd to the Temple of Kukulkan pyramid in Chichen Itza (which means "at the mouth of the well of Itza), Yucatán, Mexico.
The Temple of Kukulcán (aka 'Chichen Itza structure 5B18') is a Mesoamerican step-pyramid that dominates the Chichen Itza site. It was built sometime between the 8th and 12th centuries A.D. by the pre-Columbian Mayan civilisation to honour the deity Kukulcán, the Yucatec Mayan Feathered Serpent deity closely related to Quetzalcoatl.
As you can see, the dial is dominated by a large bas relief engraving of the temple, surrounded by elaborate engraving work including of the eponymous deity. The green on the pyramid is Burmese jade, and there are 96 snow-set rubies and baguette-cut sapphires in various colour-graduated hues.
The Kukulkan Pyramid is 24m high. Inside the somewhat smaller 45.4mm watch is a manually-wound movement that beats at 21,600 VPH and has a power reserve of seventy-two hours.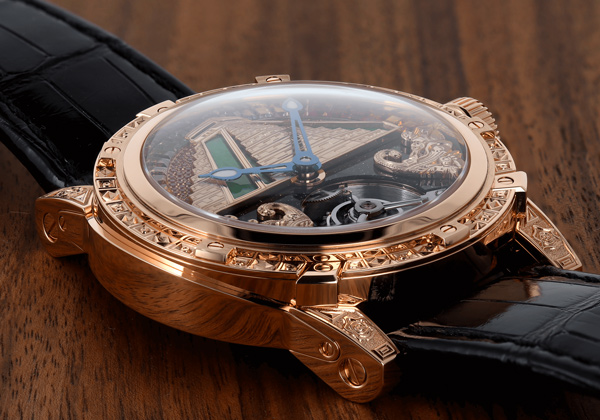 This is not the only Mexico-inspired piece from Louis Moinet. There was the elaborately decorated 'Only Mexico', also a pièce unique tourbillon, which featured meteorite found in Mexico.
[Photo credit: Louis Moinet]
---
---
Categories: Limited Editions, Watch Profile, watches