Perhaps like me, you have been making your way through Netflix's current Studio Ghibli promotion; watching some for the first time, reacquainting myself with others, and wondering which ones they'll put up next. If you find yourself in self-imposed isolation at the moment and in need of something new to watch, you may also wish to take a look.
The next one on my list is Porco Rosso (1992). I have watched it, but it was so long ago that it will be like watching it anew. It seems apt therefore, to talk about the new Presage Studio Ghibli Porco Rosso limited editions from Seiko aka References SNR047 and SRQ033, both limited editions and both in stainless steel cases.
For those unfamiliar with some of the more unusual films that come out of that studio, the premise/ plot of the film is probably a little difficult to get your head around – it revolves around an Italian WWI ex-fighter pilot who has turned into a pig and flies around in a seaplane as he pursues a career as a bounty hunter along the Adriatic. Along with his porcine form he has a name change and is known, as the title indicates, as Porco Rosso.
Dial materials are an important part of the Presage family, and for these, they are enamel. In either black or white, they are made by master enamel craftsman Mitsuru Yokosawa and his colleagues. The instrument panel of Porco Rosso's plane, the Savoia S-21, is reflected in the dial.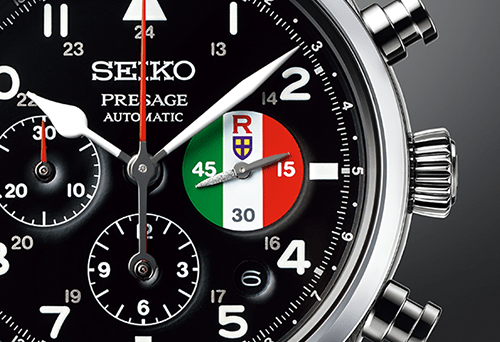 In the case of the black dial automatic chronograph, the 'R' emblem on the tail of Savoia S-21 is displayed at 3 o'clock. For the white dial model, it is at 6 o'clock. A special seconds hand referencing the plane's propeller appears on the chronograph. As well, the crown is engraved with the Porco Rosso emblem, and the plane's name is engraved on the side of the case.

The white dialed limited edition (SNR047) uses the Drive Calibre 5R65, which has an accuracy of +/–1 second per day and a power reserve of 72 hours (the indicator for which appears at 8 o'clock). It can be seen through the open case back and is decorated with the Porco Rosso symbol. On the case back is an engraved quote from the film which, translated, says "A pig that does not fly is just a pig."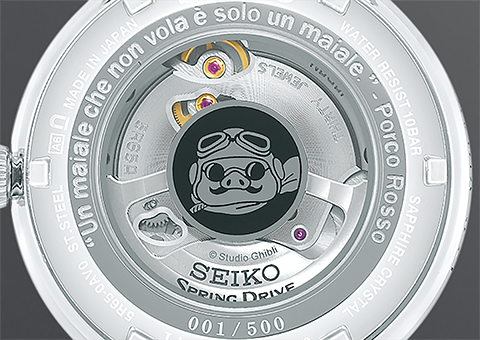 The automatic column wheel chronograph (SRQ033) is powered by Seiko's Calibre 8R48, which beats at 28,800 VPH and has a power reserve of 45 hours. It has a vertical clutch and the brand's three-pointed hammer and a heart-shaped cam.
The SNR047 is in a 40mm sized case (thickness of 13.1mm) and the SRQ033, a 42mm sized one (thickness of 14.9mm). They share the same water resistance – 100m. Both watches come on a crocodile strap with a folding clasp – black for SNR047 and red for SRQ033. The latter's colour choice is a reference to the fuselage of Savoia S-21. You'll notice that they both feature stitching in red, white, and green. In the presentation box is a second strap and a leather cloth that is marked with the symbol of Porco. The nicest 'bonus' is that the watch comes with a message from director Hayao Miyazaki.
Both watches are available in the Presage collection at Seiko boutiques and selected retailers worldwide from June 2020 as limited editions of 500 for the Spring Drive and 600 for the chronograph. The RRPs are EUR 5,800 (SNR047) and EUR 4,100 (SRQ033).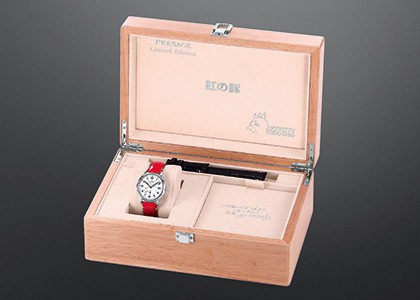 It is testament to the importance of Studio Ghibli (and Hayao Miyazaki) to the national identity that such a partnership exists with Seiko. Which film you (or I) would have chosen for such a collaboration is, of course, something that could be argued about endlessly. My most recent re-watching has been of 'Princess Mononoke' – there's scope there, with the film's clear environmental message, of a watch using recycled materials.
[Photo credit : Seiko]
---
---
Categories: Japanese watches, Limited Editions, Seiko, Spring Drive, Watch Profile, watches, Women's watches