Last year, Geneva based watchmaer Antoine Preziuso presented the pièce unique 'Trillion Tourbillon of Tourbillons', a variant of his Tourbillon of Tourbillons originally launched in 2015.
A 'high jewellery' riff on the original, the Trillion Tourbillon of Tourbillons featured three rotating tourbillons on a revolving plate which, connected by a triple differential gear and separated by three pure-white Top Wesselton G+ trillion diamonds. Today's 'Blue Equalizer' is in a similar vein, and caught my eye because although not a blue dial, it is nonetheless another blue-dominated watch to be released this year.
But first, let's just go back briefly to 2015. A watch whose conception and birth was a combined effort of Antoine and Florian Preziuso, the Tourbillon of Tourbillons won both the Innovation Watch Prize and the Public Prize at the Grand Prix d'Horlogerie de Genève in 2015.
What powers the Tourbillon of Tourbillons is the manually wound twin-barreled Calibre AFP-TTR-3X, which has a power reserve of 48 hours and three x 21,600 VPH. At its heart is a central planetary triple-differential gear which drives a revolving plate. With accuracy and precision as the broad concepts behind it, the design of three tourbillons on a revolving plate is because of Preziuso's idea that the combined effect gives the watch greater precision irrespective of the (wrist/ watch) position. There are three international patents for this movement.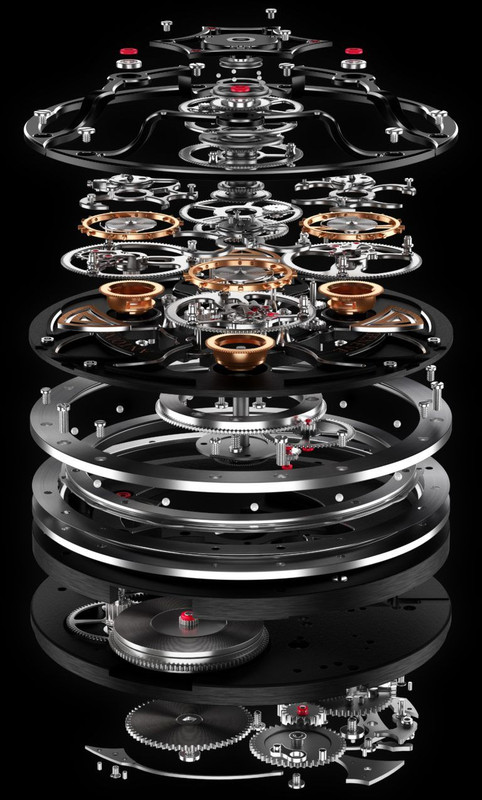 The tourbillons are equidistant from the centre of the plate. They each have a 60 second rotation time, and rotate on different axes and at variable speeds. The mainplate itself completes one rotation every ten minutes.
The position and closeness of the three independent tourbillons enables them to synchronise to an identical frequency through what is known as 'resonance', thus forming one regulator, so to speak, beating at 21,600VPH. To read about resonance, go to either this link or this one, to read about a couple of other watches which have utilised this phenomenon.
So now to today's watch, which they have given a radically different moniker. With he same AFP-TTR-3X movement as the others, the pièce unique TTR3 Blue Equalizer Frequencies comes in a 47mm sized 18 carat white gold case set with 233 baguette-cut royal blue sapphires totalling over 24 carats in total, with three sapphires on the dial between the three tourbillons. The crown alone is set with 20 sapphires.
Coming on a rubber strap with a crocodile underside that has sapphires in its deployant buckle, although technically interesting, the addition of the stones means that this is not a watch for the faint of heart, with a price tag of 1,200,000 CHF.
[Photos : Antoine Preziuso]
---
---
Categories: Antoine Preziuso, Limited Editions, Watch Profile, watches