Tamerlane, real name Tīmūr bin Taraghay Barlas, was a 14th century Turco-Mongol warlord and conqueror whose empire-building across Asia Minor was characterised by widespread destruction, burning, looting, massacres, and mass rape.
His name was also the title of Edgar Allan Poe's first collection of poetry, called 'Tamerlane and Other Poems', of which there are currently twelve known copies. Written when he was about seventeen and published anonymously "by a Bostonian" in 1827 when he was eighteen, only some forty to fifty copies are believed to have been printed at the time. He did not keep a copy himself, and it was not until eleven years after his death that the first copy turned up. Poe's poem, although named for and about him, is not an account of Tamerlane's life, but deals with the themes of pride, power, loss, love, and exile, in a death bed lamentation.
For Poe collectors in particular and book collectors in general, this slender volume is also known for being the subject of an astonishing 'find'. The twelfth copy was discovered by a buyer who paid the princely sum of $15 for it in a New Hampshire antique barn.
This copy set a record price at the time for American literature, $250,000, and was purchased by Susan Jaffe Tane, who has the finest private collection of Poe-related material. The last copy of 'Tamerlane' that had been found previous to this copy, in 1954, had brought $123,000 at auction in 1974.
In 2009, Christie's sold the second known copy of 'Tamerlane' to be held in private hands. Owned by William Self, it set a new record for American literature when it realised $662,500. You can read about it and about all twelve copies at that catalogue link. This was also the year of the bicentennial commemorations for Poe, which included an exhibition called 'Evermore: The Persistence of Poe at the Grolier Club' for which the Tane copy (and other items in her collection), formed a part.
On 12 June 2019, Christie's New York will hold a Fine Printed Books & Manuscripts auction, of which lot 209 will be Edgar Allan Poe's engraved 18 carat gold pocket watch.
It is described thus: "POE, Edgar Allan (1809-1849) – French. An 18k gold key-wound quarter repeating open-face pocket watch with metal guilloche dial Roman hour markers and spade hands. The cuvet (dust-cover) is engraved, "Echappement A Cylindre En – Aiguilley – Edgar A. Poe – Pierre Huit Trous En Rubis." The inside case-back cover is engraved with the case number 21705. The case is 51mm."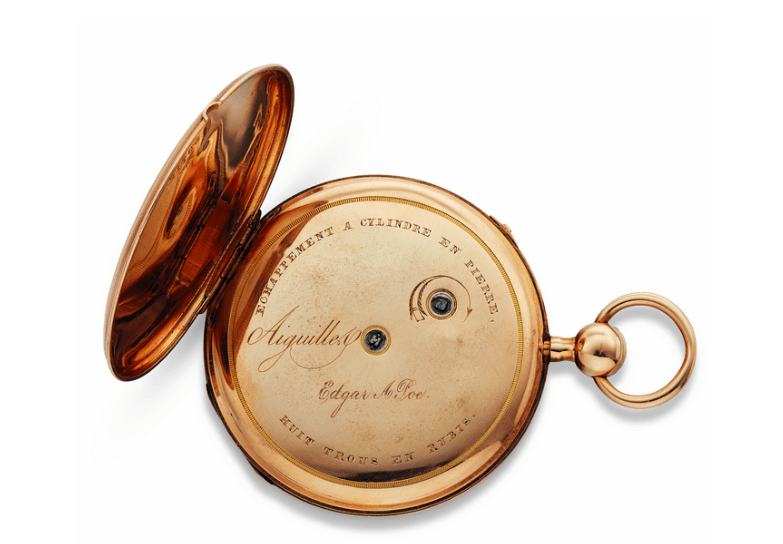 As the Christie's entry notes, Poe was regularly in dire financial circumstances and beset by creditors but somehow managed, during his time as an editor at Graham's Magazine in 1841-42, to purchase this watch. It ended up being given to John W. Albright, a tailor to whom he owed money, and the auction house provides a detailed provenance of its ownership since Poe, as well as documentation.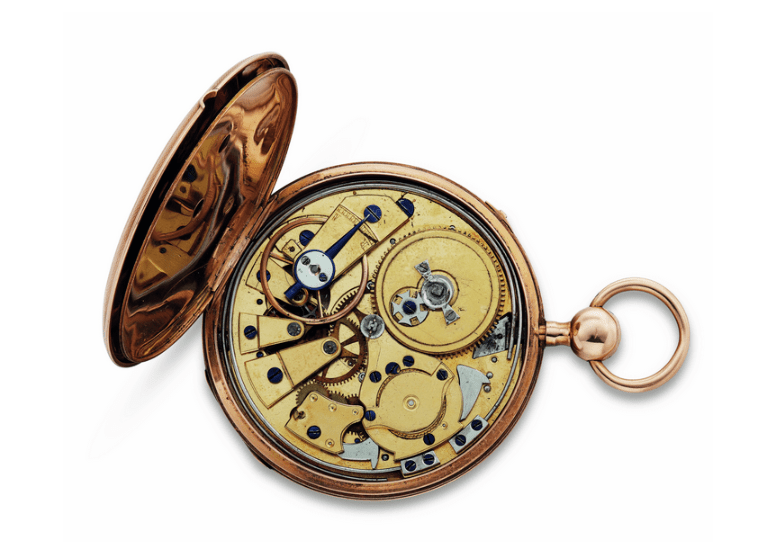 With an estimate of $80,000-120,000 there is, of course, the question of whether it will be acquired by Susan Jaffe Tane, but should you wish to read the lot description and/ or bid, click on this link.
If you haven't read 'Tamerlane', you can find it here.
UPDATE : Poe's pocket watch fetched a cool $250,000. Click on the catalogue link above.
(Photo credit : Christie's)
---
---
Categories: Auctions, Ephemera, pocket watches