In 2015 De Bethune launched their most 'sporty' watch to date, called the DB28GS (Grand Sport). Given the dressy and incredibly highly finished watches for which they are known, it was a 'sports watch' (some even called it a diving watch – it has water resistance of 100m) in name more than anything, but by De Bethune standards, this was a 'casual' timepiece, 44mm of Grade 5 Titanium that came on a rubber strap. It was, as they say, 'very De Bethune', but not as we knew it.
That was in a different De Bethune lifetime, as it were, but the Grand Sport idea did not disappear, and 2019 has brought a second member of this new line, the DB28GS Grand Bleu Diver, with a very unexpected addition – light.
It's not just about the illumination though, there is also one other interesting thing to note. Generally, all the numerals relating to the minutes counter are indicated on the bezel. For the DB28GS Grand Bleu, these indications appear on the sapphire crystal driven by the bezel.
So the fun bit. The blueish light that upon being charged, illuminates the dial for a few seconds.
This is achieved through a dynamo-driven lighting system. In broad terms, a dynamo is an electrical generator that creates direct current using a switch, but in this instance there are no electronics, no battery, just a mechanical watch movement.
So how do you turn this on? A pusher at 6 o'clock activates a small gear train which releases the energy stored in a second barrel. So gear train, by means of a miniature dynamo, provides the energy for the light.
The mechanical illumination has meant a new calibre, De Bethune's twenty-seventh in-house movement. Manually-wound, with a central seconds hand and a five day power reserve, it has a titanium/ white gold balance wheel, beats at 28,800VPH, and includes their patented Triple Pare-chute shock absorption system.
As was the case with the DB28GS, the DB28GS Grand Bleu has high levels of finishing synonymous with De Bethune; blued titanium components, and bridges finished with what the brand calls 'microlight', a pattern of finely engraved lines.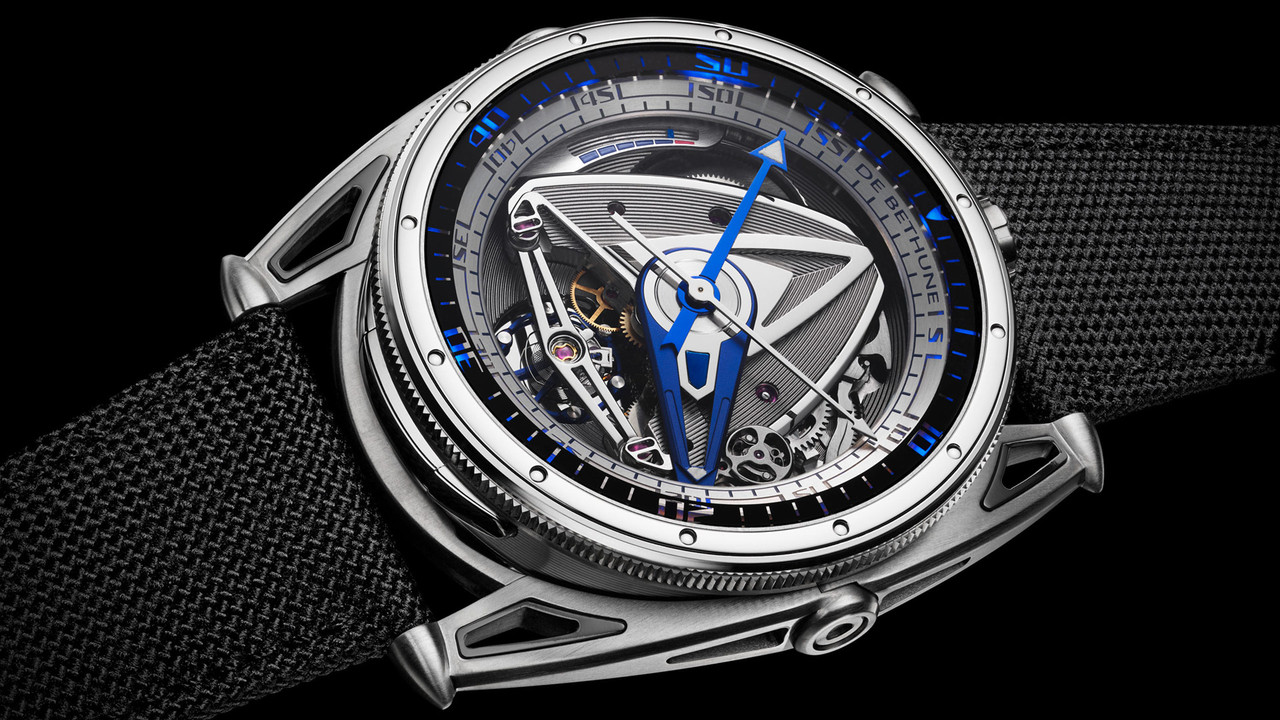 As I said when the DB28GS came out, De Bethune sports watches really are nowhere near any conventional idea of what constitutes a sports (or diving) watch, or even a luxury sports watch. But they are 'elegant casual' by their standards, and as such, do fill a space for those who want a De Bethune, but a less dressy one.
This new watch has the same dimensions as its older sibling, but as it has a much smaller bezel it seems, at a glance, smaller. Both are in Titanium cases, but this new model comes on a black canvas strap with a second rubber strap.
Although different, this new Grand Bleu does make me think of some similar but different watches from Van Cleef & Arpels, the most recent of which, the Midnight Zodiac Lumineux, we covered in this post last year. They too, have illumination on demand, but using a different method – piezoelectricity.
Piezoelectricity is the electric charge/ potential that accumulates in certain materials in response to latent heat. The depression of the pusher on the Lumineux triggers a vibrating ceramic strip (the vibration being the result of the movement of the watch when worn) which powers electroluminescent diodes on the dial. These diodes illuminate translucent enamel beads for approximately four seconds. The (movement) module responsible for this features a ceramic blade whose vibration, under the effect of the wearer's movements, enables electrical energy to be generated mechanically. The word 'piezoelectricity' is derived from the Greek πιέζειν (piezein), which means to squeeze or press, and ἤλεκτρον (ēlektron), which means amber, an early source of electric charge.
The Van Cleef & Arpels pieces were intended to charm as well as show off how seriously they are taking innovations in their timepieces, and they did this. With this new De Bethune, a brand that is constantly engaged in research and in pushing its boundaries, it is the latest example of the latter, as well as being a practical way to look at the time in darkness.
A final note and shoutout to James Thompson of Black Badger Composites, who was involved in the development of this very cool new piece and whose presence in watches is getting stronger with each year.
---
---
Categories: Baselworld 2019, De Bethune, Watch Profile, watches