In 2012, Robert-Jan Broer posted a picture of his Speedmaster on Facebook using the words 'Speedy Tuesday'. Since then, the #SpeedyTuesday hashtag has gained a dedicated following, particularly on Instagram, and become its own social media community.
In what is an unusual move for a watch brand, especially a major one, Omega decided to mark the immense popularity of the hashtag by releasing a limited edition (2012 pieces) commemorative #SpeedyTuesday Speedmaster based on the 1978 Alaska Project III watch. It was to be sold exclusively online, via Omega's website, through an Instagram link. It proved to be popular, selling out in a matter of hours.
Today, we bring you not just some photos of this watch, but also some personal thoughts about why I think it is of particular significance.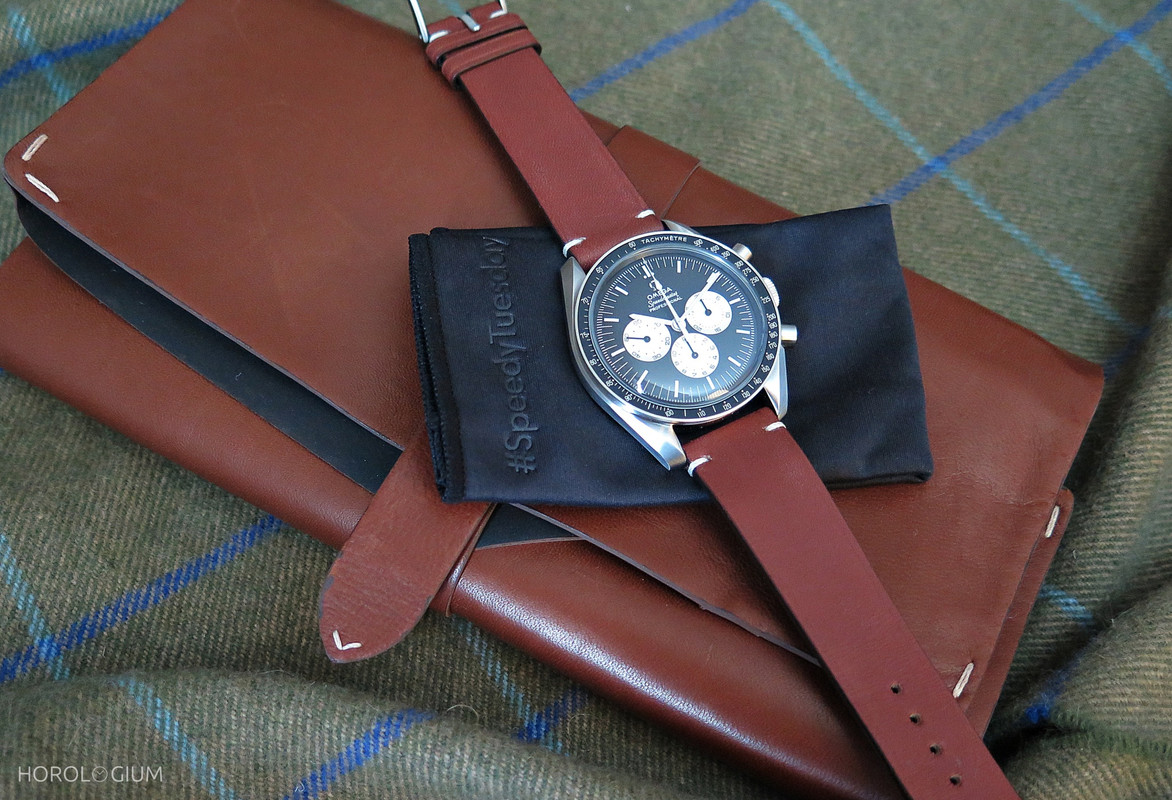 The most immediately noticeable point of note is the 'Reverse Panda' dial, first used by Omega in 1966, but atypical of the modern Speedmaster family. The recessed sub dials are an opaline/ silvery colour, on a black dial that uses a vintage logo. Above this is another vintage nod in the form of a domed hesalite crystal. The bezel is matte black aluminium and the three-part  42mm case in which it resides, brushed matte-finished stainless steel.
When you turn the lights out, there is another highlight – the extensive lume.
On the back is a screw-down case back stamped with the 1962 Speedmaster Seahorse medallion, encircled by "SPEEDY TUESDAY ANNIVERSARY – A TRIBUTE TO ALASKA PROJECT III" and the limitation number. Along the outer edge of the case back is the word 'RADIAL'. Inside is the Calibre 1861, with a power reserve of 45 hours when fully wound.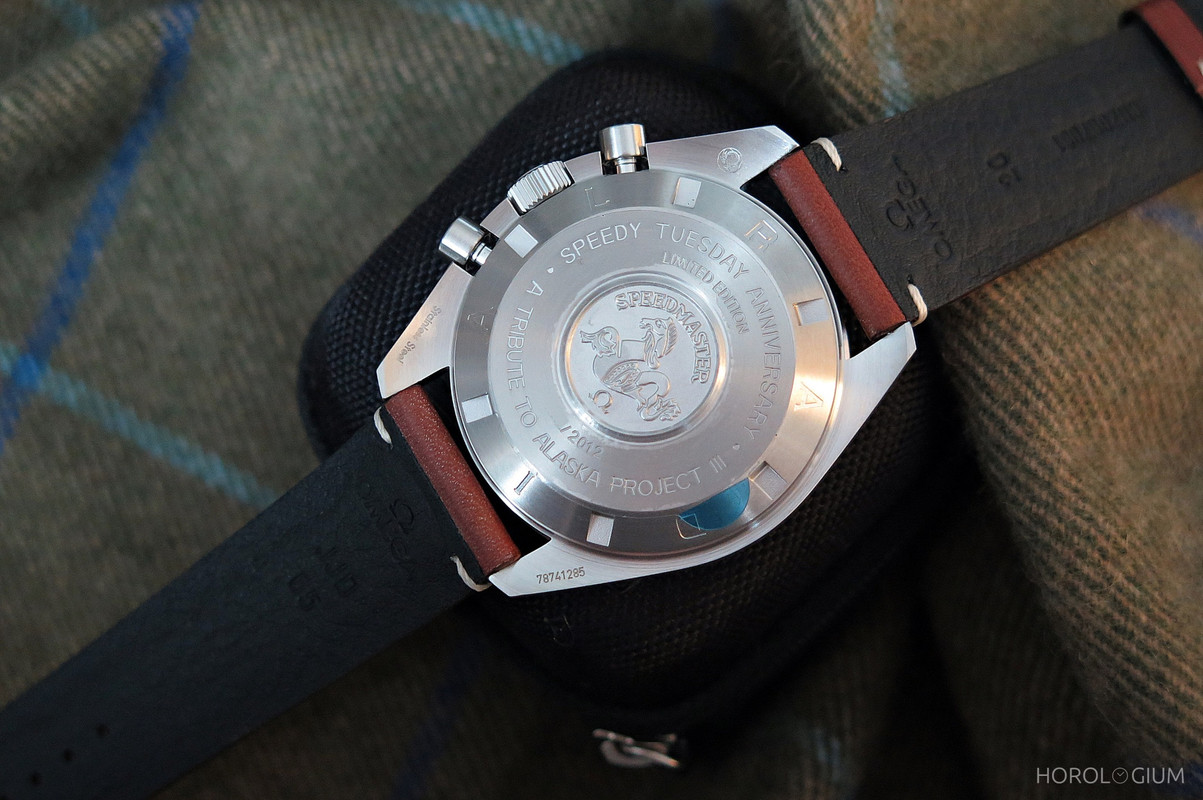 The first 'Speedy Tuesday' watch left the Omega factory on June 6, 2017. They are still being delivered worldwide, and this one, when it was picked up in early September, was in the single digit delivery numbers for the Sydney CBD Omega boutique. The owner lent it to me before he had even worn it, so it was mint (I left the blue protective stickers on the #SpeedyTuesday engravings on the strap rings) when these photos were taken.
There is no doubt that this is a very handsome and appealing overall watch package.  The watch is not the standard type of Speedmaster, and the packaging is not standard packaging. The leather roll is, in addition to being a nod to their current popularity, vastly different to the standard box, not to mention portable as well. The extra strap, tool; these are the sorts of additions that particularly appeal to enthusiasts. However, to me, this watch is about what the #SpeedyTuesday represents as much as about what it is in a purely 'specifications' sense.
Firstly, I think that the existence of this watch is one illustration of the growth of the use (and importance of) social media in the watch world and how an idea can not only become something big, but move beyond the 'social' to the 'physical'. There's a lot that is wrong with social media, and not everything is at it seems. But the popularity of #SpeedyTuesday? That is very real.
Even very traditional watch brands are now being more experimental and trying something different to sell watches. Given the pace of change, it is easy to forget that it was not too many years ago that selling watches in this fashion was not something that anyone would have even contemplated.
Related to this, it is also perhaps indicative of how the traditional authorised dealer or country driven special editions are now being supplemented by online-driven collaborations. Forum watches, although they are also still being produced in select numbers, are now accompanied by other types of 'community' special editions.
The #SpeedyTuesday launch generated a huge amount of interest. It sold out fairly quickly, and it is still being delivered, but there have already been a number of them being sold for a premium on the secondary market already. This represents another part of the watch world as it stands today, the seemingly ever increasing numbers of those who buy limited edition or hard-to-source watches for speculative purposes.
Perhaps above all, this commemorative and celebratory model underscores the huge importance of the Speedmaster model to Omega in terms of its identity. This particular #SpeedyTuesday belongs to a long time Speedmaster collector whose collection tends towards early models. This is his first new and modern Speedmaster; I mention this because it reinforces my earlier points – this is a model that is being seen as a particularly special modern Speedmaster variant.
It will be interesting to see how, in a couple of years, it is positioned by collectors amongst the Speedmaster canon. Meanwhile, there are still those expectantly awaiting their one of 2012 – I hope you get to enjoy your watch soon.
---
---
Categories: chronograph, Hands-on, Limited Editions, Omega, Sydney, Watch Profile, watches