Today's watch may not be a new one, having been launched at Baselworld 2012, but the Maîtres du Temps collection, which partnered renowned watchmakers to create a single watch, is still a scarce beast. To see one 'in the wild' is unusual, so having been given this opportunity, I wanted to share some photos and thoughts with you about the third member of the collection.
The watch's full official name is 'Maîtres du Temps Chapter Three Reveal'. A travel watch, it was a collaboration between Kari Voutilainen and Andreas Strehler, under the creative direction of Maîtres du Temps founder Steven Holtzman. As was with Chapters One and Two that preceded it, it also uses cylindrical rollers, but more about that later.
Its dial is decorated with a radiating sunray guilloché motif. Its functions, along with the central hours and minutes and small seconds (at 8 o'clock), are date, moon phase (4 o'clock), hidden day-night display on a roller, and hidden GMT display on rollers. Both sub dials have a Clous de Paris guilloché pattern and their functions indicated by small nameplates.
The second time zone (GMT) and day-night indicator are hidden behind panels at 12 o'clock and 6 o'clock, and displayed on the rollers. You can 'reveal' (of the name) these indications on demand by pressing on the crown, but to set the time/ GMT, you need to first depress the pusher button at 9 o'clock to activate/ deactivate the coupling mode i.e. it determines whether the GMT rollers are synchronised to the time when you set it.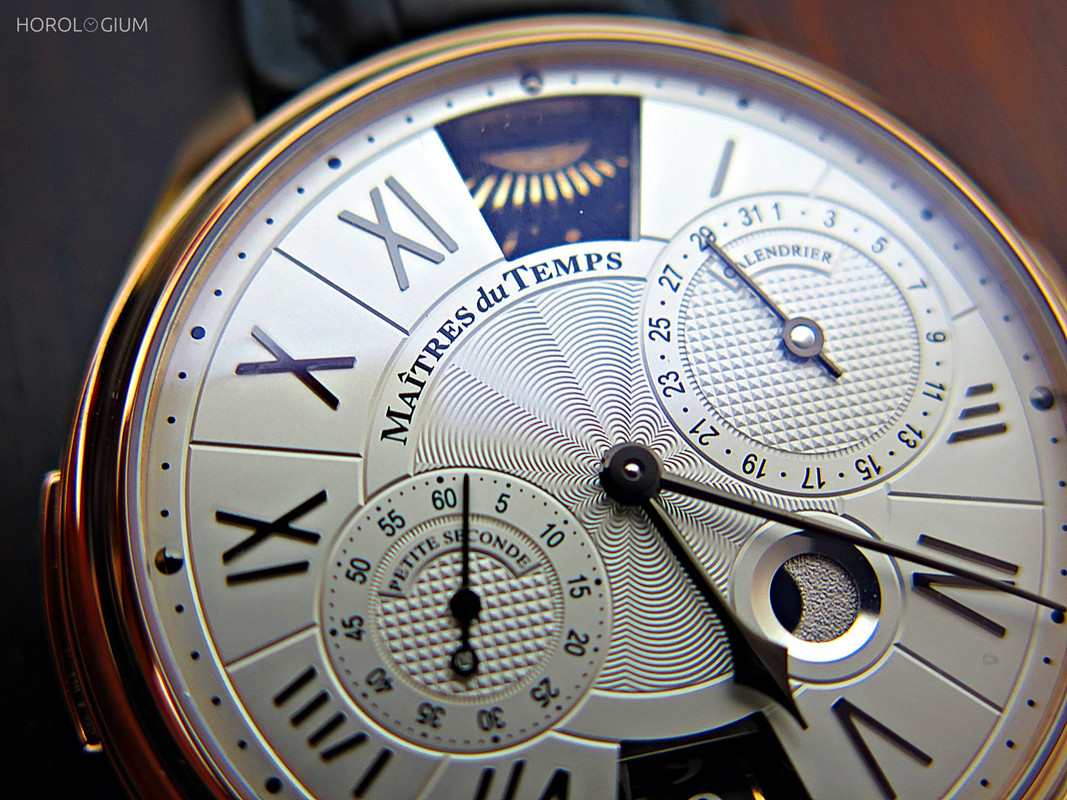 The day/ night roller has engraved hand-painted icons of the sun and the night sky to represent day and night, respectively. The second time-zone rollers,which are set by a pusher at 9 o'clock, are synchronised with the day/ night rollers and can be adjusted backward or forward via the crown.
As the watch's owner explains :
"If I want to set time to 10am and GMT to 7pm I press the crown (panel opens). I pull out the crown, set time until rollers show 7 and a moon, then I depress the button at 9'clock (to uncouple) and keep setting the time to 10am, now that the rollers won't move. Then finally, I press crown back in, and close panel."
The patented second time zone display uses two separate rollers : 1 through 6 are on one roller, 7 through 12 on the other. When 6 o'clock becomes 7 o'clock, the first roller slides out of the way to make room for the other one.
All this is powered by the in-house Maîtres du Temps Calibre SHC03, which was the first non self-branded movement developed by Kari Voutilainen for any watch brand other than his own. Building the movement from the ground up meant that the rollers to be integrated into the movement, as opposed to being a module.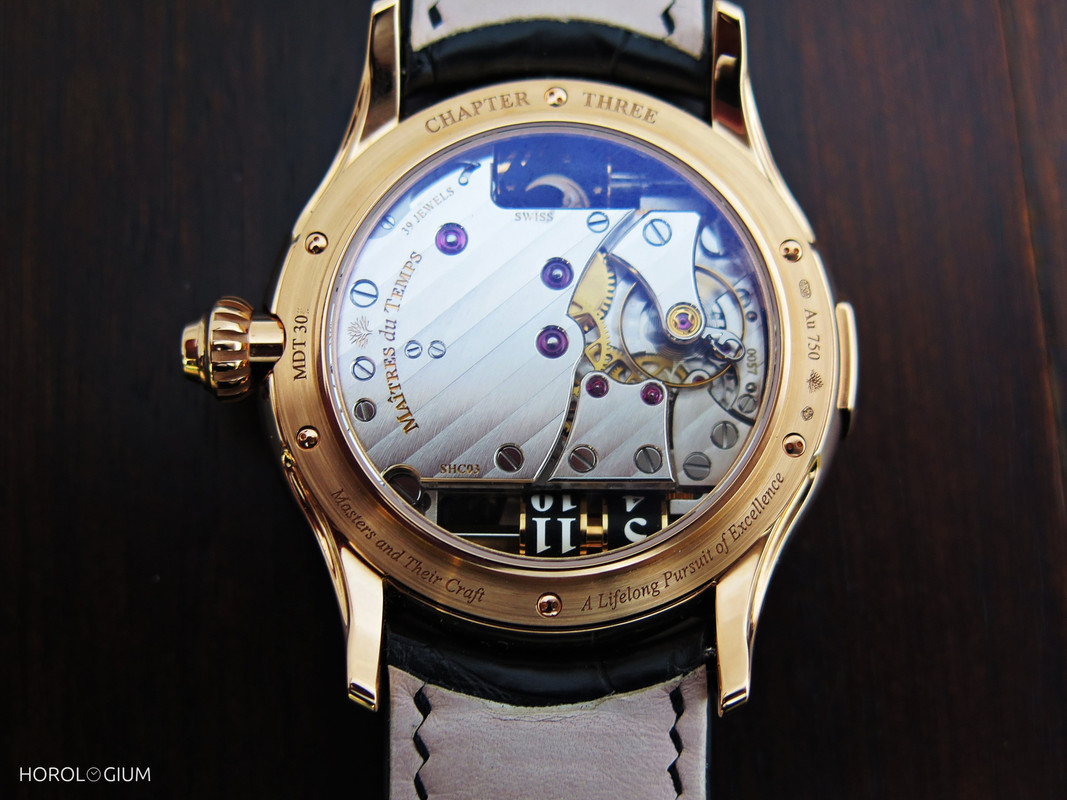 Kari Voutilainen developed Chapter Three Reveal's movement, designed the bridges and plates, was responsible for movement finishing, and played a crucial role in the decoration. Andreas Strehler developed the technical interface between movement, complication and case, including the 'reveal' opening/ closing mechanism that operates on activation.
The movement has a diametre of 35.6mm, is 8.2mm thick, is made up of 319 pieces, has 39 jewels, beats at 21,600VPH, and a 36 hour power reserve. It is decorated with Côtes de Genève, perlage, beveling and polished screw heads.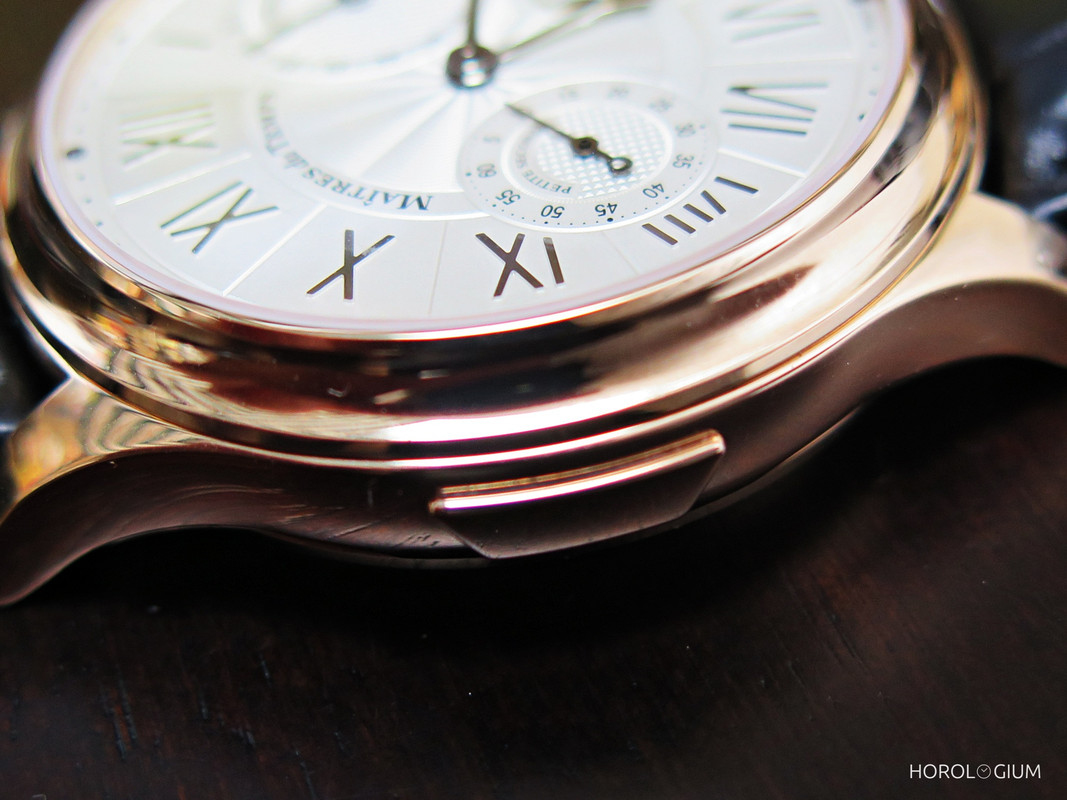 The case itself is either white gold, as in this case, or rose gold, and a comfortable 42mm in size. They come on alligator straps with matching gold buckles.
As is the case with all Maîtres du Temps pieces, the Chapter Three Reveal is limited production, with a maximum of twenty-five of each iteration.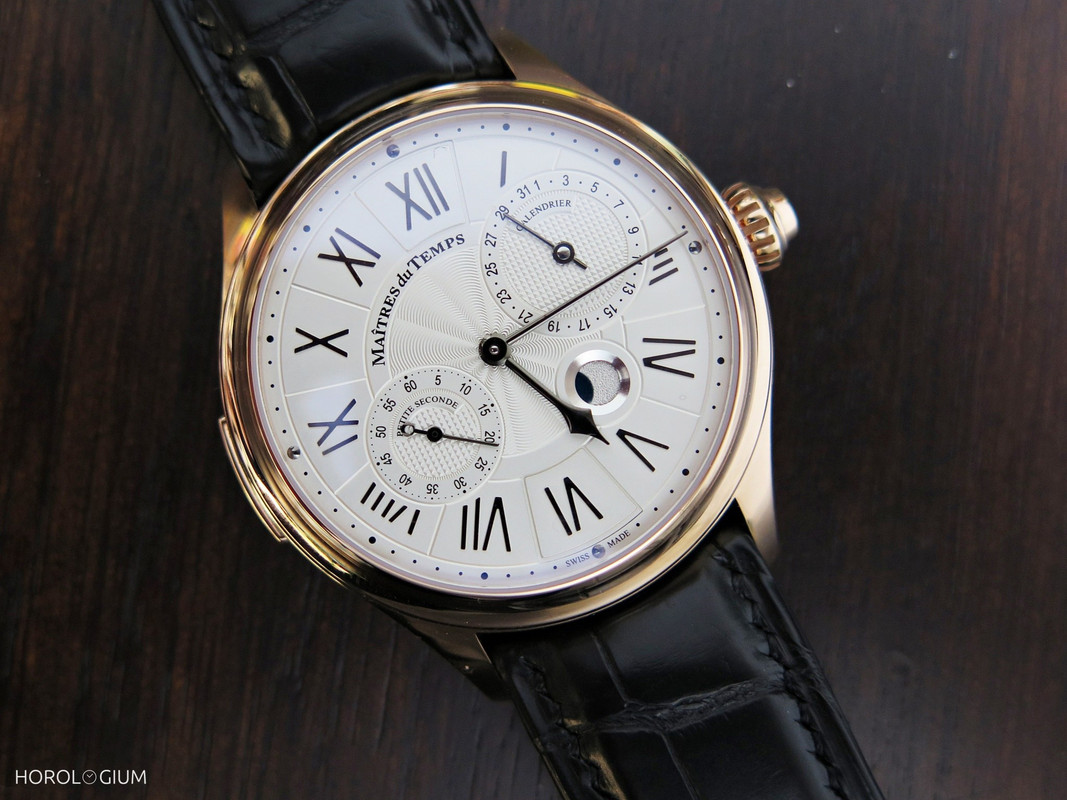 The sizes of Chapter One and Two, both which I saw a number of years ago, are probably far more challenging to wear for many wrists. Chapter Three, however, is 'wrist friendly'. The nature of the movement, especially with the rollers, means that it will have to have a certain minimum thickness; this was never going to be a slim dress watch.
Collaborative watches are interesting horological creatures, not just because of them being an opportunity to own something that is the brainchild of more than one person you admire. It's interesting to see how sometimes what can be quite different creative minds (in terms of what the watchmakers create for themselves) come together, and what the result of this melding of minds is. The Chapter Three is actually a pretty cool watch functionally and design-wise. It's rare, but if one is nearby you, it's worth making the effort to see it.
---
---
Categories: Andreas Strehler, Baselworld 2012, GMT/ dual/ worldtimer, Hands-on, Kari Voutilainen, Limited Editions, Maîtres du Temps, Watch movements, Watch Profile