This year IWC have added a new complication to their Portugieser collection that is also a little familiar. Meet the Portugieser Constant-Force Tourbillon. By 'familiar' we are talking a little about familial history from the Portugieser Sidérale Scafusia but mostly of 2013's Ingenieur Constant-Force Tourbillon.
The 'family' resemblance to the Sidérale Scafusia lies both in the case and in the general aesthetics of the dial, but the Sidérale Scafusia is of course far more complex, with the then newly developed constant-force tourbillon, a display showing sidereal time, personalisation of sky depiction together with the sun's orbit of the Sun, and the celestial equator. There is also a perpetual calendar and the absolute day of the year, sunrise/ sunset, and a power reserve display showing 96 hours when the watch is fully wound. All this courtesy of the IWC Calibre 94900.
Which brings us to the Ingenieur Constant-Force Tourbillon, launched in 2013 and mentioned in this post at the time. Powered by the IWC Calibre 94800, the astronomical complications were removed and replaced with IWC's double moon phase indication mechanism (yes we're on a double moon roll). It has a 96 hour power reserve (shown on the bottom right of the dial) when fully wound.
The movement used in this watch has now found its way into the Portugieser Constant-Force Tourbillon.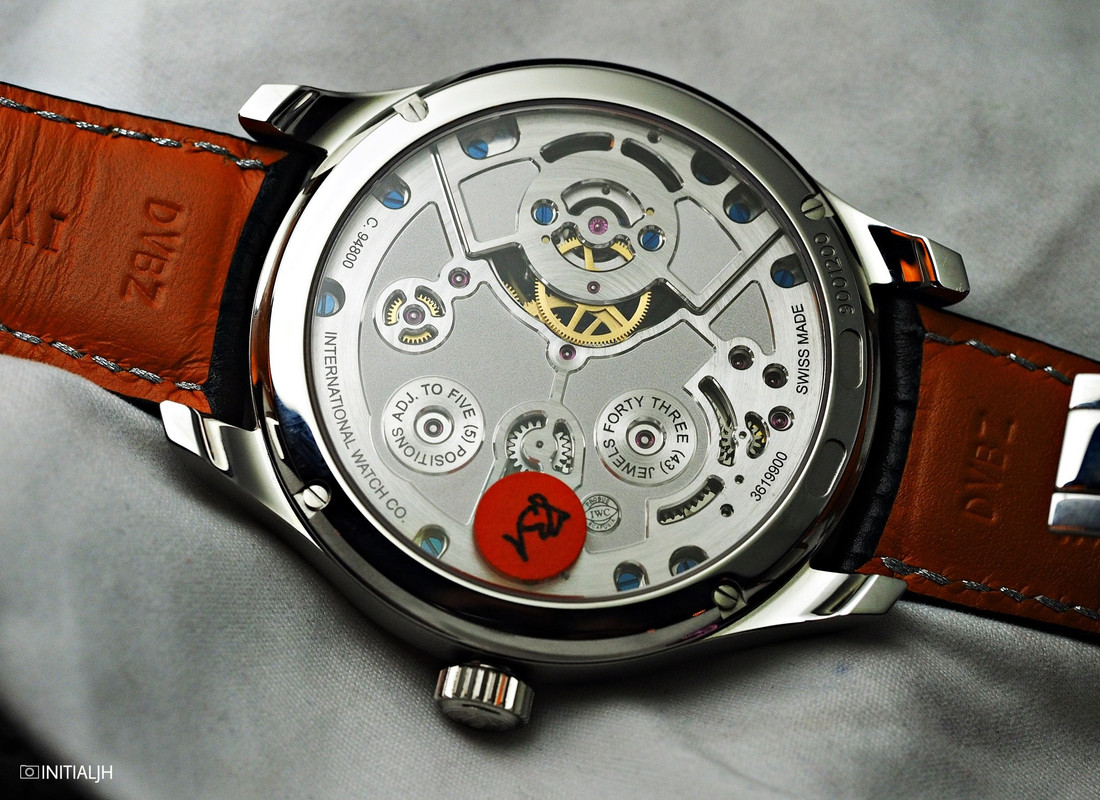 If you know the 2013 model then the look of this new one will be familiar, but the dial is now more dressy, in line with the collection in which it is, the indicators more slim-lined and less sporty. The moon phase at 1 o'clock, as mentioned earlier, shows both hemispheres (you may sense a theme from the previous post) and has a scale showing the number of days remaining before the next full moon. The power reserve indicator at 4 o'clock is still a retrograde display but again, in a more classically-oriented Portugieser fashioned compared to the sporty Ingenieur predecessor.
At 9 o'clock is the 60 second tourbillon with constant-force mechanism built into tourbillon cage.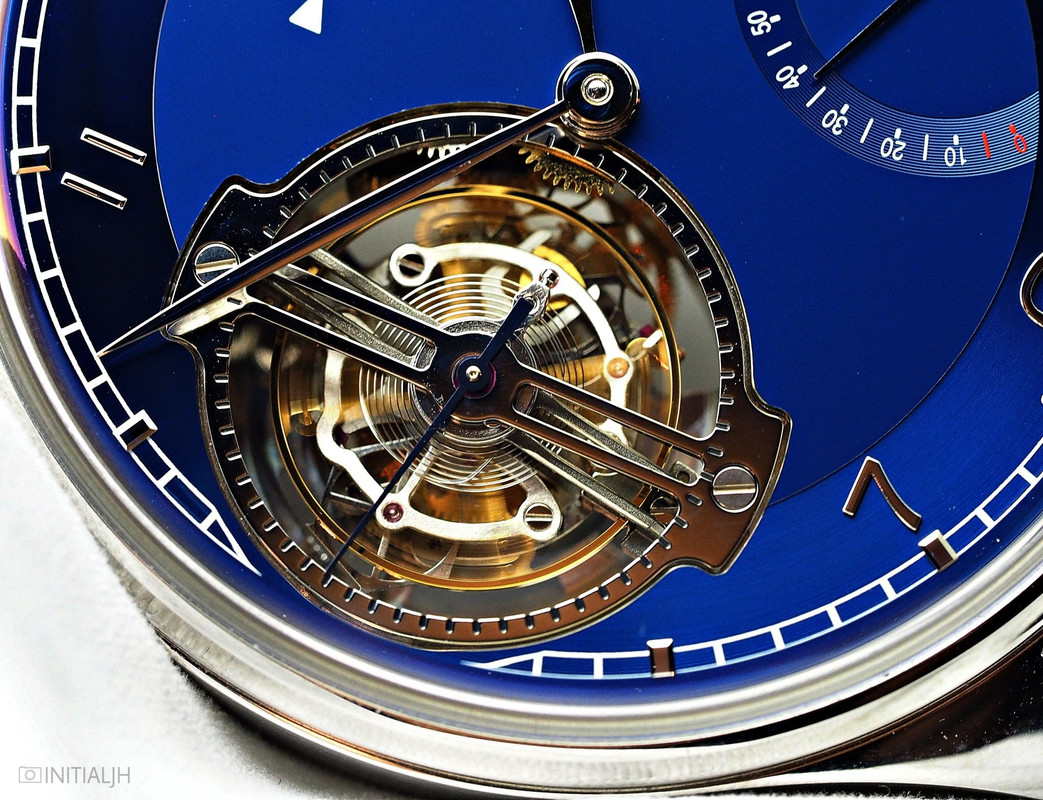 The Portugieser Constant-Force Tourbillon is able to be customised, with two case material choices (red gold or platinum) and four dial options for each. You can also discuss a case back engraving and a Santoni strap of your choice. Size wise it is 46mm, as was the Ingenieur, and if you are familiar with the Portugieser collection then you will have a fair indication of how it will sit on your wrist.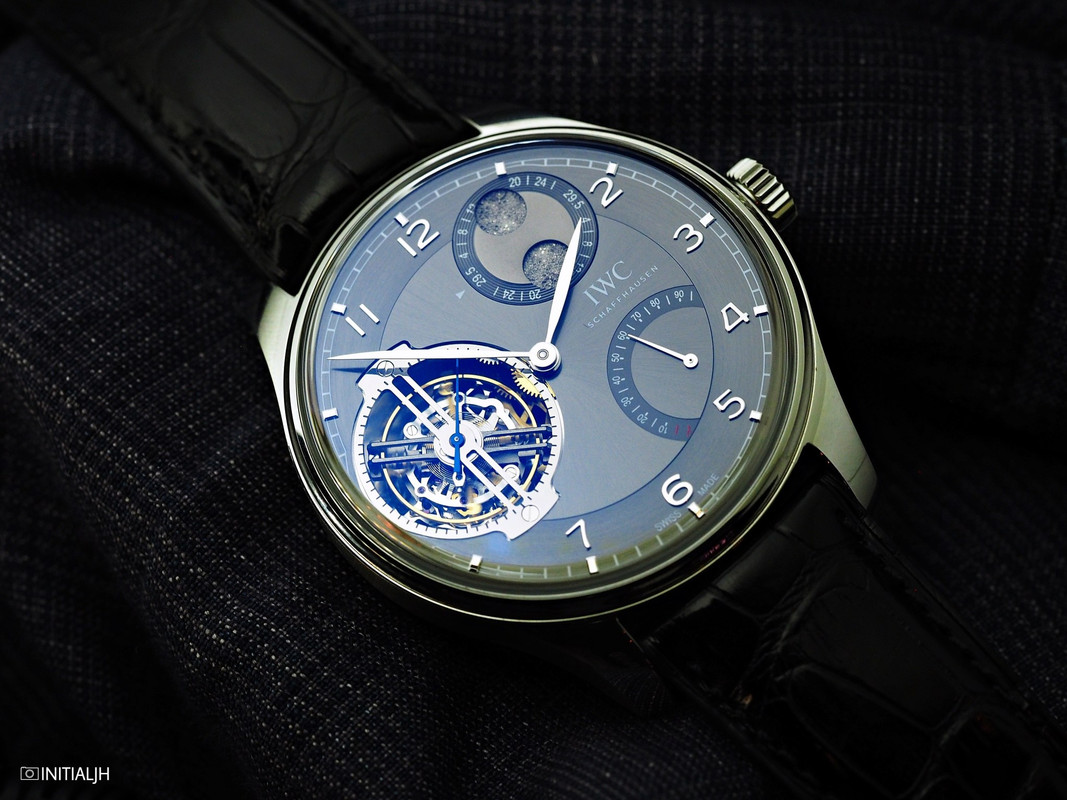 With a solidly six figure price tag this watch isn't within everyone's reach, but if you are one of IWC long legion of fans, have the funds, admire the technical achievement, and liked the idea of the Ingenieur Constant-Force Tourbillon but prefer something more dressy, then voilà .
---
---
Categories: IWC, SIHH 2017, Switzerland, Watch movements, Watch Profile, watches