Back in 2013 MB&F introduced the Legacy Machine 2, with launch versions in 18k red gold, 18k white gold, and a Platinum 950. Now, they have released an edition in Grade 5 Titanium and also limited to eighteen pieces, which we had the opportunity to see at SIHH 2017 and has just had its formal launch.
What's different (but familiar) with this new titanium model apart from the thickness is the colour – achieved via means of 'plasma-enhanced chemical vapor deposition' like the limited edition LM M.A.D. Gallery Dubai LE that was released last year, in the metal it does look very green but as you can see here, when photographed at certain angle it can look blue.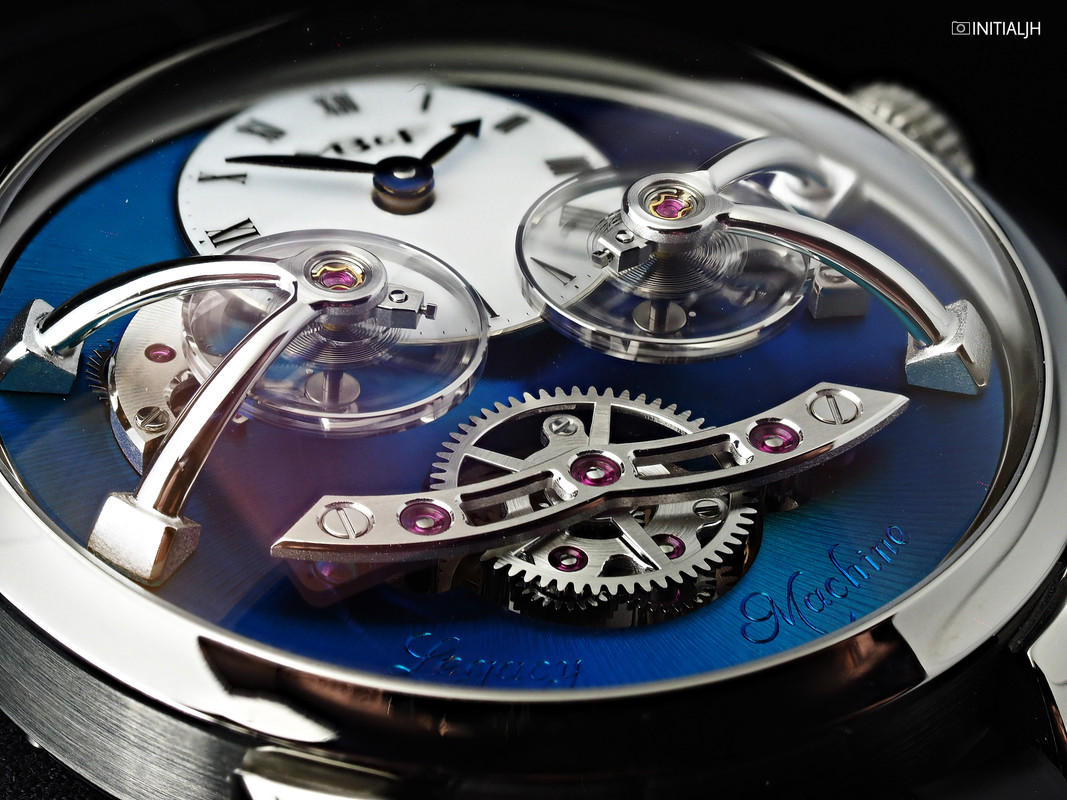 For those who come here unfamiliar with the Legacy Machine 2 (LM2), a quick recap. Its historical influences are Ferdinand Berthoud (1727-1807), Antide Janvier (1751-1835) and Abraham-Louis Breguet's (1747-1823) work with dual regulators and resonance. Janvier is credited with the fabrication of the first double-pendulum resonance clock.
On the LM2 you will note that high above the dial are two 'flying' balances, indicating two fully independent regulating systems, each beating at its own rate. It is these which form the core of the Legacy Machine 2s. The planetary differential is supported by a double-arc mirror-polished bridge.
Watches with two balances tend to be those where resonance occurs or those with two balances linked by a differential, as per the LM2. Both have the same goal, to improve accuracy.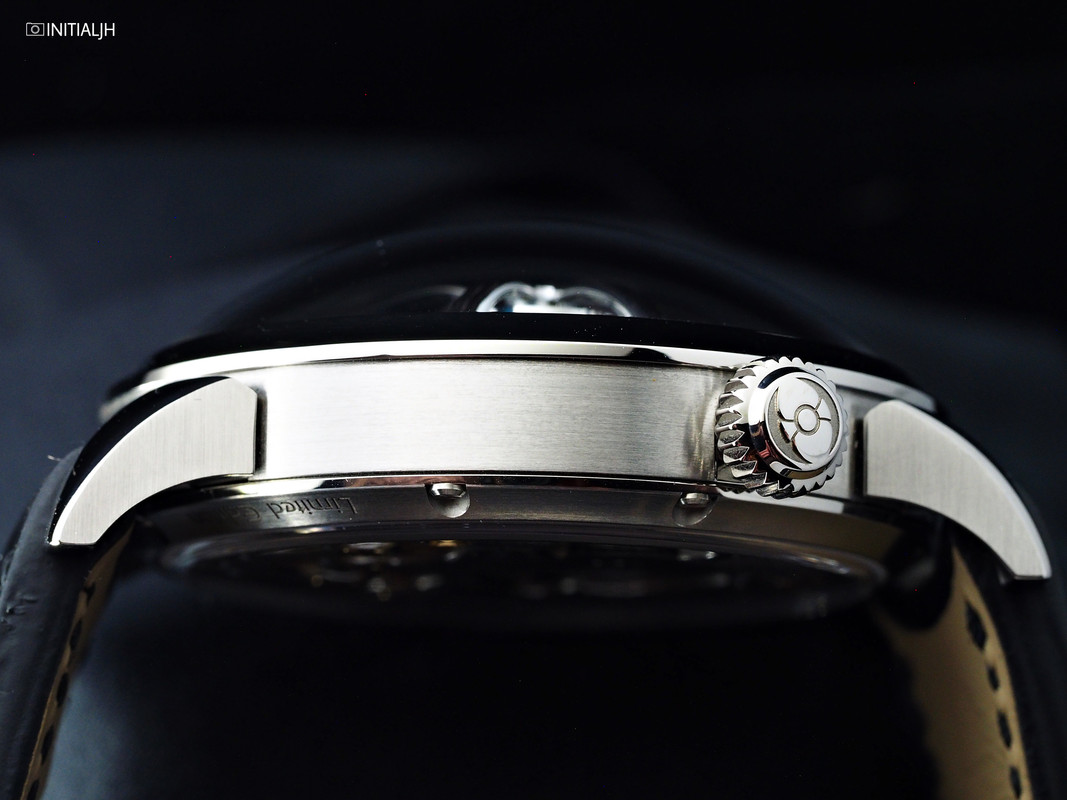 So what is mechanical resonance?
It occurs when two suspended pendulums of the same frequency swing in the same plane. In theory, this provides for much greater stability of rate because they balance each other out.  In watches with differentials, variations of each of the balances cancel each other out. The two independent escapements and flying balance wheels float in the Legacy Machine arc, the differential transmitting the average rates of the two balances to a single gear train, which then transfers the power to the time display.
The concept of realising resonance in watches is more complex than I can explain in anything other than this very basic way, but there is more than one way to do it, and of those very few modern watchmakers who have attempted it apart from Dufour, F.P. Journe has used a more 'organic' way, relying on the physical laws of air movement around the wheels to synchronise (i.e. not mechanical coupling), and Beat Haldimann has coupled two oscillators through the movement of hairsprings, inspired by resonance pendulum clocks.
Although it has roots in the 18th century, it wasn't until 1996 that the first wristwatch with this dual regulator (two balances joined by a differential) was introduced by Philippe Dufour via his Duality, and at the launch of the original LM2, Max Büsser acknowledged this piece as the inspiration to pursue a similar goal.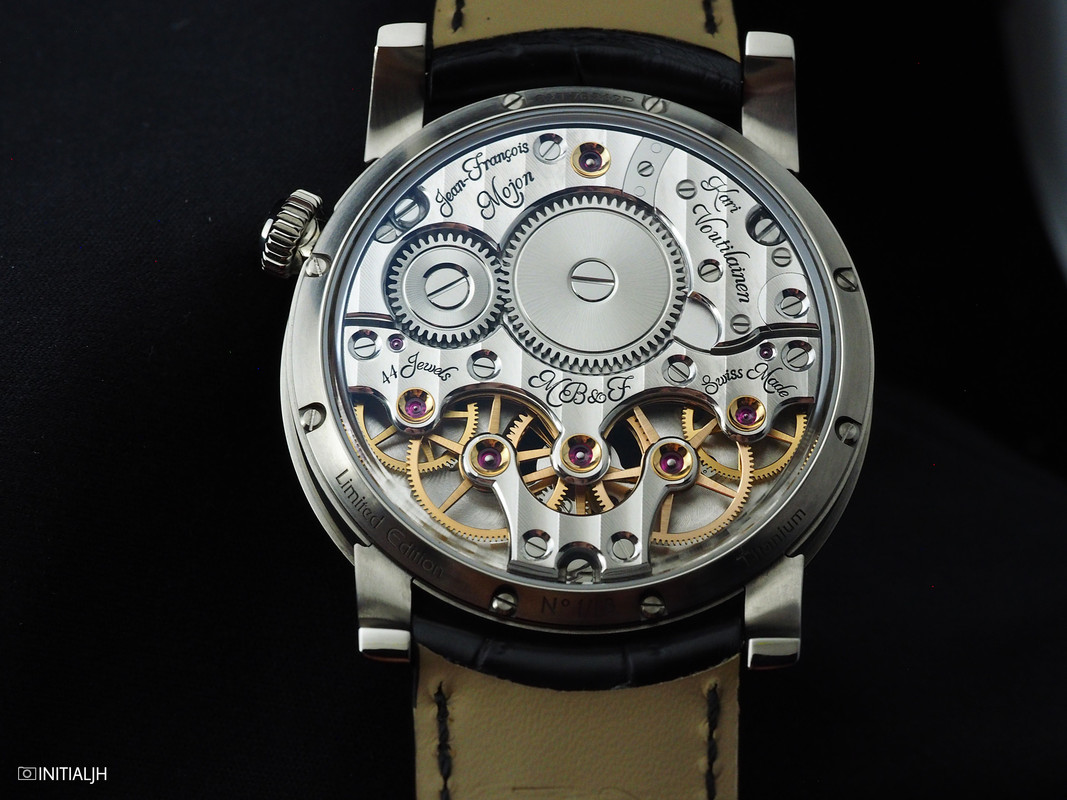 The movement of the LM2 was developed by Jean-François Mojon and Kari Voutilainen. In keeping with MB&F's spirit of acknowledging of the 'friends' with whom they collaborate, the names of the two men responsible for the movement are hand engraved on the back. The movement itself is hand-finished with gold chatons, beautiful mirror-polished bevels and Geneva waves.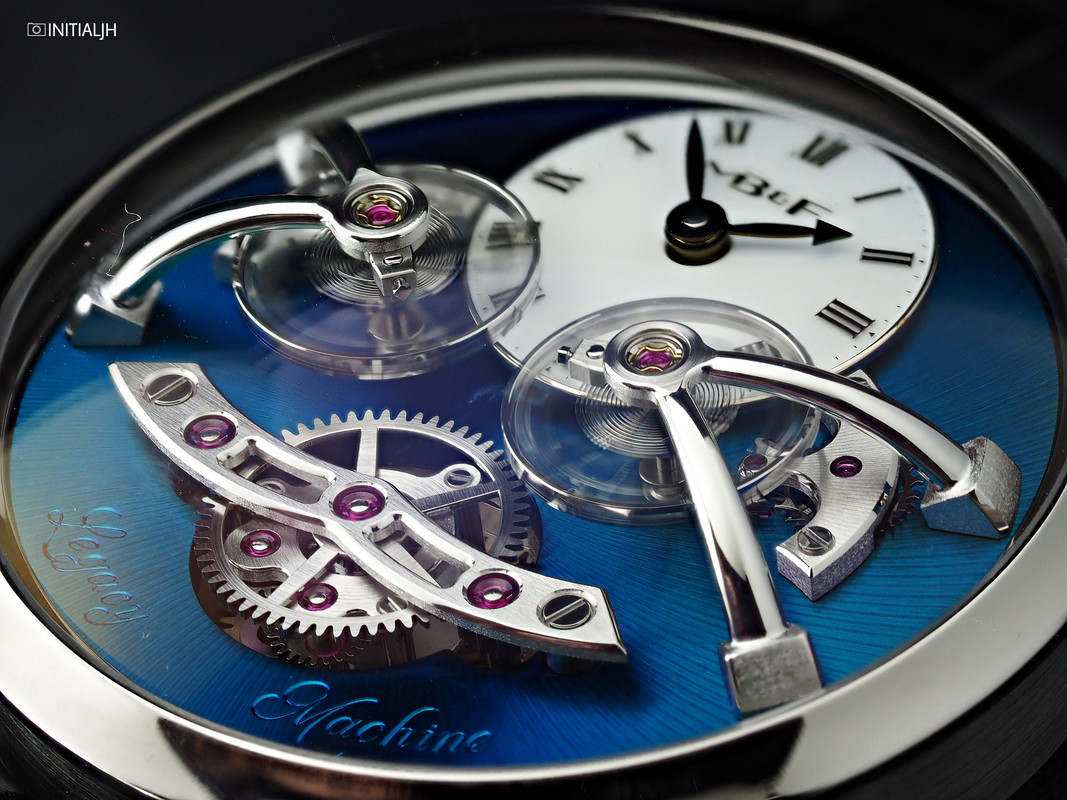 The original LM2 was in a 44mm round case with quite a decent height of 20mm in 18k red gold, 18k white gold and Platinum 950. This new Titanium edition is slimmer, at 44mm and 19mm thick.
So what will this new LM2 limited edition of 18 set you back? CHF 138,000.
---
---
Categories: Limited Editions, MB&F, SIHH 2017, Switzerland, Watch movements, Watch Profile, watches