With the imminent dimming of Big Ben's chimes for awhile I thought I'd take the opportunity to share a watch I only saw for the first time during 2016 – Christophe Claret's Soprano, which not only has a 60-second flying tourbillon but also what is called a 'Westminster chime', which uses gongs and hammers to mimic the bell peal of the Tower at the Houses of Parliament.
So what is a Westminster Chime and what is so special about it?
We've covered chiming watches such as minute repeaters and sonneries before. A Westminster Chime, also called 'Westminster Quarters', refers to the popular name for a complex clock chime utilising four bells to chime a tune on each quarter hour. The number of chime sets matches the number of quarter hours that have passed. It is also known as the 'Cambridge Quarters' after the Church of St Mary the Great at University Church, Cambridge, wherein it originated in 1793.
At their most 'basic' (as if there's anything 'basic' about chiming/ repeater watches anyway) there are two gongs to differentiate hours, quarters (usually sounded on both gongs), and minutes. There can be more gongs and hammers, and the Soprano Westminster Chime falls into this category, with four patented cathedral gongs and four hammers, highlighted by 'stepped' bridges that also hold the tourbillon cage in place.
At Big Ben (actual name being the Elizabeth Tower at the Palace of Westminster), the notes are in the key of E major, so B, E, F# and G#; the Big Ben bell itself is tuned to E an octave lower.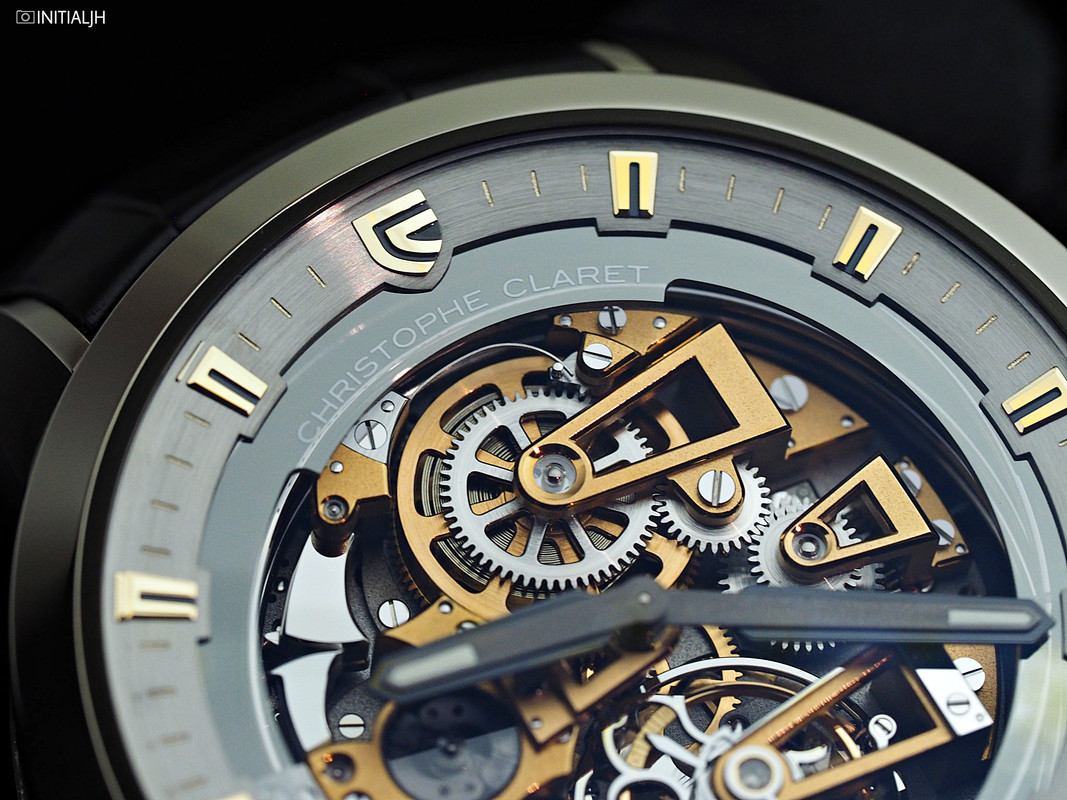 The 'tech' as it were may be old (the stepped bridges dating back to Charles X of France, even before the Cambridge Chime), but the manner of Claret's realisation here (both front and back) is incredibly modern, with the lack of a dial allowing a full view of the movement and the use of modern methods and aesthetics. There is a transparent mainspring barrel that acts as a winding indicator – when the movement is fully wound the spring is in the centre of the barrel.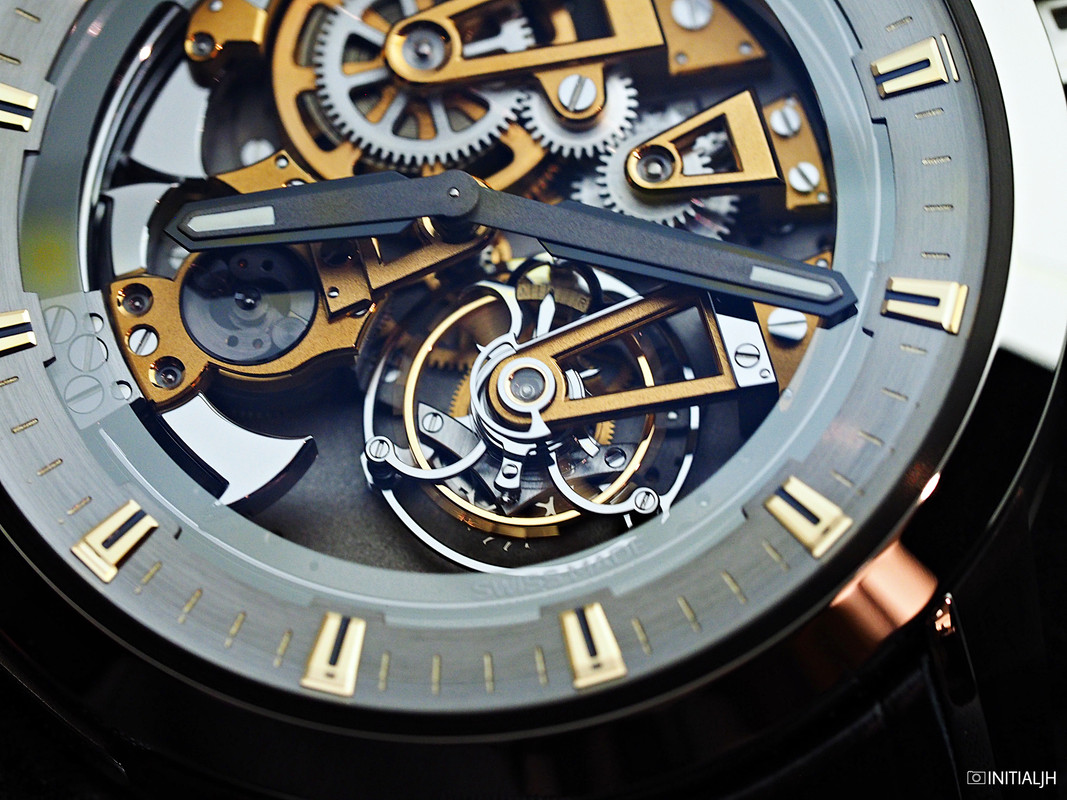 The movement responsible for these chimes and the tourbillon is the manual-wind TRD98 which beats at 21,600VPH, has 72 hours of power reserve, and is composed of 450 parts. The chime activation is via a traditional slide, situated on the left side of the case.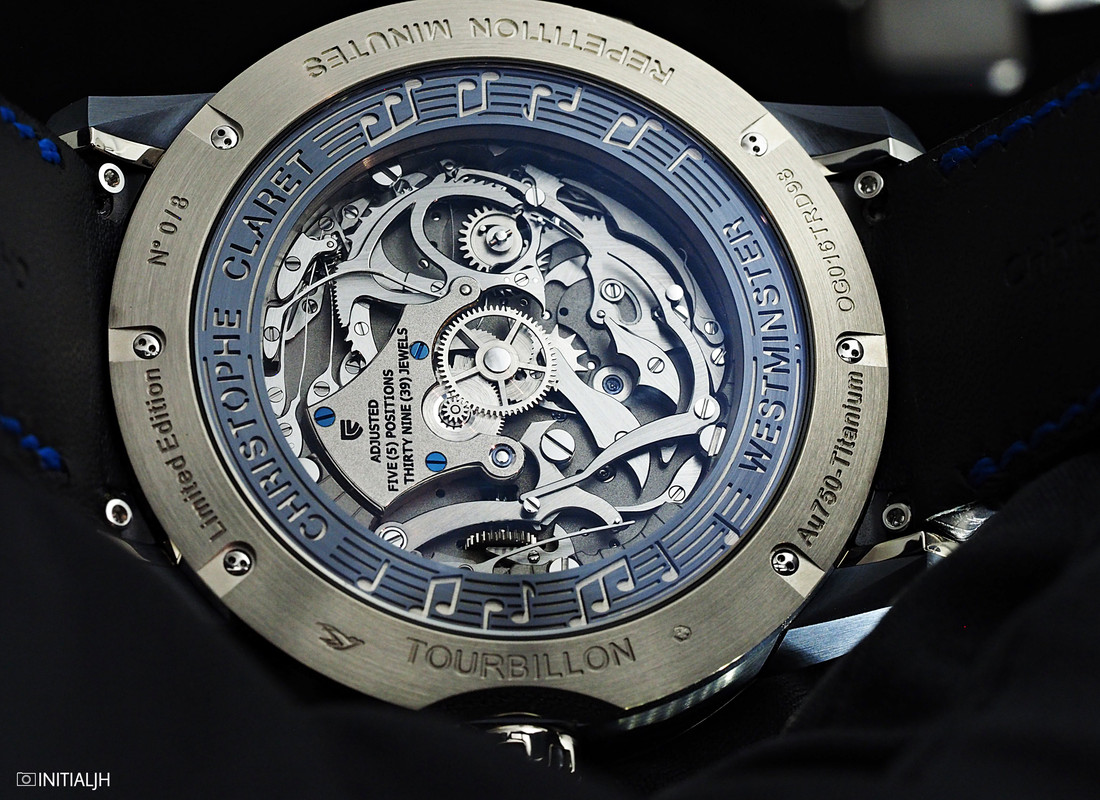 The Christophe Claret Soprano comes in a 45mm case (15.32mm thick) in two of either white gold or red gold versions with Grade 5 titanium case band, in limited editions of eight pieces.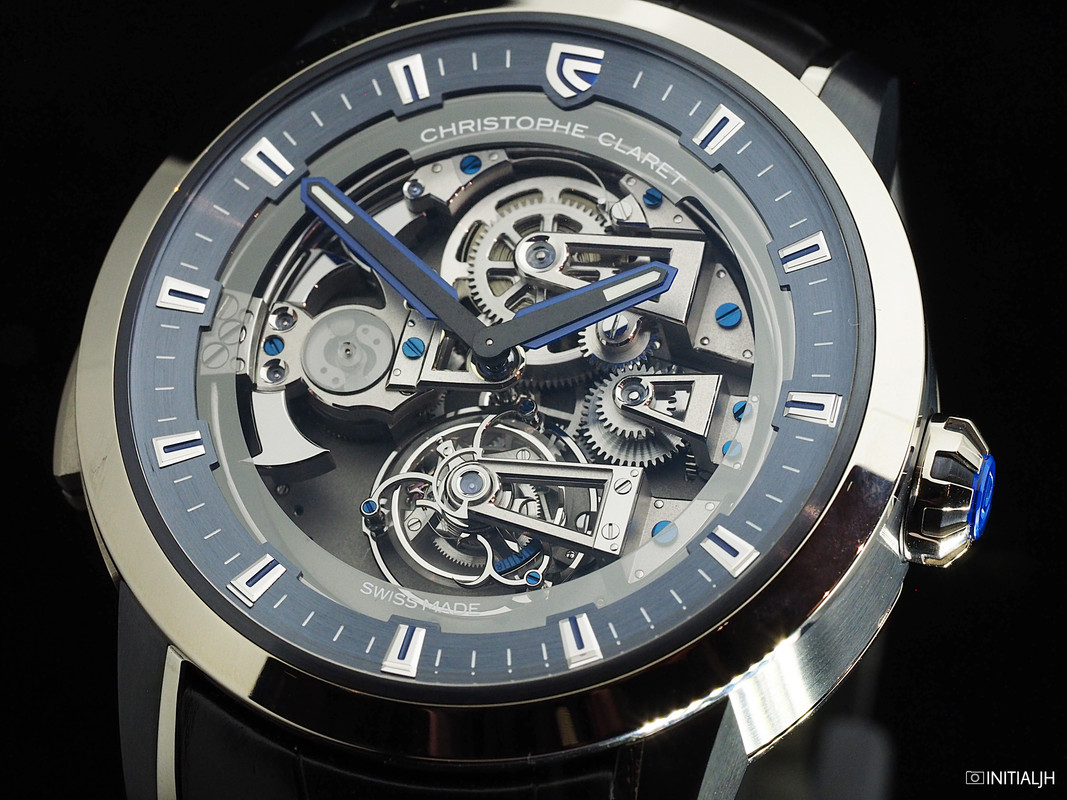 My favourite is the white gold one with slate blue PVD-treated Grade 5 Titanium on the case accompanied by blue lacquered sapphire and black PVD-treated titanium hands with Super-LumiNova. The crown is also white gold with slate blue PVD-treated titanium hands.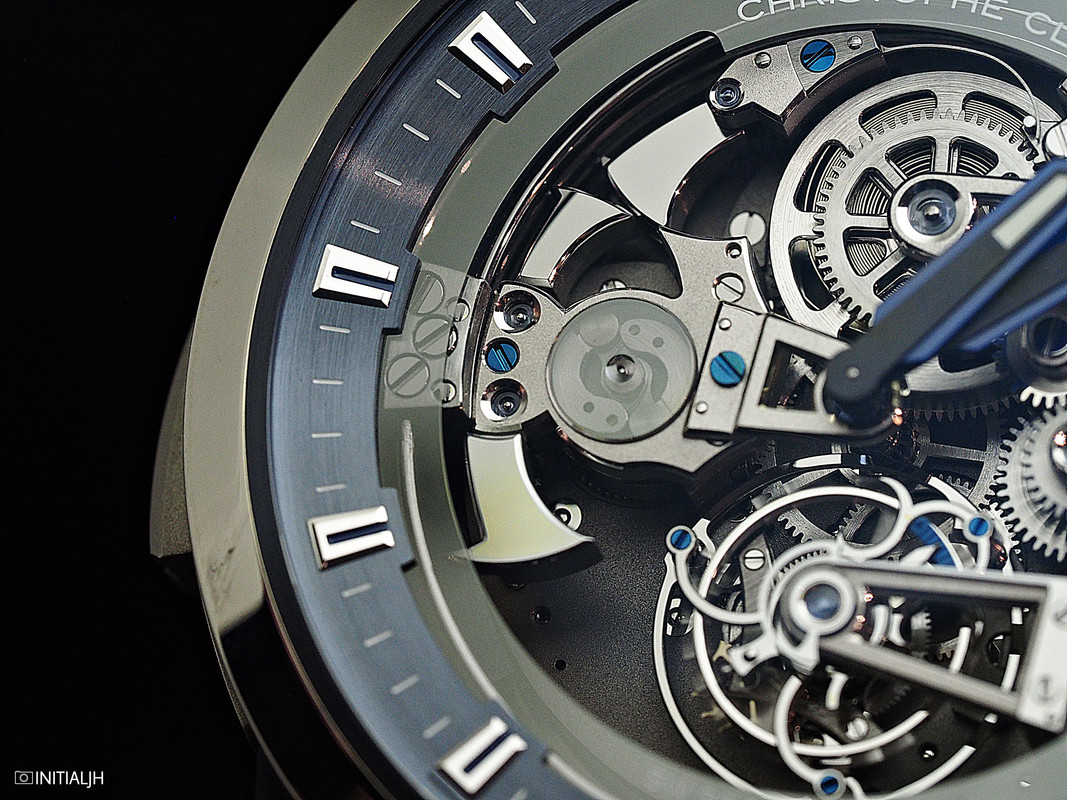 The other white gold version, with an anthracite dial and red accents, is my second favourite. The remaining two versions are white gold with black PVD-treated Grade 5 Titanium/ black lacquered sapphire and anthracite grey PVD-treated hands/ black PVD-treated Grade 5 titanium and white gold crown, and a red gold model with chocolate brown PVD-treated Grade 5 Titanium/ orange lacquered sapphire and anthracite PVD-treated Grade 5 titanium hands/ red gold and chocolate brown PVD-treated Grade 5 Titanium crown.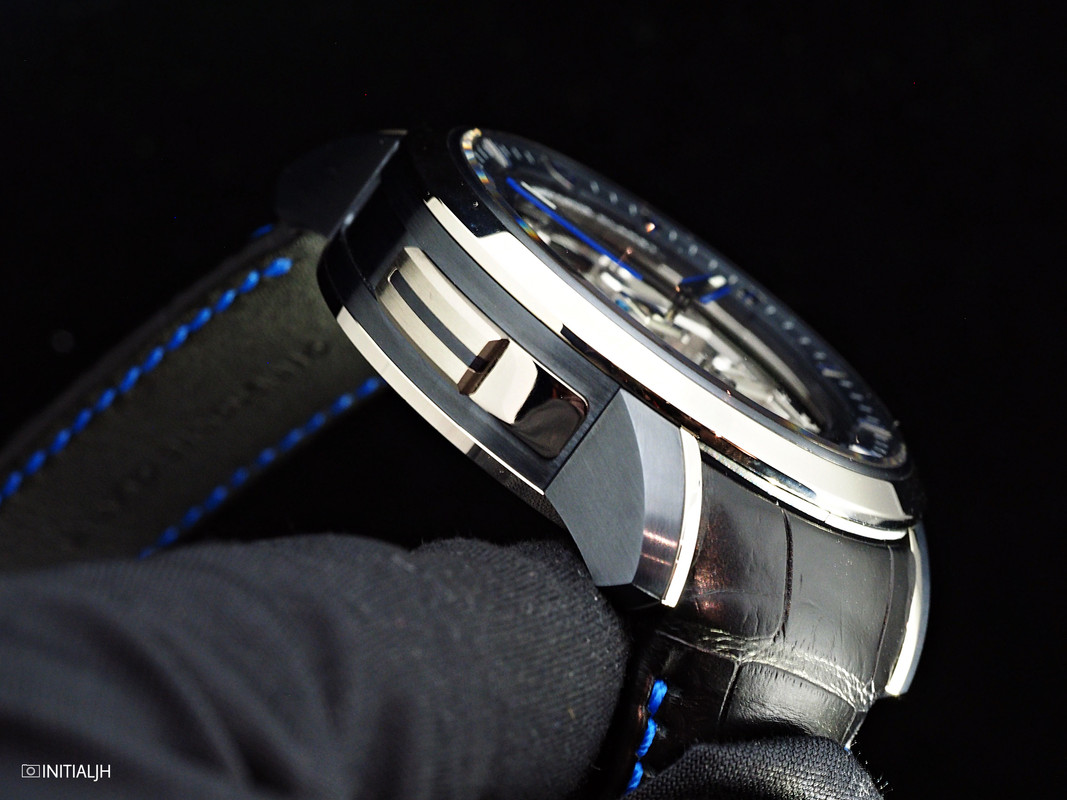 The first movement developed by Christophe Claret when he founded his eponymous brand was a minute repeater, the Calibre CLA88.
Whereas the Westminster Quarters melody is usually played in the key of E major, the Christophe Claret Soprano chimes in the key of C major. The open dial and titanium case band mentioned aren't just decorative but also to maximised the sound, as is his use of four Cathedral gongs, each circling the movement twice to provide a more full and rich sound.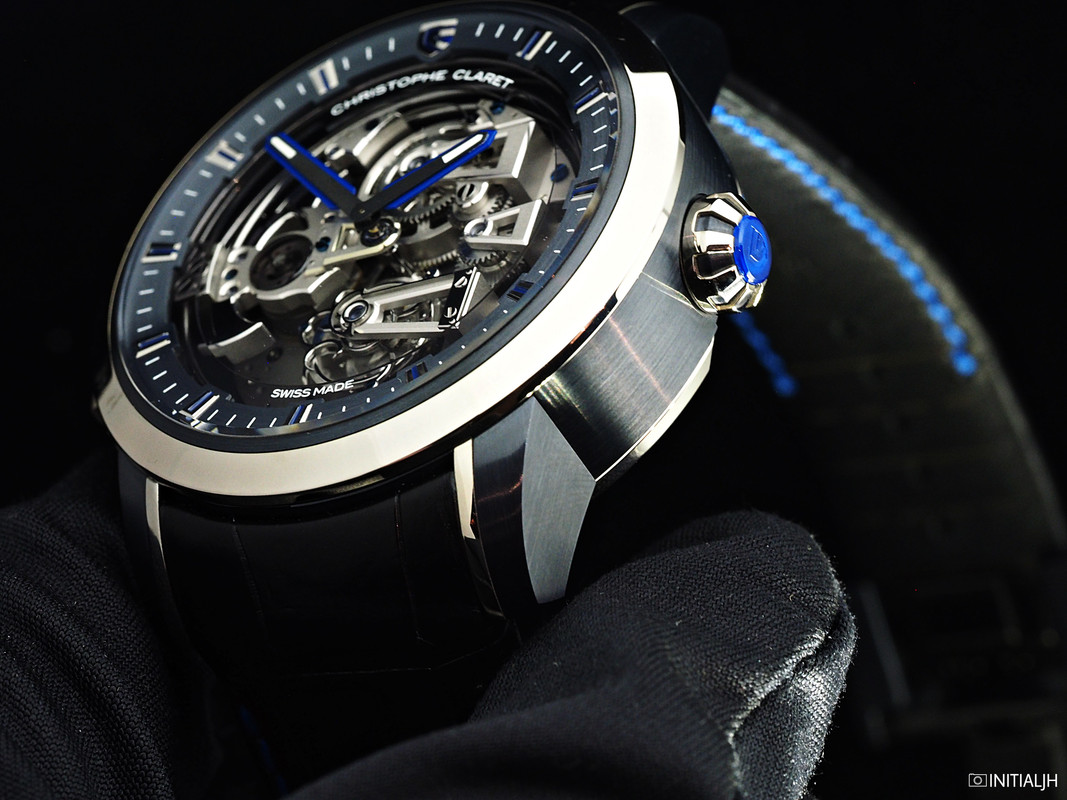 Even those who are only recently into the 'watch thing' soon learn that repeaters and their ilk are amongst the most exclusive and expensive of complications for a reason. A Westminster Chime is an exceptional thing and this was the first time we had seen one. We listened to it under rather noisy circumstances, which is always sub optimal for watches with melodies and chimes. In spite of this, the sound was clear and able to be heard. Appealing as these complex complications are, many of them really aren't designed to be heard in a din, but we could hear the Soprano without putting our ears right up to them.
Claret isn't a brand with a huge amount of recognition in Australia, so for our local readers, we'd encourage you to, if the chance presents itself during your travels, to have a listen to the Soprano.
---
---
Categories: Christophe Claret, Limited Editions, Minute Repeaters, PVD, Switzerland, Watch movements, Watch Profile, watches, Watchmaking