If you find yourself in Glashütte and visit the museum of German watchmaking you will find that the name of Moritz Grossmann (1826 – 1885) is an important one, with many historical models on display. The founder of a Glashütte manufacture and of the German School of Watchmaking, his name and that of his watches were one of the many who have disappeared, but (again, as with a number of others), the rights to the name were acquired by watchmaker Christine Hutter in 2007. Since then she has steadily built the brand up into one that now has its own factory and building, which you can see from the station upon arrival at the town, a team of forty, and an annual output of two hundred and something pieces.
In 2013 Mortiz Grossmann released the Atum model, but the first generations have been in precious metals. Now it is available in stainless steel. The ATUM models are noted for simple classic looks, but the variant we are looking at today, the Pure Steel M, is really special, with the use of mesh on the dial turning it into an entirely different type of ATUM and one that is very appealing because of its unusual dial.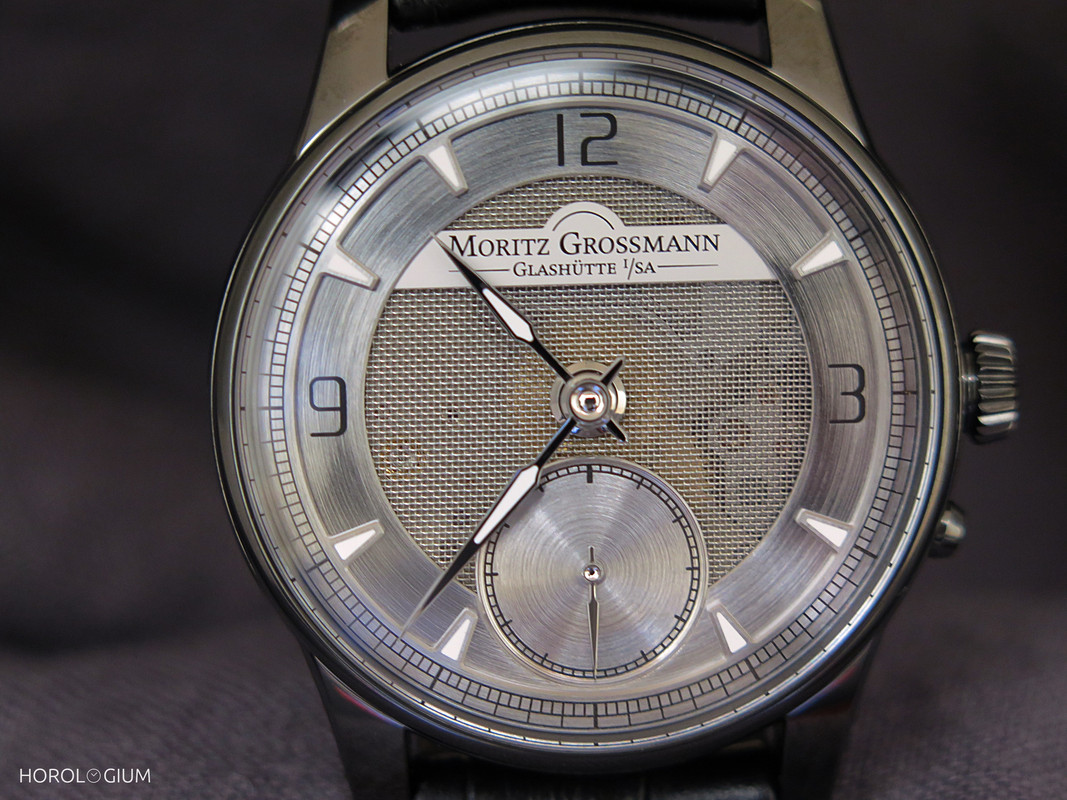 It is not just the use of the stainless steel mesh that is interesting, but the result. The mesh lets you see/ not see the movement depending on the angle of the light, which means endless hours of watch photography.
The subsidiary seconds dial is recessed in the main dial. Hour markers stainless steel and rhodiumed. The polished hands are handmade at Moritz Grossman, with white HyCeram filling. In fact they told me that they are the only watch manufacturer in Glashütte who do their hands in-house.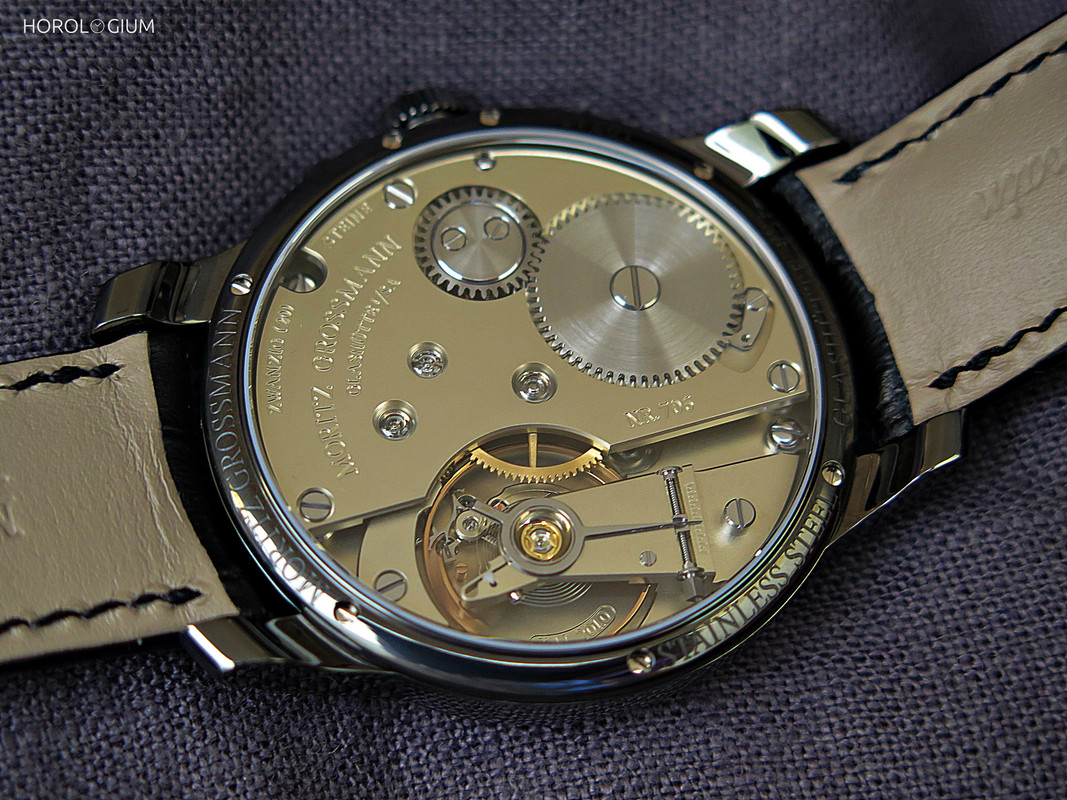 Inside the 41mm three-part stainless steel or DLC steel case is the manual-wind 18,000VPH forty-two hour power reserve Calibre 201.0 with a shock-resistant Grossman balance. The two-thirds plate is untreated German silver. For the more geeky amongst you, it is a hacking seconds.
The regular versions of the ATUM are good looking watches with really nice finishing, but in the crowded market of time-only watches, and especially for a small brand, it takes an extra amount of effort to get noticed, however good you may be.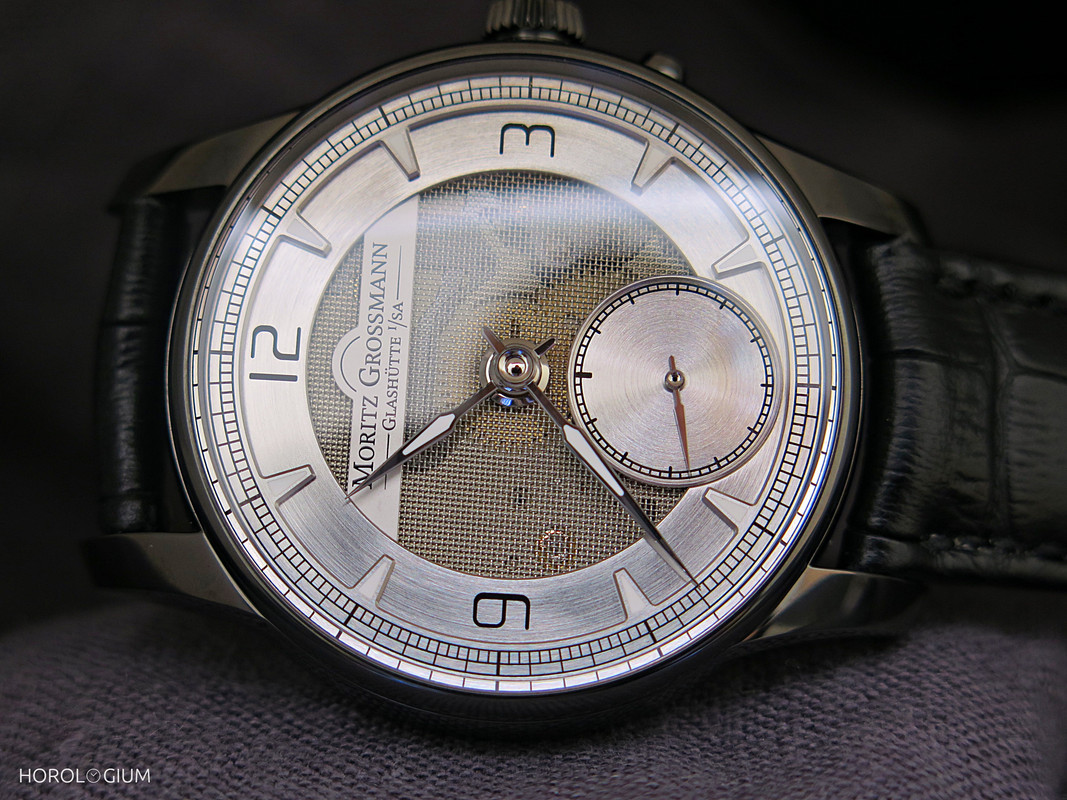 Baselworld 2016 was my first hands-on experience with Moritz Grossmann, and like others before me, I was impressed with what I saw, but this mesh dial piece is definitely my pick of the ATUM collection. It is not just about doing something different (doing something different doesn't always work, after all), but about a result that is not just interesting but that also just a really good looking watch. One that I would happily wear.
Coming in a limited edition of 150 pieces, the Australian RRP is $20,250.00 including GST from their Australian AD Define Watches. German pricing is 13,500 EUR.
---
---
Categories: Baselworld 2016, Moritz Grossmann, Switzerland, Watch materials, Watch Profile, watches