The Dubuis woman has never been someone who has been in the background, with a strong representation of watches aimed at women one of the brand's priorities. With this in mind, perhaps it was fitting that their theme for 2016, launched at SIHH, was 'Diva'.
The Velvet Collection, launched in 2012 with the idea of combining fashion and watchmaking, is where the new watches (and themes) reside. It's about the diva, but the diva as seen in five ways by Dubuis (complete with very 2016 hashtags) :
1) Velvet by Massaro (#Visionary)
2) Blossom Velvet (#Feline)
3) Black Velvet (#Conquering)
4) Ribbon Velvet (#Sophisticated)
5) Secret Heart (#Magnetic)
Velvet by Massaro
You may recall Roger Dubuis' previous foray into haute couture with straps that had themes of corsetry, hosiery and fur (see below for the first two).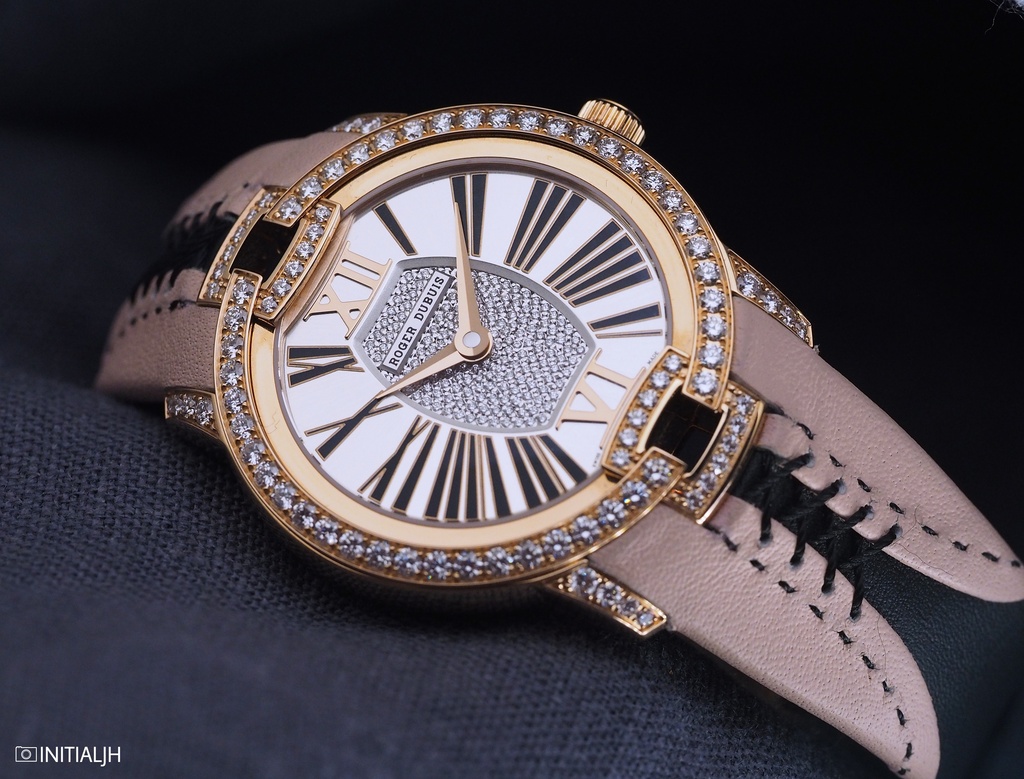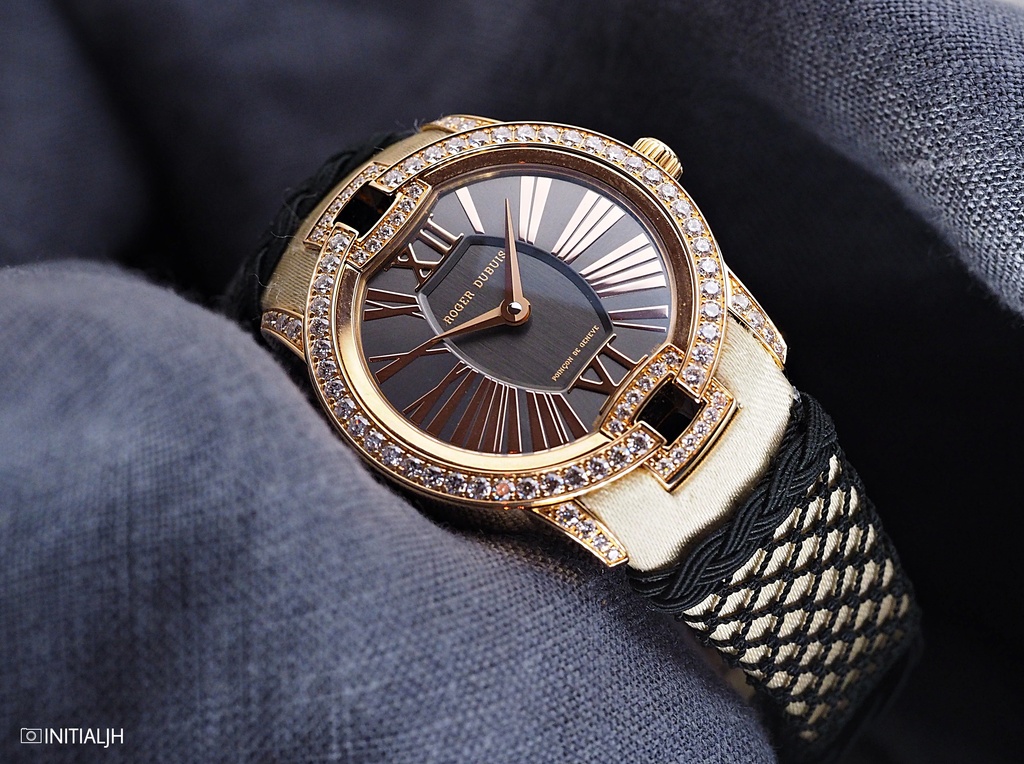 In 2016 it has extended this with a new strap that is influenced by the world of shoes, in partnership with couture shoemaker Massaro, supplier to Chanel Haute Couture.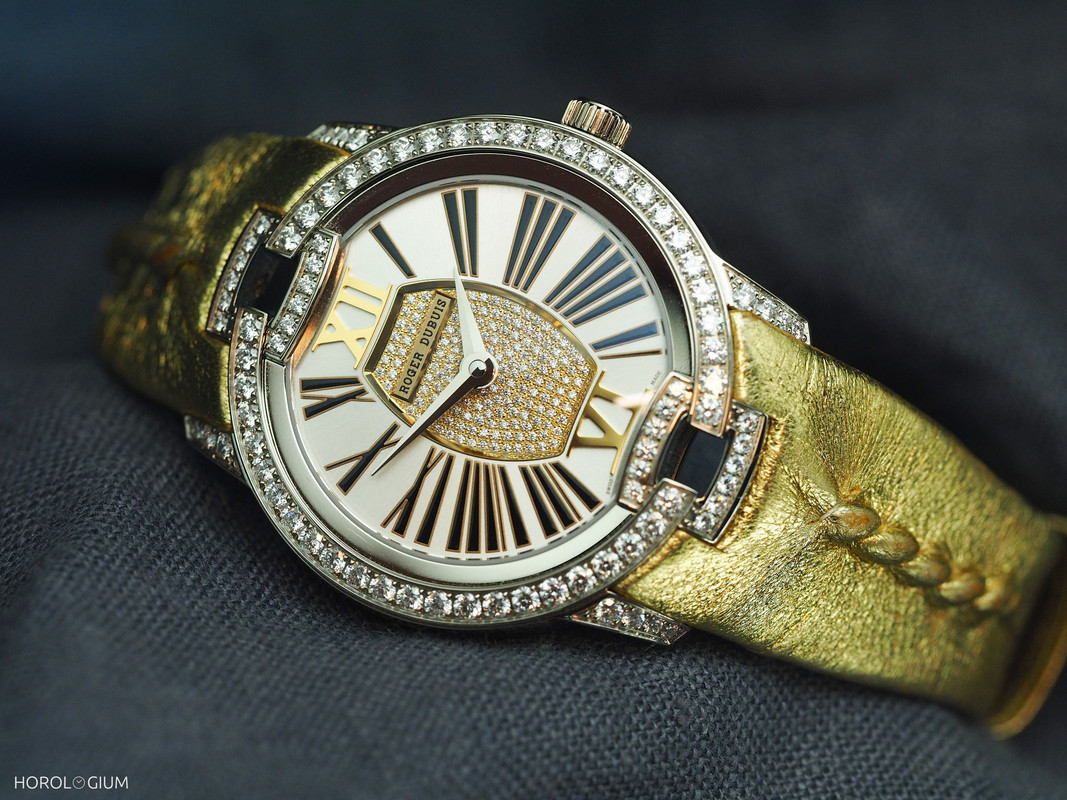 Dubuis have said that they were harking back to the (seemingly permanently) glamourous actresses of the golden age of Hollywood in the 1930s and 1940s, and as someone who has watched more than my share of films from that period (for those who are in Australia and older than a certain age, Bill Collins on the ABC…), I can absolutely see the influence, and can imagine Gloria Swanson, Joan Crawford, Rosalind Russell, Lauren Bacall, Barbara Stanwyck and many more wearing these.
The highlight of this collaboration is the pleated leather strap, reflecting a shoe with the same pleat down the back of its heel. The watch itself is a 36mm white gold case containing an automatic movement. This watch is limited to 88 pieces, and priced at 45,000 CHF.
Blossom Velvet
In the same Velvet case and containing the automatic Calibre RD821 movement, the Blossom Velvet comes in pink or blue, and has a mother-of-pearl dial with decoration via grand feu enamel flowers on a dial surrounded by 413 diamonds.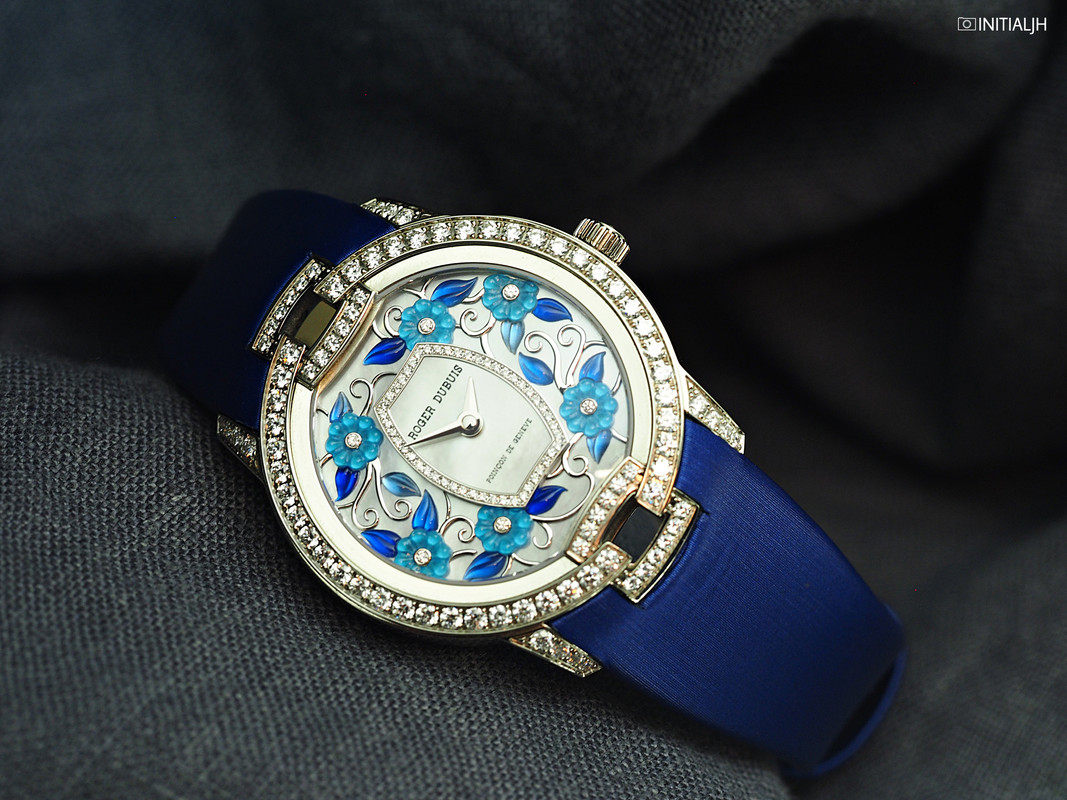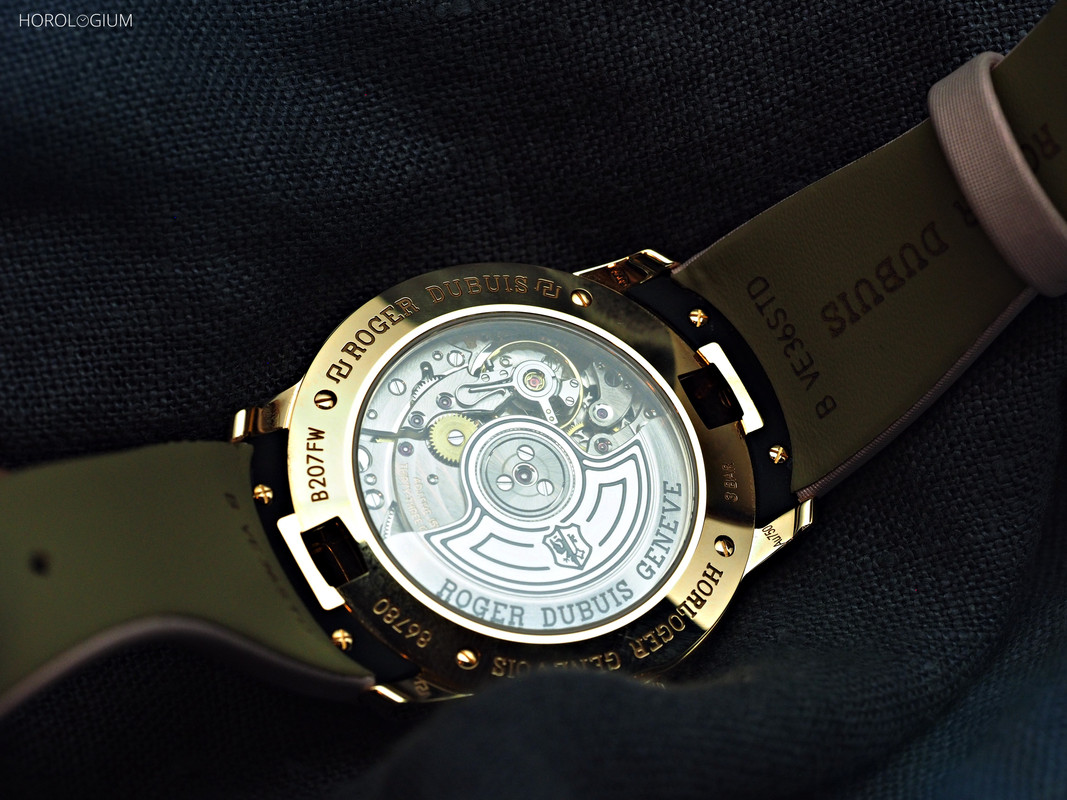 Black Velvet
With the combination of stones and carbon, this is another unconventional pairing piece from Roger Dubuis, who have put diamonds into rubber before.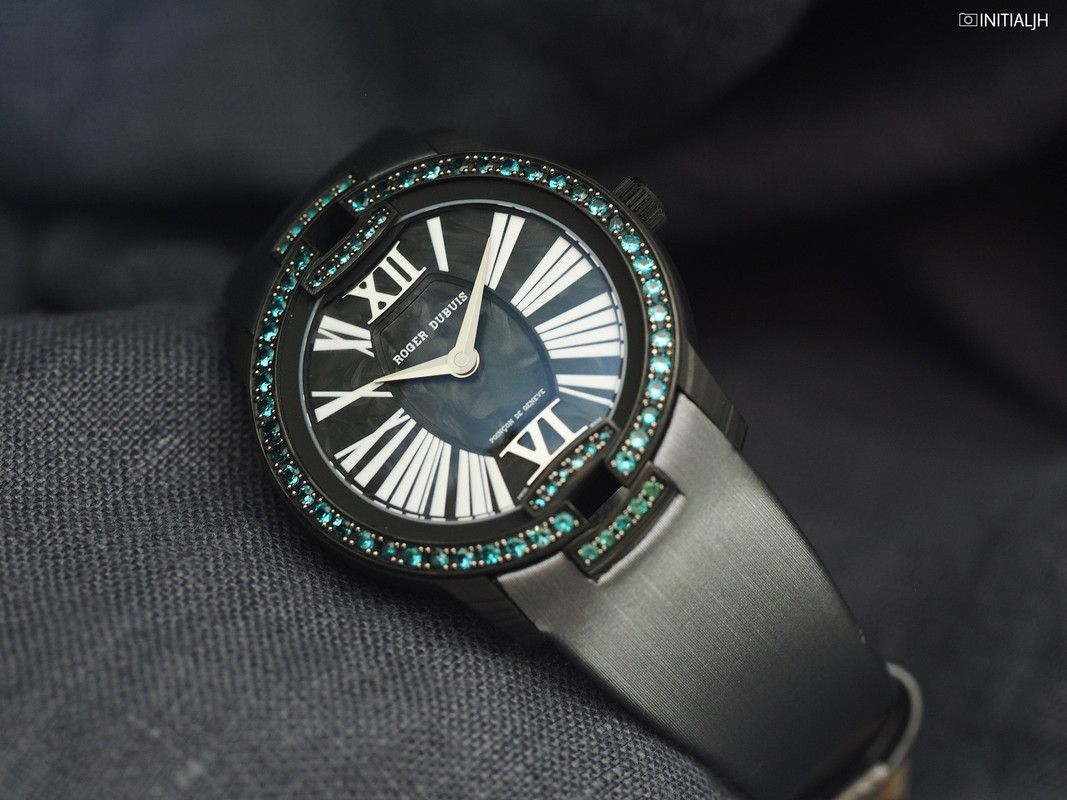 Carbon watches can have quite a low key presence, but not this piece, and as Roger Dubuis points it, it is not a material normally fond in women's collections. The use of the Praiba tourmalines to some eyes softens the carbon but to mine, in a way makes it more pronounced.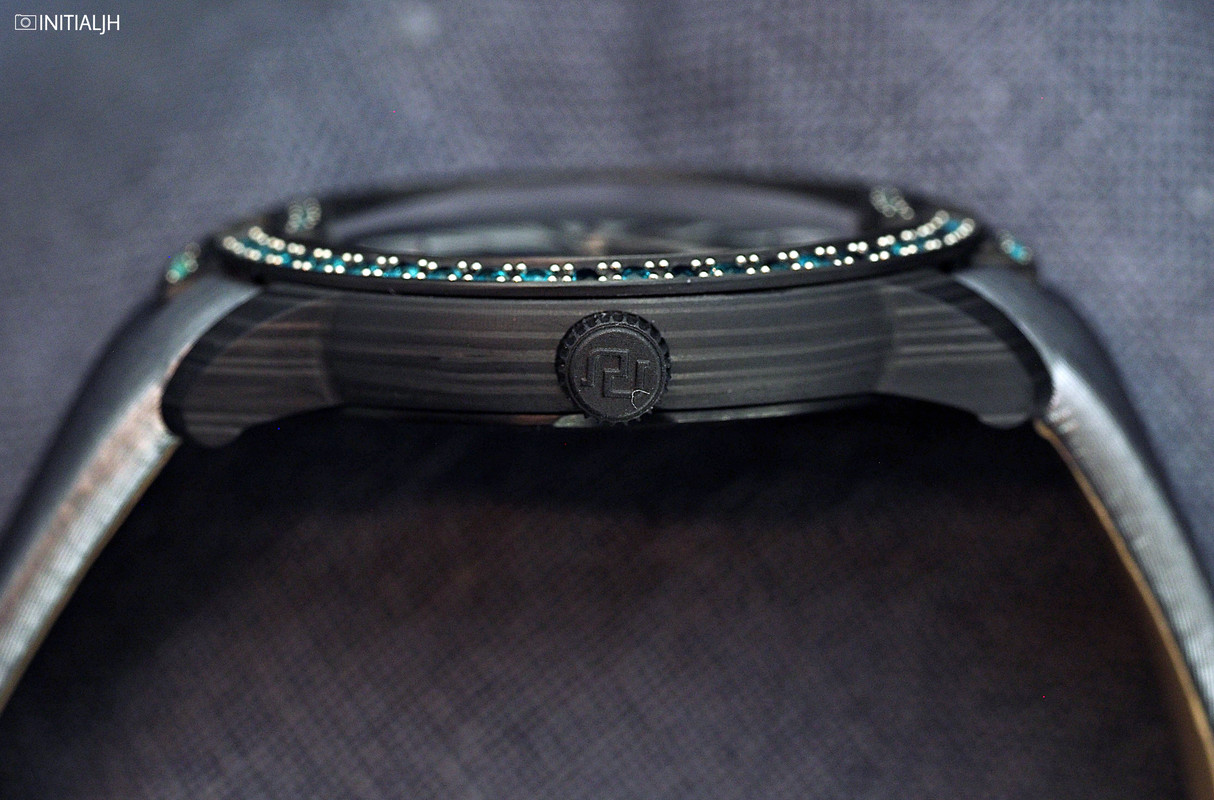 The stones are much more scarce than diamonds, and in fact are mined only in one place in the world, in Brazil. This comes in a 36mm monobloc case in a limited edtion of 8 pieces and is priced at 55,000 CHF.
Ribbon Velvet
This is basically all diamonds, more than 52 carats of them. In a limited edition of eight pieces, it s priced at 1,200,000 CHF.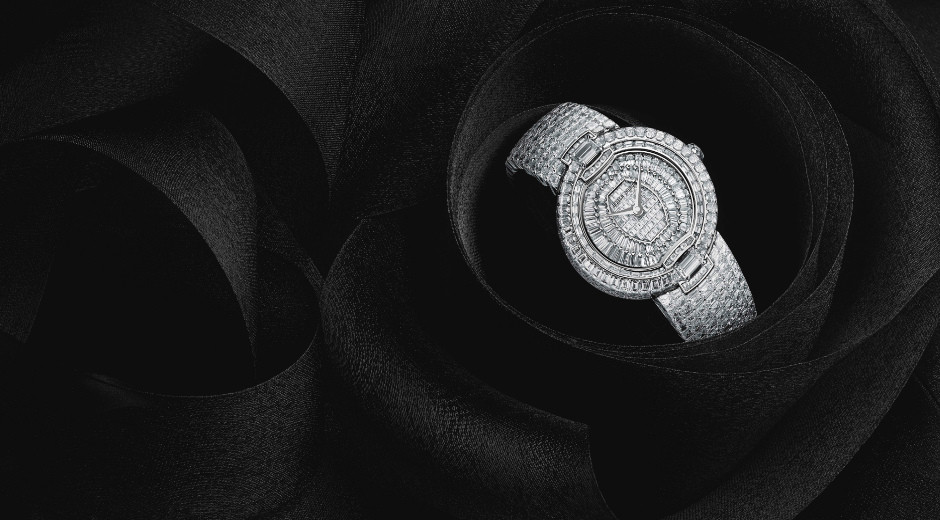 Secret Heart
To be honest I am not sure why this one is named 'Secret Heart', but let's just pass over that and get to the watch, which introduces a new movement, the automatic RD 821B, with a bi-retrograde jumping date.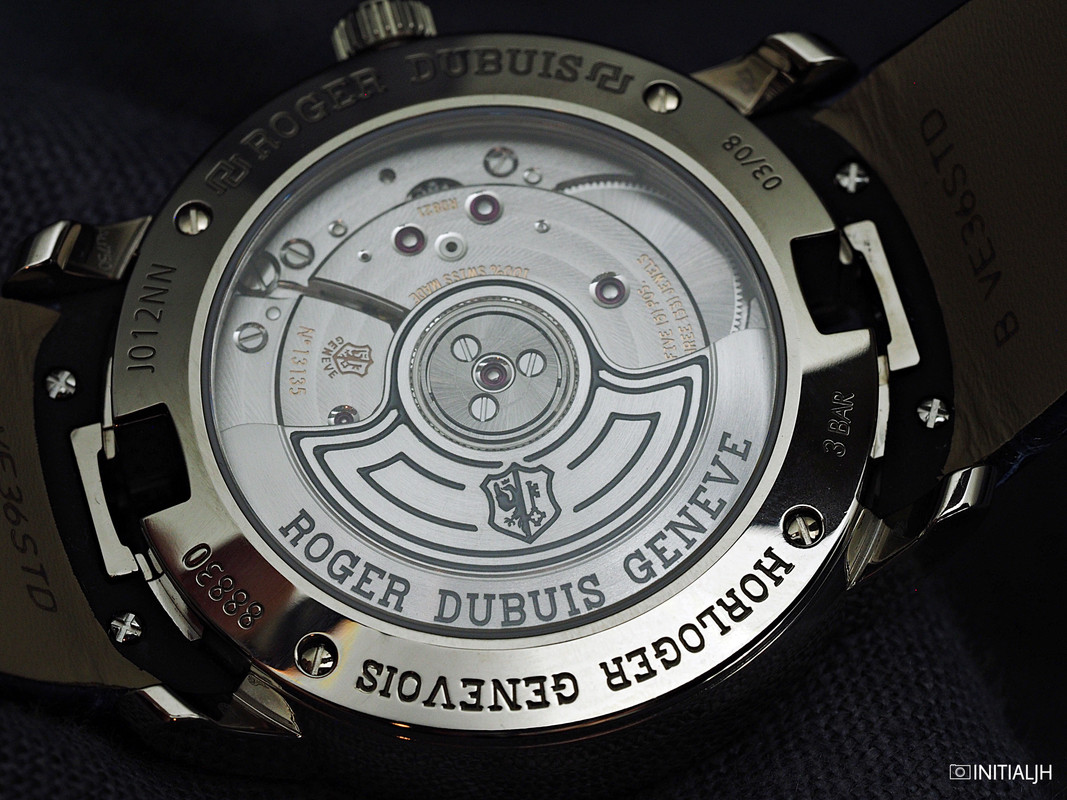 The visual bits are a blue sunburst dial with Roman numerals, a 36mm white gold case with 110 diamonds (which I would have probably skipped, but that's very personal), but it is the retrograde, with the two hands 'jumping' back to the beginning with a date change, which are the key to this limited edition piece.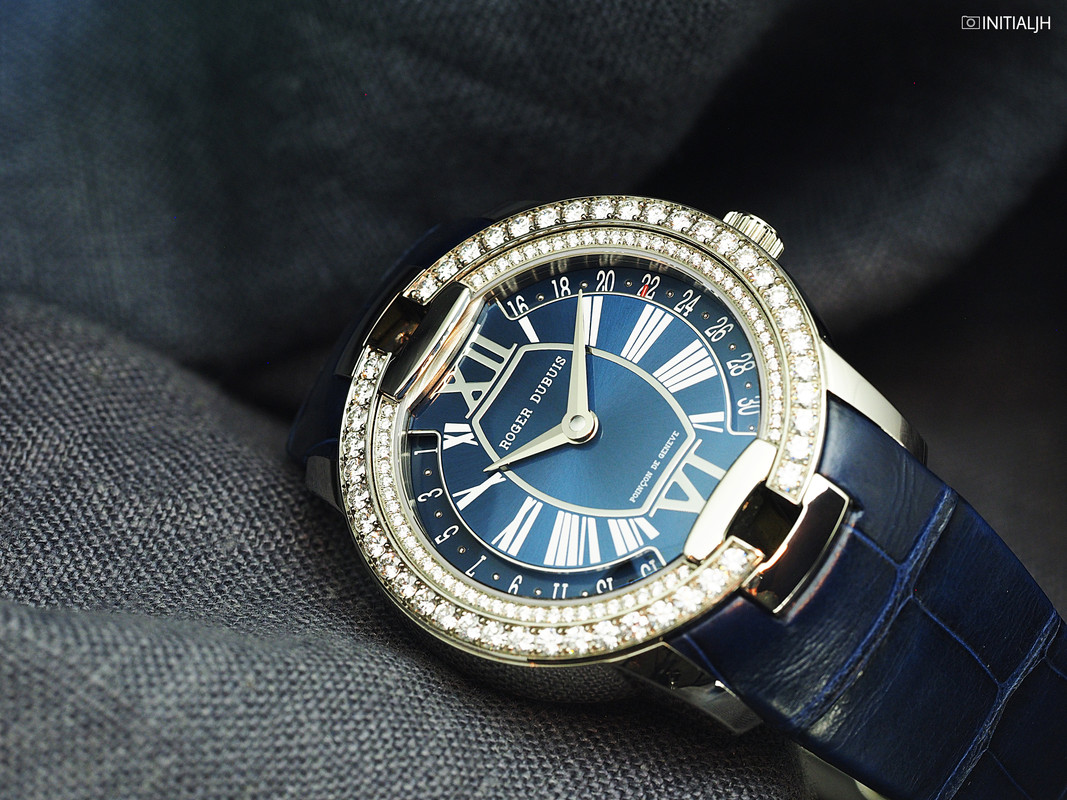 I really like retrograde displays, and as always, Dubuis show that they like to focus on the insides of women's watches as much as the outside. There will only be eight of these made.
---
---
Categories: Limited Editions, Roger Dubuis, SIHH 2016, watches, Women's watches